Can NFTs be Videos? What to Know and How to Mint One
This article will explore a question in the minds of many NFT creators: can NFTs be videos? I understand why you'd want to know if there are NFT videos—most of the NFT market is saturated with monkey pictures and anime-themed JPEGs.
As an NFT buyer or creator, there's nothing wrong with exploring other forms of digital collectibles. So, if you're looking to explore NFT videos, this guide is for you.
We'll delve into the details of what you need to know about making video NFTs and provide step-by-step instructions on creating them. 
Stay Connected to the NFT space.
Join our weekly newsletter for exclusive alphas and the latest trends… without the noise.
Can a Video Be an NFT?
The short answer is yes. NFTs offer a unique way to turn files with artistic, historical, or collector value into tokens. These can include various digital creations, such as an original photograph or artwork, a GIF, a song, a video clip, a movie, a logo, and more. 
As long as it's a one-of-a-kind digital asset, the possibilities for NFT creation are virtually endless.
What Is an NFT Video
A video NFT is a unique token that represents a one-of-a-kind video encoded using the same software as cryptocurrencies.
These NFTs can be bought and sold with cryptocurrency, just like images or music NFTs, providing a new way for the video industry to create digital scarcity. However, there are limitations to the size and duration of videos that can be turned into video NFTs. Additionally, video NFTs can be used to animate short videos or motion graphics.
Things to Consider Before Making an NFT Video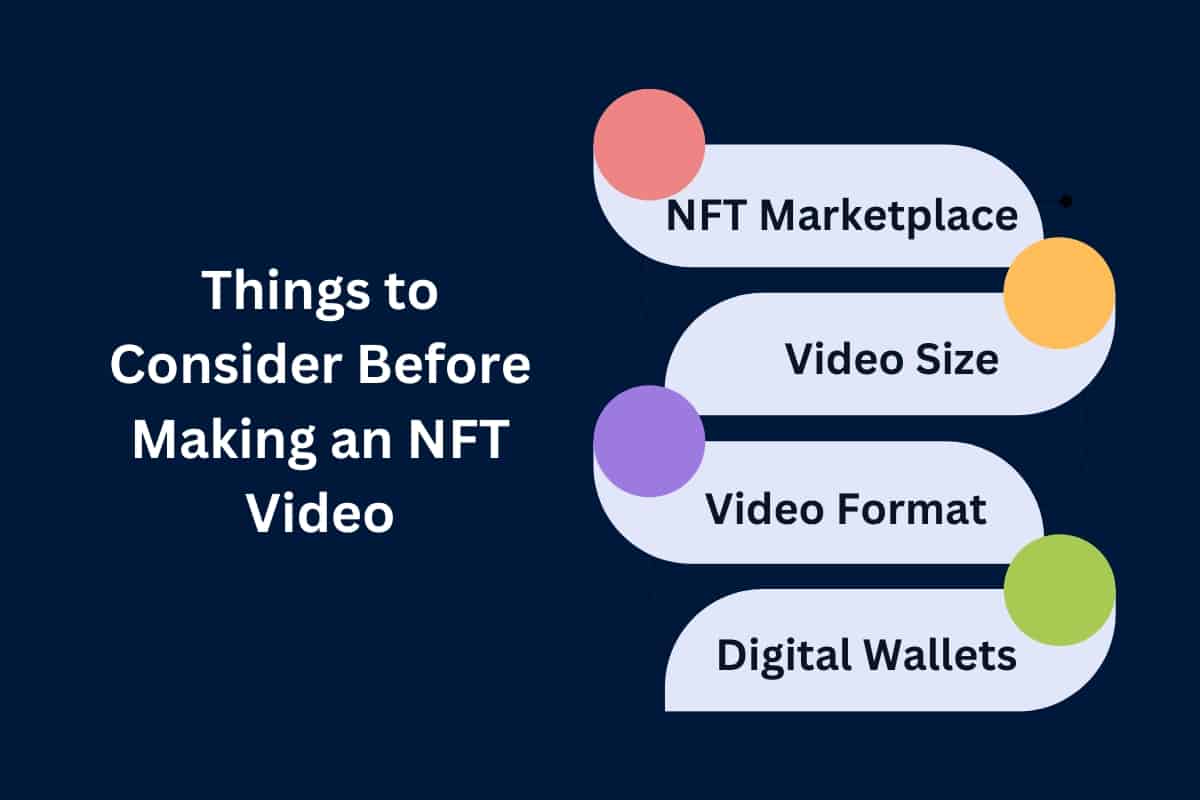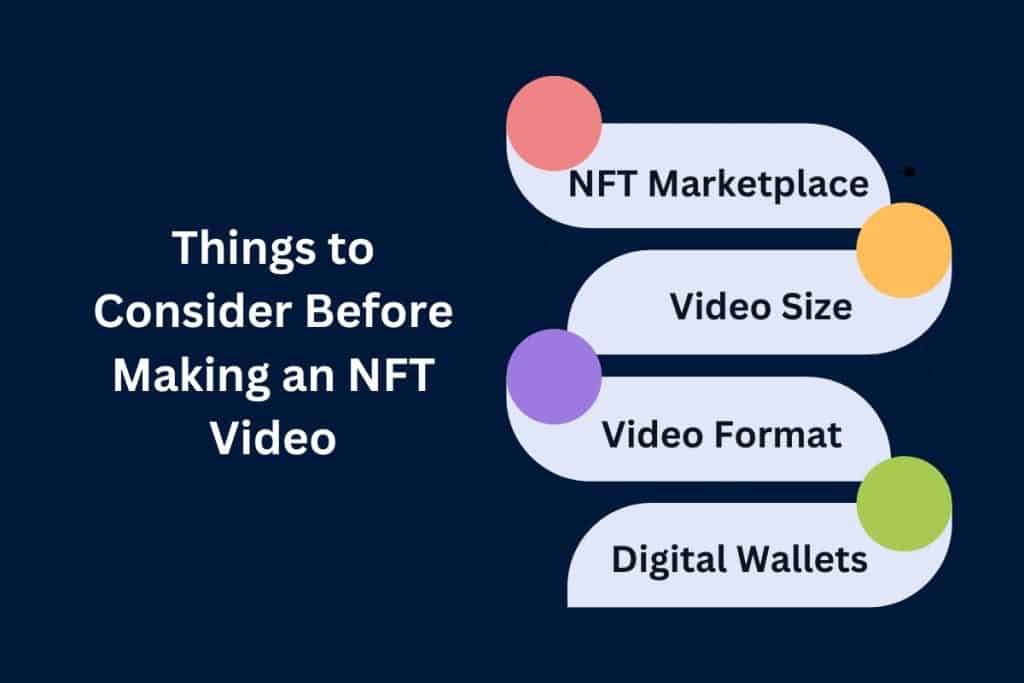 There are several things to keep in mind before creating video NFTs. Once you've made sure your video NFT meets industry standards, it will be easy to sell it if you find a good NFT marketplace.
1. NFT Marketplace
Many online marketplaces for NFTs serve various markets and niches. It's important to choose the ones that are relevant to your video NFTs. To help you with this task, we've compiled a list of the best NFT marketplace where you can sell your digital art:
OpenSea.io
This NFT marketplace is perfect for new or emerging artists who want to create video NFTs because it allows them to categorize their art forms based on sales volume. It's free to sign up, and you can easily learn about different art mediums and upload your NFT videos. 
Rarible
Rarible is another NFT marketplace where artists, both beginners and experts, can register and showcase their original digital artwork, including NFT videos, pictures, and collectibles. It's effortless to sell your NFTs on this platform.
Foundation
To sell your NFT video on Foundation.app, you need an invitation from another creator or artist. It is recommended that beginners start on other markets, but Foundation.app is a good option for selling NFT videos later on.
You can see a full list of NFT marketplaces to sell and buy NFT videos.
2. NFT Video Size
To launch your career as a creator on an NFT marketplace, it's important to choose a marketplace that supports the size of your video NFT. Below are the maximum allowed sizes for video NFTs on some popular NFT marketplaces. Once you have chosen a marketplace, make sure to create your video NFT according to the required size:
OpenSea: Maximum size of 100MB
Rarible: Maximum size of 100MB
Foundation: Maximum size of 500MB
SuperRare: Maximum size of 20MB
3. NFT Video Formats
Here is a list of NFT video formats available on different marketplaces based on their specifications:
OpenSea: MP4, MP3, GIF, WAV, GLB, OGG, GLTF, JPG, PNG
Rarible: MP4, MP3, GIF, WebP, JPEG, PNG
Foundation.app: JPG, MP4
SuperRare: MP4, WebM, 3D model files
4. Digital Wallets
Before creating your video NFTs, make sure you have your digital wallet set up and loaded with some cryptocurrency. Metamask is usually the go-to choice for most people. You could also use Walletconnect or go for hardware wallets like Trezor or Ledger.
As for cryptocurrency, Ethereum is currently the most widely used blockchain for NFT trading. Plus, you will need it to pay for listing your NFTs on the market.
How to Create NFT Video Art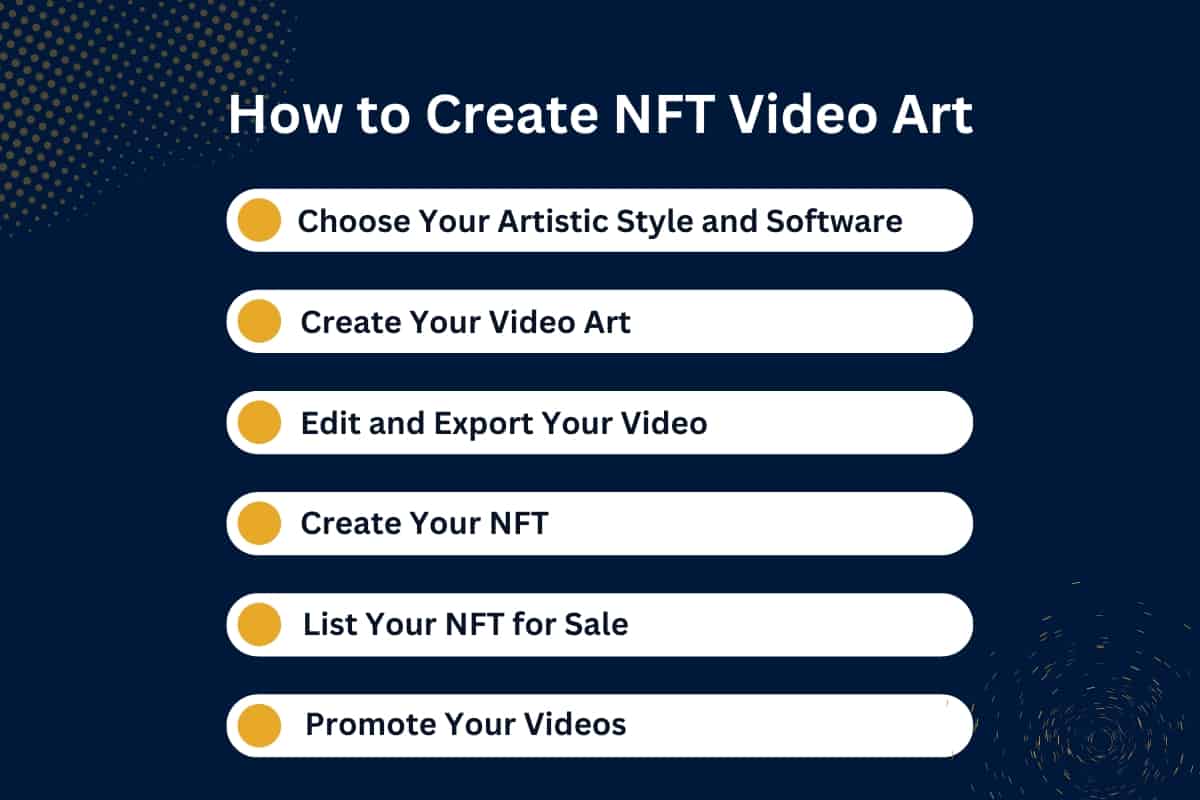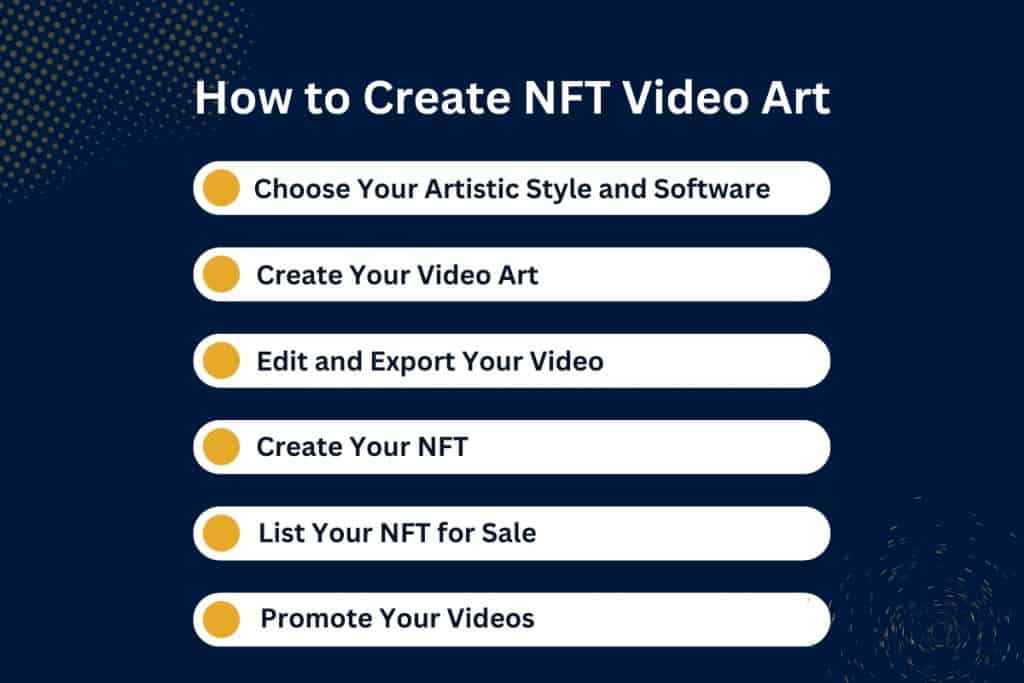 Creating an NFT video is a simple process and can be done on various platforms, allowing you to quickly start earning money even if you lack video-making expertise.
Follow these steps to convert your videos into NFTs:
Step 1: Choose Your Artistic Style and Software
The first step in creating NFT video art is to choose your artistic approach and software. Various software solutions are available, depending on the style you want to achieve. For instance, if you plan to create a 3D animation, you can use software such as Blender or Maya. Conversely, if you prefer to make a 2D animation, you can use software like Adobe After Effects or Toon Boom Harmony.
Step 2: Create Your Video Art
Once you have selected your software, you can begin creating your video art. There are numerous options, from abstract to realistic images. You can employ a variety of techniques, such as live-action video footage, rotoscoping, and stop-motion animation.
Step 3: Edit and Export Your Video
After making your video art, you might want to change it in different ways to make it look better. For example, you can make your video more immersive by adding sound effects, background music, or text overlays. 
Once your video has been edited, you can export it in a format that's suitable for NFT marketplaces.
Step 4: Create Your NFT
The next step is to create your NFT. To do this, you will need to publish your video to an NFT marketplace such as OpenSea or Rarible. These websites have user-friendly interfaces that make it easy to create and list your NFT. You will need to create a description, set a price for your NFT, and link your digital wallet.
Step 5: List Your NFT for Sale
After completing the creation of your NFT, it's time to list it for sale. You can choose to sell it at a fixed price or through an auction, where interested buyers can place bids until the end of the sale. Once the NFT is sold, you will receive payment in the form of a cryptocurrency such as Ether or Sol.
Step 6: Promote your Video
The final step in your journey is to get more eyes on your video. After all, you'd want to make some buck for your hard work, right? You can begin by promoting your NFT on Twitter.
Another gold mine for NFT promotion is Reddit. There are numerous NFT subreddits that you can leverage to build a community and get more eyes on your work. Just ensure you're offering value and not just spamming people with your work.
How Long Can an NFT Video Be
The ideal length for your NFT video is 1-minute or less. While you can make your NFT video longer than this, we don't recommend doing so because of the cost of minting and file size requirements on the blockchain you choose.
What Video Format Is Best for NFT?
The recommended video format for your NFTs is a 1:1 square video with a 1080-pixel resolution.
How Much Does It Cost to Mint a Video NFT?
The minting costs of a video NFT can vary from a few hundred to thousands of dollars, depending on the platform and blockchain used.
While some NFT marketplaces may charge a flat fee or a percentage of the sale, others may charge gas fees for the blockchain transaction. For instance, Rarible charges a 2.5% fee on the sale price, which allows creators to mint NFTs for free. However, the Ethereum network charges gas fees.
Researching and comparing fees and expenses across different platforms is important before minting your NFT.
Where Can I Sell Video NFT?
Selling video NFTs is possible on several online platforms, including OpenSea, Rarible, SuperRare, Foundation.app, and Nifty Gateway.
These marketplaces allow creators to mint their video NFTs, set prices, and receive payment in cryptocurrency. Understanding the transaction fees, requirements, and regulations of each marketplace is essential before listing your video NFTs for sale.
Video NFT Example
Below are examples of some of the most popular video NFTs that have been sold online. It could serve as a source of inspiration for your next video NFT.
1. CROSSROAD by Beeple
In October 2020, Pablo Rodriguez-Fraile purchased a digital art piece called CROSSROAD from Beeple for nearly $67,000. Then, in February 2021, he sold the NFT video clip that featured Donald Trump for $6.6 million just five months later.
2. "Earth" and "Mars" by Grimes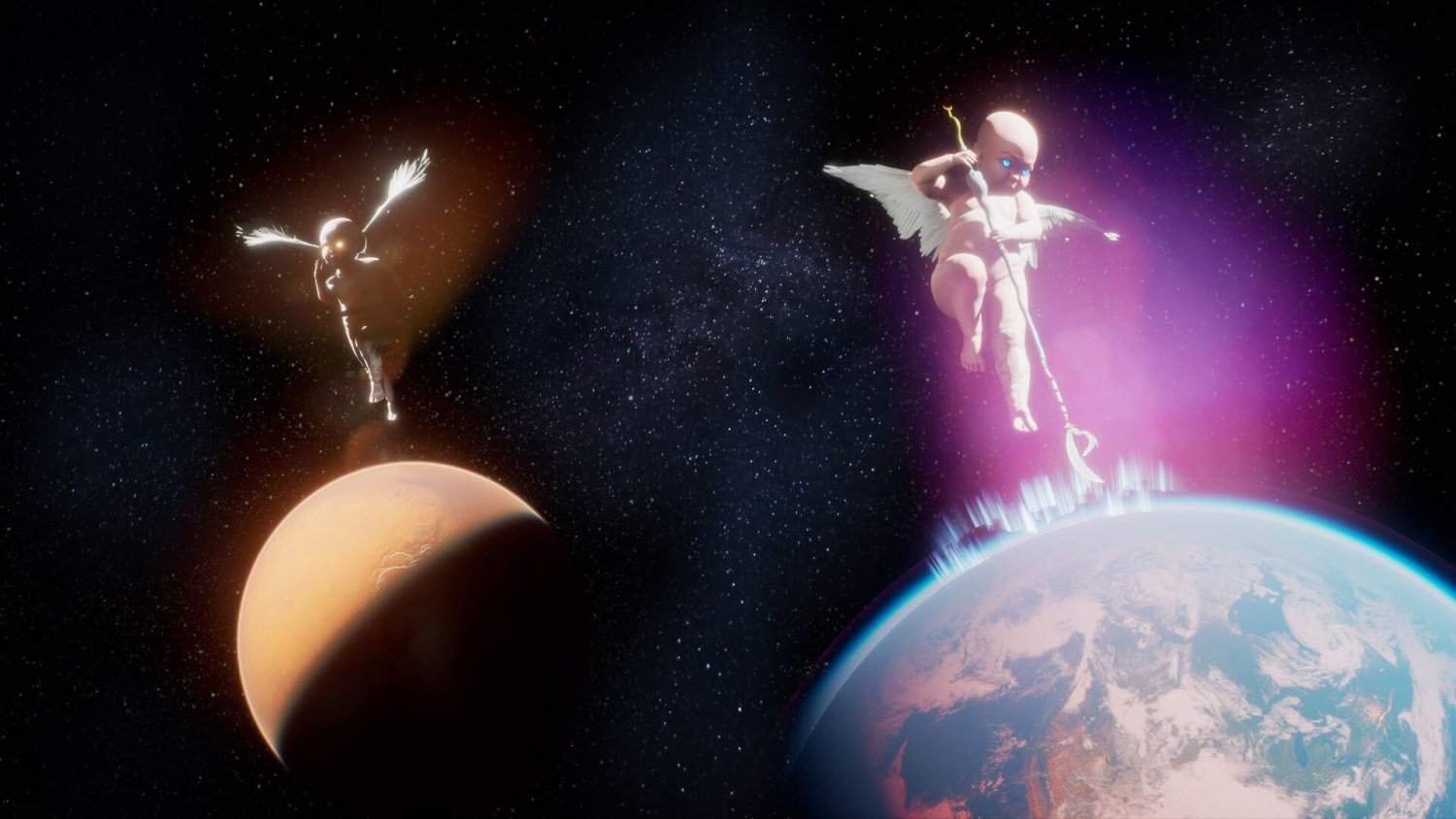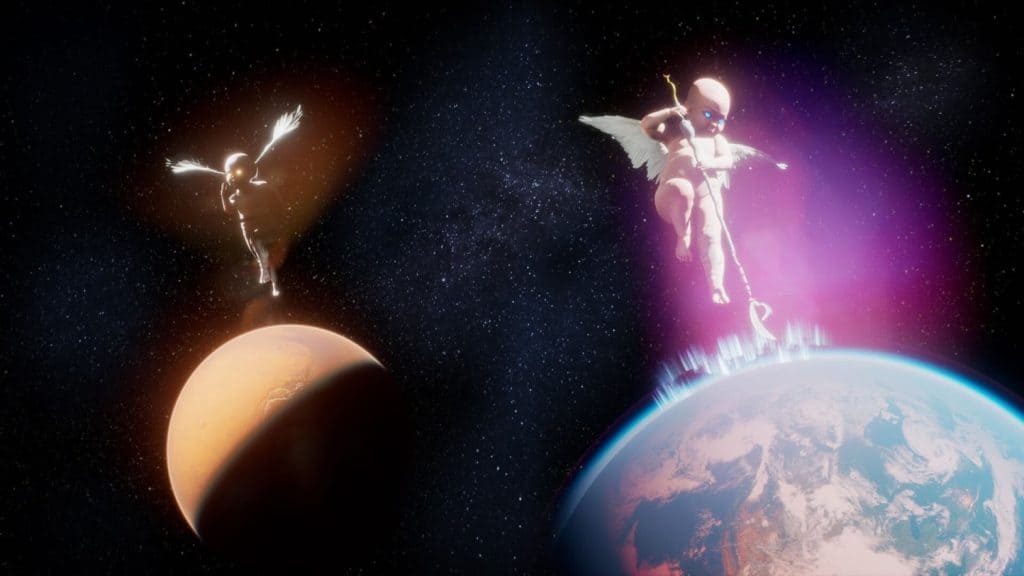 Grimes sold close to 700 copies of her NFT videos "Earth" and "Mars" at $7,500 each, netting $5.18 million in total in just 48 hours.
3. Auction Winner Picks the Name by 3LAU
The NFT music video of the American DJ and EDM producer 3LAU was auctioned on Nifty Gateway even before it was created. The auction included the option to name the music video. The music video was sold for $1,330,000 to the CEO of T-Mobile, John Legere. Once the video is ready to be released, it will be named by his daughter, Christina Legere.
4. Metarift by Pak
Pak, an accomplished digital artist and producer with more than 20 years of digital crypto experience, sold his most expensive single piece, "Metarift," for $906,709 to @seedphrase on Makersplace.
5. Charlie Bit Me by Davies-Carr Family
In May 2021, the music studio 3F Music, based in Dubai, purchased the famous 2010 YouTube video "Charlie Bit Me" as an NFT for $760,999. Howard Davies-Carr, the father of the children in the video, stated to NPR that 3F Music decided to keep the NFT video on YouTube as they believed that the video is an important element of popular culture and should not be removed.
6. LeBron James' "Cosmic" Dunk by NBA Top Shot
NBA Top Shot has emerged as a top marketplace for sports-related NFTs, generating nearly $750 million in sales in the past year. One of its biggest sales was the Kobe Bryant tribute dunk Moment #3/59 featuring LeBron James, which was sold for $387,600 in February 2021, accounting for over half of the platform's total sales.
Conclusion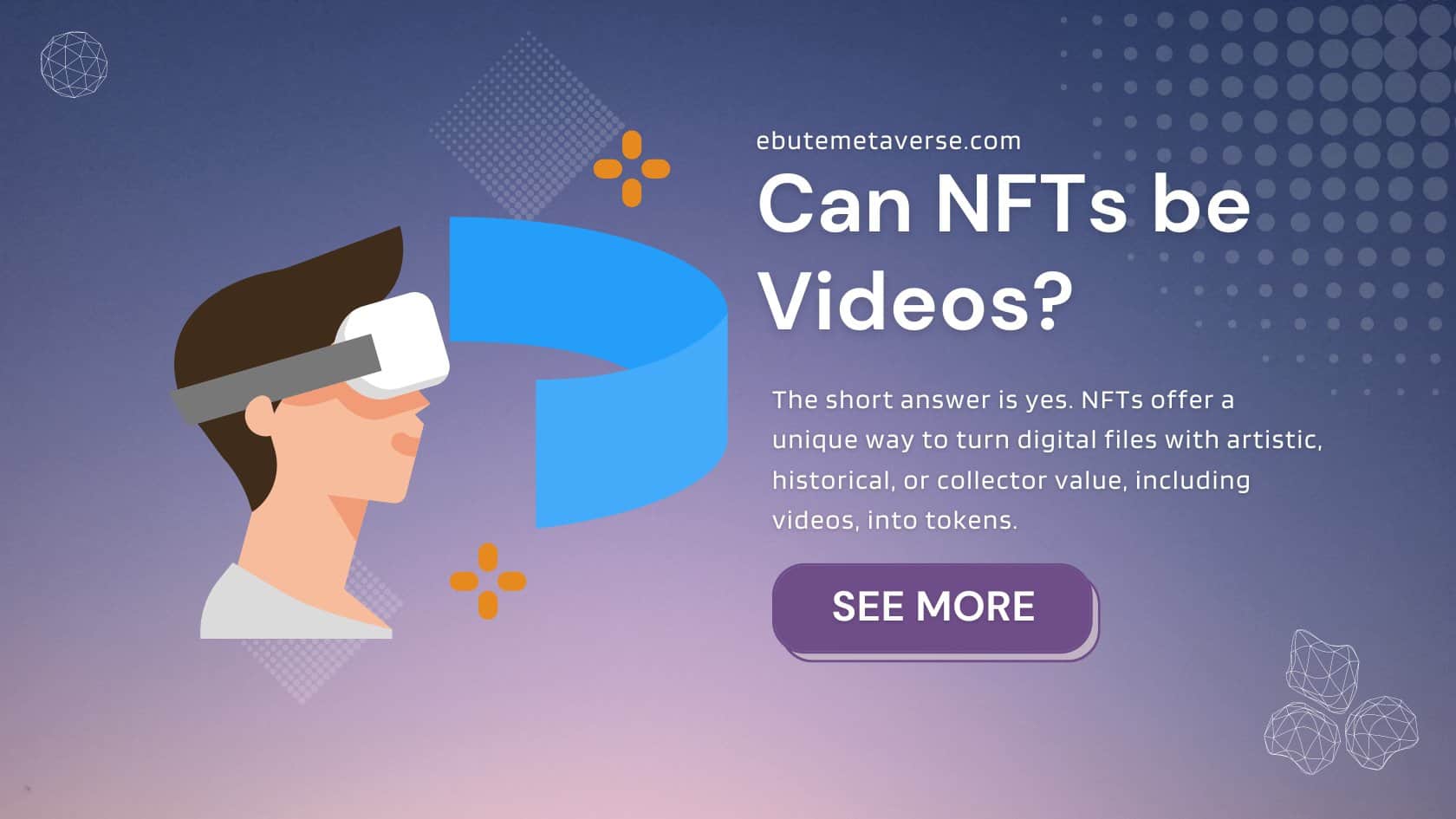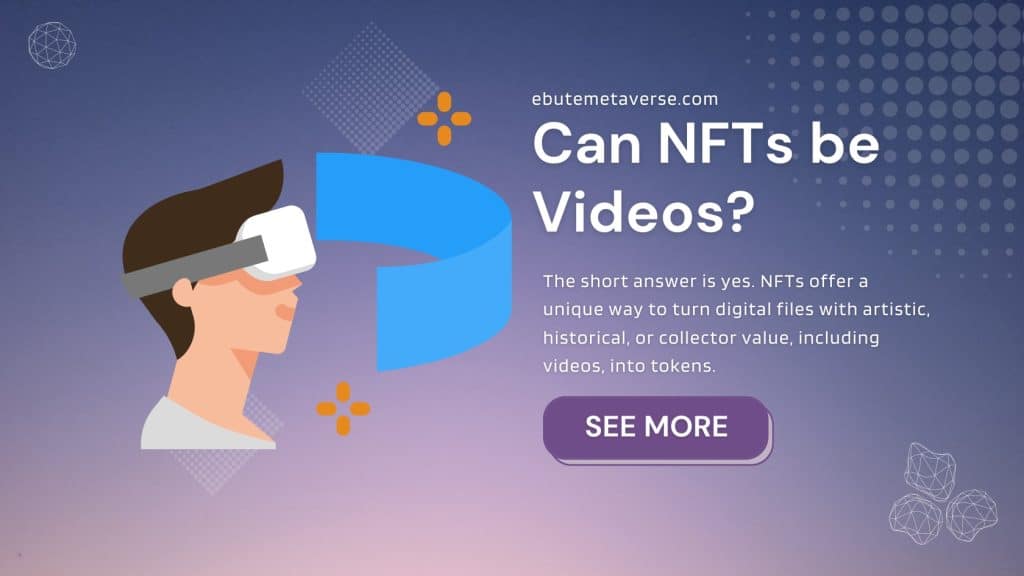 With NFTs, creators have more ways to make money from their digital art, music, and even videos. The minting and sale of video NFTs is a new and exciting opportunity for creators to showcase their skills and make a profit. With the right research, knowledge, and tools, you can join this new market and make money from it. 
FAQs
Can NFT Videos Have Sound?
NFT videos can have sound, as they can include not only visual but also audio elements such as music, sound effects, or spoken dialogue. This feature adds value and interest to the NFT, making it more appealing to buyers.
However, it's important to note that the sound used in an NFT video should either be original or obtained with the appropriate permission to avoid any copyright infringements.
Are YouTube Videos NFT?
Minting a YouTube video as an NFT is possible, but it requires the video's author to do so manually. The process involves transforming the video into an NFT on a blockchain network like Ethereum.
Simply uploading a video to YouTube doesn't automatically make it an NFT. It's only after the video has been explicitly minted as an NFT that it becomes a unique and valuable digital asset that can be bought and sold.
Can You NFT a TikTok Video?
Yes, it is possible to create an NFT out of a TikTok video. Just like other digital media, TikTok videos can be transformed into NFTs and sold as unique digital assets on blockchain marketplaces. However, you should take into account TikTok's terms of service and copyright policies before minting and offering a TikTok video as an NFT.
Also, to avoid trouble with the law, the TikTok video must have original content, or the person who made it must have permission to use any copyrighted material.