The Ethereum network has remained the leader among blockchains that support NFT since the concept came to light in 2014. But we all know how gas fees can get high on Ethereum. Plus, most of the collections launched there can be pretty expensive. So what blockchains are NFTs on besides Ethereum?
Today, you can find several blockchains that support NFT, including Binance Smart Chain, Avalanche, Solana, Ethereum, and Cardano. While they bring unique advantages to the table, they are not without downsides concerning size, cost, and security. Consider these things, including community input, before you throw in your investments in minting NFT on a blockchain.
Knowing which blockchains support NFTs is important when starting in the non-fungible token space. Once you make your choice on which network to use, things become a lot easier. You can now decide on a marketplace or know their common risks.
To guide and inform you, we have laid out the following in this article:
So, without further ado, let us delve into our top picks for the day.
What Blockchains are NFTs on?
NFTs are on different blockchains, including Ethereum, Solana, Cardano, Polygon, Binance, and Crypto.com. Most of these blockchains support smart contracts, making it easy to deploy ERC-721 and ERC-1155 tokens that support the creation of non-fungible tokens.
Finding which blockchains support NFTs does not pose much of a challenge while using today's advanced systems. However, settling for one is both a matter of personal preference and functionality.
You would want to make the most out of your NFT project. For that reason, scrutinizing the intended platform becomes crucial.
Let us take some of the burdens off you by listing the top 5 blockchains that support NFT. They are as follows:
Ethereum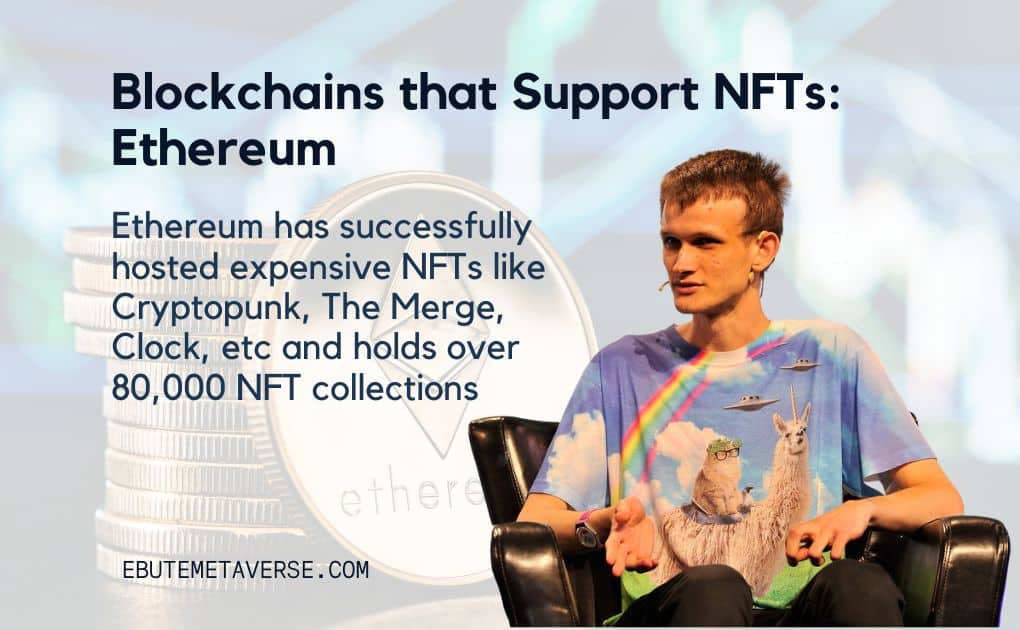 We cannot mention blockchains that support NFT without first making a stop at Ethereum. Bitcoin might be the most extensive network, but ETH stole the show by being the first to support non-fungible tokens. The blockchain has successfully hosted expensive NFTs like Cryptopunk, The Merge, Clock, etc.
Ethereum is not only the top NFT blockchain but also has one of the most extensive trading networks. Currently, it holds over 80,000 NFT collections, expanding the market for the tokens. In that case, ETH might be the perfect platform to mint and sell your non-fungible assets.
Although Ethereum's reputation as a top NFT blockchain is undisputed, it has some downsides that some might be unwilling to compromise. These limitations have led many to seek alternatives for their minting and trading activities.
Nevertheless, Ethereum will likely maintain its lead in the coming months and years. Several marketplaces feature NFTs on the network, giving it a promising future.
Whether Ethereum can overcome the limitations is left to the future. In the meantime, you can trade your art on OpenSea, Rarible, SuperRare, and many other marketplaces without hassles.
You will also enjoy the extensive support from digital wallets like Coinbase and MetaMask offer for transactions on the Ethereum network.
Reasons to Use Ethereum
It has a wide adoption from creators in the industry
You will enjoy the flexibility of trading in several marketplaces because of their ETH support.
Though the market fluctuates, we cannot deny the increasing value of ETH tokens. You will most likely make a big profit from using the network.
Ethereum NFT sales have been remarkable, despite its performance in June.
ETH tokens have more stability and enjoy extended support than other coins
With a buffet of wallets fielding support for Ethereum, you will not have any hassles trading on the network.
Ethereum supports the development of other blockchains and has interoperability with other platforms.
Why You Should Avoid Ethereum
ETH, without a doubt, enjoys widespread usage as one of the blockchains that support NFT. However, it is bogged down by high gas fees and slow transactions.
If you cannot compromise on these downsides, try other alternatives in this article.
Avalanche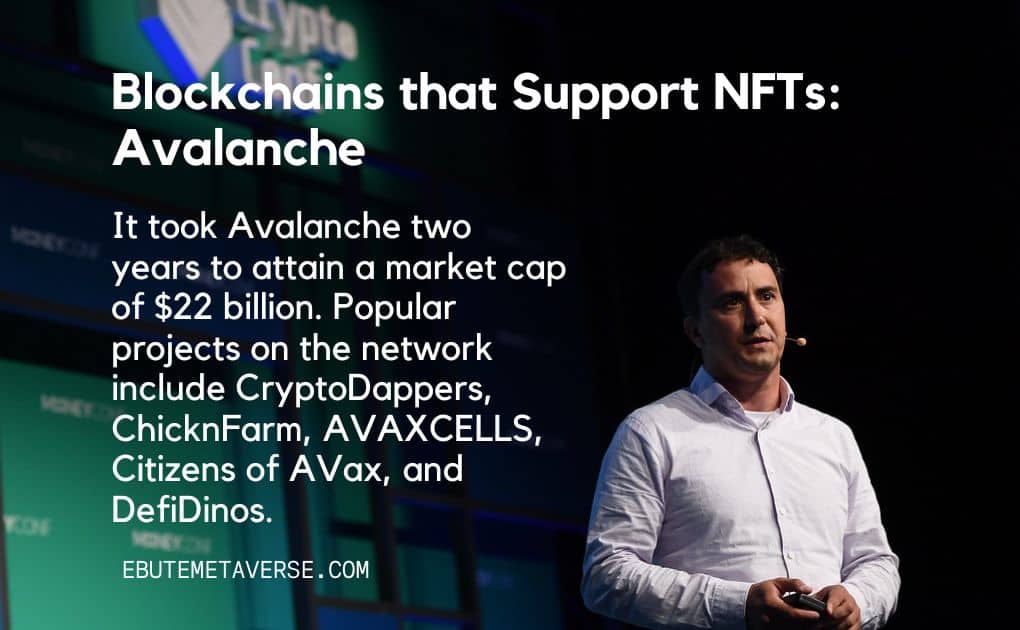 It took Avalanche two years to attain a market cap of $22 billion. Thanks to its transaction speeds, the blockchain has had a successful run since its inception in 2020.
Avalanche edged past many blockchains with the ability to make 4500 transactions in a second. That is an impressive record, considering its low gas fees. Also, its token, AVAX, is enjoying quite a value at $77.
Creators did not let this network waste, but they immediately hinged on it to mint their art. Yes, Avalanche is among the blockchains that support NFT.
Popular projects on the network include CryptoDappers, ChicknFarm, AVAXCELLS, Citizens of AVax, and DefiDinos. You can use the blockchain's primary management platform, Avalanche wallet, or go with Ledger Nana S, MetaMask, etc.
Trading Avalanche NFTs will not pose a challenge thanks to their widespread presence in several marketplaces, including SnowFlakes and NFTStars.
Having looked at the Avalanche blockchain and its support for NFT, let's see why you should go with it.
Reasons to Use the Avalanche Network
Avalanche's transaction speeds are fast.
The platform boasts one of the lowest transaction costs.
Currently, the AVAX token and projects enjoy a decent valuation.
The network has impressive interoperability with other blockchains.
Why You Should Skip Avalanche for Other Alternatives
Avalanche has so many impressive advantages, but there is a flaw. The blockchain is yet to implement a slashing protocol that checks for violations, including fraud.
Binance Smart Chain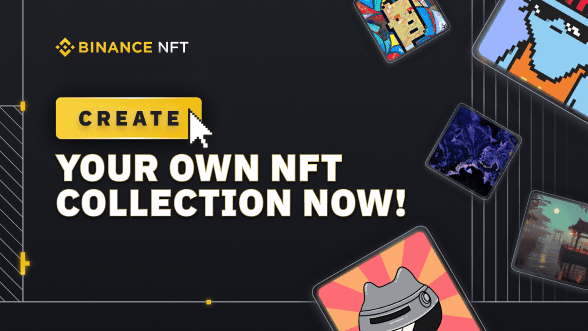 Binance hosts the world's leading crypto exchange network by size. It did not take the blockchain long to hit $390 per BNB, considering its launch date was in 2020.
Many crypto enthusiasts have embraced the network, not just as a token but also as a trading platform. To accommodate more, the creators of Binance launched the Binance Smart Chain using the Ethereum-supported smart contract protocol.
Binance blockchain contends with high trading volume but still maintains fast transactions. With a market cap of $17.7 billion, you can be sure of a robust marketplace when you mint with it.
The Binance Smart Chain is where the NFT magic happens. You can get your digital artwork ready and transition seamlessly to the proprietary app to find buyers. Working with Binance indeed promises to be a blissful experience.
While you can trade your BNB NFTs on the dedicated apps, you can switch to other platforms like tofuNFT. In all, versatility reigns, even as you use different wallets.
Binance has its proprietary wallet, Binance Chain Wallet, but you can use others like MetaMask as it suits you. A seamless blend of transactions is guaranteed, regardless of which wallet you use.
Reasons to Choose Binance
Binance stands toe-to-toe with Ethereum as one of the blockchains that support NFT. Aside from that, the following are the reasons you should use it for your NFT project:
It supports seamless transitions between blockchains
You can quickly trade your NFTs with the proprietary app
It maintains high speeds despite the enormous trading volume on the platform
The transaction fees are competitively low
Binance is still an evolving platform, and we expect more robustness in the coming months.
Why You Might Want to Skip Binance
Binance is an incredible crypto platform, but it is far from perfect. Currently, the blockchain looks to Ethereum for most of its backend functionality.
Will we see a detachment in the coming months? Let us leave that to the developers.
Solana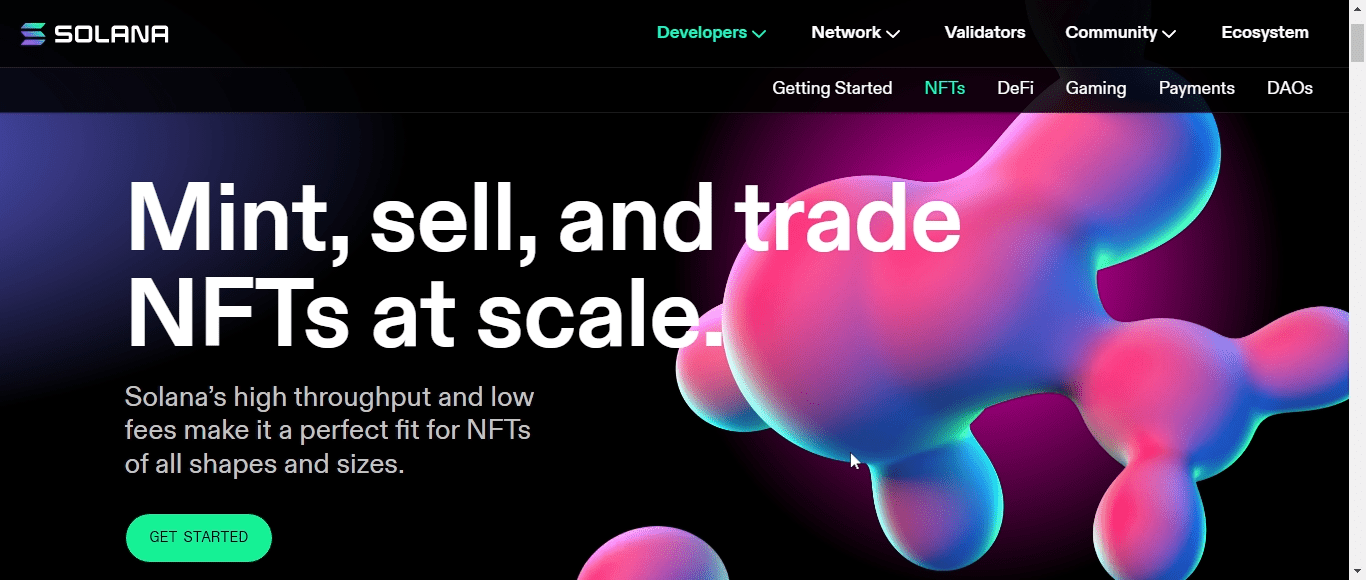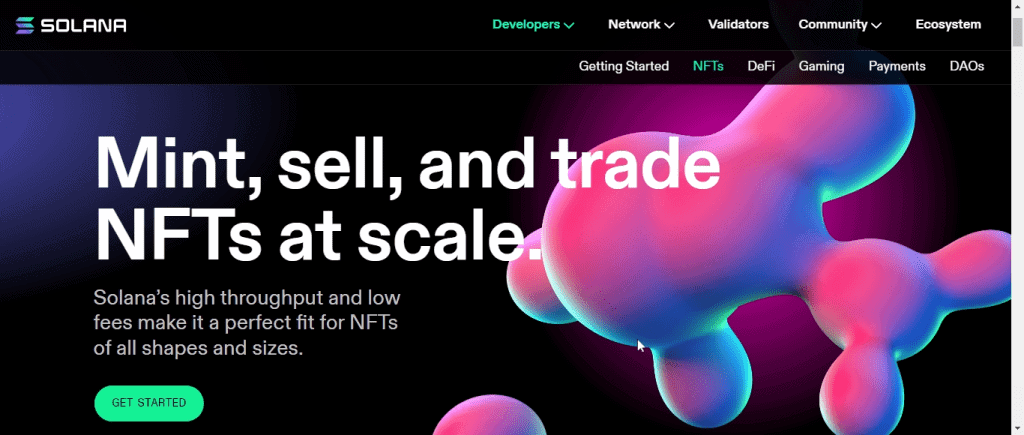 Speaking of a blockchain with low gas fees and high throughput, Solana comes to mind, albeit among other options. It is not as extensive and robust as Ethereum, but it holds its own fort well.
Solana features as one of the top NFT blockchains. As a result, you can mint, host, and trade your NFTs on the network while enjoying blazing speeds and scalability.
You will find various tools, smart contracts, and other services for NFT creation. Also, the blockchain combines stateless smart contracts with fast and cheap transactions to keep an edge in the industry.
Other features you will enjoy are the proof-of-history and proof-of-stake consensus mechanisms. Add those to the censorship resistance and low transaction fees, and you have a solid attraction for artists and traders alike.
The Solana marketplace is growing, thanks to its stateless smart contracts. With it, nodes can confirm validity without storing local validations. What comes out of that process is blazing fast transactions and low charges.
Reasons to Give Solana a Try
The following are the advantages Solana has for NFT:
The blockchain creates an ideal environment for those new to NFTs
Solana enjoys the support of many wallets
It has lower gas fees.
The blockchain has promising growth and robust community support.
Why You Should Hold the Brakes and Try Other Alternatives
Solana is yet to enjoy availability in many NFT marketplaces. As a result, you are restricted to the supported few if you decide to mint or trade NFTs with the blockchain.
Cardano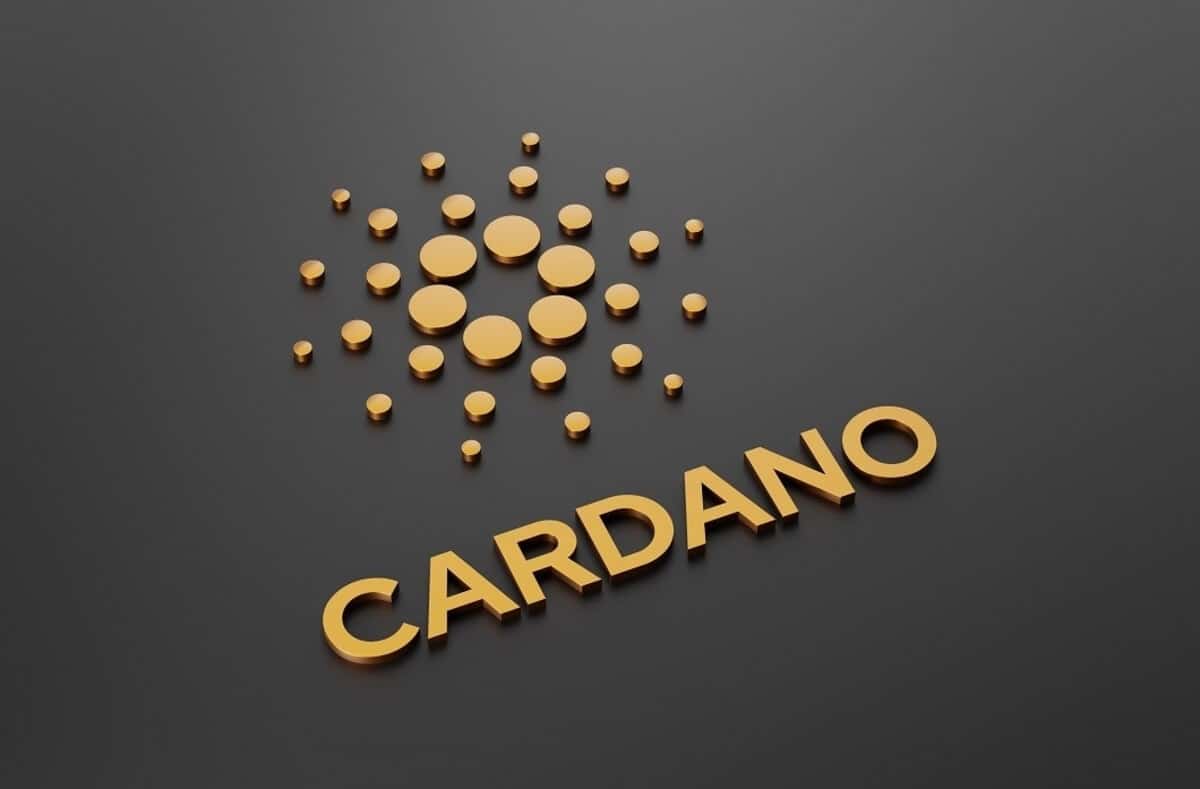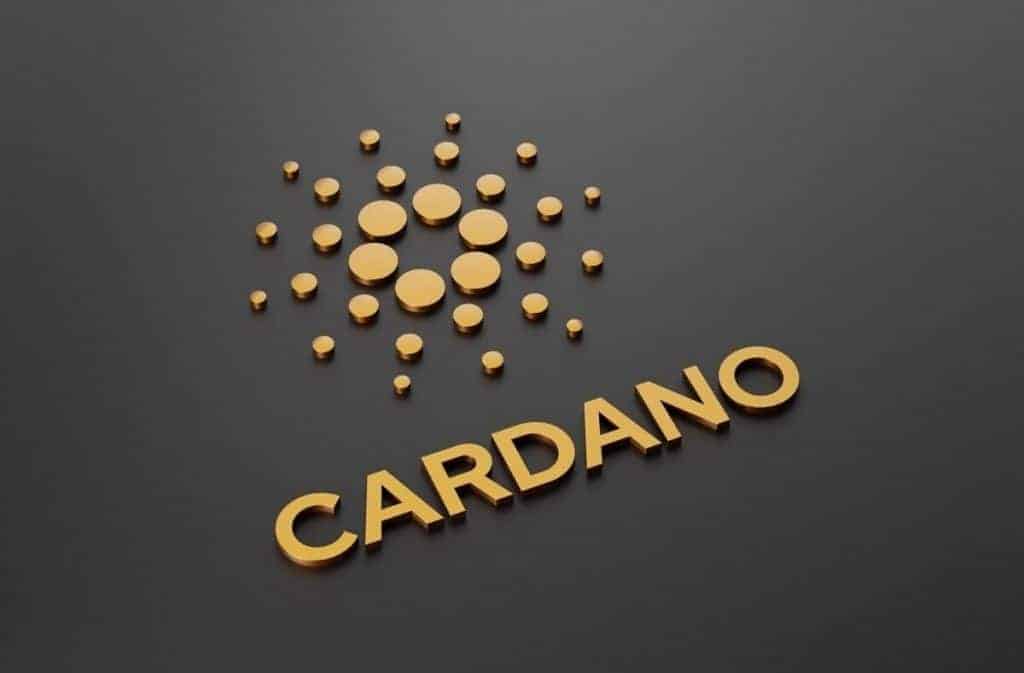 With Cardano, you have complete control over the minted token. You can either mint with the Cardano node or use third-party services without hassles.
Cardano, better known as ADA, is a proof-of-stake (PoS) blockchain that brings the efficiency of third-generation development. The primary aim of its creation is to solve critical issues experienced with Bitcoin and Ethereum.
Specifically, the Cardano blockchain pushes towards scalability, sustainability, and interoperability. However, it has a twist regarding transaction fees.
Cardano is among the blockchains that support NFT, without a doubt, but it has a unique payment system. It rates and prices the NFTs based on the file size.
Consequently, the bigger the file size, the more fees you will have to pay. You might want to lean towards smaller file sizes with such a system.
Cardano hosts an ecosystem with marketplaces where you can effortlessly trade your minted NFTs. You can also use the proprietary wallet to store your NFTs and other DeFi assets.
Reasons to Use Cardano
It has an ecosystem where you can effortlessly store or sell your assets and remit them to the in-house wallet.
The security on the platform is water-tight
Its proof-of-stake functionality allows you to store your NFT and still earn without trading.
The transaction fees are on the affordable side of the coin.
Why You Should Skip Cardano
Cardano is yet to see extensive adoption. Hence, you will not find much value in trading your NFTs.
Quick Considerations Before Settling for a Blockchain That Supports NFT
Before we close the chapter on our NFT blockchains list, here are quick considerations when choosing blockchains that support NFT:
Transaction speed
Platform security
Scalability
Community support and adoption
Smart contract functionality
Final Thoughts
Ethereum remains the king blockchain for NFT minting while Binance steals the show as the largest crypto exchange network. Low transaction fees, scalability, and community support are crucial but also note functionality and security.
Other blockchains that support NFT include Flow, Near, and Tezos. Explore as much as possible before making your choice. Notwithstanding, Ethereum or Binance Smart Chain is capable if you need a platform quickly.