How Arbitrum Works – Ultimate Newbie Guide To Arbitrum NFTs
When NFTs and Decentralized Finance exploded in popularity, Ethereum became their settlement base. Everyone getting started with NFTs wanted a space on the already congested blockchain because it was the only way to trade NFTs. As impressive as the community growth was, the Ethereum platform was suffering. 
The congestion led to poor user experience, slower transactions, and higher gas fees when there was high demand. With time, it was bound to get worse. For a better experience, the community began embracing off-chain and on-chain scaling methods; one of them is Arbitrum.
Before you understand the Arbitrum NFTs marketplace, you must know how Arbitrum works. Here we explore this layer two technology and how to utilize it when dealing with the famous non-fungible token.
What is Arbitrum bridge
Created by off-chain labs, the Arbitrum Bridge is a layer 2 scaling solution that allows users to move assets from the Ethereum to the Arbitrum chain and back. It provides faster transaction speeds, cheaper gas fees, and more scalability compared to Ethereum Layer 1. You can bridge any Ethereum token, including Ether, ERC-721, and ERC-20.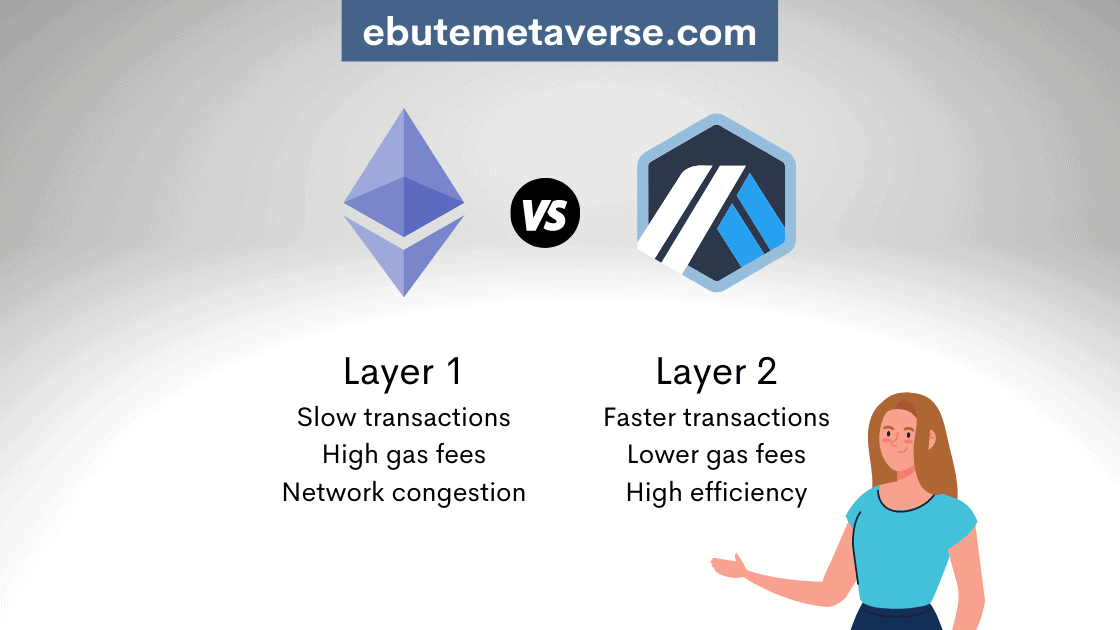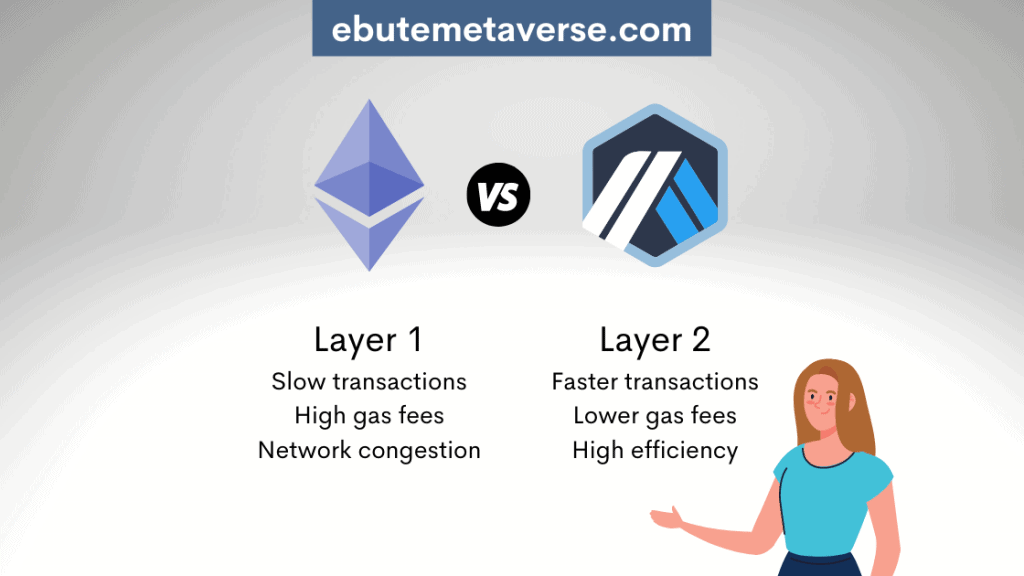 Is There an Arbitrum Token?
When you walk into the market to purchase an item, you must have cash at hand. Once you have found the item of your choice, you pay, and you get the item in exchange.
A token is just like the money you spent in exchange for that item; however, instead of physical cash, it's virtual. Let's put this more simply; a token is a denomination of a cryptocurrency that you use to trade or invest.
These tokens are assets that rely on the smart contracts of a blockchain. You can store these tokens for their value, exchange one for another, or stake them to generate profits. Famous examples of tokens that are independent are Bitcoin and Litecoin.
Like you have ETH on Ethereum, many expect that Arbitrum has its token. Here's news – Arbitrum one has no native token, and its founders have no plans of creating a custom token anytime soon. Instead, it uses ETH for transactions.
Therefore, if there is news of trading an Arbitrum token at the time of this writing, it's a scam.
Arbitrum Fees
Arbitrum's function is not limited to improving transactions on Ethereum but also reducing transaction costs. Since its roll-up technology is very efficient, Arbitrum can slash the cost of transacting on the blockchain.
Compared to the average Ethereum fees of $35 – $50, Arbitrum fees are currently between $0.50 – $2. Note that these figures are subject to network traffic and might be higher or lower when you want to make a transaction.
How Arbitrum Works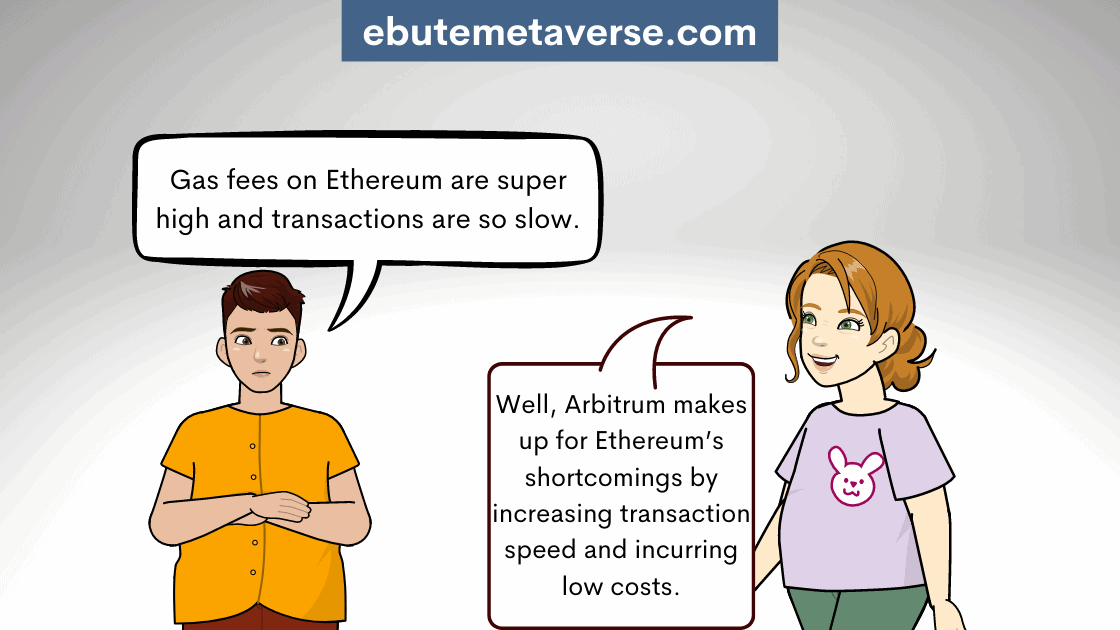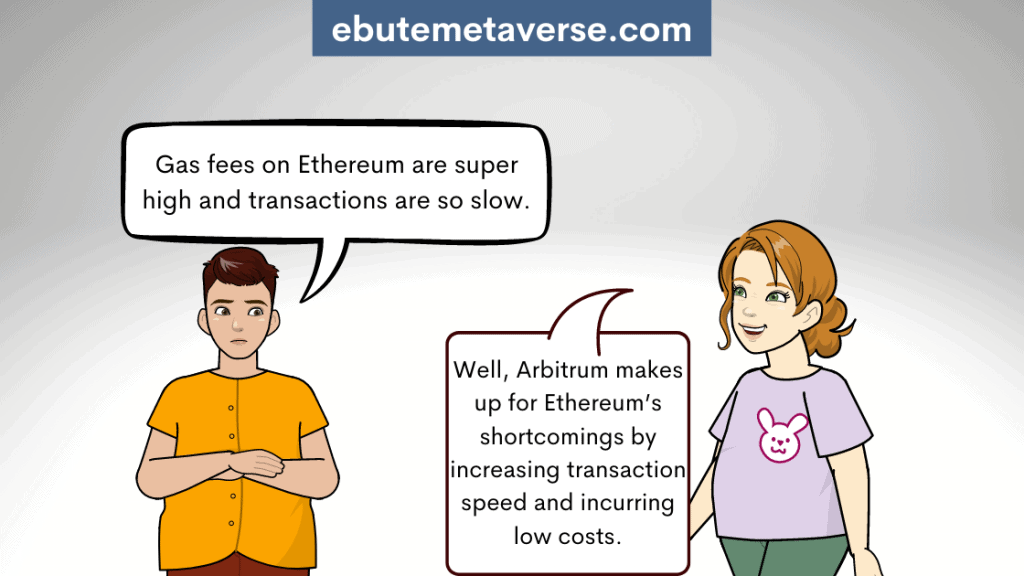 The scaling technology makes up for Ethereum's shortcomings by increasing transaction speed and incurring low costs. To enjoy the layer 2 solution, you need to add it to your MetaMask
How to bridge to layer 2 in your MetaMask wallet automatically:
The Arbitrum Bridge is the simplest way to link your wallet to the Arbitrum network.
Note: Before using the Arbitrum bridge, you must have a wallet like MetaMask. If you don't, start by downloading one. Afterward, fund the wallet with your ETH or token before proceeding.
How to Add Arbitrum Mainnet to MetaMask Manually
To connect your wallet to Arbitrum manually, open the Metamask wallet extension on the right of your navigation panel
Select the network name at the top of the wallet and click "add network" from the drop-down menu.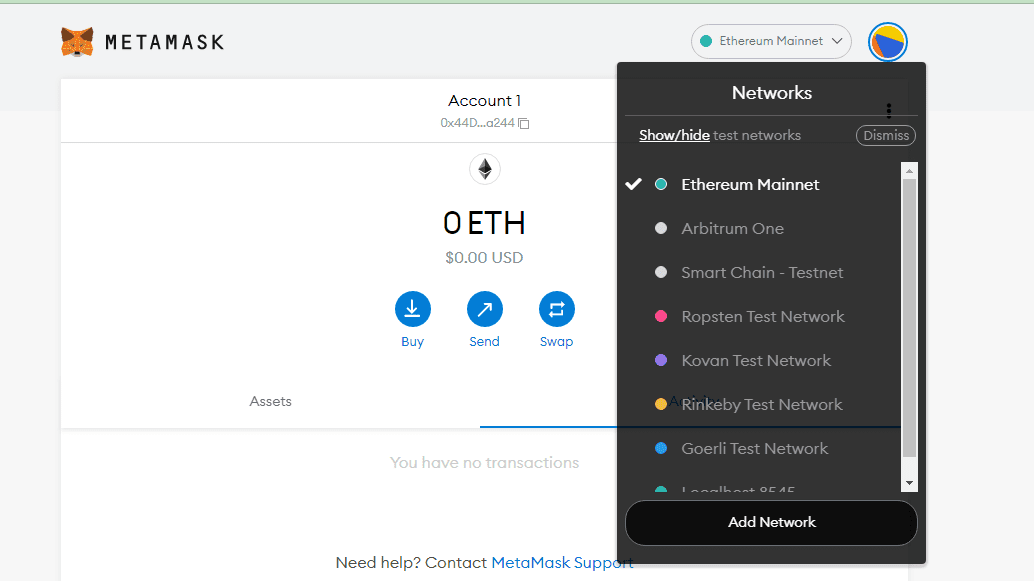 Enter these details in the space provided:
Arbitrum Mainnet – Network Name
https://arb1.arbitrum.io/rpc – New RPC URL
42161 – Chain ID
ETH – Currency Symbol
https://arbiscan.io/ – Block Explorer URL
Click "save."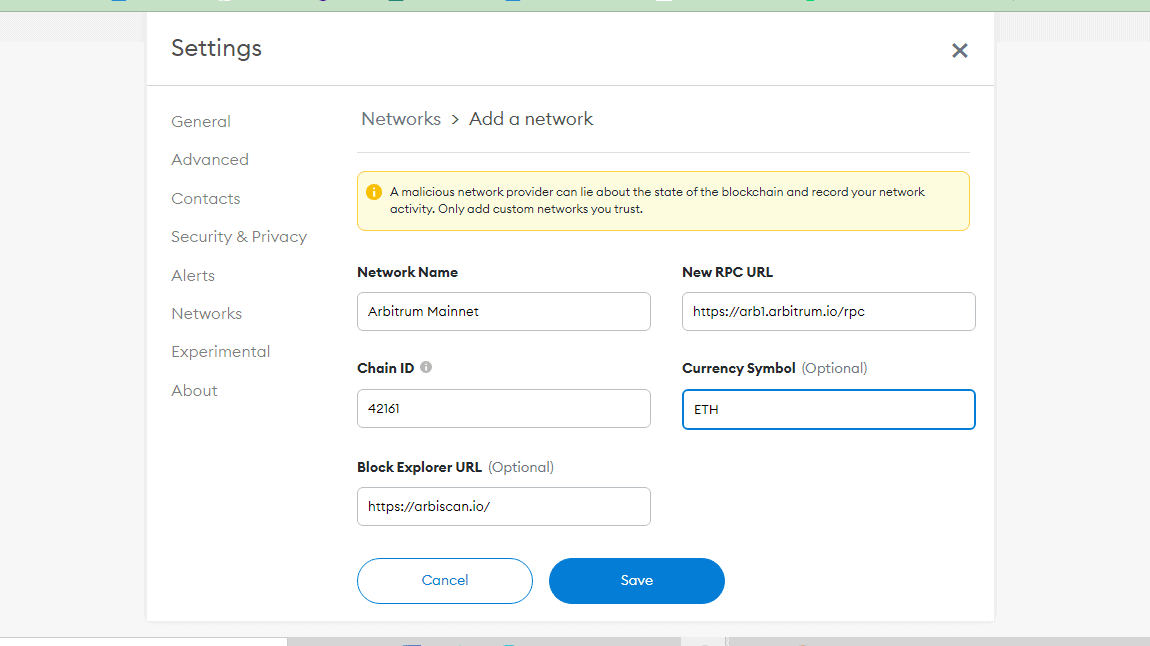 How To Use Arbitrum On Uniswap
Uniswap allows users to swap other tokens to Ethereum and back. Since it also works on the Ethereum blockchain, users face the same problem Ethereum poses. Uniswap users experience slow transactions and have to deal with high gas fees. Thankfully, with scaling solutions like Arbitrum, Uniswap users can reduce these fees and inconveniences to a minimum.
Here's how to use Arbitrum on Uniswap to swap tokens at lower fees:
Go to app.uniswap.org 
Connect your wallet by clicking the pink button on the top right
Change your network to Arbitrum by clicking the Ethereum banner and choose Arbitrum
Choose the tokens you want to swap and the one you're swapping to
Enter the amount, check the transaction fee and click "swap."
You can also switch back to Ethereum by selecting the Ethereum banner from the drop-down menu.
How Do You Bridge Funds To Arbitrum
Follow this process to continue:
Add the Arbitrum One Network automatically or manually to your wallet
Log into the Arbitrum bridge at https://bridge.arbitrum.io/ with your wallet 
Select the asset you intend to bridge from the drop-down menu
Enter the amount of token you want to bridge over in the L1 field
Click "deposit" to complete the transaction
Moving assets from L1 to L2 takes roughly ten minutes. Some days, when there's a lot of traffic, you might have to wait up to an hour. Also, ensure to set your wallet to the Arbitrum one network so that you can view your assets.
How to Move Your Funds Back to Ethereum Layer 1
You can move your funds back to Ethereum, but there's a 7-day waiting period before you receive them on the mainnet. To migrate your tokens from the Arbitrum chain to Ethereum, follow these steps:
Click the arrow between the Layer 2 and Layer 1 option
Select the asset you want to bridge over from the drop-down menu
In the L2 field, enter the amount of your asset you wish to bridge
Click the "withdraw" option to complete the transaction
An unconfirmed transaction will appear on your transaction page with a countdown of how long you'll wait
Once the wait is over, switch to the mainnet network on your wallet and claim the funds
How Long Does Arbitrum Bridge Take?
Bridging funds from Ethereum to the Arbitrum network takes between a few minutes to an hour. Once you've followed the proper steps, you should receive your assets soon.
On the other hand, sending assets from Arbitrum back to the Ethereum mainnet is subject to a seven-day wait period. In other words, don't expect your funds anytime before seven days of withdrawing. After this time, you can claim the funds on the mainnet through your wallet.
Arbitrum NFT Marketplace
With Arbitrum, we see a new future in the NFT world. Thanks to its faster transaction and lower gas fees, many projects and communities are building on top of the layer 2 solutions. Here are two communities building Arbitrum NFT marketplaces and metaverse on Arbitrum.
NFT Alliance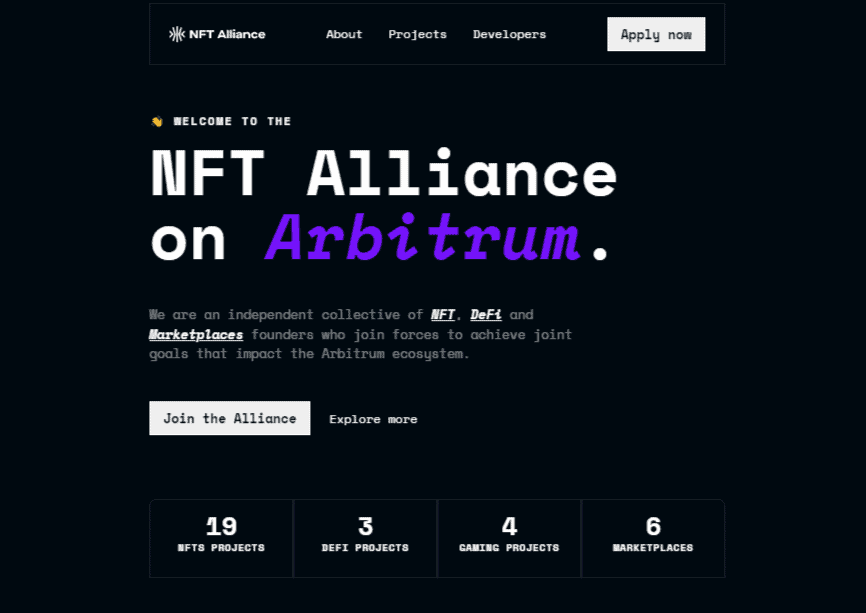 If you've been following the NFT development, you might have come across the NFT alliance on Arbitrum. So what does this community represent?
The NFT Alliance is a new group of NFT and DeFi enthusiasts. They aim to create unique Arbitrum NFTs to expand their communities and the NFT system.
NFT alliance is still growing, with 19 NFT projects, 6 marketplaces, 3 DeFi projects, and 4 gaming projects. However, these teams are working together to establish the framework for Arbitrum's future NFT advancements.
The alliance has enough room for other similar projects to join. It's also important to note that the Arbitrum NFT marketplace is still experimental. Therefore, if you intend to invest, start with small sums.
NFT alliance marketplaces include:
TreasureDAO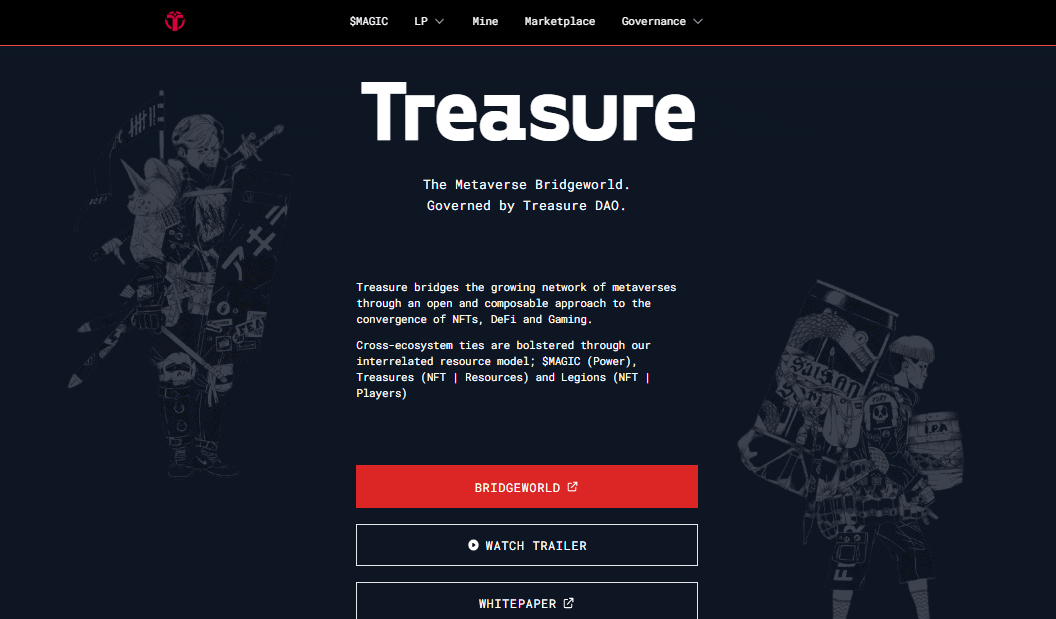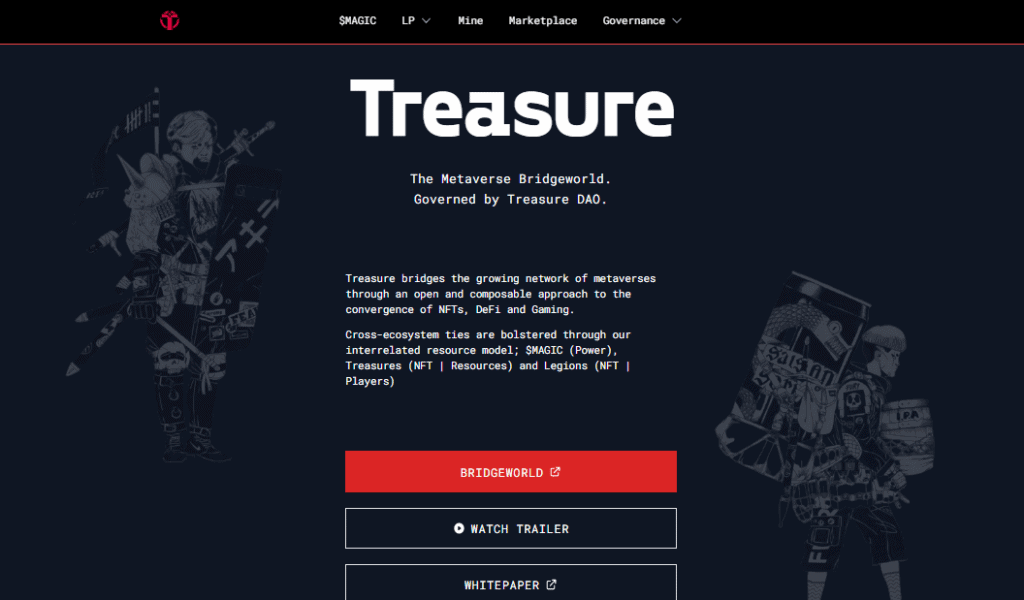 Treasure bridges the growing network of metaverses by integrating NFTs, DeFi, and Gaming in an open and modular fashion.
On Arbitrum, Treasure is characterized as a decentralized NFT ecosystem designed exclusively for metaverse applications. Each project on the Treasure marketplace incorporates $MAGIC into its metaverse.
Each community develops its own narrative for the Treasure marketplace, and all treasure initiatives are connected by $MAGIC.
Bridgeworld is the core metaverse of the Treasure ecosystem, and it is here that the primary game of Treasure is played. Additionally, this is where $MAGIC is generated and collected.
TreasureDAO has just one NFT marketplace where all non-fungible tokens are traded. The Treasure marketplace is the biggest fully-decentralized high-traffic marketplace on Arbitrum and plays host to Treasure NFTs, Legions, Life, Smol Brains, and many upcoming projects.
You'll need to have some $MAGIC in your Metamask wallet to use the marketplace.
Conclusion
Arbitrum has solved some of Ethereum's problems and created new opportunities for NFT enthusiasts. While most of these projects are still small, they're taking baby steps to become the next big thing.