Cardano NFT – Ultimate Guide to Finding and Minting ADA NFTs
Cardano is an impressive blockchain, thanks to its cheap and speedy transactions. Like the Ethereum network, it's one of many blockchains that supports non-fungible tokens, whether you want to mint, buy, or sell them. For newcomers in the NFT space, Cardano NFTs are a great place to start if you're just getting started with NFTs.
Cardano NFTs, or ADA NFTs, are non-fungible tokens on the Cardano blockchain. Their low entry barrier makes them the perfect choice for learning how non-fungible tokens work. Minting ADA NFTs is easy, and you can do it within minutes. However, you must first set up your wallet and accounts with minting platforms like NFT.Maker.io to successfully mint and sell your tokens.
Non-fungible tokens drive the DeFi ecosystem. With a growth rate of 35.0%, experts expect the market to hit $13.6 billion by 2027. To get you started, we will cover the following:
Which wallet to use
Cardano drops and launches.
Where to buy and sell Cardano NFTs
Upcoming Cardano projects.
Let us begin by answering the most frequently asked question, does Cardano support NFT?
Does Cardano Support NFT?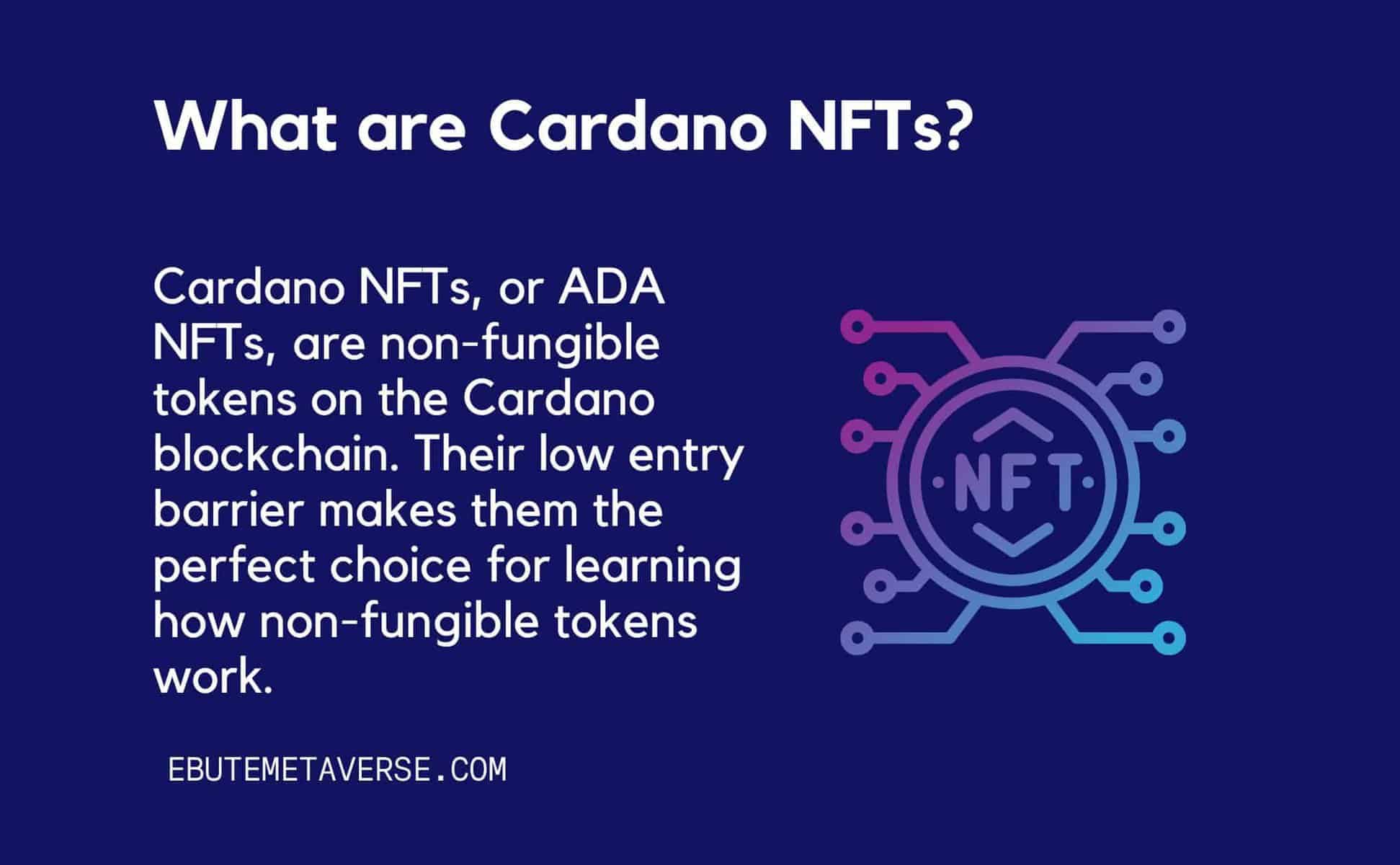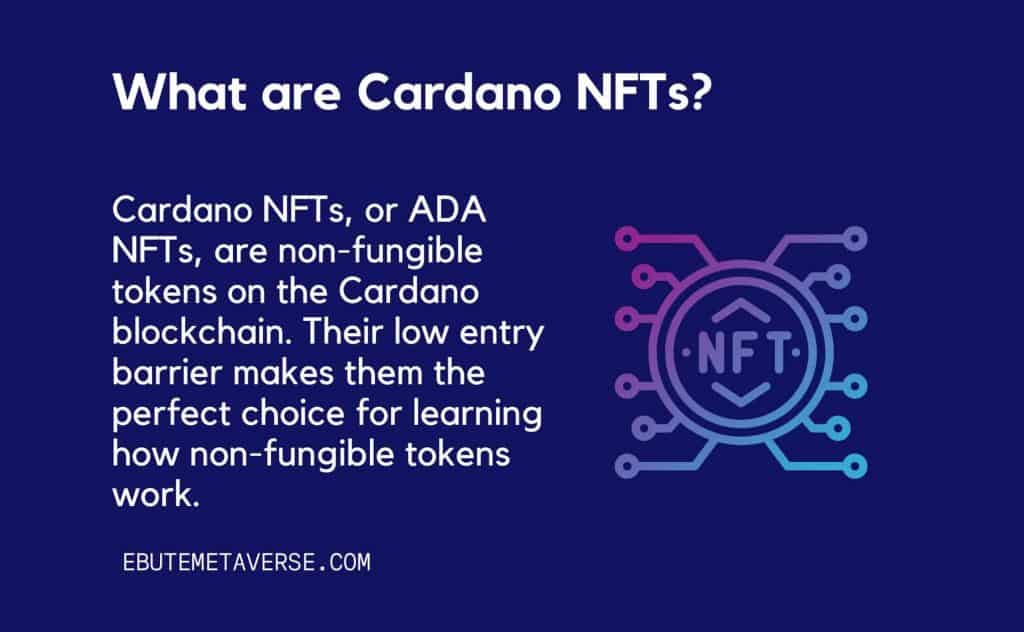 The Alonzo hard fork is, without a doubt, bringing smart contract capabilities to the Cardano blockchain. Some people might still think that this is the beginning of NFT minting on the network. However, the blockchain has supported the creation of these assets for some time.
UToday reported that users have minted over 800,000 ADA NFTs up to March 2022. That is a staggering number for this relatively new blockchain.
Cardano supports NFT transactions using the Mary hard fork. It might contrast with Ethereum's use of smart contracts, but it has been effective. Do not allow this disparity to confuse you that you cannot mint Cardano NFTs.
When did NFTs launch on Cardano?
CardanoKidz started the first NFT project on Cardano. The creator minted the first projects on March 10th and March 17th, 2021. As minting began to gain traction, Cardanokidz went on to mint up to series 8 designs through November of the same year.
Getting Started ADA NFTs
Getting started with ADA NFTs is easy. However, you might get lost in the never-ending world of information on the internet. Let us simplify things for you.
First, you need a wallet to store your non-fungible tokens. You can keep as many as possible. Nevertheless, you need to acquire them before storage.
That is where a Cardano NFT marketplace and minting platforms like NFT.Maker.IO come into play. You can either mint directly with the latter or go to a trading platform like CNFT to purchase one.
You can also search for a new project to follow and mint on launch day. Most of these ADA NFT projects give away allowlist spots that you have to win. As you'd expect, some NFT projects pull a lot of common scams.
As such, finding the right project is important, so you don't fall prey. There are different tools that can help you find good projects. But DYOR is always advisable before apeing into any Cardano NFT project.
Cardano NFTs vs Ethereum NFTs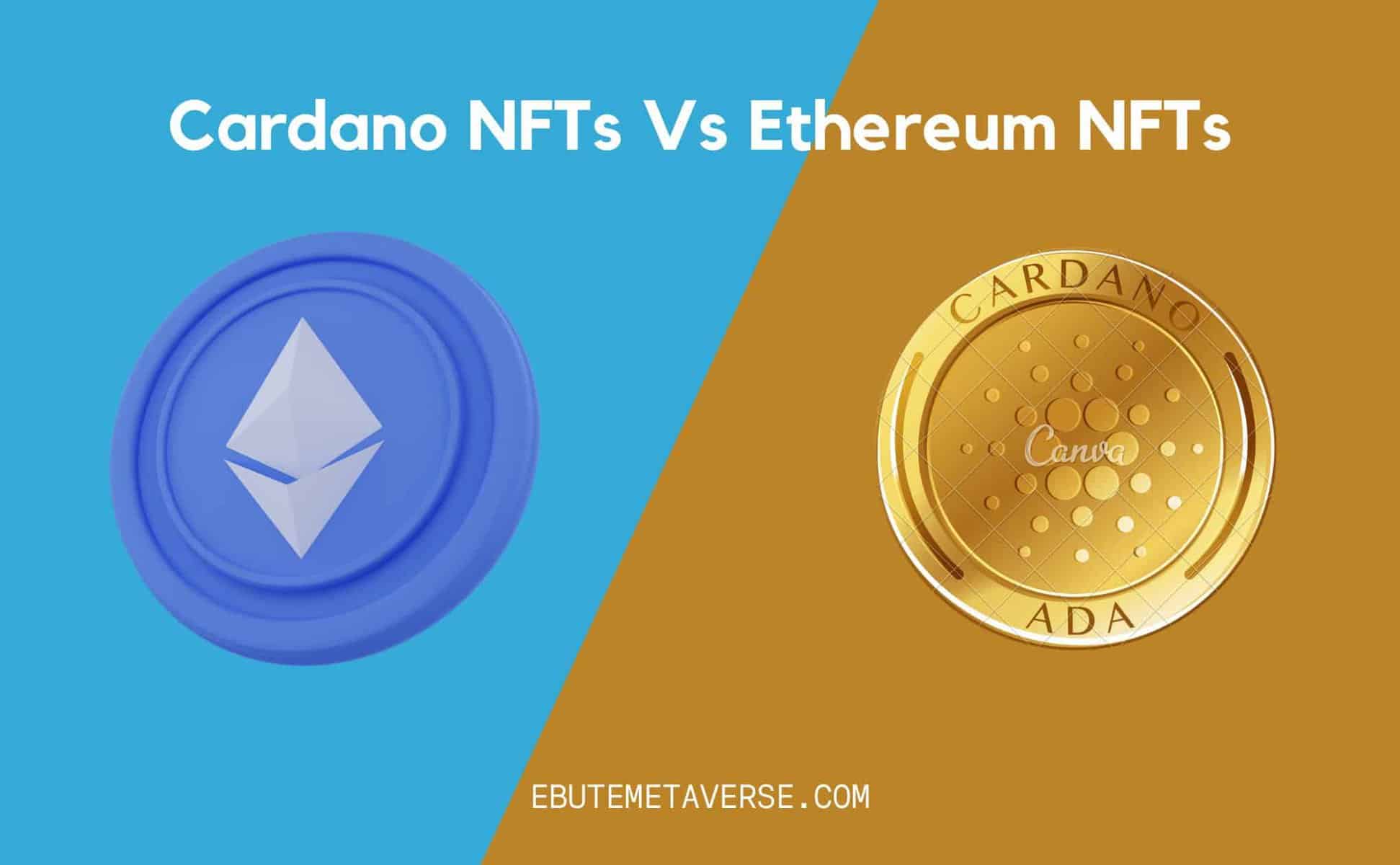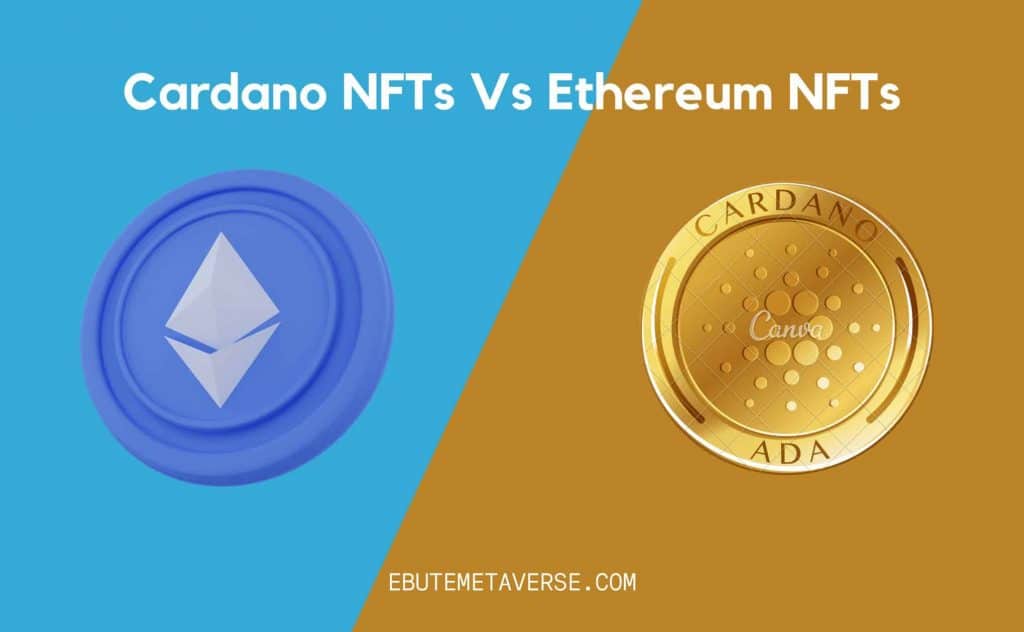 We understand that you want to compare these two NFTs to see which is better. You are just starting, and it is only proper you invest your resources in the best network.
Ethereum has the edge with its smart contracts and hosts many of the most famous NFT projects globally. However, ADA NFT projects are quickly catching up. Users turn to this new platform because of its affordability and fast transactions.
Currently, NFT projects on Cardano use the Mary hard fork, which does not work like a smart contract. Nevertheless, the blockchain has the aid of various platforms to bolster its capabilities in the market, one of which is NFT.Maker.IO.
How much does it cost to mint an NFT on Cardano?
Users who want to mint ADA NFTs can do so in NFT.Maker.IO, which enables minting on the Cardano blockchain. Hence, you must create an account with the platform before you begin.
While there are no charges when signing up, you will pay to get your ADA NFT projects minted. You can fund the minting or allow someone else to pay for it.
The platform allows you to set prices for your ADA NFTs. It could be 8 ADAs, which translates to $3.77 according to Yahoo's current rates or higher. Using Cardano is where you will appreciate the low fees.
An 8 ADA NFT mint could go for 0.1ADA in transaction charges. As a result, you will not spend much on gas fees while getting your NFT projects on Cardano done.
What Cardano NFT Wallet to Use?
Nami, Daedalus, and Yoroi are wallets that support the Cardano blockchain. However, Nami Wallet is your best bet if you want to hold ADA NFTs. It integrates seamlessly with your browsers like Chrome, Brave, and Edge.
You can download and install Nami Wallet as a Chrome extension from the webstore or the host site. Then, you can quickly load it and use it when necessary.
The following steps will guide you through setting up the wallet:
Go to the Chrome web store and search for Nami Wallet
Click on "Add extension." This command will download and install it.
Go to the extensions in your browser and click on Nami Wallet. It will appear as a small window in the top right corner of the screen.
You can create a new wallet or import existing wallets like Daedalus and Yoroi. However, do not use two wallets in one browser.
If you click "New wallet," you will receive your seed phrase (24 words). Copy it and save it somewhere secure.
Enter the seed phrase in the next window.
Create your wallet name and password.
That should get your Nami wallet ready for use.
What is the Cardano NFT drop or launch?
A Cardano NFT drop refers to the date and time for releasing a new non-fungible token, project, or an entire collection. Creators use this method to invite users to pay and mint the projects.
Drops or launches are simple marketing strategies to create awareness. They could be on social media, the Cardano NFT marketplace, or emails.
A drop could be an auction or fixed price purchase. For NFT dutch auctions, different users bid for the ADA non-fungible tokens, while you will pay a specific price for the set price purchase.
Before taking part in a drop, ensure you have your wallet ready and funded. Then, register, as required by some marketplaces, and be on time. You might get the assets at a cheaper rate if you are early.
Some platforms offer free drops, where you do not have to pay for the tokens.
How to buy and sell Cardano NFTs?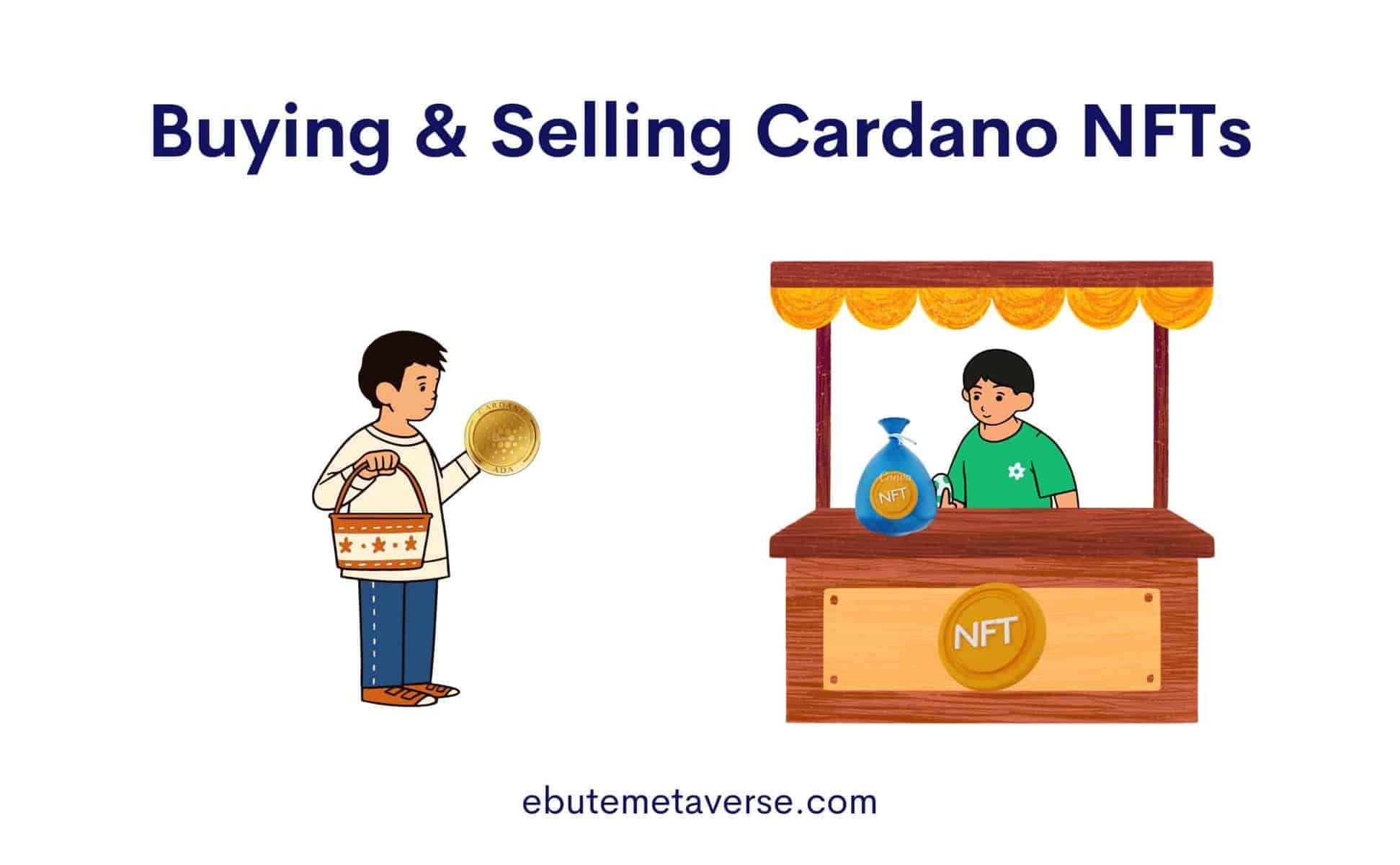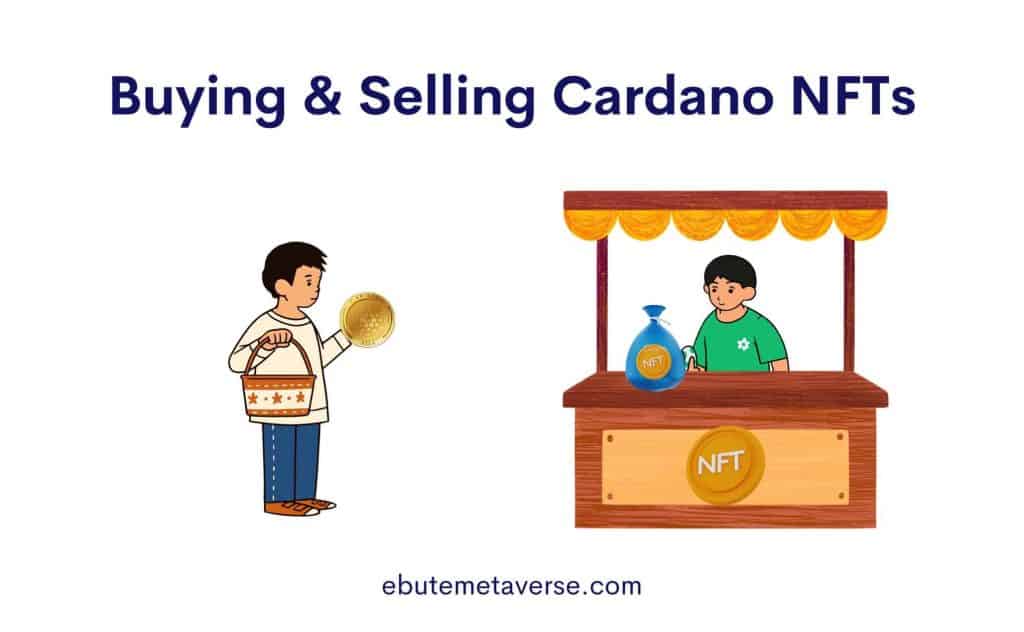 Aside from minting, you can buy and sell ADA NFTs without hassles. You will need an exchange like Binance, a wallet, and a marketplace. Have those three ready, and you can trade non-fungible tokens easily.
How to buy NFTs in Cardano?
We will assume, at this stage, that you have set up your Nami Wallet or any other wallet of your choice. The next step is to get some ADA and get ready to buy the assets.
Click the "Receive button" in your wallet. It will bring out the address where you can copy or use the QR code. QR codes work if you have Binance on your smartphone.
Paste the address on your exchange platform. Pick the ADA network and insert the amount to withdraw. Once complete, you can proceed to connect your wallet to the Cardano NFT marketplace.
Most marketplaces will immediately recognize Nami Wallet, making connecting easy. After signing the data sign request, you should be good to go. The final step will then be to purchase the ADA NFTs.
Choose the non-fungible token you want and click on "buy now." The marketplace will show you all its details, including the address and time required for the transaction. Copy the address, and send the required amount from your wallet.
Once the seller confirms the transaction, you will receive the Cardano NFT.
Where to sell Cardano NFTs?
A Cardano NFT marketplace is where you sell your non-fungible tokens. There are several dApps where you can sell them. However, it must support the Cardano blockchain for your transaction to be successful.
You can use any of the numerous Cardano non-fungible token marketplaces, including CNFT.io or Tokhun. It is more of a personal preference and where you expect to find more buyers.
How to see NFTs in your Cardano wallet?
Some wallets, like the Nami Wallet, allow you to view your collections directly. Others will not display the assets. In such cases, you can use a platform like Pool.pm to view all the assets in your wallets, including Cardano non-fungible tokens.
Copy your wallet's address and paste it on Pool.pm. The platform will scan it and display all the non-fungible tokens. For Nami Wallet, click "collectibles" to bring out your collection.
So, viewing your ADA NFTs depends on the wallet you are using. Though it is quicker in some wallets, the process is relatively effortless.
What is the best Cardano NFT marketplace?
Cardano's community is expanding but still falls behind Bitcoin, Ethereum, and Binance. The number of projects, wallets, DeFi, and marketplaces on the blockchain is impressive. With many options, the following are the best Cardano NFT marketplaces:
Check our article on the best ADA marketplaces to find ADA NFT projects for purchase or minting. You can also sell on these platforms without hassles.
Where to find Upcoming ADA NFT projects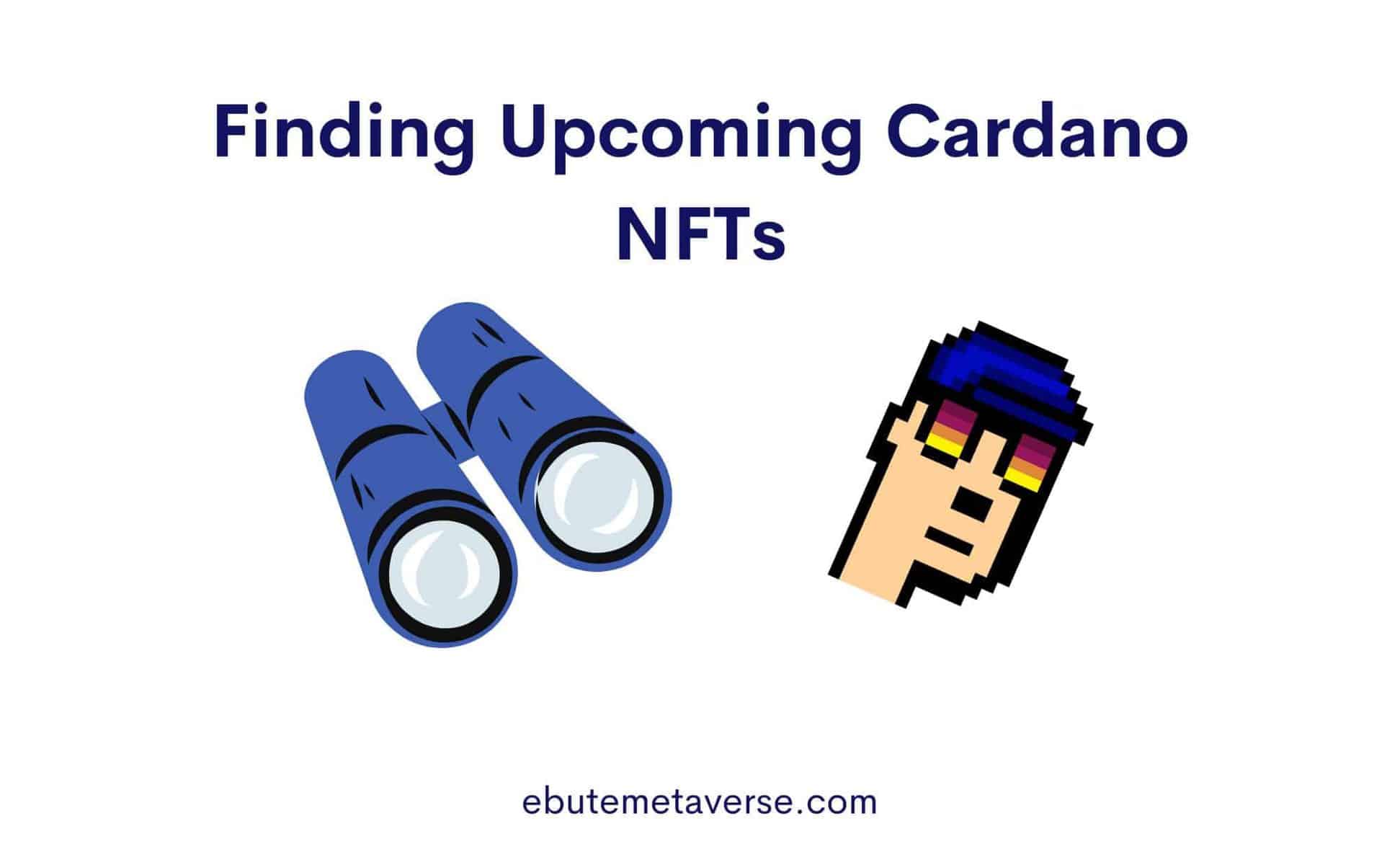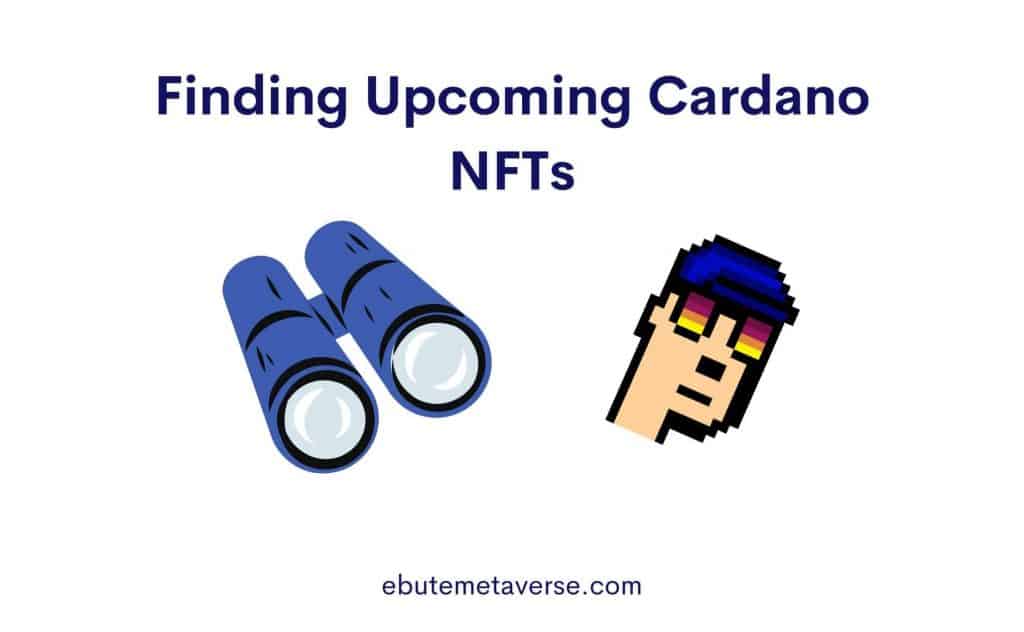 Finding upcoming NFT projects on Cardano is easy, but it requires constant online availability. While you might enjoy email notifications, most drops appear on various online platforms.
Social media like Twitter is one of the best places to find upcoming projects. However, you must follow creators and artists to keep up with their posts.
Another place is the NFT drop calendars. You can find several of them online, where creators and artists go to list their projects. Popular calendars include nftcalendar.io, CNFT calendar, and Cardanocube.io.
The last principal place is the marketplaces. As you surf for profitable NFTs, you will also get information on upcoming projects.
Despite the versatility in finding upcoming projects, do your research before purchasing any.
Best Cardano NFTs To Buy Right Now?
NFTs are currently making it big on Cardano. Some are selling for millions of dollars, while others are seeing a growing number of users. With that in mind, these are the best Cardano NFTs to get right now:
Spacebundz: This project is a collection of 10k NFTs with over $1.5 million in sales.
Pavia Metaverse: This project introduced metaverse into the Cardano blockchain. Users can buy virtual land based on coordinates.
Wild Warriors: This project already boasts ten characters with an in-coming on-chain voting mechanism.
These are a few, as the number is growing daily. Nevertheless, do not purchase any NFT if you don't have adequate information.
Conclusion
Cardano is a fast-growing blockchain, and creators turn to ADA NFTs for more profitability. With support for fast and affordable transactions, it is quickly rivaling established platforms like Ethereum.
So, mint your first NFTs on Cardano and enjoy the ease, affordability, and quick transactions.