NFT marketplaces are the best places to buy and sell NFTs. Here, we have created an NFT marketplace list where you can trade these digital assets.
With the growth of this sector, several like platforms are sprouting, so we'll endeavor to keep this list updated.
What are the best places to buy and sell NFTs?
Check out our NFT marketplace list to find the one that's best to start collecting NFTs.
OpenSea – Most Popular NFT Marketplace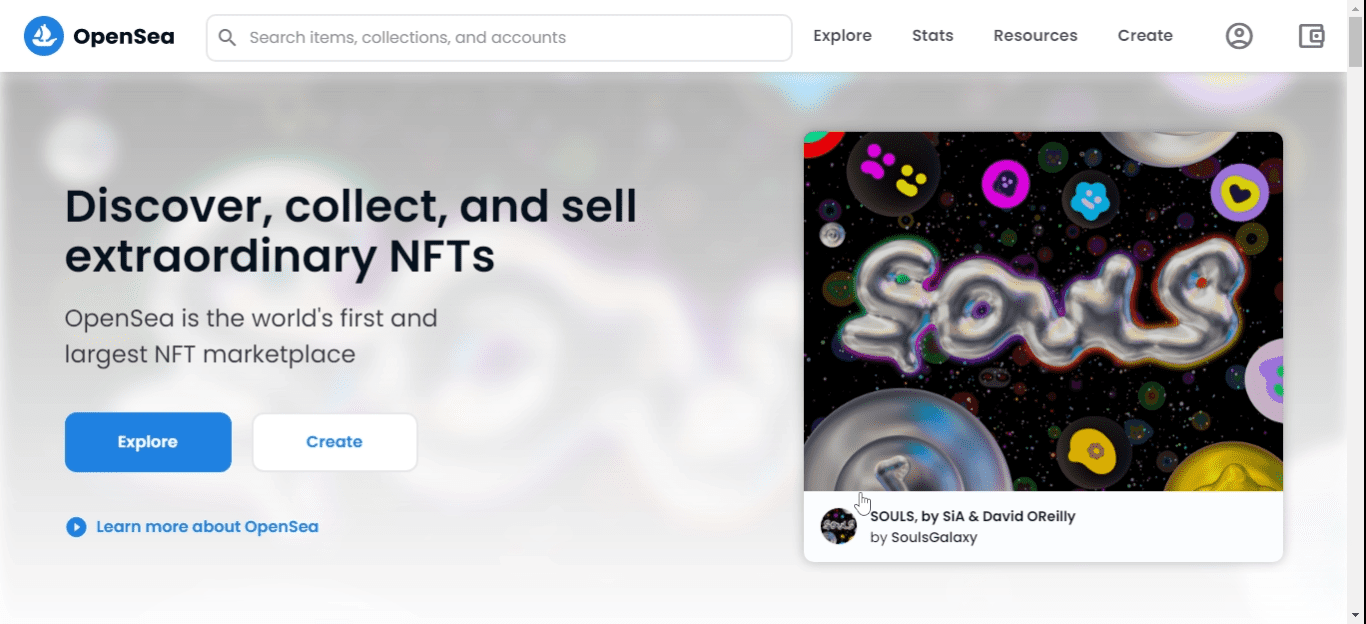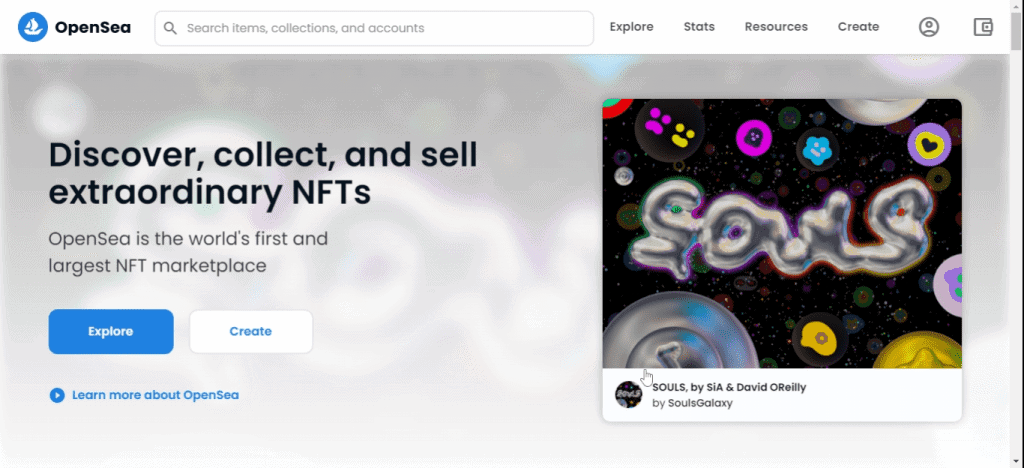 NFTs Supported: Art, Game items, Music, Images, Sound, Domain Games
Blockchain Supported: Ethereum, Polygon, Klatyn, Solana
The first entry on our NFT marketplace list is OpenSea. OpenSea is one of the first websites to open its virtual doors.
Founded in 2017, this marketplace is the brainchild of Devin Finzer and Alex Atallah and is now one of the largest NFT platforms to trade.
OpenSea has an intuitive, user-friendly interface that makes it easy for beginners to enter the NFT world. It allows users to buy and sell these digital assets easily.
The decentralized marketplace allows artists and creators to use the platform without surrendering the rights to their work.
Features
Allows users to send NFTs as a gift to other users
Supports NFT minting for free
Features a responsive and easy-to-use website
Charges a service fee of 2.5% on every sale
Supports various wallets like MetaMask, Dapper, Portis, and Coinbase
Pros of Opensea
Low gas fees
Large library of NFT collectibles
Seamless user interface
Responsive customer support
Cons of Opensea
Accepts payments only in cryptocurrency
You can start minting NFTs easily on OpenSea – Visit the official site to begin.
---
Related Post: Ultimate Guide To Getting Started With NFTs For Beginners
---
Rarible – Best NFT Marketplace for Trading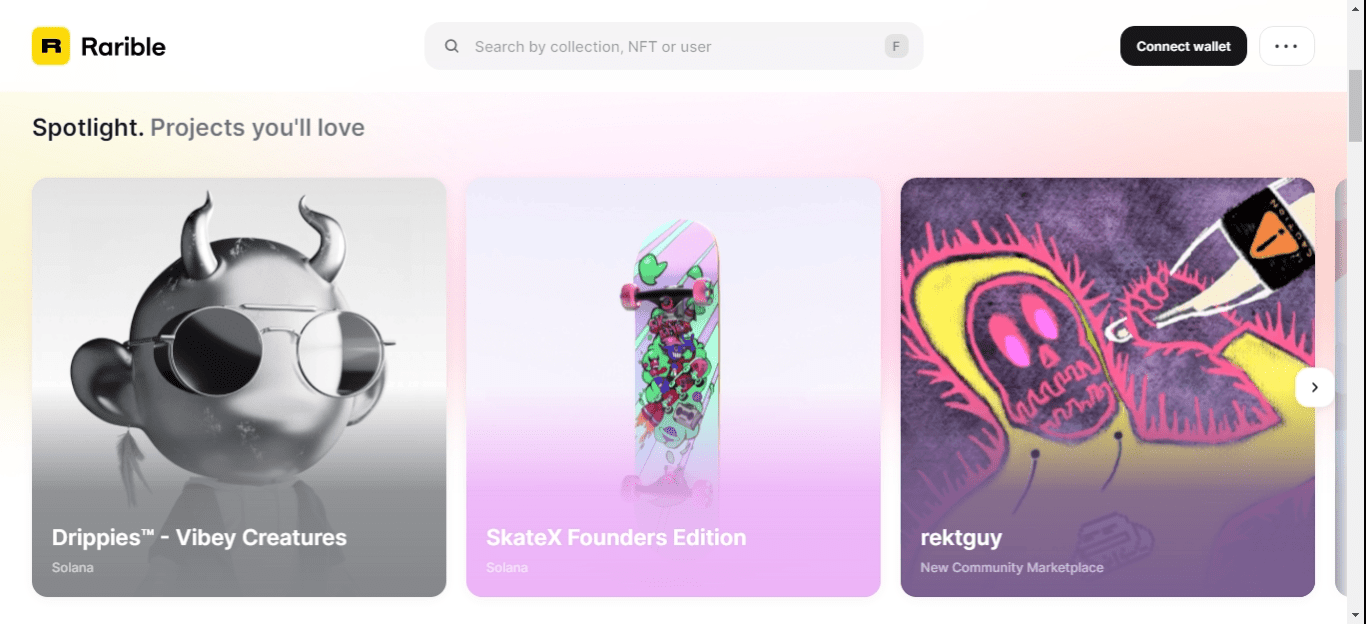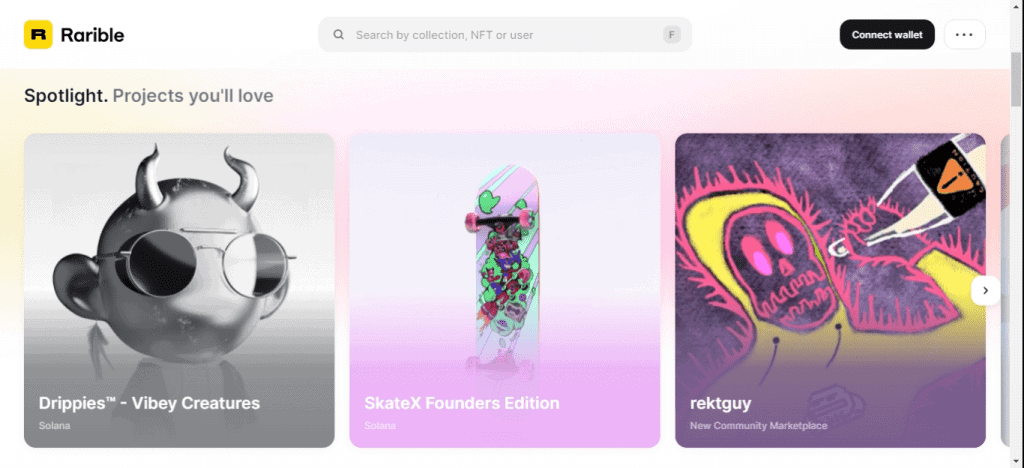 NFTs Supported: Arts, Images, Game items, Memes
Blockchain Supported: Ethereum, Solana, Flow, Polygon
Rarible is a most popular NFT platform for sellers and traders that debuted in 2020. The platform holds thousands of tokens, some of which are extremely valuable. It also supports different blockchains and reduced fees.
Rarible allows you to use your credit or debit card to buy NFTs. Over 190 countries are supported, making it easy for people worldwide to buy Rarible NFTs.
It supports several wallets, like MetaMask and Coinbase, so investors can store their assets safely after buying them.
Features
Rarible validates users and gives verified users a yellow checkmark
Allows users to connect as many as 20 wallets to their profile
Easy to mint NFTs
Pros of Rarible
No gas fees for minting NFTs
Supports different blockchains
Features an easy-to-use site
Supports multi-wallet connection
Cons of Rarible
Creating a wallet on the platform can be challenging
There's a 2.5% fee on both parties for transactions
Rarible is one of the best places to buy and sell NFTs, and you can be one of its users. Check out Rarible to get started.
TofuNFT – NFT Marketplace for GameFi Items
NFTs Supported: GameFi and Collectibles
Blockchain Supported: BNB Smart Chain (BSC), Ethereum, Polygon, Avalanche, Fantom, and Arbitrum
Another cool website on our NFT marketplace list is TofuNFT. TofuNFT is a decentralized marketplace where you can buy, sell, and trade NFTs.
It was made by SCV.Finance and runs on multiple blockchains. The marketplace focuses on GameFi and collectibles.
Features
Supports Multiple Blockchain
Over 1,000 tokens and collections for sale
Interactive platform
Pros of TofuNFT
No listing fee
The platform is easy to use
Tokens can be bought at a fixed price or through an auction
Cons of TofuNFT
Only a few tokens up for sale
TofuNFT might not be as popular as other options on our NFT marketplace list, but it is a great platform for Game items.
Treasureland – Best NFT Marketplace for Artists
NFTs Supported: Arts, Images, Game items
Blockchain Supported: Binance, Ethereum, Polygon, Moonbeam, KCC
Treasureland is a multi-chain NFT marketplace where users mint and sell their artwork on the Binance Smart Chain.
At the time of its creation, the marketplace distributed BSC NFT coins via airdrop. It allows users to get NFTs by exchanging BSC NFT tokens or using cryptocurrencies like BNB and DEGO.
The marketplace supports Multiple wallets, including Metamask, SafePal, Trust Wallet, Token Pocket, Math wallet, and ONTO wallet.
Features
Users can mint and sell NFTs
Its platform has a simple layout and attractive user-interface
It allows users to connect multiple wallets to their profile
Pros of Treasureland
Simple layout that's suitable for beginners
Lesser gas fees
Users can easily mint, auction, and buy NFTs
Supports different types of NFTs
Cons of Treasureland
Charges a commission for every transaction
Foundation – Best NFT Marketplace for Art Enthusiasts
NFTs Supported: Arts
Blockchain Supported: Ethereum
Foundation is one of the best NFT sites for artists and collectors. The site houses an extensive collection of digital NFT arts, and artists get royalties for each sale.
Since this is an NFT art website, you won't find other types of tokens. It is a reliable decentralized platform that is built on the Ethereum blockchain.
Most of the auctions for NFTs on the Foundation marketplace last 24 hours after the first bid.
Foundation's interface is sleek and makes it easy to find the digital art you want. It charges the seller a 15% service fee for each transaction.
Foundation vs OpenSea – Which is Best for Creators and Collectors
Features
Foundation is the best place to sell NFT art
It supports Metamask and WalletConnect
Original creators receive 10% royalties for each sale
Pros of Foundation
Holds over 20,000 digital arts from different NFT artists
The website is beginner-friendly
Great for minting NFTs
Supports different wallets
Cons of Foundation
Ethereum gas fees can be high
There's a 15% service fee on each transaction
If you're looking for a suitable platform to trade NFT arts, visit Foundation today!
---
Read also: 8 Play-to-Earn NFT Games to play and make money
---
SuperRare – Best Site to Buy NFTs
NFTs Supported: Arts
Blockchain Supported: Ethereum
SuperRare is an NFT art website that's best for buying NFT as each piece is handpicked to ensure they are authentic. Thanks to this curation, NFT buyers are certain to get original items from creators. It has been in operation since 2018 and operates on the ETH blockchain.
Features
The platform accepts a limited number of creators to ensure quality
Partners with Miami Art Week for real-life exhibitions
Features an interface that is easy to use
Pros and Cons
Pros
Delivers high-quality and unique artworks
Artists earn royalties for secondary sales
Simple site layout
Cons
Charges high fees
Runs only on the Ethereum network
If you're looking to get verified tokens, try SuperRare.
Binance NFT Exchange – New NFT marketplace with Low Fees
NFTs Supported: Entertainment and Gaming Items
Blockchain Supported: Binance Smart Chain, Ethereum
Binance NFT Exchange is one new platform on our NFT marketplace list worth checking.
Binance started as a cryptocurrency exchange in 2017. At first, it was mostly for trading Bitcoin, but it grew to include more than 500 different cryptocurrencies. In 2021, it opened Binance NFT, its mixed NFT market.
Although the NFT market is still new, the marketplace is gaining popularity. Binance NFT has various categories, like gaming, sports, art, and even "Mystery Boxes," where you can get random NFTs of different rarities.
If you already have an account with Binance, you can use the same login information for the NFT marketplace.
Features
1% transaction fees
Beginner-friendly platform
Integration with Binance means it shares the same security systems
Pros of Binance NFT Exchange
Reduced gas fees
Low transaction fees
Well secured platform
Signing up is free of charge
Impressive Mystery Box feature
Cons of Binance NFT Exchange
The marketplace is still young
Low royalties of 1%
Despite being a new platform, there's much to gain from the Binance NFT marketplace.
Decentraland – NFT marketplace for Virtual spaces
NFTs Supported: Lands, Avatars
Blockchain Supported: Ethereum
Decentraland is one of the best places to buy and sell NFTs if you're into NFT real estate. It's a user-friendly platform where you can create different landmarks, structures, artworks, and scenes.
The marketplace allows users to interact with others on the same platform. It was launched in 2020 and is built on the Ethereum network.
Features
It is a 3D browser-based virtual platform
Users can create and trade NFTs
Allows users to monetize in-game content
It has designated tokens – MANA and LAND
Pros of Decentraland
Users can easily trade NFTs
You can play different games on the platform
Interaction with other users is possible
It allows you to create and build your environment in the marketplace
Cons of Decentraland
Don't miss out on getting land in the virtual world.
---
Read also: How to get NFT Whitelist Spots on Discord – Best Strategy
---
Mintable – Popular for Batch Minting
NFTs Supported: Art, Game items, Music, Videos
Blockchain Supported: Ethereum
Zach Burks launched Mintable in 2018. It has about 30,000 users and is built on the Ethereum blockchain like many platforms on our list of NFT marketplaces.
Users can mint their NFTs for free and buy and sell NFTs. Mintable is great for creators and collectors because it has many digital assets, from art to games.
Before fully using Mintable, you need to buy Ethereum from exchanges like Gemini and Binance. Then, you have to link your wallet, where you'll keep your digital assets and cryptocurrency.
Features
Gasless minting of NFTs
Users can perform batch minting instead of minting one by one
Features several categories of NFTs
It offers printable NFTs
Pros of Mintable
Mintable has a website that is easy to use
Users can mint NFTs for free
Features a wide range of NFTs
Cons of Mintable
Mintable supports only one cryptocurrency
It supports only one blockchain
NBA Topshot – Most Popular marketplace for NBA NFTs
NFTs Supported: Basketball video clips
Blockchain Supported: Flow
The NBA and Dapperlabs, a blockchain-based experience firm, collaborated to develop the first exclusive collection of NBA digital assets in 2020. The collaboration gave rise to the NBA Top Shot Marketplace.
Now, it is one of the best NFT websites featuring NBA clips and is best for NBA fans and WEB3 enthusiasts.
The NBA built it as a closed market using Dapper Labs' Flow blockchain. You can buy a collectible on the Top Shot marketplace site for a few dollars.
Features
It is the most successful NFT collectible marketplace with a large audience.
Simple user interface
Easy to register and trade on the site
Pros of NBA Topshot
New drops are available regularly
It allows purchases with different cryptocurrencies
Supports payments with Visa and Mastercard
Easy to signup
Cons of NBA Topshot
It doesn't support popular e-wallets like Metamask
High fees
If you're a basketball fan, you should check out NBA topshot for unique Basketball moments.
Zora – An NFT Marketplace for Creators
NFTs Supported: Art, animation, game items, Music, videos
Blockchain Supported: Ethereum
Zora is also one of the best places to buy and sell NFTs if you love music, videos, and animations. The digital marketplace is designed to facilitate the sale of artistic content based on NFT technology.
Dee Goens and Jacob Horne founded the platform in 2020, focusing on empowering creators to build their market. To use this marketplace, you must have an ETH wallet first.
Features
Easy payment methods are available
It has a search engine to help find content easily
The website is well-organized
Pros of Zora
It's the best NFT platform for artists to promote their work
Owners earn royalties for every sale
Zora allows artists to launch their community and personal tokens
Cons of Zora
Using Ethereum might incur high fees
A small percentage of royalties
Are you a creator, or do you aspire to be one? Zora is a good place to start.
---
Read this: What does NFT drop mean – NFT drops explained
---
The Sandbox – Popular NFT Marketplace for In-Game Items
NFTs Supported: LAND, game items
Blockchain Supported: Ethereum
The Sandbox is one of the most well-known cryptocurrency projects because it promises to create and launch a metaverse of user-generated content. This includes original scripts, games, and other products. It debuted in 2020 and has become the best NFT marketplace to trade voxel Assets.
Features
Allows users to purchase ASSETS like decorations and buildings
It has a designated currency – $SAND
It has a simple website for trading
Pros of The Sandbox
Beginners and experienced NFT enthusiasts can use the platform
Users can sell or buy ASSETs
Its play-to-earn model gives players exclusive ownership of items they collect in a game
It ensures safe ownership of your ASSETs
Cons of The Sandbox
It's still a work in progress
There's a 5% fee on transactions
Sandbox offers a platform to buy and sell assets.
Enjin Marketplace – Best platform for Enjin NFTs
NFTs Supported: Game items
Blockchain Supported: Ethereum
Launched in 2009 by Witek Radomski and Maxm Blagive, Enjin's NFT marketplace is a unique platform to buy, sell or trade tokens.
The Enjin platform also has its cryptocurrency, which launched in 2017.
It features a simple site where you can easily find NFTs for Enjin blockchain games. However, users need to have the Enjin wallet before transacting on the marketplace.
Features
An intuitive website that allows you to find items easily
The Ethereum blockchain powers it
The marketplace has a special ERC-20 token
Users can convert their NFTs into the native currency
Pros of Enjin Marketplace
Players can earn Enjin coins and use them to purchase in-game items
A large collection of tokens is available
It features a customized, easy-to-use wallet
Cons of Enjin Marketplace
It focuses only on blockchain games
Charges 2.5% on every NFT sale
If you're interested in Enjin games, don't miss out on what the marketplace offers.
Axie Infinity – NFT Marketplace for Axie Infinity In-Game Items
NFTs Supported: LAND, Axies, game items
Blockchain Supported: Ethereum
Axie Infinity is a popular game that centers around fantasy creatures called Axie. Its marketplace became popular in 2021 after one of its in-game properties sold for 888ETH.
It is the best website to buy NFT for use in the game. Users can sell and buy Axies, lands, and in-game items on this platform. It also has special ERC-20 tokens called AXS, which players can earn in the game.
Features
Users can buy and sell game NFTs that are peculiar to Axie Infinity
It allows you to breed the creatures to create new ones
The marketplace runs on the Ethereum blockchain
It also uses Ronin, a sidechain for faster transactions and fewer fees
Pros of Axie Infinity
Allows easy trading of Axie Infinity in-game items
Each item is unique thanks to the blockchain
The Ronin wallet allows users to dodge gas fees
Transaction fees are lesser with the Ronin wallet
Cons of Axie Infinity
The NFTs here are strictly for the game, so you can't find other NFT types
If you're interested in gaming or simply want to earn crypto, the Axie Infinity Marketplace is ideal for you. Visit the official site to get started.
---
Related: What is FOMO in NFT – A definitive self-help guide
---
Valuables – NFT Marketplace to Sell and Buy Tweets
NFTs Supported: Tweets
Blockchain Supported: Ethereum
Users can auction tweets and receive payment in ETH thanks to this digital auction platform designed by Cent. You need to either the user's Twitter handle or the tweet's URL into a search field to place bids. The tweet is then redirected to allow bidders to acknowledge their offer.
These tweets could earn very high amounts. For instance, Twitter CEO Jack Dorsey signed and sold his first tweet for $2.9 million on the website.
Features
Twitter users can trade their twits easily.
The website is designed to suit users who aren't tech-savvy
The bidding and selling process is straightforward
Pros of Valuables
You can buy tweets for a reasonable price
The platform features a simple layout
It's a good way to make cash by selling tweets
Cons of Valuables
The platform is still upcoming compared to other marketplaces
It's a tweet-only site, so it's not the NFT site for artists or art collectors
Now you know more about Valuables, why not try it out. As long as you have a Twitter account, you can make some cash selling tweets as NFTs. Visit Valuables to get started.
Coinbase NFT – New Marketplace for Unique Items
NFTs Supported: digital illustrations, photos, and videos
Blockchain Supported: Ethereum
Another latest entry in our NFT marketplace list is Coinbase. The American cryptocurrency exchange launched in 2012 and primarily focused on trading digital currencies.
Over time, more features have been introduced, including the launch of a dedicated NFT marketplace.
Despite being in beta, the Coinbase NFT marketplace is available to anyone. Coinbase's interface is similar to that of OpenSea.
However, unlike OpenSea, you may also buy and sell NFTs from many marketplaces. You can also use Ether (ETH) to purchase assets on the Coinbase marketplace.
Features
It doesn't require users to create an account
Coinbase supports only cryptocurrency payments
You can create your feed by following NFT influencers
Pros of Coinbase NFT
There are no fees as the marketplace is still in its Beta phase
It features several sought-after collections
Users only need to log in with a supported ETH wallet
Cons of Coinbase NFT
Doesn't support fiat payments
Only preapproved creators can mint on Coinbase
The platform lacks necessary features like filters that help users sort NFTs by category.
Coinbase's NFT marketplace might still be developing, but there's much to expect. Check out this marketplace today!
Nifty Gateway – Popular NFT Marketplace for Digital Arts
NFTs Supported: Digital arts, Music
Blockchain Supported: Ethereum
Nifty Gateway has supported the sales of some of the most popular digital artists, including Beeple and Grimes. It is one of the best NFT sites for artists powered by the Gemini cryptocurrency exchange and controlled by the Winklevoss twins. The NFTs, also called Nifties, are built on Ethereum.
In addition to being a curated platform, Nifty Gateway hosts any acquired NFTs. This means that the NFTs are not stored in your personal wallet but by Nifty Gateway and Gemini.
Features
It is an exclusive platform for well-known artists and brands
Supports fiat payments
The platform is easy to navigate
Pros of Nifty Gateway
The marketplace has high-profile creators and popular assets
Users can make payments with debit and credit cards
Beginner-friendly website
Supports only Premium drops
Cons of Nifty Gateway
Supports only ETH
The mobile app doesn't support the sale of NFTs
Nifty Gateway is one of the best places to buy and sell NFTs from exclusive drops. Visit Nifty Gateway.
KnownOrigin – Popular Marketplace for Authentic Digital Artworks
NFTs Supported: Digital arts
Blockchain Supported: Ethereum
KnownOrigin is owned by the cryptocurrency exchange Gemini and has been operational since 2018.
Although most of the tokens minted and sold here are created by more well-known NFT creators, you may also get inexpensive NFTs from lesser-known artists.
The curated platform encourages creators to share their original concepts for viewers to purchase. It verifies every piece to ensure each work is unique.
Features
You need a Web 3.0 digital wallet to purchase NFT
The marketplace is built on the Ethereum blockchain
Artists earn 12.5% royalties for secondary sales
Pros of KnownOrigin
Clean and simple user interface
Royalties are high
Each piece is verified, reducing the chances of fraud
It supports multiple wallets
Cons of KnownOrigin
Doesn't support fiat currencies
There's no mobile app
Visit KnownOrigin to discover unique digital art
MakersPlace – Trusted NFT Marketplace for Digital Artists
NFTs Supported: Digital arts
Blockchain Supported: Ethereum
MakersPlace is one of the longest-running NFT marketplaces, having launched in 2016. A trio, Ryoma Ito, Daniel (Dannie) Chu, and Yash Nelapati, created the site and is based in San Fransisco.
MakersPlace is a marketplace where accepted artists can mint and sell original works. Although MakersPlace displays the work, it does not acquire ownership of the asset; it simply acts as a platform to facilitate NFT trade.
Features
A safe platform for NFT purchases
It supports the sale of digital arts like pictures and audio files
Users must be verified
It charges 15% for service fees
Pros of MakersPlace
It supports credit cards
High Royalties
Simple User Interface
Cons of MakersPlace
High commissions for NFT sales
Markersplace is known for unique and valuable artwork. If you're looking for the best places to buy and sell NFTs, you should try out Markersplace today.
---
Read this: What is GameFi – The New Way to Earn While Playing
---
BakerySwap – First Marketplace on the Binance Blockchain
NFTs Supported: Digital arts
Blockchain Supported: Binance Smart Chain
BakerySwap is a decentralized cryptocurrency exchange that launched its NFT marketplace in September 2020. BakerySwap's NFT trading platform uses Binance Smart Chain, like its bitcoin exchange. The BakerySwap NFT site provides access to artworks, collectibles, and gaming assets.
Features
It has a platform that is easy to use
Users can but gamification NFTs like weapons
It features top emerging artists and their works
Users can use any Web 3 wallet that supports the Binance Smart chain
Pros of BakerySwap
It is easy to sell and buy NFTs on BakerySwap
Users can play games and earn NFTs
Cheap transaction fees
Cons of BakerySwap
The platform doesn't support fiat payments
BakerySwap is a great website to promote your work as an artist or buy valuables as a collector. Check out BakerySwap now!
TreasureDAO – NFT Marketplace for Affordable Game items
NFTs Supported: Game Items
Blockchain Supported: Ethereum (Arbitrum)
Treasure is a decentralized NFT ecosystem built on the Arbitrum platform for metaverse projects. Every project on Treasure's marketplace uses $MAGIC in its metaverse.
MAGIC is the local currency of Treasure and the only one you can use to purchase items. MAGIC is supported by the network of communities, DeFi infrastructure, and metaverses built on Treasure.
Features
It uses a unique token – MAGIC
TreasureDAO is built on the Arbitrum network
Users can buy and sell game items for the metaverse
Pros of TreasureDAO
Lower gas fees
It includes several NFT collections and a vibrant community
Looks to release more collections with time
It is built on the Arbitrum network
Cons of TreasureDAO
The platform is not as trusted as other marketplaces
You should visit TreasureDAO to see what it offers.
Crypto.com – Top NFT Marketplace with Exclusive Collections
NFTs Supported: Entertainment, Art, Music
Blockchain Supported: Binance Smart Chain, Ethereum
The market opened in 2021 and allowed users to sell NFTs in categories like art, celebrities, gaming, sports, and Music.
Crypto.com makes it easy to invest in these tokens, and users can sign up for an NFT account in just a few minutes.
You can buy NFTs at auction or for a set price using a credit or debit card. It lets users use the "Crypto.com Pay" gateway to buy NFTs with cryptocurrency.
There is no transaction fee when you buy an NFT on crypto.com, unlike most platforms.
Features
Support different NFT categories
Creating and buying NFT is easy on the platform
Users can buy tokens using fiat money and cryptocurrency
Easy to sign up
Pros of Crypto.com
There are no transaction fees
No gas fees
It supports payments with debit and credit cards
There's only a 1.99% fee when selling NFTs
Cons of Crypto.com
The marketplace is still young
Are you ready to buy, sell or showcase your NFTs? Visit Crypto.com!
AtomicMarket – NFT Marketplace for AtomicAssets
NFTs Supported: AtomicAssets
Blockchain Supported: WAX
AtomicMarket is the platform for buying and selling Atomic Assets. Pink Network, a group of Blockchain enthusiasts, created these Assets in 2020.
It lets people list assets for sale and auctions them off so that others can buy them based on their preferences.
Verification checkmarks are put on NFTs from well-known collections, which makes it easy for users to find real NFTs. The portal also makes a short list of all malicious collections.
Features
The platform verifies authentic collections to reduce the risk of scams
It features a powerful API that makes it easy to use
It charges 2% transaction fees
Pros of AtomicMarket
It's easy to identify authentic NFTs
Accepts payments via debit and credit cards
Simple and intuitive platform
Cons of AtomicMarket
Visit Atomic Marketplace to learn more.
---
Read this: SOL NFTs Vs ETH NFTs: Let's Find The Best Option
---
Async Art – Affordable NFT Marketplace
NFTs Supported: Art and Music
Blockchain Supported: Ethereum
Async Art is a market for non-fungible tokens (NFTs) that runs on the Ethereum blockchain. This platform is run by Asynchronous Art Inc and was formed in January 2021. It is based in the San Francisco Bay Area in the United States. You can purchase different NFTs though it supports only arts and Music.
Features
Artists receive 10% royalties on secondary sales
It charges a 10% fee for primary sales
Users can sell their works at a predetermined price or through auctioning
Prices of NFTs are quite reasonable
Pros of Async Art
Artists receive royalties for every secondary sale
Regular NFT drops
NFT prices are affordable
Simple platform to use
Cons of Async Art
High transaction fees
Only a few collections for sale
Do you want to sell or buy NFT art pieces? Visit Async Art today!
WAX – NFT Marketplace with over 140,000 Digital Assets
NFTs Supported: Art, Images, Sports
Blockchain Supported: WAX Blockchain
WAX is a blockchain network that began operations in 2017 and is meant to make e-commerce transactions run more smoothly. The network works with EOS and uses the power of the blockchain to compete with Ethereum.
The WAX NFT marketplace is called "SimpleMarket," and it lets users trade over 140,000 digital assets.
Some well-known brands, like Atari and Sony, have already used the WAX blockchain to mint their NFTs. This gives the platform more credibility.
Lastly, the fee structure for initial NFT releases isn't very clear, but it charges a 2% transaction fee on secondary sales.
Features
Over 140,000 to trade
Compatible with EOS
It is based on the WAX blockchain
Pros of WAX
Several NFTs are up for trade
No gas fees
A platform for high-profile brands
A good alternative to Ethereum-based marketplaces
Cons of WAX
Users must buy NFTs to become creators
Visit WAX now for more information!
NFT Marketplace list FAQ
Can You Lose Money When Making NFTs?
Creators must spend some amount of money making their NFTs. Therefore, there is a possibility of losing money during creation.
Is Selling NFT Easy?
Selling NFTs is no easy task. While creating your token might be simple, there are other factors to consider. You must promote your work and look for ways to ensure your NFT attracts interested investors.
How Much Does an NFT Artist Make?
NFT artists receive royalties for every secondary sale, usually 5-10% of the amount. Some marketplaces let artists choose their royalty percentage.
Is it Better to Mint or Buy NFTs?
Buying or minting depends on you. You have to consider the cost of minting and how much it takes to purchase a token.
Conclusion
We have listed the best NFT marketplace for artists, creators, and buyers. Now you know what each of these platforms offers, you can make a more informed decision about which to choose.
If you're a buyer, you should also consider how to quickly find NFTs that'll profit you in the long run. Check out our article on how to find profitable NFT projects early for in-depth information.