Foundation vs OpenSea – Which is Best for Creators and Collectors
Should you use Foundation or OpenSea? You'll definitely ask this question when exploring NFTs for the first time. Whether you're a collector or creator, both marketplaces offer unique features to make your NFT journey seamless. But which is better? 
Foundation offers a gated community for select artists and collectors looking to trade exclusive art. Conversely, OpenSea lowers the barrier for any artist or collector looking to trade NFTs with ease. Overall, OpenSea is better because it offers more payment methods, NFTs from multiple chains and categories, lower fees, and more. However, Foundation offers more authentic art from recognized artists.
The Foundation vs OpenSea comparison is a long one. And searching for which offers the best solution for creators and collectors can take the whole vibe from your NFT journey. That's why we've done the work for you, comparing both marketplaces to help you decide which is best for creating or flipping non-fungible tokens.
Foundation vs. OpenSea: NFT Marketplaces Compared
OpenSea and Foundation are two of the most popular NFT marketplaces. Both marketplaces account for a sizable portion of the overall market, which peaked at $41 billion in 2021. A closer look will give you first-hand knowledge of which marketplace to use to buy and sell your NFTs. The main differences between Foundation and OpenSea are listed below.
Foundation
OpenSea
Rating
3.00 stars
4.50 stars
Blockchain
Ethereum
Ethereum, Polygon, Klatyn, Solana
Platform Fees
Charges a 15% commission for all primary sales by the artist. Charges a 2.5% transaction fee for every secondary sale.
Lowest transaction fees and charging only 2.5% to the buyer
Payment Methods
Users can only use Ethereum (ETH) to buy and sell NFTs on Foundation.
Users can use Ethereum (ETH/wETH), Solana (SOL), USD Coin (USDC), and Dai (DAI) to buy and sell in OpenSea.
NFT Types Available
Memes, Art, Collectibles, Music, 3D art, Photography, and Sports
Memes, Art, Collectibles, Music, 3D art, Photography, Sports, Trading cards, Utility, Virtual worlds, and Domain names. 
Type of Sale
Foundation only works on an auction-based system.
OpenSea allows users to create auctions, place an NFT up for a specific amount, or accept offers.
Market Share
Foundation has a low market share. Crypto whales and bigger art creators boost Foundation with sales. 
OpenSea has Over 90% of the market share.
Market Type
Closed
Open
Support Currencies
$ETH
$WETH, $ETH, $DAI
Auction/Listing Type
Meet Reserved price first, then a 24hr option (additional 15 mins). Sold to the highest bidder.
Timed Auctions (Reserved price extends to 10 mins) and fixed price
Notable Investors
Variant, Andreessen and Horowitz
Founders Fund, Coinbase Ventures, Alexis Ohanian, Y Combinator, Mark Cuban, CAA Ventures

Accepted File Format
Image: JPEG, GIF, PNGVector: MP4
Image: JPEG, PNG, GIB, GLTF/GLBAudio: MP3, WAVVideo: MP4, WEBM
Notable Projects/Sales
Snowden Stay Free ($5,591,511)
Steve Torres Nyan Cat ($581,571)
Bored Ape Yacht Club (Steph Curry, Sotheby Auction)
Justin Aversano
Twin Flames #1. Ali & Gilli Glatt ($788,651.36)
Royalties
Foundation automatically sets a 10% royalty for all secondary sales.
Choose between 5-10% on OpenSea
Gas Payments
Artists pay gas fees upfront
OpenSea uses "lazy minting," which allows artists to pay gas fees at the point of the transaction.
Smart Contracts
Foundation works exclusively with ERC-721 contracts.
OpenSea accepts both ERC-1155 and ERC-721 smart contracts to be bought and sold on their platform.
Deployment
SaaS
iPhone
iPad
Android
Windows
Mac
Linux
SaaS
iPhone
iPad
Android
Windows
Mac
Linux
NFT Pre-moderation
Foundation pre-moderates the NFT, and only after the approval of the NFT can they be sold.
OpenSea does not pre-moderate NFTs
Wallets Supported
Coinbase, MetaMask, and WalletConnect
MetaMask, Coinbase, Trust Wallet, Fortmatic/Magic, Portis, Venly, Authereum, Phantom, Glow, Dapper, WalletConnect, OperaTouch, Torus, WalletLink, etc.
Which is Better, OpenSea or Foundation? Our Verdict
After reviewing both platforms, we are certain that OpenSea is the best choice for most artists and collectors. This is because their transaction fees are lower, they support ERC-1155s, and they have a very large user base.
But whether you choose Foundation or OpenSea, they are among the most trusted and popular NFT marketplaces. Either marketplace will never take custody of your NFTs. Instead, each one works as a service that lets people buy and sell things.
Even if an artist or art collector doesn't get into Foundation, they can still make money on OpenSea. Still, if you can get an invite to Foundation, buyers will likely value your work more from the start.
What is Foundation?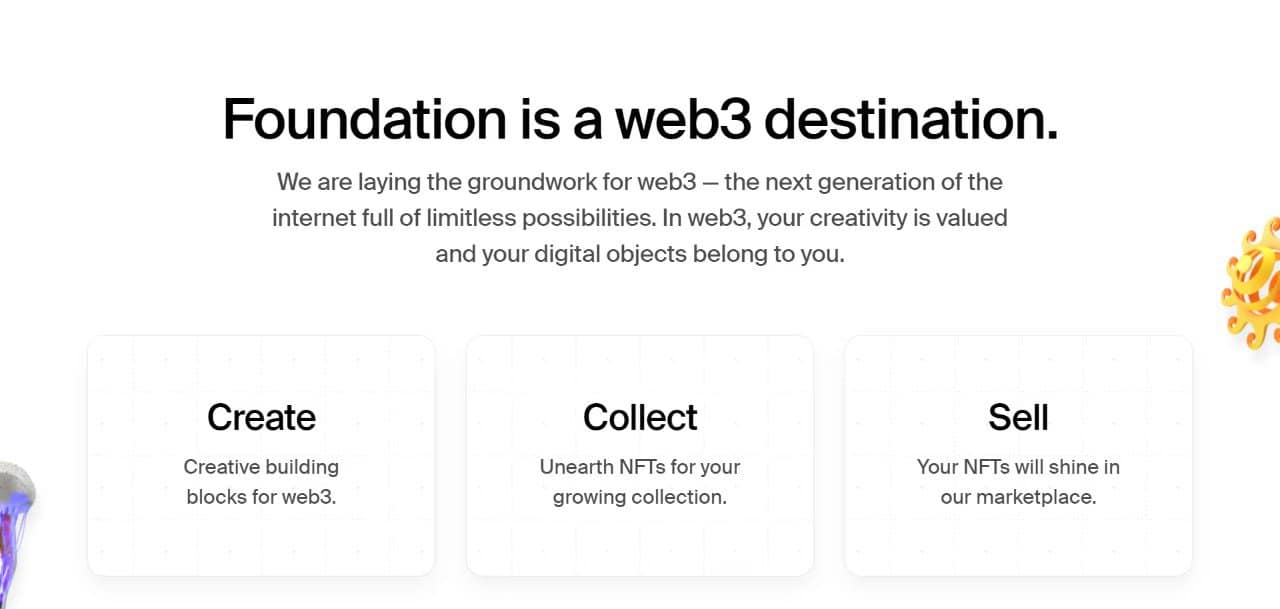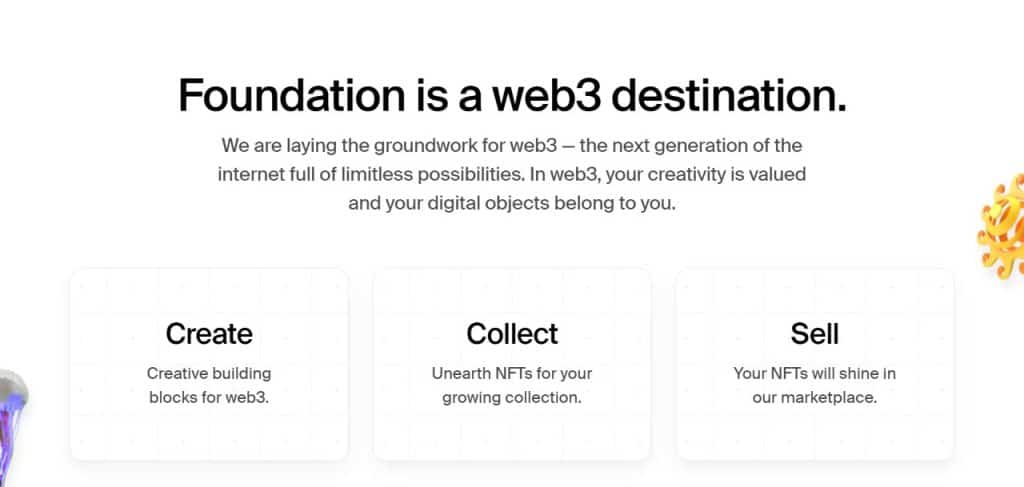 Foundation NFT is a decentralized invite-only NFT marketplace that has been around since 2020. It is proud to be a curator of fine digital art. Foundation Labs has raised a seed round of $200,000 from investors who did not want to be identified. 
The NFT marketplace is more like an art gallery in how they choose which artists to work with. Each month, they only ask a few new NFT artists to make digital assets for them. Pak, Kevin Roose, and Jack Butcher are all well-known artists who work with Foundation.
The platform works as a place to hold NFTs auctions. When an artist mints an image, video, or virtual world, they set a minimum price for the asset. As the potential buyer bids at least the minimum price on an item, it goes into a 24-hour auction. If someone bids in the last 15 minutes, the timer will keep going back to 15 minutes until no one else bids.
Artists on Foundation Marketplace will need to be invited by a current creator on the platform before they can sell their crypto art there. Many people fill out the website's invitation form, hoping they will be the next ones chosen.
The exclusivity of the Foundation marketplace is a major drawback because you can't sell or mint NFTs on Foundation unless you're invited by an artist already on the platform. This feature differs from OpenSea, where anyone can mint and sell NFTs.
What is OpenSea?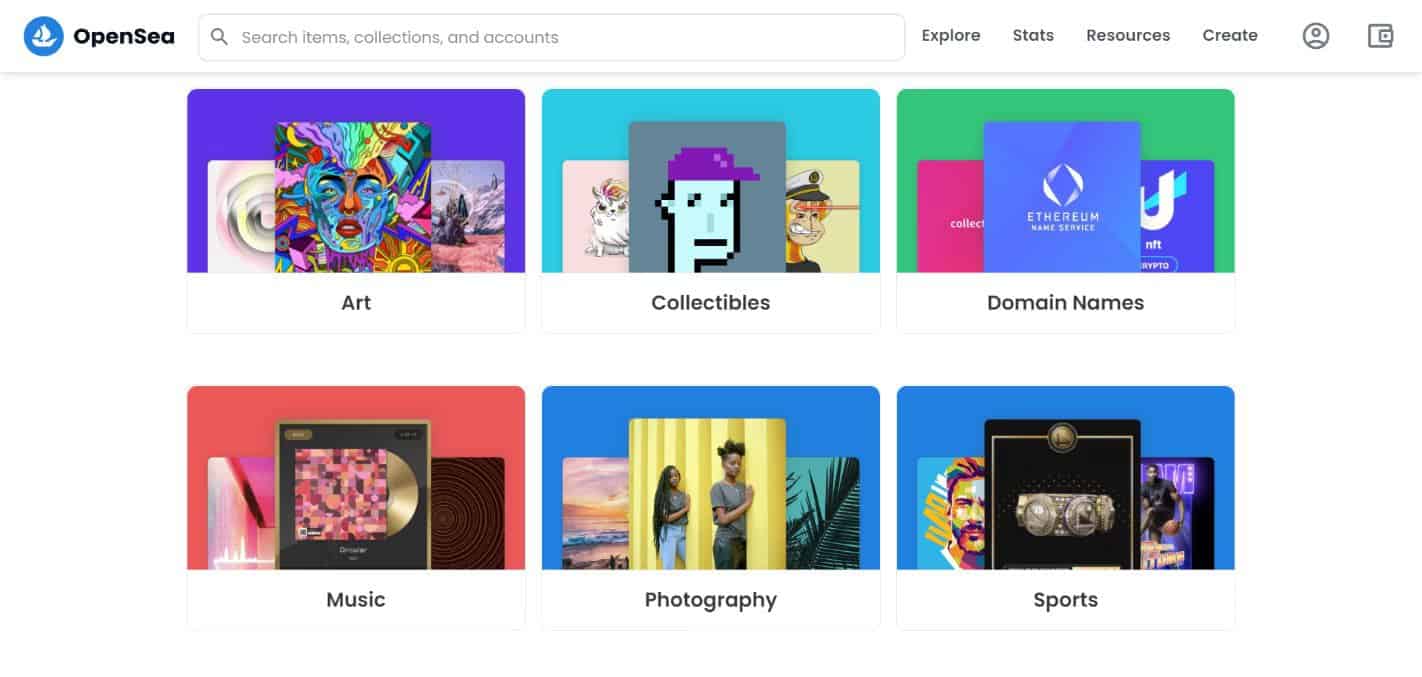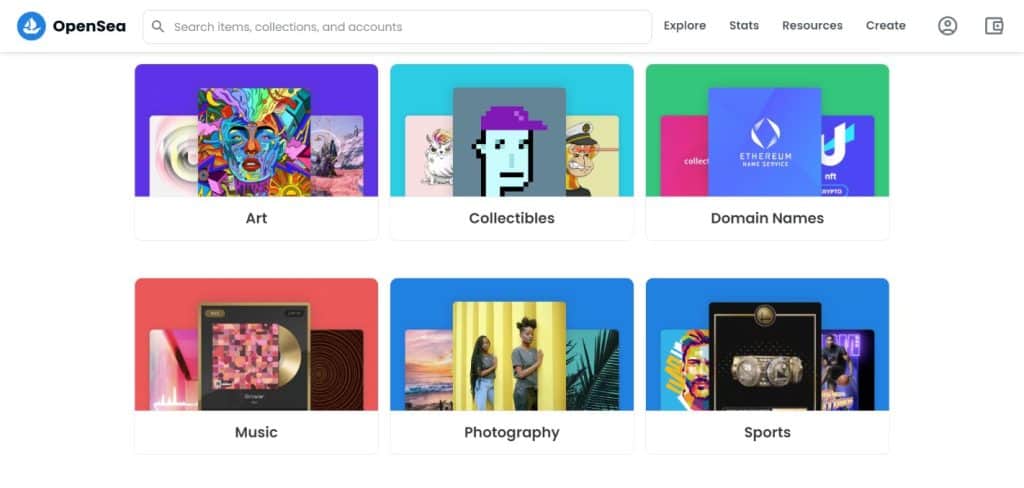 OpenSea was the first NFT marketplace that made it easy for buyers and sellers to buy and sell on their platform. It was started in December 2017. Since the start, Devin Finzer and Alex Atallah have worked hard to make a platform that many people can trust. The NFT platform has grown to become the biggest place for collectors to buy digital items, and it is generally thought to be the best NFT marketplace. In fact, in August 2021, OpenSea sold assets worth $3.4 billion.
The launch of CryptoKitties gave the company's founders ideas, and they worked hard to connect with people in early NFT Discord servers to find out what the community wanted in a platform. OpenSea's user interface (UI) is simple, which makes it easy for potential collectors to search through their database of more than 34 million digital assets. Categories include:
What kind of digital assets it is (domains, metaverse, GIFs),
Who made it(the artists) (Beeple, Jose Delbo), and
What specific collections it is in (Bored Ape Yacht Club, CryptoKitties, Meebits).
Foundation Co-founders Alex Atallah and Devin Finzer have made NFT trading platforms that run on the Ethereum blockchain, just like all other NFT trading platforms. But OpenSea is different from the others because it is powered by the Wyvern Protocol, which is a set of smart contracts built on Ethereum that are used to transfer digital assets. Overall, OpenSea is a fantastic place to store, sell, or buy digital assets.
Conclusion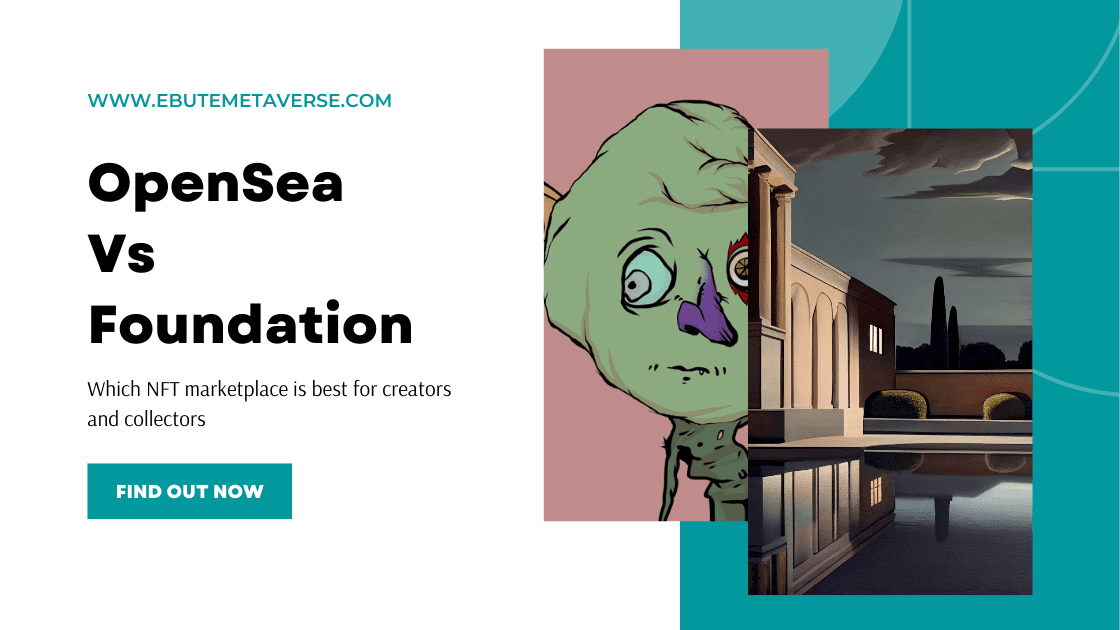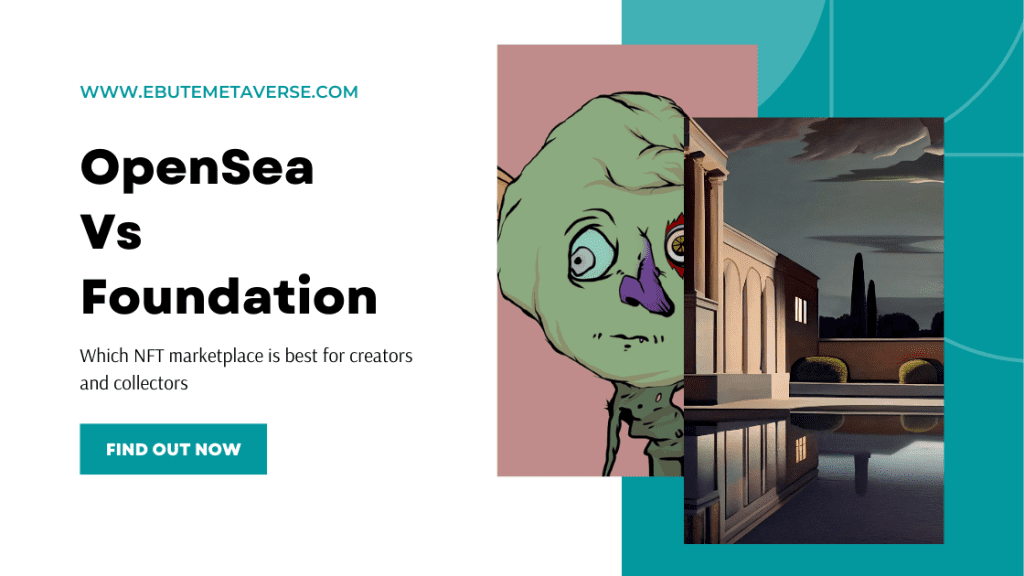 Using either Foundation or OpenSea is a personal choice as both platforms offer unique features for different people. OpenSea is the largest NFT marketplace and the ideal place to start if you're new to NFTs. Foundation has a smaller user base but offers more quality art from top creators thanks to its invite-only requirement. There are more marketplaces to explore as well if both platforms don't meet your requirement.
Frequently Asked Questions
What is the Difference Between Opensea and Foundation?
The difference between Opensea and Foundation is that OpenSea lets its users use ETH, DAI, and more than 150 other cryptocurrencies based on Ethereum, like REVV, UNI, WHALE, WKLAY, etc. While Foundation only lets its users buy tokens that can't be used to buy any other digital asset with ether (ETH). Neither bitcoin nor fiat currency can be used on either platform.
Is Foundation Better Than Opensea?
Foundation is not really better than Opensea due to Foundation's exclusivity. OpenSea stands out because of its numerous NFTs and creators in the marketplace. There are 100 times more NFTs for sale on the platform, and it also has a bigger audience. OpenSea charges half as much as Foundation for each transaction. Foundation has fewer users than Facebook, but it's more like an art gallery.
Can You Transfer NFT From OpenSea to Foundation?
Yes, you can! Follow these simple steps to transfer your NFTs from OpenSea to another Ethereum address:
1. Go to your OpenSea profile page and select the "NFTs" tab.
2. Navigate to an NFT you'd like to transfer.
In the bottom left corner of the item card, click the three-dot menu and select "Transfer."
3. Confirm your selection and press Continue.
Enter the ETH wallet address copied from Foundation NFT marketplace and press Send items.
Confirm the signature request in your wallet.
You'll see a confirmation message once the item has been transferred. You can also view the confirmation on Etherscan by clicking "View transaction."