Buying NFTs on the largest NFT market in the world, OpenSea is easy. The platform runs two straightforward buying systems: fixed-price listings and auctions. You either join other buyers to place a bid for an NFT or buy the NFT immediately at a fixed price.
However, OpenSea allows buyers to negotiate the fixed price listing by making offers to the seller.
Some buyers or collectors might want clarity on OpenSea's buying systems and how they work. That's why I'm comparing OpenSea Offer vs Bid to help decide which option to use.
If you're a seller, check out our fixed price vs. auction article to know the best option to sell your NFTs.
This article will explore both buying options, including their pros and cons.
I'll also provide my opinion on OpenSea offers and bids and which one I think is better when buying NFTs on OpenSea.
Let's get started!
OpenSea Offer vs Bid: Side-By-Side Comparison
Below is a comparison table highlighting the main differences between OpenSea offers and bids.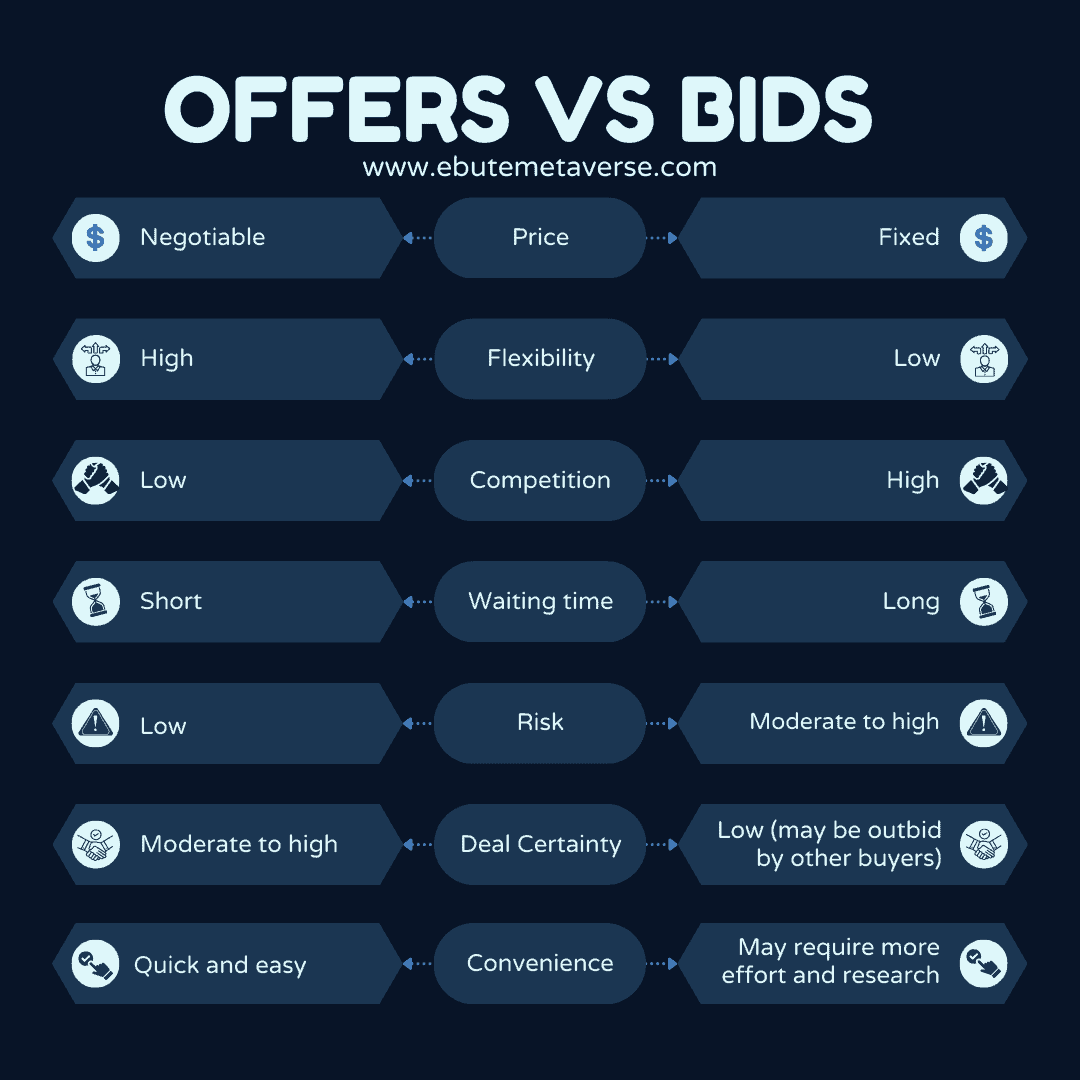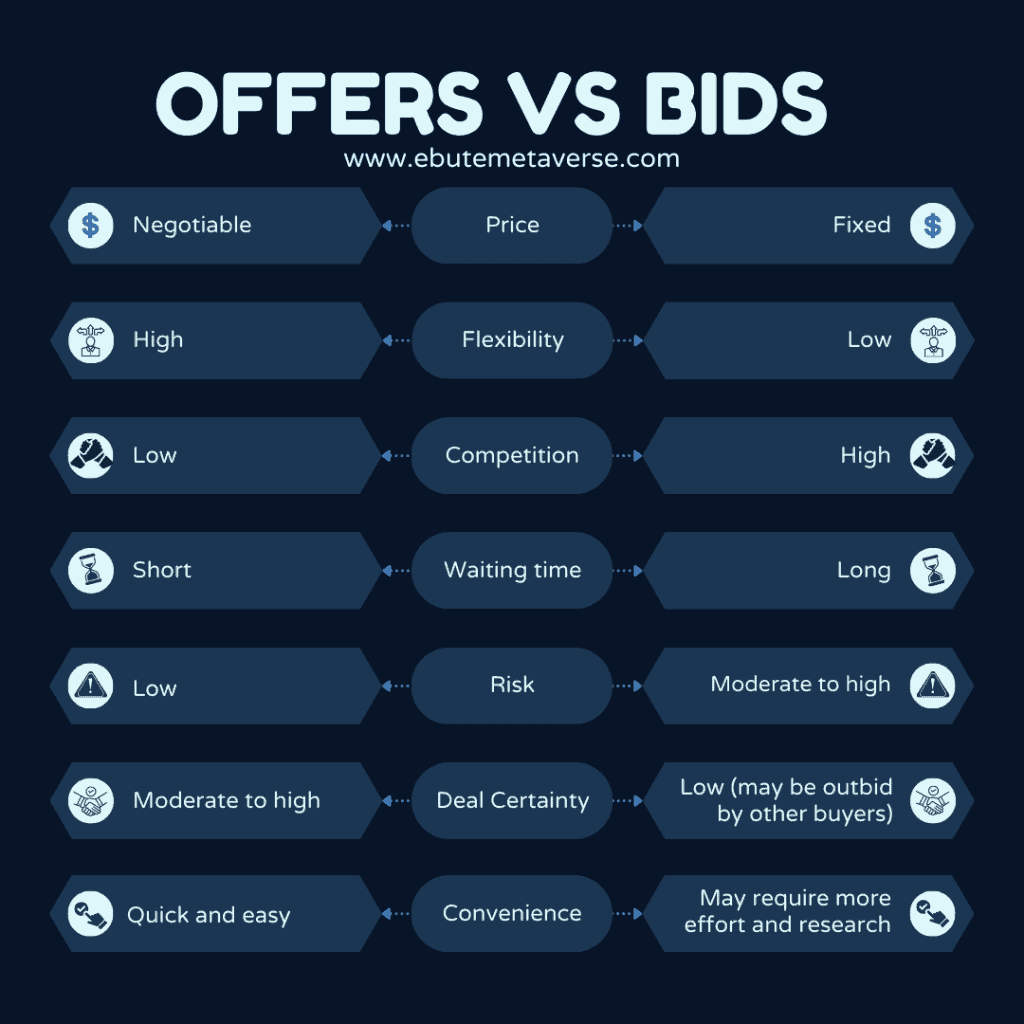 Summary: OpenSea's "Offers" offer greater flexibility and negotiation opportunities but with less certainty and competitiveness. On the other hand, "Bids" offer fixed prices and a competitive bidding process. However, they may require more time and effort and carry a higher risk of overspending.
How Does OpenSea Offer Work?
The OpenSea "Offer" feature is a way for buyers to purchase fixed-price NFT listings by negotiating with the seller. The "make offer" option is next to the "buy now" button on the asset page.
To make an offer, you need to have Wrapped Ethereum (wETH) in a non-custodial wallet like MetaMask. OpenSea can convert your ETH balance to wETH without leaving the page if you don't have any. Once you have wETH, you can choose the offer amount and how long it should be valid. If the seller accepts your offer, they will pay the gas fee.
Note: You can always withdraw your offer if you change your mind.
Pros of Buying NFTs through OpenSea Offers
Cost Reduction: OpenSea "Offers" allow buyers to purchase NFTs for less than the listed price by submitting offers below the asking price. Sellers often accept offers lower than the suggested price, as they are willing to negotiate to close a transaction.
Convenience: Submitting an offer on OpenSea is straightforward; buyers do not have to wait for an auction to end or monitor the bidding process. They can simply present an offer and wait for the seller's response.
Negotiating: Using OpenSea "Offers" allows buyers to negotiate with the seller, which can be beneficial if they cannot afford the asking price. The seller may accept, reject, or counteroffer a lower offer.
Cons of Buying NFTs through OpenSea Offers
Market Competition: While making an offer is a great way to get a good deal, other buyers may also be submitting offers. Due to increased competition, buyers may need to submit a higher offer than anticipated to be considered.
Time-Sensitivity: Offers on OpenSea have a limited duration, meaning they expire after a set period. If the seller does not respond to the offer before it expires, the buyer may need to submit another offer if still interested.
No Guarantees: While there is room for negotiation, there is no guarantee the seller will accept the offer. The seller may reject the offer, make a counteroffer, or simply ignore it.
How Does OpenSea Bids Work?
Bidding on OpenSea is different from making offers. Rather than proposing a price to the seller, you place a bid on the NFT in an effort to outbid other buyers.
Here's what you need to know about how OpenSea "bids" work:
To place a bid, click on the "place bid" button located next to the "buy" and "make offer" buttons on the NFT page.
Enter your bid amount and the duration of the bid on the subsequent bidding screen. The duration specifies how long your bid will be active before it expires.
You must have enough ETH in your wallet to cover your bid amount, and the current highest bid is displayed, along with the minimum bid increment required to outbid the highest bidder.
If someone outbids you, you'll be notified and can choose to raise your bid if you want. If no one outbids you before the bid duration expires, you'll be declared the winner and can purchase the NFT for your bid price.
It's important to note that submitting a bid is a binding contract. If you win the auction, you're obligated to pay the full amount of your bid. So, make sure you're comfortable with the bid amount before submitting it.
Pros of Buying NFTs through OpenSea Bids
Possible cost reduction: You can purchase an NFT for less than the asking price by submitting a bid, particularly if the seller needs to sell quickly or has little interest in the asset.
Transparency: OpenSea's transparent bidding process lets you see the current bids and auction duration, enabling you to decide whether or not to submit a bid.
Exciting and engaging: Participating in a bidding war can be thrilling as you try to outbid other buyers and win the asset.
Pros of Buying NFTs through OpenSea Bids
Missed opportunities: There's always a risk that someone else will outbid you in an NFT auction, causing you to lose the asset you were interested in.
Time-consuming: The bidding process can take a while if there are multiple bids. You'll need to closely monitor the auction to ensure that you don't miss an opportunity to submit a bid.
Pressure to increase bids: In a bidding war, there's pressure to increase your bids to win the auction. This could result in you paying more than you intended to, which can be frustrating and can cause gas wars.
OpenSea Offer vs Bid: Which is Better for Buyers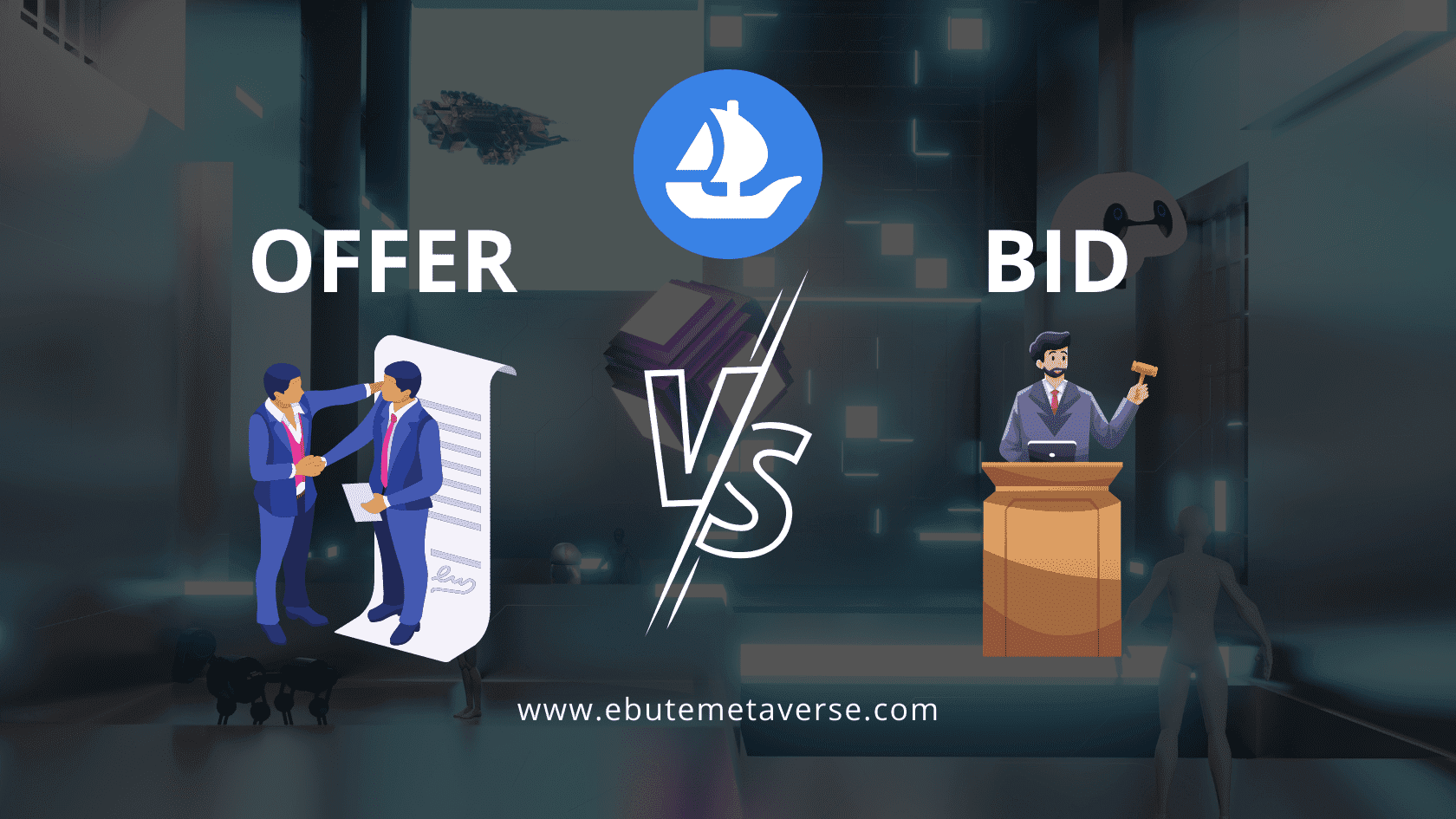 In my opinion, offers generally provide more value for buyers. They give you more flexibility in pricing negotiations and allow you to express your interest without the risk of overpaying. However, if you enjoy the excitement of auctions and are comfortable with the risk of overpaying, placing a bid can be a fascinating option.
Ultimately, the decision of which method to use is up to you and your individual preferences.
Note: As a buyer, be sure to read the seller's terms and conditions before using any particular method and be aware of any potential risks.
Conclusion
OpenSea offers both "offers" and "bids" features to give buyers the freedom to choose the purchasing method that best suits their needs. Each strategy has its own advantages and disadvantages, and the best one for you depends on your personal preferences.
Regardless of whether you choose to make an offer or submit a bid, remember to carefully read the seller's terms and conditions and be aware of the risks involved. Remember that making an offer or a bid is just the beginning of the purchasing process. It is crucial to research the NFT and seller to make informed decisions.