What Is The Difference Between Metamask and Coinbase Wallet?
When it comes to which NFT wallet provides the best features, there's been an age-long battle between two giants in the space; Metamask vs Coinbase wallet.
Sure, these wallets allow you to complete basic transactions such as buying, sending, and storing your NFTs and coins. But how do they perform in other areas like security, preventing most scams, and more?
So, we're setting the two wallets to let you know the main difference between Metamask and Coinbase wallets.
The main difference between Metamask and Coinbase wallet is that Metamask only supports ERC-based digital assets and tokens. On the other hand, Coinbase supports an extensive list of assets on different blockchains.
But this can't be all, right? Like, these wallets must have some added features for them to be among the top NFT wallets out there.
Well, we've researched both wallets extensively and have created this guide to show you the similarities and the main difference between Metamask and Coinbase wallets to help you decide on the best wallet to get started with NFTs.
Is Coinbase Wallet better then Metamask? Our Verdict
You should go for a Coinbase wallet if you are concerned about safety since it has robust support for customers and top-notch security. However, if you want a wallet that allows you to remain anonymous when buying NFTs, then MetaMask is your best choice.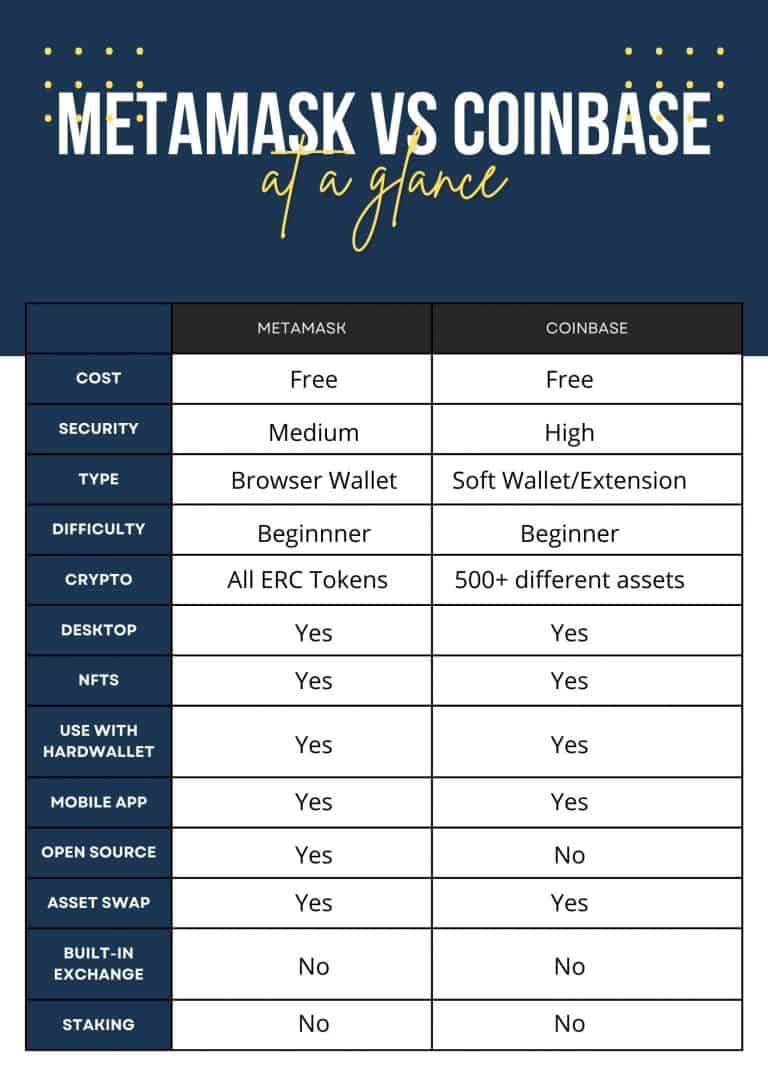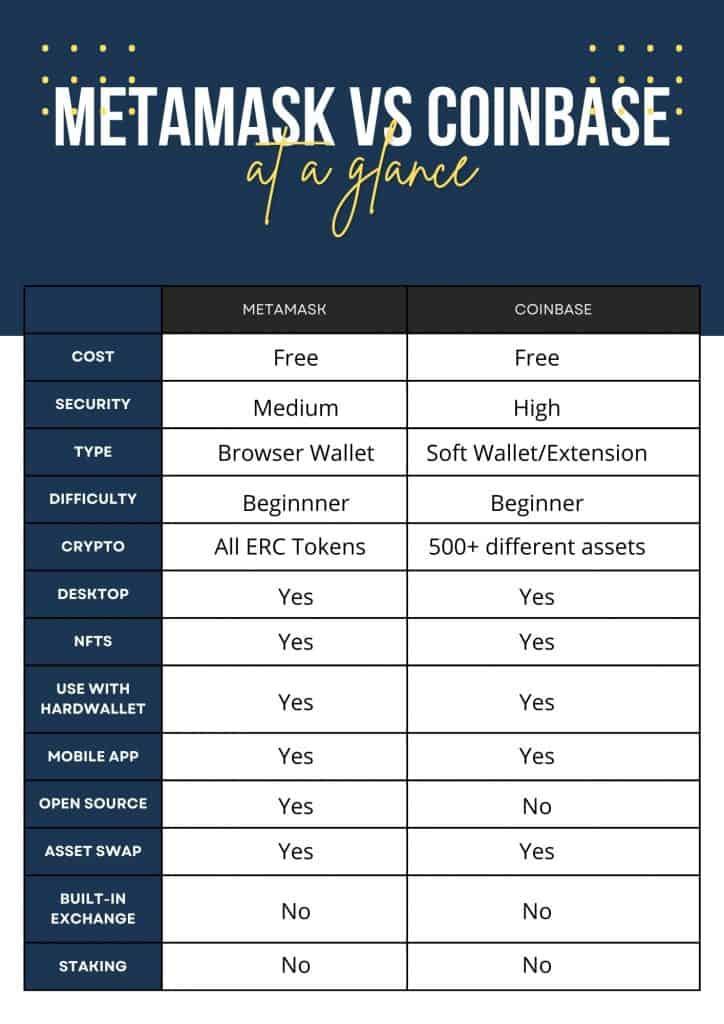 What is a MetaMask Wallet?
MetaMask is an easy-to-use crypto and NFT wallet designed for the Ethereum ecosystem. Founded by ConsenSys in 2016 as a desktop extension, it has since grown to offer a full self-custody experience, including a mobile application.
MetaMask comes with many features that add convenience to dealing with NFTs. This software wallet recently added a feature that permits you to swap tokens on the app instead of having to connect first to any decentralized exchange.
The feature scours through the DeFi landscape to offer traders the best liquidity deal they can get as well as the lowest fees. This means anyone can now make tokens exchange right from their MetaMask wallet.
MetaMask is one of the easiest ways to interact with the Ethereum blockchain. Although it's a hot wallet, MetaMask provides integration with various hardware wallets such as Trezor Model to ensure secure storage of your assets.
You need to know how to set up a Metamask wallet before you can start using it.
What is a Coinbase Wallet?
Coinbase Wallet is a decentralized app that you can easily access from your device's browser. It allows you to send, store and receive Ether and other ERC20 tokens. Coinbase doesn't own any private key on the Coinbase wallets due to being a DeFi wallet.
Due to this, Its users are provided with no guarantee for receiving compensation for any lost funds, as this is the case for any users with funds on the central Coinbase platform. However, this gives its user more control of their funds.
Coinbase wallet also integrates client-side encryption, whereby there is encryption of the private keys on your computer. And so, the only way Coinbase can decrypt your wallet is if you give them your password.
Known initially as Toshi, it was first released on 16th August 2018 to facilitate ETH and ERC20 tokens storage in the DeFi landscape. This hot wallet also comes with a mobile app available on Android and iOS and supports numerous cryptocurrencies and NFTs such as Bitcoin, CryptoPunks, Axie Infinity, Beeple, etc.
MetaMask Vs Coinbase Wallet: Key Similarities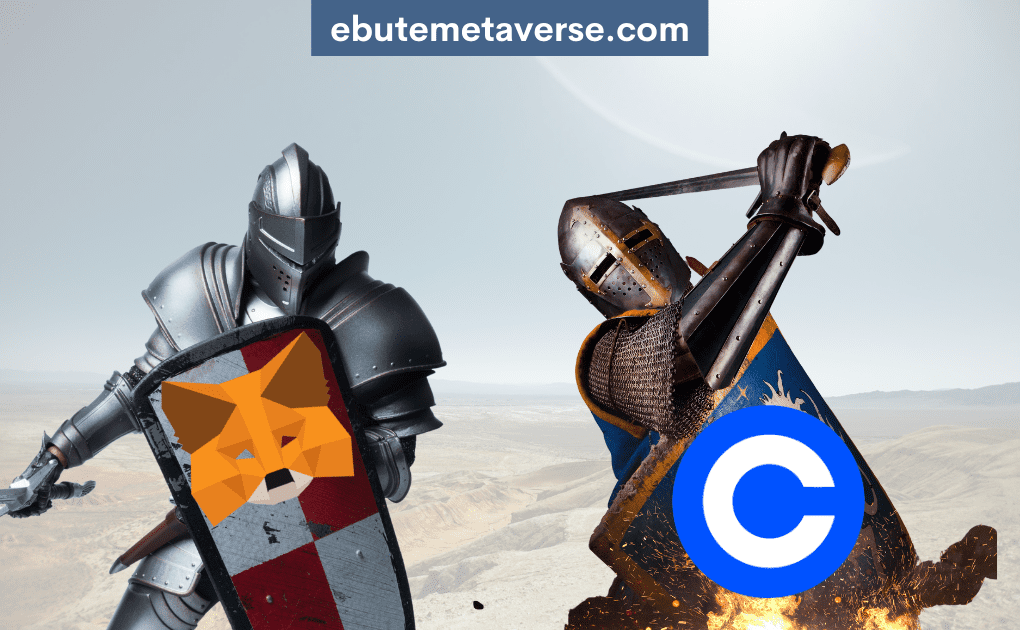 Before we look at the main difference between Metamask and Coinbase wallet, here are some similarities.
Beginner Friendliness
Both the MetaMask and Coinbase wallets are designed for users' ease of use. Any beginner looking for a simple and easy way to interact with decentralized applications with the most accessible self-custody wallet will enjoy using these NFT wallets.
For example, Coinbase Wallet easily integrates with the main Coinbase app, giving the Coinbase platform's primary users ease of transition to self-custody. While MetaMask is referred to as one of Ethereum's apps with the most active users due to its simplified transacting processes.
From the moment you download the app to the point you start using it, there isn't any form of KYC requirement; all you need to do is just to set it up and start managing your assets storage.
Security and Trust
Security and trust are the two foremost considerations of any NFT enthusiast. Although Coinbase and MetaMask wallets are wallets designed to be online constantly, they are integrated with features to facilitate secure storage.
Support
Both Coinbase and MetaMask use an online support system whereby you can contact their customer support representatives through emails. While this works for some users, it could also use some improvements in terms of 24/7 live support since it would be better for beginner users to receive immediate feedback for their questions.
NFT Wallet Experience
Both Metamask and Coinbase provide the same wallet experience for NFT holders. The user experience between these wallets does not deviate much because you can easily connect them to third-party platforms like OpenSea or Rarible.
When you buy NFTs on either Metamask or Coinbase wallet, you are purchasing a token that gets stored in your Web3 wallet. The display only varies when your wallet is connected to different marketplaces and apps that can interact with the NFTs you have in your wallet.
MetaMask Vs Coinbase Wallet: Key Differences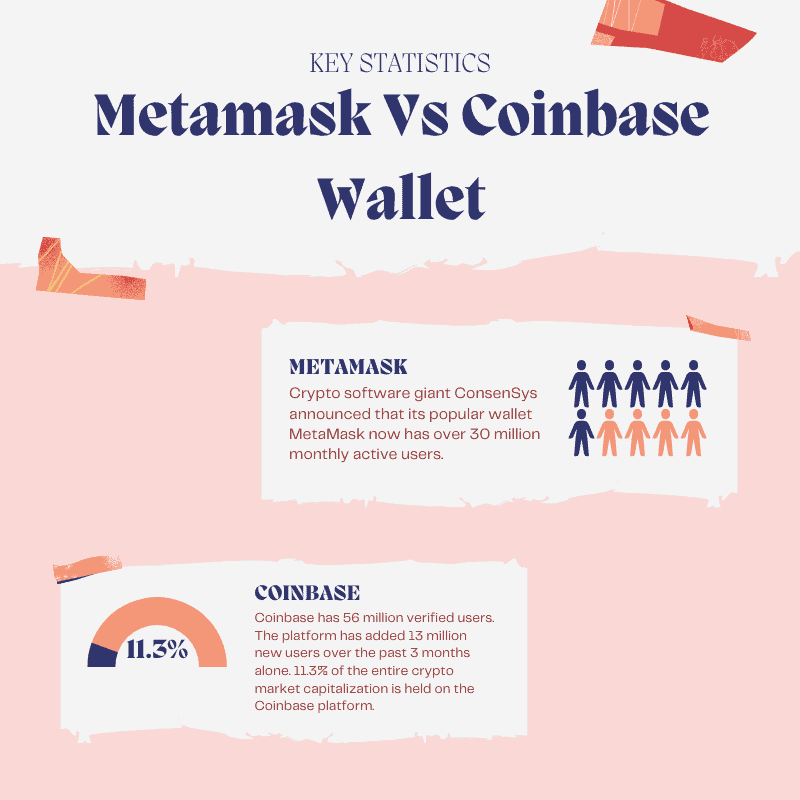 Is there any difference between a Coinbase and MetaMask wallet? Of course, they do have a few differences, and these include:
Transaction fees
One main difference between Metamask and Coinbase wallets is transaction fees. As for fees, MetaMask charges, to an extent, a lower fee. It's safe to say that MetaMask provides a much cheaper and even more affordable service compared to Coinbase.
On MetaMask's website, you are charged 0.875% per transaction to support the future development of the wallet. Each user must have a small amount of Ethereum in their wallet to pay for the gas fees on their very first transaction. Apart from this, MetaMask wallet doesn't charge any other fees.
Whereas Coinbase charges wallet-based transaction fees and exchange services, there are no charges for transferring funds from one Coinbase wallet to another.
In addition, you might also be charged a variable fee whenever you trade on the central Coinbase platform, and this fee usually differs from the payment method you might choose. In summary, you pay four times of MetaMask fee on the Coinbase wallet.
Payment Methods
Another main difference between Metamask and Coinbase is that the latter offers more payment methods to buy crypto. Using this measure, Coinbase Wallet outperforms MetaMask.
It's more likely that you will find your preferred payment method among numerous payment methods on Coinbase rather than on MetaMask.
The fact that Coinbase Wallet supports more coins makes it more accessible because you now have the ability to deposit some of the most popular and mainstream coins.
Supported NFTs
While MetaMask only provides support for tokens and NFTs on Ethereum and its Layer 2 protocols like Arbitrum, Coinbase wallet supports a wider range of non-fungible tokens spanning different blockchains.
This makes it more flexible for users to possess assets and also increases the number of blockchains they can easily interact with.
User Interface
It's safe to say Coinbase wallet edge Metamask here. Although MetaMask is easy to use, it seems that the designer of the Coinbase wallet paid more attention to its user interface and user experience in general. MetaMask does have a bit of an "archaic look" compared to the Coinbase wallet.
Conclusion
Finally, it would be best to consider convenience and accessibility when deciding whether to use either Coinbase or MetaMask wallet. Overall, both wallets offer amazing features that allow you to navigate the NFT space easily. However, most newbies choose Metamask as their beginner's wallet. Hopefully, our article has helped you understand MetaMask vs. Coinbase wallet in full detail in choosing the best platform for your NFTs.
How would I know which NFT wallet is the best for me?
First, consider your level of expertise and experience – decide whether you are a newbie or an advanced user. Are you in search of a free wallet only, or are you willing to spend more on security and extra features? With our NFT-wallets comparison, you can answer all these questions.
How do I transfer money from MetaMask to my bank account?
MetaMask doesn't offer an option for users to transfer money directly to their bank account from their wallet.
However, you can send Ethereum to a cryptocurrency exchange such as Binance and from there, sell it on Binance and move the funds to your Bank account. But before you can make the transaction, you must have a registered and verified account on Binance. 
This is another flip side of the MetaMask wallet because it requires additional accounts and time on different platforms to exchange your coins for fiat money.
So Which is Better? MetaMask or Coinbase?
If you're looking for a user-friendly wallet with fantastic customer support, the Coinbase wallet is your best bet. Its well-designed and organized dashboard makes trading easy even for those who have never bought or sold NFTs and other cryptocurrencies. On the other hand, if you're looking for firmer control over your private information, MetaMask is the best choice.
Is MetaMask Safe?
There have never been any major hacking incidents on MetaMask. It's backed by hierarchical deterministic settings and a large community of users and developers who constantly review and update their source code. 
However, the biggest concern is that it's connected to the internet, making it vulnerable to cyberhacking, phishing attacks, and theft
Can You Connect Coinbase to Metamask?
You can't import a Coinbase account to a MetaMask wallet. Rather, you'll need to send cryptocurrency to your MetaMask wallet from your Coinbase account.
For instance, to send ETH from Coinbase to MetaMask, you'll have to copy your MetaMask ETH address into Coinbase. Ensure you have the correct address, or you might lose your ETH.
You can also do the reverse and send NFTs from MetaMask to Coinbase using the same procedure.
Can you buy NFTs on MetaMask?
No, you can't. Metamask is useful when you already have NFTs. Whereas you can buy your NFTs using the Coinbase wallet because of its connection to NFT markets such as Opensea, Rarible, etc.