Over $100 million worth of NFTs were officially reported stolen through fraud in 2022, according to a report from Elliptic. These statistics reinforce the need to move your NFTs to a hardware wallet — the best security against hackers. And your choice of Ledger as cold storage is spot on.
Ledger is one of, if not the best, hardware wallets to store your NFTs and other digital assets. However, transferring your NFTs to a Ledger wallet could seem difficult, especially if it's your first time with hardware wallets. But the truth is, it's straightforward and would take just a few minutes.
This article will clarify what it means to send your NFTs to Ledger and provide a step-by-step guide to make the transfer. We'll also explain how you can access, view, and manage your NFTs on the Ledger.
Let's get started.
Can You Put NFTs on Ledger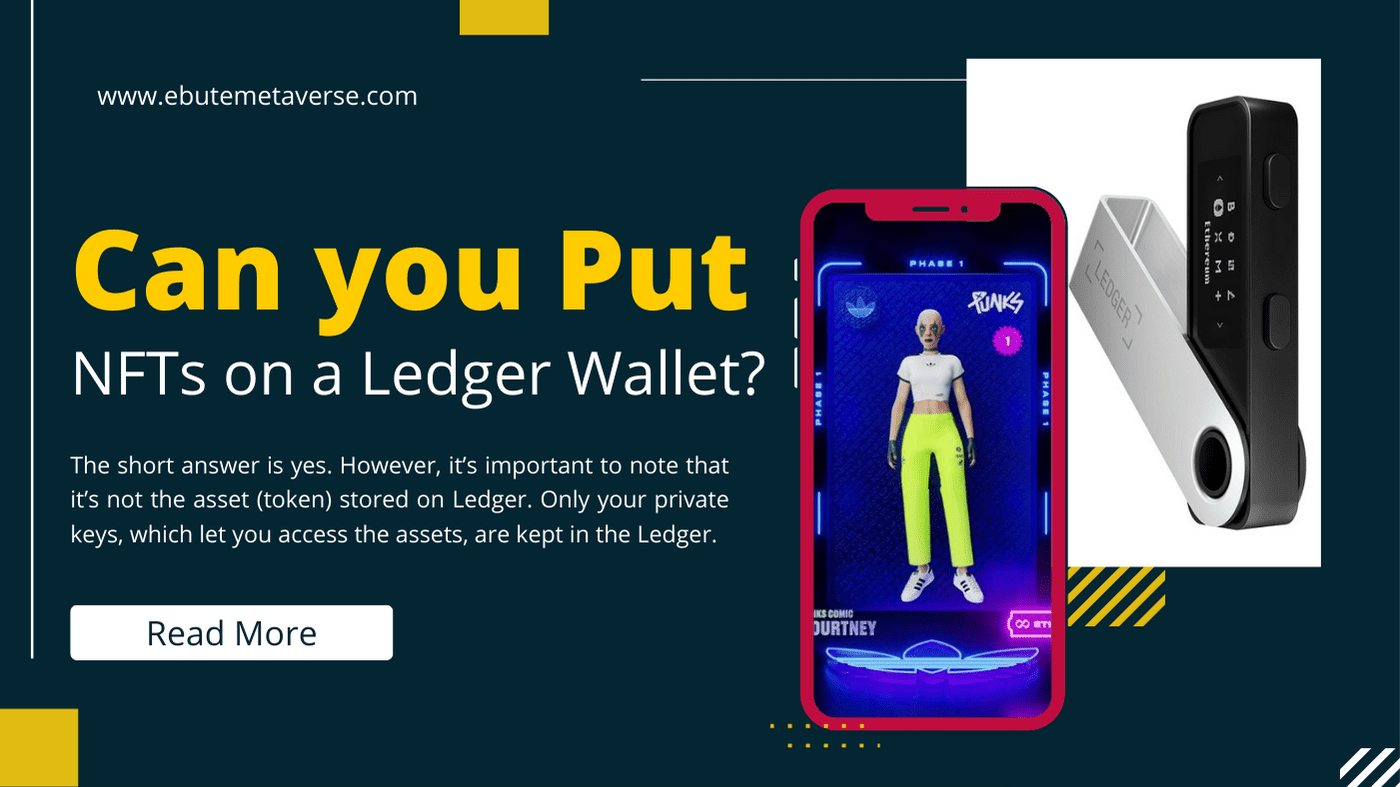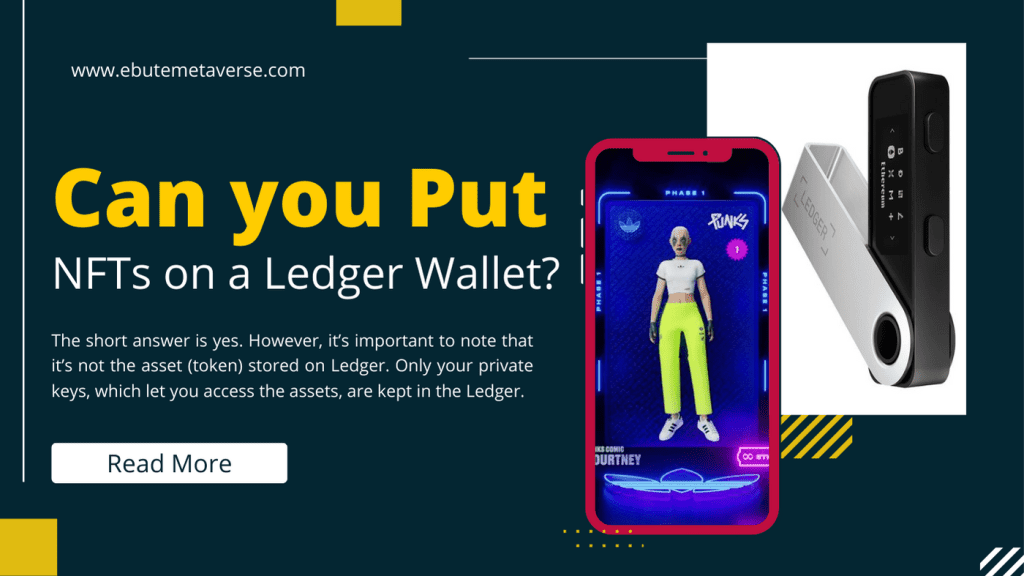 The short answer is yes. However, it's important to note that it's not the asset (token) stored on Ledger. Only your private keys, which let you access the assets, are kept in the Ledger.
Before attempting to transfer your NFTs to your Ledger wallet, you'll need first set up your Ledger device. Then, connect the device to Metamask (or whichever hot wallet you minted the NFT into). Finally, you're ready to move your NFTs to your Ledger device.
But before that, let's explain the setting up process of the Ledger wallet for first-time users.
How to Setup Your Ledger Wallet
For this tutorial, I'll use the Ledger Nano X hardware wallet as an example. The process is similar if you want to set up any other Ledger wallet.
Requirements:
A Ledger wallet (Ledger Nano X, Ledger Nano S Plus, or the new "Ledger Stax")
USB connector or adapter (for connecting your Ledger with Metamask)
Metamask account
LedgerLive App (you can find both desktop and mobile versions on Ledger.com)
After you've acquired all the needed items, follow the steps below.
Step 1: Power on your Ledger wallet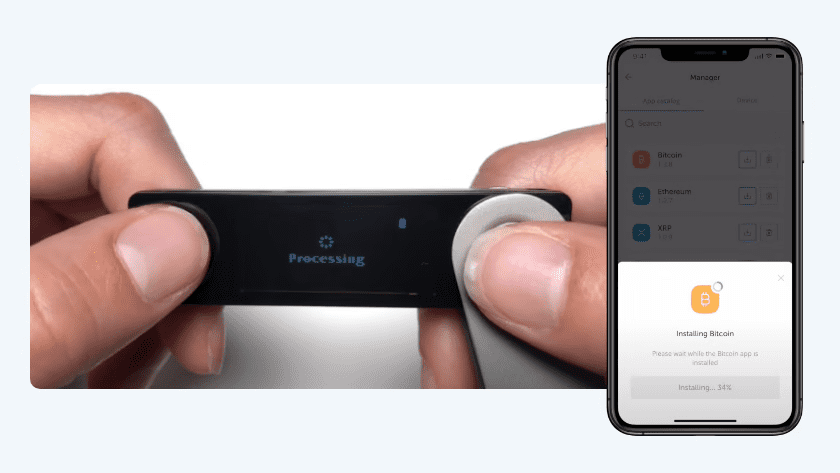 Hold the left and right buttons to turn on your Ledger Nano X. When the device is turned on; it will display a setup message for first-time use. This message includes basic information about the device's capabilities and the Ledger Live App.
Note: Don't worry about the two-button control of the device. It's straightforward to get the hang of the device's control.
Step 2: Select a pin code, then write down your secret phrase.
After you've read the setup message on your new device, simultaneously press both buttons to confirm device setup.
After that, you will be prompted to make your pin code and record and confirm your secret phrase. So, grab a piece of paper or create a note on your phone. Whichever place you store your secret phrase, ensure it's secure.
Before moving on, reread your secret phrase and ensure that all of the words align with what your wallet is displaying.
Step 3: Start Your Ledger Live app.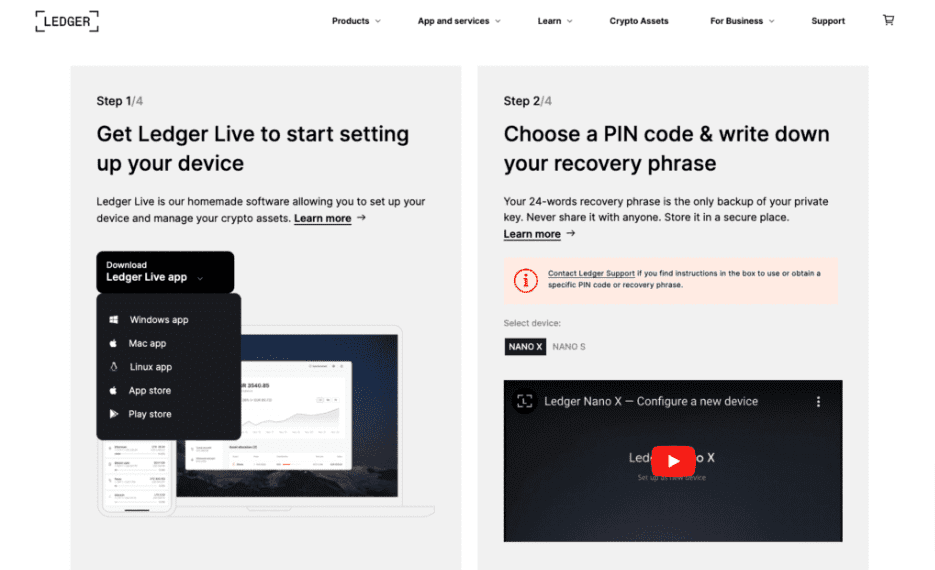 Download the Ledger Live app for mobile or PC and open the program next. You'll receive a prompt to create a pin code and write down your secret phase. Click "Skip Device Setup" since you've already done that in the previous step.
Then, you can choose the device you are presently configuring—in this case, we choose Ledger Nano X. Afterwards, you'll see a security checklist pop-up where you can confirm if you've successfully created your device pin code.
Here's a full video on how you can set up your Ledger Live app.
Step 4: Connect Your Hardware Wallet to Your Computer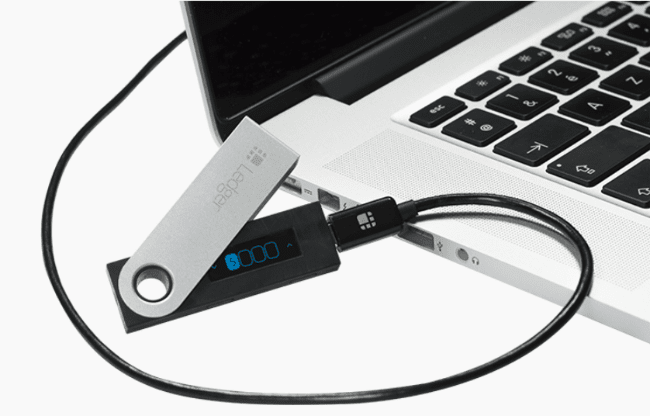 This step is crucial because it also allows you to confirm the authenticity of your Ledger device. After connecting the device to your computer, click "Check Now" to confirm you are using an actual Ledger device.
Step 5: Provide Ledger Manager Access to Your Hardware Wallet
Go to your device and choose Allow Ledger Manager. Once you have finished the security checklist, you will be prompted to create a password for Ledger Live. Though it's not required, I strongly advise you to choose to create a password. Your Ledger Live account will gain an additional layer of security.
Step 6. Open A Management Account for all of Your Digital Assets.
After setting up your Ledger hardware wallet, you'll need to create an account before downloading any apps that enable you to get your preferred cryptocurrency and adding your most treasured non-fungible tokens to your wallet.
Once you have agreed to the terms of use, open Ledger Live and go to your portfolio. To create your Ledger Wallet profile, click Add Account. You can download your favorite blockchain app after completing the profile creation process.
One of the methods to put NFTs on Ledger is connecting your hardware wallet to your software wallet. For this guide, we'll be using Metamask, which is why it's essential to explain how to do this in the next section of this article.
How to Connect Your Ledger Wallet to Metamask
WARNING: Linking your hardware wallet to the internet puts you at risk of getting hacked. Ledger's primary security mechanism and infrastructure revolve around offline storing sensitive data. So when you connect your wallet to the internet, it becomes vulnerable and susceptible to scams. As a result, you should consider using two hardware wallets (one for transactions and one solely for storage).
Connecting your hardware wallet to a software wallet like Metamask allows you to easily view and manage your digital assets and recent activities. So how do you link your hardware wallet to Metamask?
To connect your hardware wallet to your Metamask account:
Ensure it is USB-connected to your computer.
Click the circle logo next to the main net dropdown to access your Metamask accounts.
Select "Hardware Wallet Connect."
Choose your hardware wallet device and the address you want to link to Metamask.
After completing this process, you should be able to use your Ledger device to purchase NFTs safely. When you purchase an NFT through Metamask using your hardware wallet, you won't need to bother about transferring your tokens there. They will already be safely kept in your hardware wallet's blockchain address.
However, note that the absence of your NFTs from the Metamask account associated with your hardware wallet does not mean that you do not own any of your digital assets. As we've established earlier in this article, your assets are stored on the blockchain rather than in the wallet itself.
If you wish to view your NFT collection, you can use OpenSea or Rainbow. This article will discuss how to view your NFT on Ledger later. There are also other ways to display your NFTs even when they're stored in your Ledger.
How to Put NFTs on Ledger
There are two methods for adding NFTs to Ledger. One way is to transfer your NFTs to a Ledger-protected Metamask account—linked to a Ledger device. The alternative approach involves moving NFTs to your Ethereum app on Ledger Live.
For the first approach, you'll need to connect your Metamask account to your Ledger device. Then you send the NFT to the linked account like you would transfer NFTs between other wallets. Ensure you have enough ETH in your Metamask wallet to cover transaction fees before attempting this process.
Note that you won't be able to view the NFT in your Ledger wallet if you use the above method. But, the NFTs you own would still appear in Etherscan if you search for your Metamask address. Alternatively, you can view your NFTs on OpenSea when you log in using your Metamask account.
Next, we'll go over the steps involved in using an Ethereum app on Ledger Live to put NFTs on Ledger.
Open the Ethereum app. Then connect your hardware wallet to your computer and enter your pin code.
Access your Ethereum account with the Ledger Live app to view your wallet address.
Click "Receive," view the wallet address on your computer, then check it on your hardware wallet. Confirm the wallet address to ensure it's the same. It will help if you send a tiny amount of cryptocurrency using this method to be safe before sending your NFTs.
Go to your wallet and select "Send" from where your NFTs are now saved. Type in your Ledger wallet's address as the destination address. Then wait for your NFT transfer to complete. Once complete, you can access Ledger Live or OpenSea to view your NFTs.
Alternatively, you can view your NFTs from Rainbow.me on the "Discover" menu or by choosing the "Account" option on the Ledger Live app.
Note: You can send your NFTs directly from the Ledger Live app if you have a Ledger Nano X., But if you're using a Nano S, you'll need to send your NFTs through an NFT marketplace like OpenSea.
How to View NFT on Ledger
To view your NFTs on your account in Ledger Live, follow the below steps.
Go to Ledger Live's Accounts section.
Select your NFT's Ethereum or Polygon account by clicking it.
The dashboard will now display your account details.
Navigate to the "NFT (Non-Fungible Tokens) collections" section by scrolling down.
Your NFTs ought to be here.
Select the NFT by clicking on it.
You'll see a window showing your NFT in higher quality along with NFT metadata.
You can send your NFT to another address from this window or view it on Opensea, Rare, Etherscan, or Polygonscan (the link will redirect you to the web browser page).
There are also some alternative ways to view your NFT on Ledger, which we've discussed earlier in this article. Also you can refer to this video to learn more about managing your NFT assets using Ledger.
FAQ
Can I Store NFT on Ledger
Yes, you can. In general, hardware wallets like Ledger and Trezor are great options if you have valuable NFTs or are concerned about security. Ledger's Nano S best suits customers who seek the most secure storage solution for their coins and NFTs for under $75.
Can You Send ETH NFTs to Ledger
It's possible to send your Etheruem-based NFTs to your Ledger account. To do this, you'll have to unlock your Ledger device by connecting it to your PC. Open the Ledger Live app, then click +Add account on the Accounts tab. Select Ethereum (ETH) to add an Ethereum account to Ledger, then follow the on-screen directions to send ETH NFTs to your Ledger account.
SOL NFTs Vs ETH NFTs: Let's Find The Best Option
Does Ledger Support Solana NFT
Yes, Ledger Live supports Solana and Solana NFTs. However, you'll require Ledger Live version 2.39 or above to get this feature. If you still need to, update your Ledger Live app to the latest version to put Solana NFTs on Ledger.