Trust Wallet claims to be a free-to-use crypto wallet solution. This is incredible since the platform offers tons of useful features. However, many users complain about paying exorbitant fees while using the platform. These claims have raised many questions and misconceptions about Trust wallet fees. So, what's the truth of the matter?
On paper, there are Trust Wallet fees for using its services. However, there are other fees that you can incur while using the platform. For example, you would be charged network fees on Trust Wallet when performing a transaction. Third-party services on Trust Wallet also impose extra fees when you buy crypto through them.
This article will take a deep dive into Trust Wallet fees. We'll explain what fees are on Trust Wallet, how much they charge, and how you can avoid them. At the end of this post, we'll also answer some related questions you might have about Trust Wallet fees. So read till the end.
Let's get started by establishing whether or not Trust Wallet charges fees.
Does Trust Wallet Charge Fees?
The short answer is no. Trust Wallet is a free-to-use, non-custodial crypto wallet. The company won't charge you any service fee on their end for using the platform. Also, you don't have to pay anything to download their app or set up a Trust Wallet account.
However, it would be misleading to say Trust Wallet is completely free. The reason is that you can incur certain fees like network fees and third-party service fees while using the platform.
Network fees on Trust Wallet, also known as gas fees, are necessary to process and complete your transactions on a blockchain network (e.g., Ethereum). These fees don't go to Trust Wallet but to the network that processed your transaction. It's used to pay crypto miners (or validators) who work behind the scenes to ensure the network runs smoothly.
Additionally, you'll have to pay some fees when buying cryptocurrency from one of the six third-party service providers on Trust Wallet.
How Much Does Trust Wallet Charge?
Trust Wallet won't charge you any wallet fee while using their platform. However, there are additional fees you might have to pay when using Trust Wallet. These fees are mainly two: network fees and third-party service fees.
Let's explain both fees and how much you can expect to pay.
First is the network fees on Trust Wallet.
Simply put, they are unavoidable network fees you pay when you make a transaction on the platform. That is, when you send a CryptoKitty to a friend, interact with an Ethereum DApp, or make a payment with Bitcoin.
The actual network fees on Trust Wallet depend on which blockchain you use and the traffic on that blockchain at the time of the transaction. For example, the Ethereum blockchain has the most expensive network fees. Also, the transaction fees on the Bitcoin blockchain would be significantly higher during a bull market.
What most people don't know about network fees on Trust Wallet is that you can change the amount you pay. However, choosing a value lower than Trust Wallet's recommended would slow down the transfer or end it. There's more to this, and we'll explain it later in the article.
How To Transfer NFT To Another Wallet [Step-by-Step]
There are also fees for using third-party services on Trust Wallet when purchasing cryptocurrencies. The fees are fixed and determined by the third-party service. Here are the published fees on Trust Wallet's website:
Mercuryo: 3.95% if using a credit card to make a purchase
MoonPay: 1% for bank transfers, 4.5% for credit card purchases, or $3.99 minimum, whichever is higher.
Ramp Network: 2.9% transaction fee for credit and debit cards
Simplex: A fee of 3.5% is applied to credit and debit card transactions, or $10, whichever is higher.
Transak: 5.5% fee on transactions using credit and debit cards issued in US dollars; $30 minimum per transaction
Wyre: charges a 2.9% fee plus $0.30 on credit or debit card transactions, up to a maximum of $5.
The good news is that whether you choose to purchase cryptocurrency using Simplex or MoonPay, Trust Wallet will not impose any additional costs on top of those levied by the third-party service provider.
Why Is Trust Wallet Network Fee High?
Most people pay expensive network fees on Trust Wallet because they are unaware of the network they are using or how to configure their trust wallet gas fees to be as low as possible. You can also experience a high network fee if you're performing a more complex transaction, such as submitting a transaction to a smart contract or a token swap on a DEX.
Let's examine the causes of high Trust Wallet gas fees.
Network Fees Differ from Blockchain to Blockchain
The Ethereum network has the most expensive fees due to the network's block requirements to perform a transaction within the network.
However, there are other cheaper blockchain network alternatives like Binance Smart Chain and Tron Network you can opt for. These networks usually charge less than $1 to complete a transaction. If you don't know how to navigate and use cheaper networks, you'll end up paying outrageous rates.
Here's a step-by-step guide on how to switch your Trust Wallet from Ethereum to another network:
Note: For this guide, we'll be using an iOS device. The steps are the same when using Android devices.
On your Trust Wallet account homepage, find and click the toggle button in the right corner.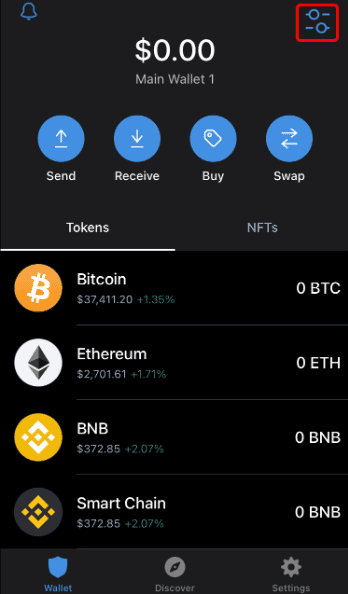 Select "Smart Chain BNB."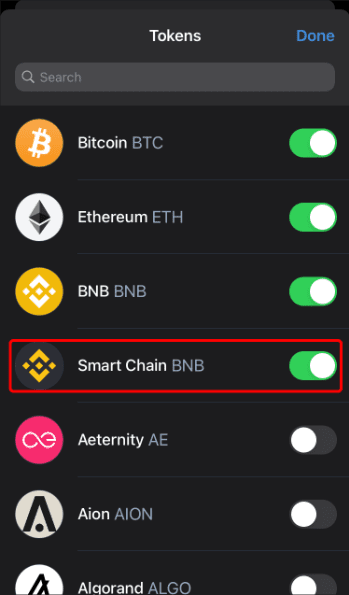 You can now send BNB and BEP-20 tokens to your Binance Smart Chain address. If you want to view your Binance Smart Chain wallet address, click on the "Smart Chain" tab.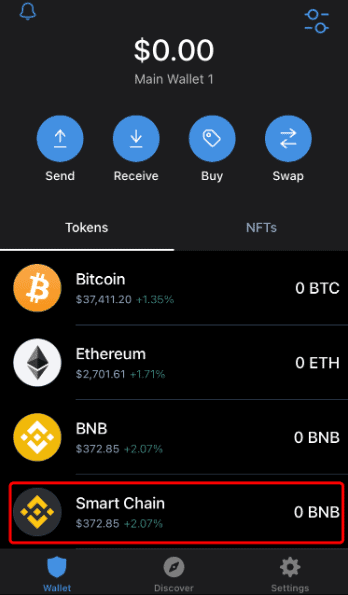 Click on the "Recieve" button to view your deposit address.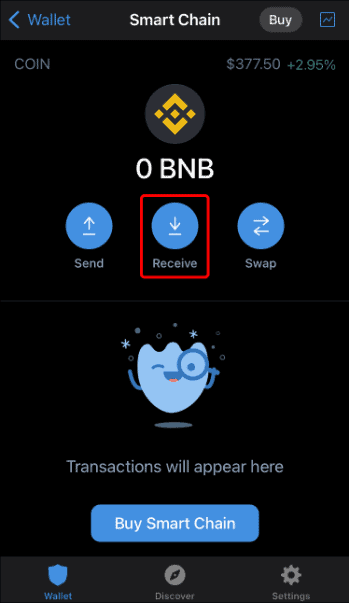 You can decide to either scan the QR code or copy the address to get BEP20 or BNB tokens in your wallet.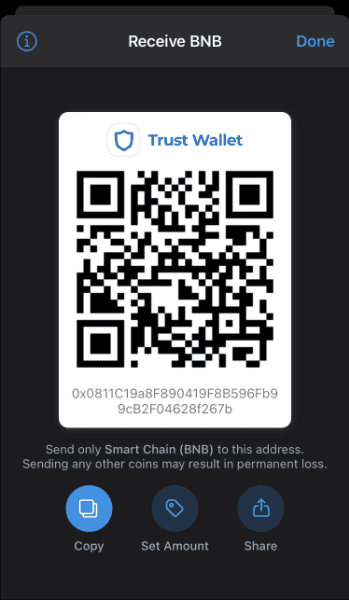 Quick note: You can also add other networks, such as Tron, using the above method.
More Transactions = Higher Fees.
Another factor that causes high trust wallet gas fees is network traffic.
Let's take the Ethereum network as an example. Gas is priced in Ethereum via the "first price auction" approach. Every sender is required to submit a bid, or "gas limit," for how much they are willing to pay for the system to function.
Then, miners choose the most desirable transactions to include in the following block. Theoretically, this enables senders to give their transactions better priority by charging a larger fee and conserving ETH through refunds.
What Is The Difference Between Metamask and Coinbase Wallet?
The exorbitant network fees some people experience is as a result of more users transacting on the network, which makes sense since there will be more "bidders" on the network.
Trust Wallet will always utilize the suggested gas price to make up for this and guarantee that transactions are handled as quickly as feasible. Lowering this parameter could result in longer wait times or even failed transactions.
Complex Transactions
You can also experience a higher network fee when performing a more complicated transaction, such as a token swap on a DEX or submitting a transaction to a smart contract.
What Are the Fees on Trust Wallet?
Before using Trust Wallet, you'd need to know if it charges certain fees based on a type of transaction. Here are a few instances to know.
Trust Wallet Fees To Withdraw
Trust Wallet doesn't process cash withdrawals. Thus, there are no withdrawal fees on Trust Wallet.
To withdraw your crypto asset, you'll have to swap it for a well-known cryptocurrency like Bitcoin or ETH. Then, send the Bitcoin or Ether to Binance, where you can convert your cryptocurrencies to cash.
Trust Wallet Sending Fees
Every transaction you make using a crypto wallet is usually subject to a minor fee. However, Trust Wallet claims there are no fees for sending crypto when you use the wallet.
Trust Wallet Swap Fees
Trust Wallet does not impose extra fees when users use the DApp Browser to engage with decentralized applications or when they exchange one cryptocurrency for another on the in-app DEX.
Trust Wallet Network Fees
There is a Network Transaction cost, also known as a Network fee, associated with every cryptocurrency transaction you send from one address to another. The actual you'll be required to pay depends on the network you choose and the traffic on that network.
How To Avoid Trust Wallet Fees
Here are some of the ways you can avoid or reduce some of the fees on Trust Wallet:
Choose a less expensive blockchain network
Use a blockchain network with low network fees. The default options available on Trust Wallet are TRX, BSC, and Ethereum. Since Ethereum is the most expensive of these blockchains, you can utilize an alternative network if you don't have enough Ethereum to cover gas costs.
Set the GWEI cost to the minimum
When creating your transaction, pay attention to the area where "GWEI" is written and reduce it to the required minimum. It's better to pay smaller costs, even if it makes your transaction slower.
Twerk your Swap settings
You can reduce the network fees while performing a swap by going to the "swap settings" and setting the "Slipperage Tolerance" to the smallest value possible. The network fees needed to execute your transaction will be lower as a result.
Purchase during low demand
Network charges rise as more people buy cryptocurrencies. Avoid periods when blockchain is busy to save money.
Deduct fees during tax deduction
One of the unpopular methods to reduce Trust wallet fees is to use your tax deductibles. Not many people realize that their Trust Wallet fees can be deducted from their taxes.
Set Your Gas Fees on Trust Wallet
Many people don't know they can change the gas fees for their transactions. The trust wallet gas fees are a recommended value to ensure the transaction is processed faster and runs smoothly. We'll discuss this in more detail next.
How to Set Gas Fees on Trust Wallet
Here's a step-by-step guide to changing the ETH gas fee on Trust Wallet:
1. Create a Transaction
For this guide, let's assume we're going to send some ETH to a hypothetical friend. Click the ETH tab on your wallet account and proceed to select "Send." Next, you'll have to enter the recipient's address and the amount. Confirm your inputs before proceeding to the stage.
2. Access the Advanced Settings
Once you've confirmed the recipient information, the platform will display a summary of the transaction showing the expected network fee.
You can change the value of the gas fee in the Advanced settings. To access the Advanced settings, tap the Gear button in the top right corner of the screen.
3. Change the Fees
Before you change your trust wallet gas fees, note that doing so can cause your transaction to fail or get stuck at 2.0k.
The Advanced settings will allow you to edit the max fee and miner tips setting. But you should avoid being too greedy by setting a ridiculously low fee.
4. Save your Settings
To confirm the changes, tap Save after entering the required fee. You can now send the transaction for processing.
Be aware that this strategy is the same when changing gas fees on other blockchain network transactions.
Conclusion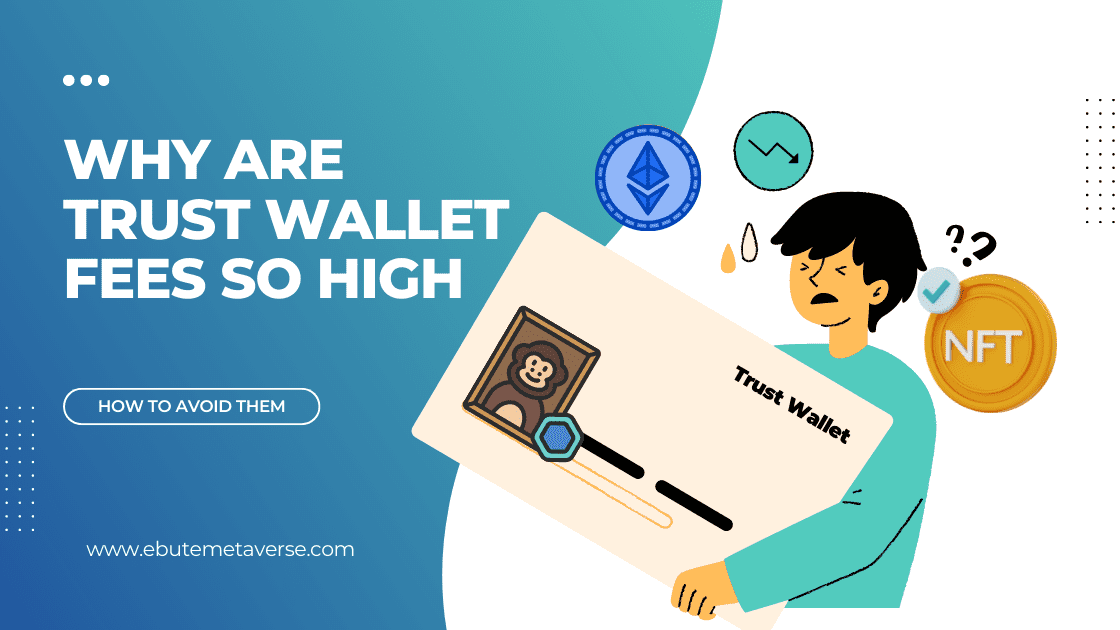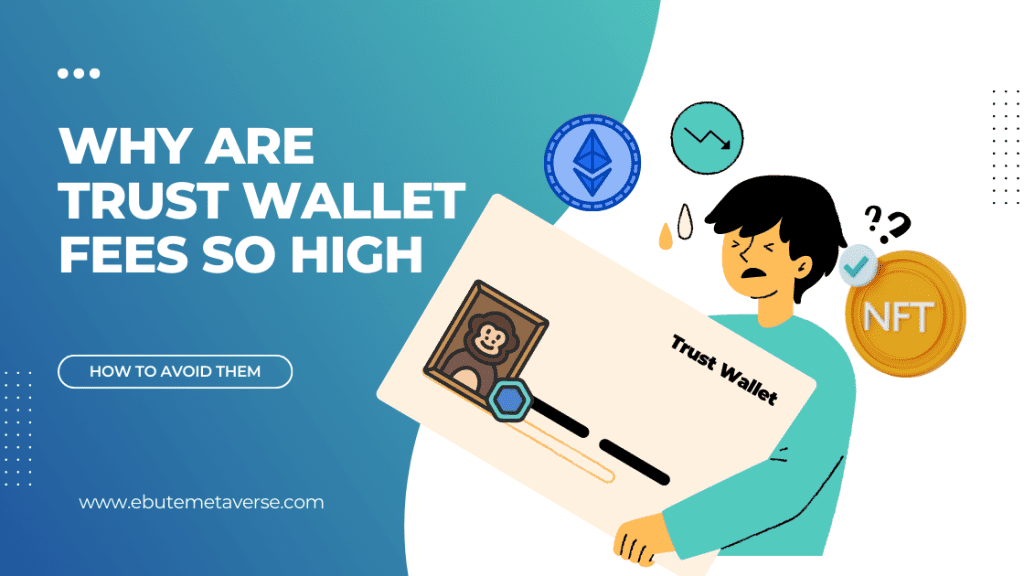 Thanks for reading through this article. By now, you should be well-informed about Trust Wallet fees. We've also explained some steps you can take to reduce or avoid these fees. If you experience any issue beyond their fees, it's essential to visit the Trust Wallet support center.
Alternatively, you can drop the question in the comments section, and we'll help if we can. Always remember to NEVER reveal your wallet seed phrase to anyone to avoid falling into one of many common wallet-related scams.
FAQ
Does Trust Wallet Take Fees?
Trust Wallet doesn't take any fee from its customers for using its services. However, third-party service providers will charge you fees if you decide to buy cryptocurrency using Trust Wallet. Also, Trust Wallet does not charge fees on top of these fees.
How Much Does Trust Wallet Charge Per Transaction?
Trust Wallet has boldly stated that there are no fees associated with using its services. However, you must pay "gas" to complete a transaction on the blockchain network. The miners that validate the transaction receive the gas fee. This implies that no portion of your transaction fees goes to the Trust wallet.
Why Does Trust Wallet Charge So Much?
Trust Wallet doesn't charge any fee. The expensive network fees that some users encounter with Trust Wallet are because of the type of network the transaction was processed on and the traffic on that network. However, there are ways you can avoid or reduce these fees.
What Are The Network Fees On Trust Wallet?
These are necessary fees that are required to process transactions on a blockchain network while using Trust Wallet. They are also called gas fees.
Is Trust Wallet Expensive?
Trust Wallet is a free-to-use crypto wallet solution.
How Do You Get Around Trust Wallet Fees?
You can avoid the fees on Trust Wallet by choosing a less expensive blockchain network, changing your gas or gwei fees, trading crypto during low-traffic periods, etc.