Coinbase is considered one of the most expensive cryptocurrency exchanges worldwide. The platform's wallet fees are 600% higher than the industry standard.
Despite this, the platform still had 9 million monthly users in 2022. The major reasons are due to its reputation for being dependable, convenient, and safe. Additionally, it could be that some users aren't aware of other Coinbase alternatives, leading them to stick with the platform.
However, if you want to continue using Coinbase, we have good news. There is a way to reduce Coinbase's wallet fees, which we will discuss in this article. The tips provided in this article will help you save money while investing in cryptocurrencies using Coinbase's wallet.
Let's get started.
Why are Coinbase wallet fees too high?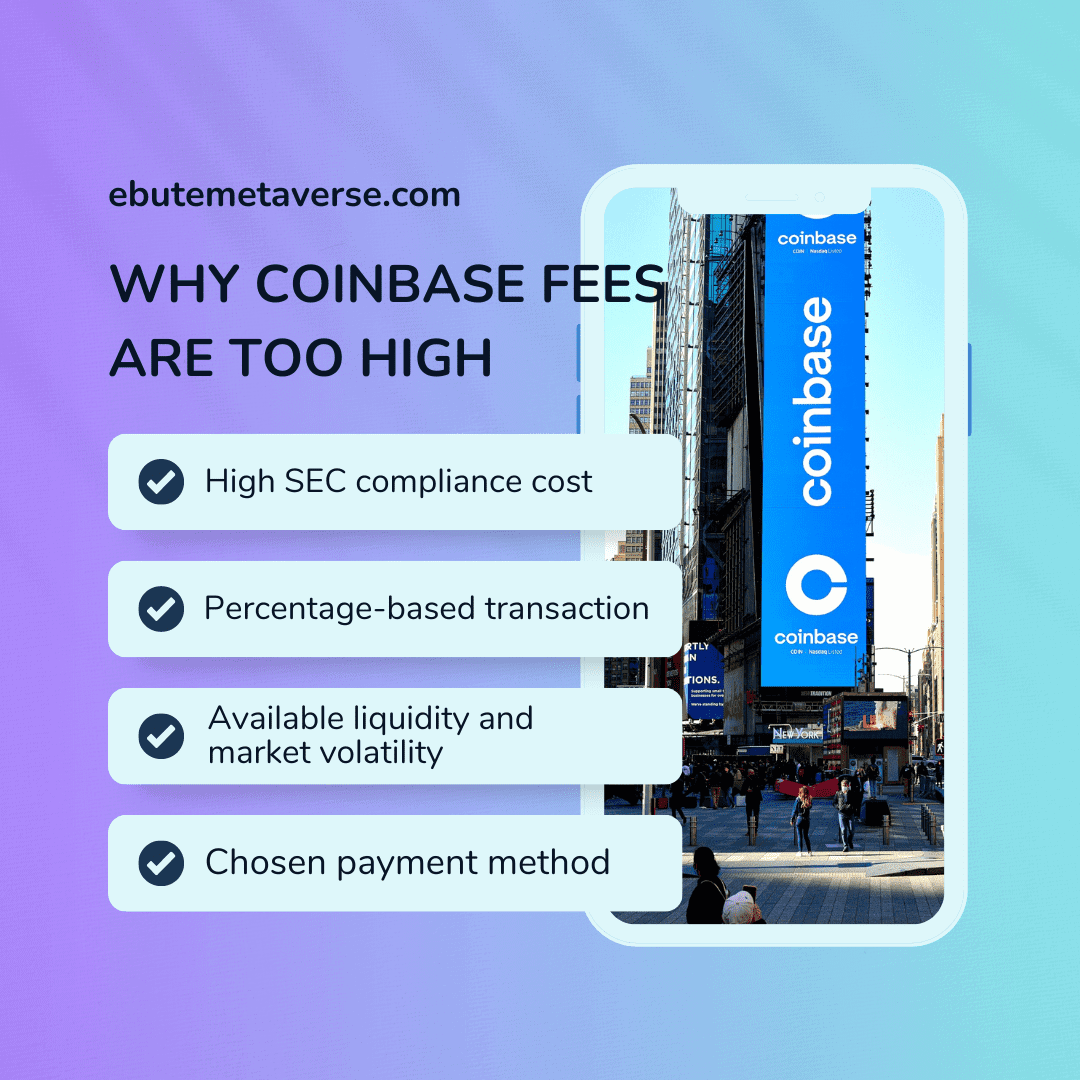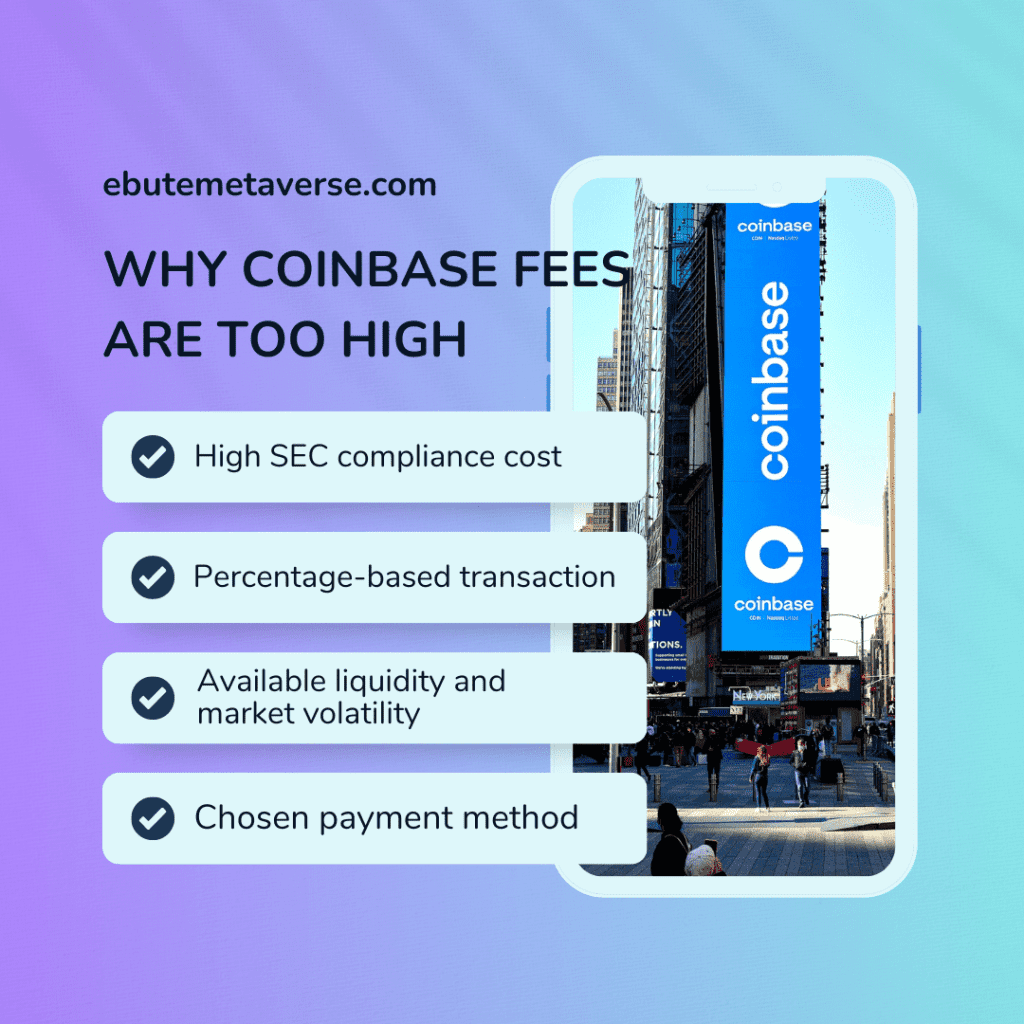 Coinbase is based in the US and follows strict rules from the US Securities and Exchange Commission. These rules are tougher than in other countries, so Coinbase spends more money to follow them. As a result, users have to pay higher fees.
Coinbase also mentioned that the reason for its high fees is its high trading volume and several fee factors. Factors affecting Coinbase fees include:
The payment method you select
The amount you're withdrawing/transferring
How much liquidity is available
The volatility of the market
For example, Coinbase may charge a higher fee if you choose to pay with a debit or credit card. However, prices would be lower if you opt for a direct deposit into your Coinbase account instead.
Why Coinbase Wallet Charges So Much
Coinbase charges some of the highest fees among cryptocurrency trading platforms. However, several factors contribute to these high fees.
Firstly, Coinbase's popularity as a widely used exchange worldwide translates to a large user base and substantial trading volume. The exchange's fees are percentage-based per transaction, meaning higher volume results in higher fees.
Also, the trading platform has opted for a user-friendly platform that caters well to beginners. However, this convenience comes at a cost. Since it doesn't offer the advanced features experienced users seek, Coinbase's fees are higher than some of its competitors.
When Are Coinbase Wallet Fees Lowest?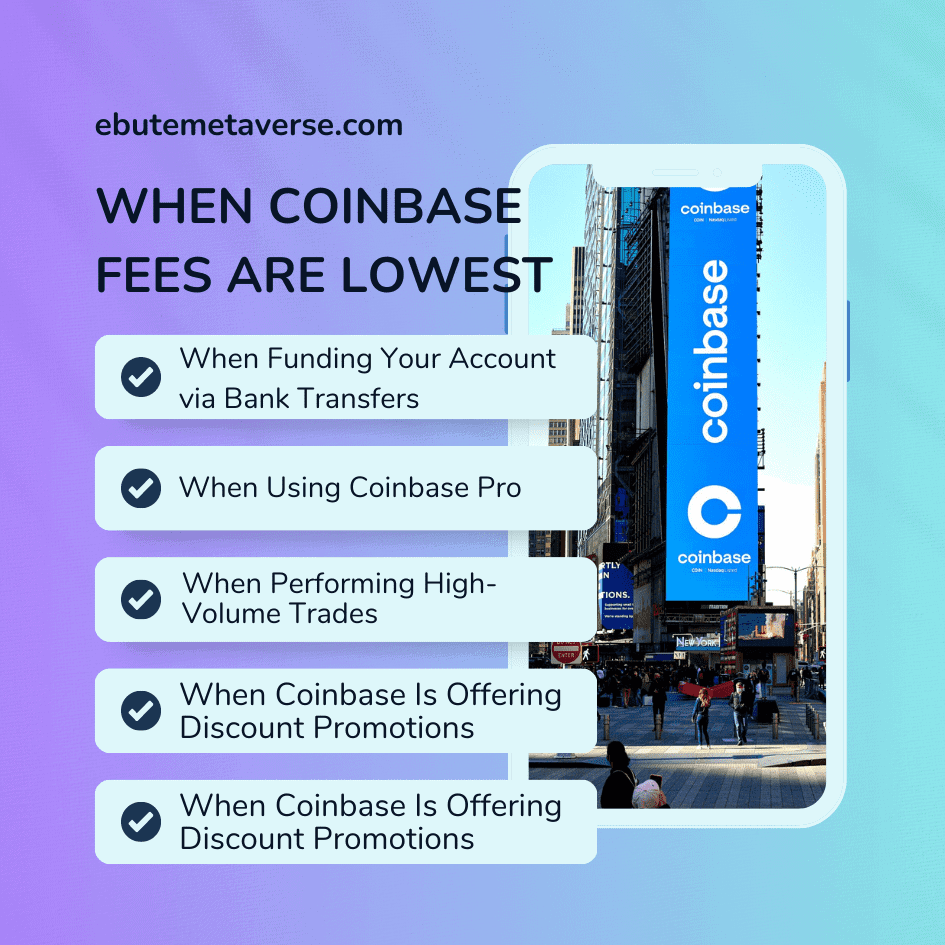 Coinbase fees are lowest when you use bank transfers to fund your wallet. Also, using Coinbase Pro is a more affordable option than Coinbase. If you trade in high volumes, you may qualify for reduced fees. Lastly, Coinbase sometimes offers referral programs that enable users to earn free cryptocurrency.
When Funding Your Account via Bank Transfers
It's important to note that every transaction on Coinbase incurs a fee. However, the amount is determined as a percentage of the transaction value.
The fee is higher when using debit or credit cards; when using bank transfers, the fee is lower. Therefore, you should consider funding your Coinbase accounts via bank transfers to avoid paying excessive fees.
When Using Coinbase Pro
Coinbase offers a platform called Coinbase Pro, which is designed for experienced users who engage in regular trading. Coinbase Pro fees are significantly lower than Coinbase, making it an excellent choice for individuals wishing to cut costs on fees. Transferring money from Coinbase to Coinbase Pro allows you to trade cryptocurrencies for less money.
When Performing High-Volume Trades
Coinbase provides a fee reduction scheme for high-volume traders. Once your trading volume reaches a predetermined level, you will be eligible for decreased fees. For example, a user who trades $50,000 or more monthly qualifies for lower fees.
When Coinbase Is Offering Discount Promotions
Coinbase occasionally offers fee discounts to its users. These promos are typically available for a short period but can help you lower your expenses. You should follow Coinbase on social media and their website to stay updated on the latest promotions.
When Taking Advantage of the Coinbase Referral Program
Coinbase's referral program allows users to earn free cryptocurrency by referring friends to join the platform. For a limited time, users who promote new users to Coinbase receive a portion of their friends' transaction fees. This incentive can help you cover your expenses on the platform.
By taking advantage of these tips, you can keep Coinbase's fees at their lowest and save money on your transactions.
How to Avoid Coinbase Wallet Fees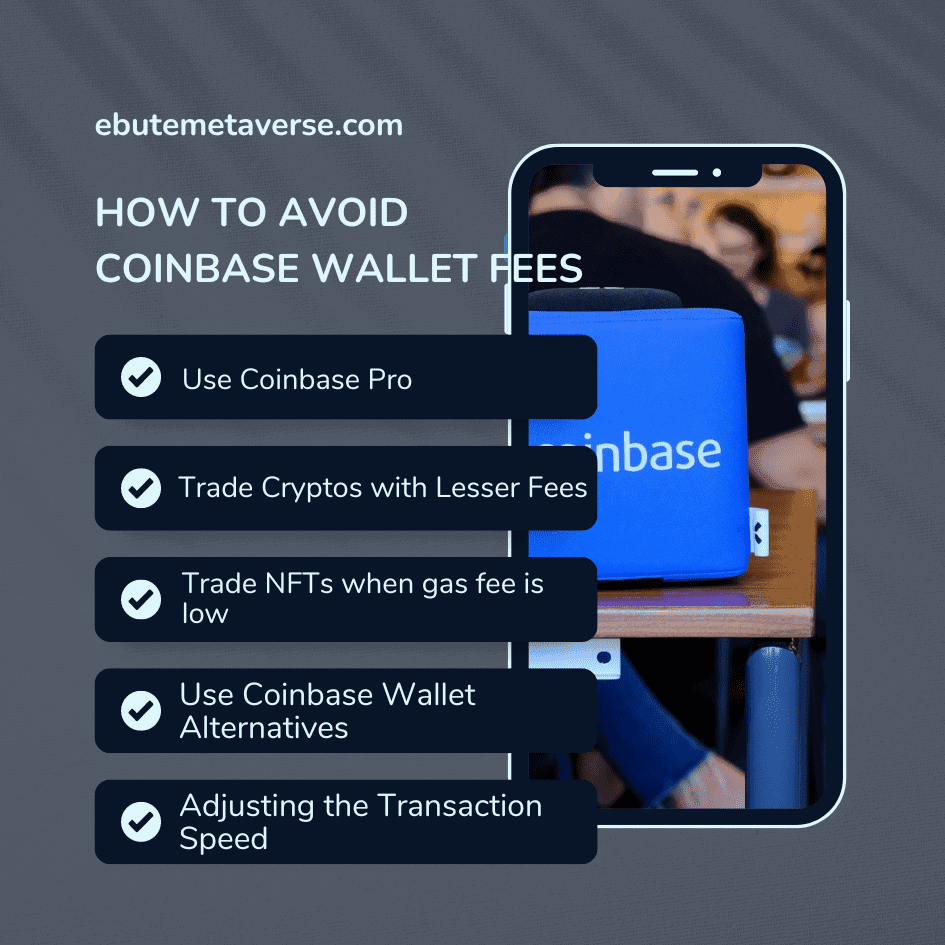 The best ways to reduce Coinbase wallet fees include the following;
Use Coinbase Pro
When withdrawing cryptocurrencies from Coinbase, users are charged a fee based on the network transaction fees that Coinbase expects to pay. However, there is a way to avoid these fees by using Coinbase Pro.
Since Coinbase and Coinbase Pro are both part of the same company, transferring funds between them is free. A transfer from Coinbase to Coinbase Pro is considered a transfer between two Coinbase wallets.
Even better, it's important to note that Coinbase Pro does not charge any withdrawal fees for digital assets like Bitcoin. You can send your cryptocurrencies from Coinbase Pro to any wallet without paying any network transfer fees.
Trade Cryptos with Lesser Fees
Another way to reduce transfer fees is to exchange Bitcoin for another cryptocurrency that has lower transfer fees. Some good options include Litecoin and Bitcoin Cash. Once the transfer is complete on the receiving exchange, these coins can be exchanged back to Bitcoin.
Use Coinbase Wallet Alternatives
If Coinbase fees are too high, you may consider using other wallets like Trustwallet or Metamask. Metamask offers more competitive withdrawal rates and a wider range of cryptocurrency options.
Here's a detailed comparison of Coinbase and Metamask to help you decide which is better for you.
Adjusting the Transaction Speed?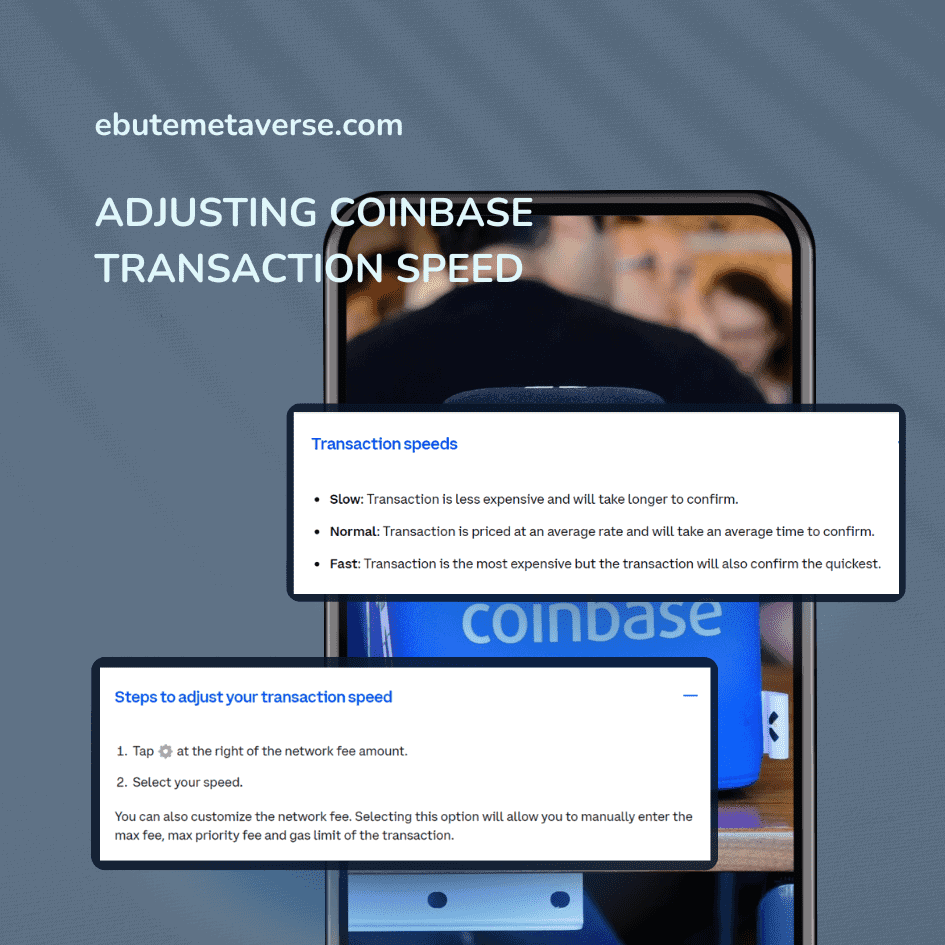 When using Coinbase Wallet, you can modify the network charge for your transactions. Choosing a different speed can affect your transaction's cost and confirmation time.
There are three options for transaction speed: slow, normal, and fast. While the slow option is cheaper, it takes longer to confirm. On the other hand, the fast option is the most expensive but confirms the quickest.
It's also important to note that miners prioritize transactions with higher miner fees. So, transactions with lower fees may take longer to confirm. In the worst-case scenario, the transaction gets "stuck" if there are many higher-fee transactions in the network pool.
Here's how to change your transaction's speed;
tap on the "settings" icon at the right of the network fee amount.
Then, select the speed you prefer.
You can also manually specify the transaction's maximum fee, maximum priority fee, and gas cap through the network fee option.
However, we do not recommend this method because it can lead to the transaction getting stuck in "Pending." Once this happens, try refreshing your session by logging out of your Coinbase Wallet and then logging back in.
Note: Before you sign out, ensure you manually back up your recovery phrase. This way, you can avoid losing access to your funds.
Conclusion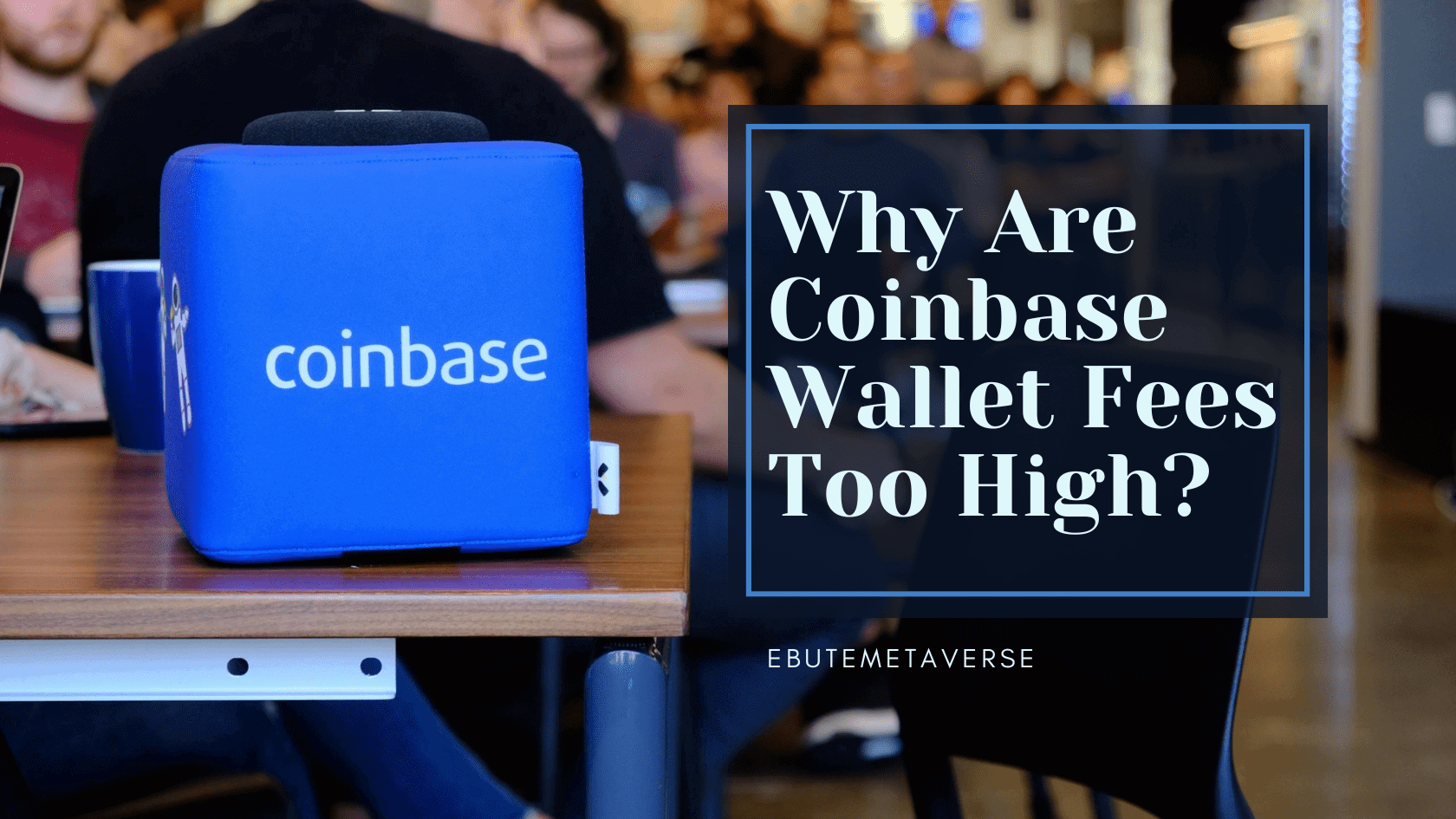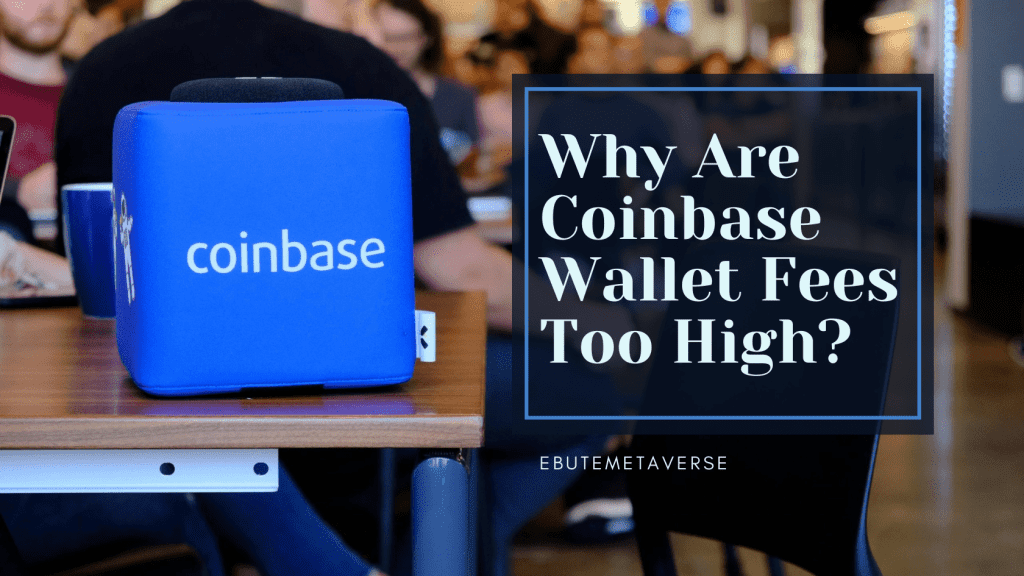 Coinbase wallet fees can be expensive due to various reasons, such as high trading volume, regulatory expenses, and platform simplicity. However, there are several ways to avoid or reduce these fees.
You can lower Coinbase fees when transferring fiat currency using your bank. Try to avoid credit and debit card transactions at all costs. There are other ways to reduce the fees, like using fee discounts. You can also become eligible for fee reductions or participate in the Coinbase referral program.
While you can also adjust the transaction speed to reduce the network cost, we don't recommend doing that.