Trust Wallet is a leading non-custodial wallet for interacting with crypto exchanges and storing NFTs. But there are several scenarios where knowing how to delete Trust Wallet account can come in handy. You might have multiple accounts or found a better multi-coin wallet, like MetaMask or Coinbase Wallet.
You might also want to delete your Trust Wallet account if you're leaving the crypto world—not that we want you to.
Deleting a Trust Wallet account can put you at risk of losing your NFTs and crypto assets. However, it doesn't remove your wallet address or its content from the blockchain. So, before deleting your trust wallet account, backup all your digital assets on a cold wallet like Ledger. Also, write down your recovery phrase. You'll need it to recover your account at a later date.
This guide will provide a step-by-step process for safely deleting trust account wallets. We'll also be answering some related questions you might have concerning the crypto wallet.
What Will Happen If I Delete Trust Wallet App?
You may lose access to your wallet and funds if you accidentally or intentionally delete your Trust Wallet app.
However, you can recover your wallet with a backup of the 12-word recovery phrase stored in a secure location. All you have to do is reinstall the Trust Wallet app from the App Store or Google Play. Then choose "I already have an account" when prompted to sign in. Enter your recovery phrase, and you'll instantly regain access to your hot wallet and its content.
You will lose access to your crypto and NFTs forever without a copy of your seed phrase.
How to Delete Your Trust Wallet Account on iPhone and Android
Caution: Deleting a wallet will remove it completely from your device. The only way to recover a deleted wallet is by using a pre-existing backup. So, ensure to create a backup for your wallet if you plan to recover it in the future. Better still, you can transfer your NFTs to another wallet like MetaMask before you continue.
Deleting a Trust Wallet account on iPhone and Android is the same process. That's why we'll be covering both mobile device types in this guide.
How to Delete Trust Wallet Account on iPhone and Android – Quick Step-by-Step
Step 1: Open the Trust Wallet app. Then, navigate to the Settings section.
Step 2: Select the "Wallets" option on the settings screen to view your wallets.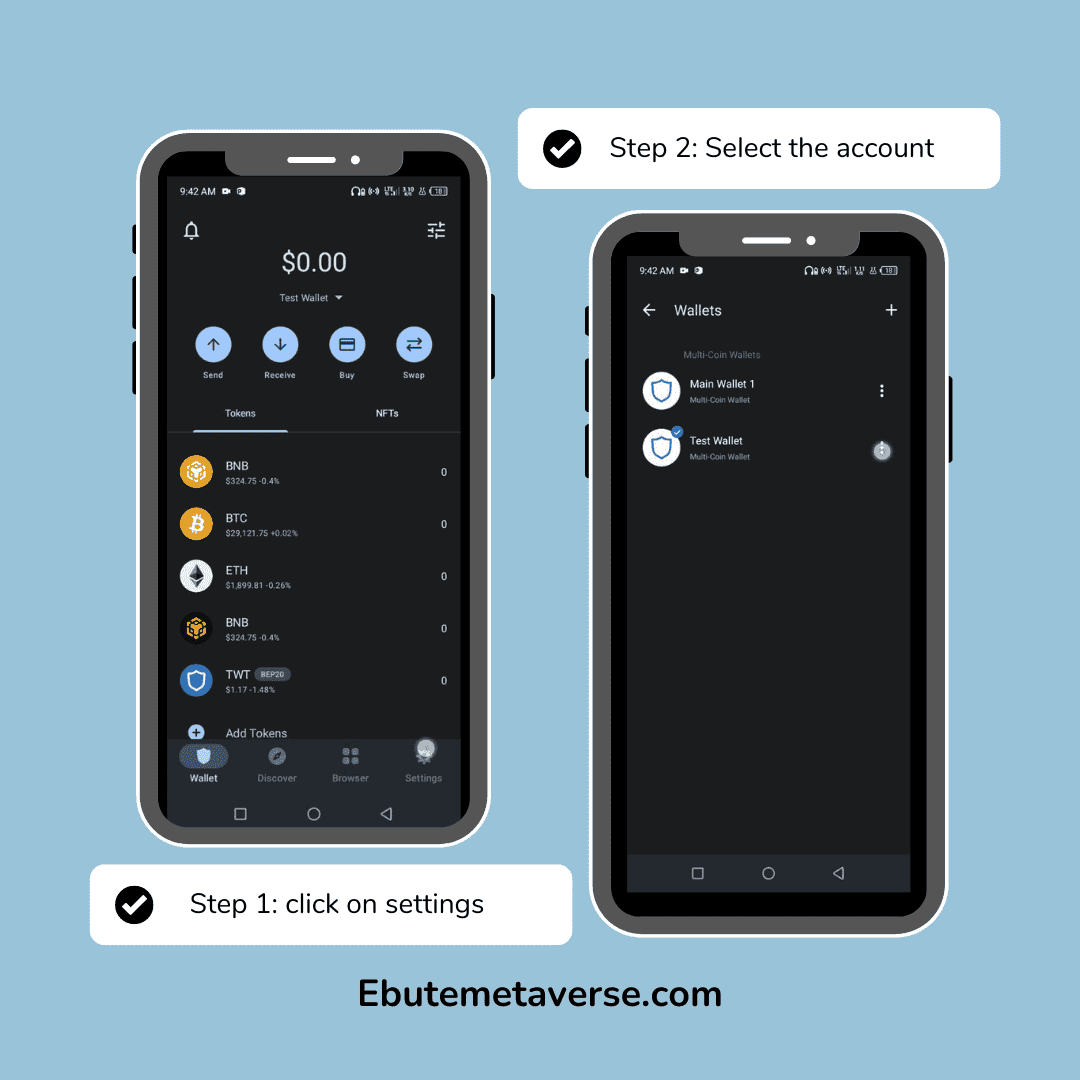 Step 3: Click on the three-dot icon next to the wallet you want to delete and tap the bin icon. For iOS, swipe left on the wallet you want to remove and click [Delete].
Step 4: Confirm the deletion by tapping Delete again, or cancel if you change your mind.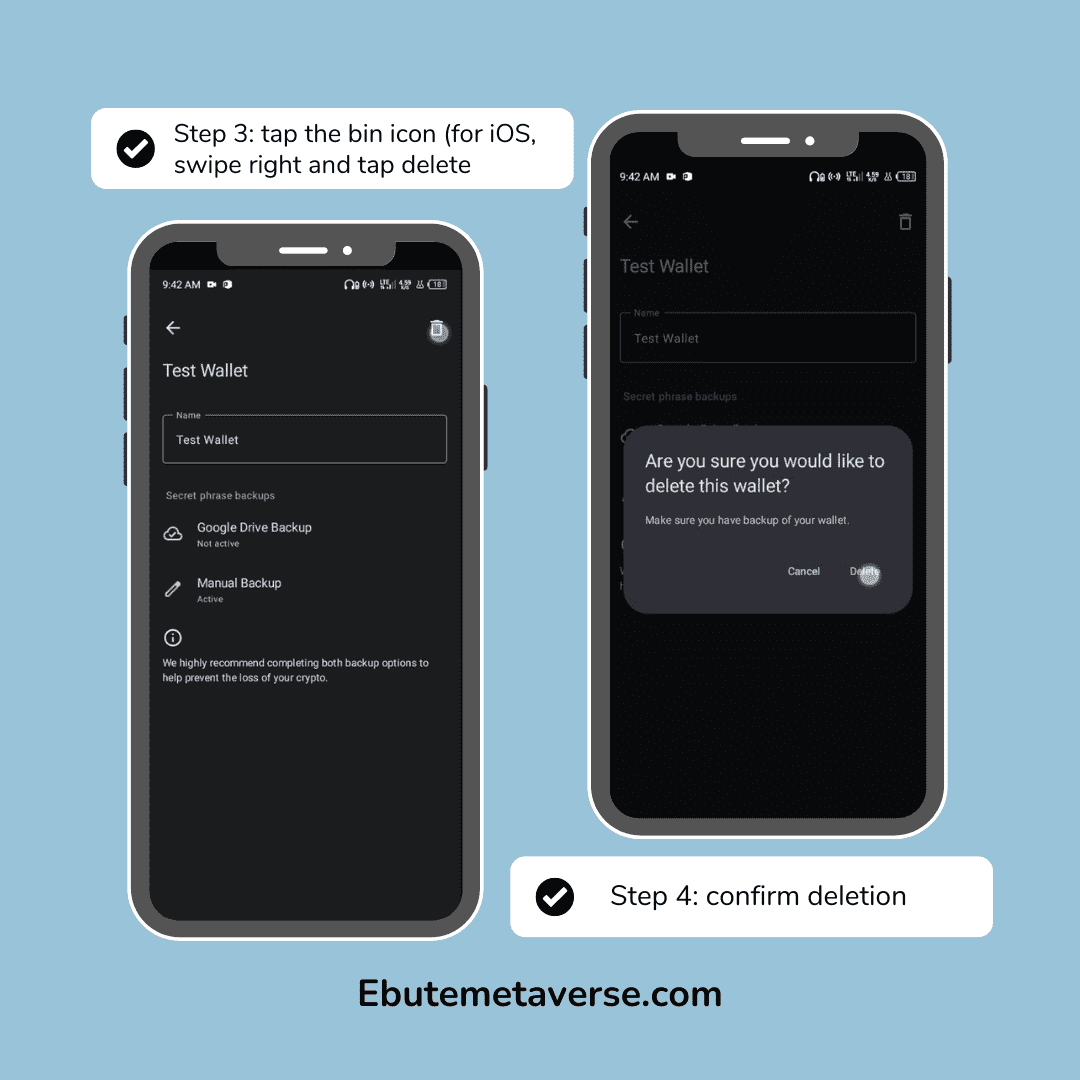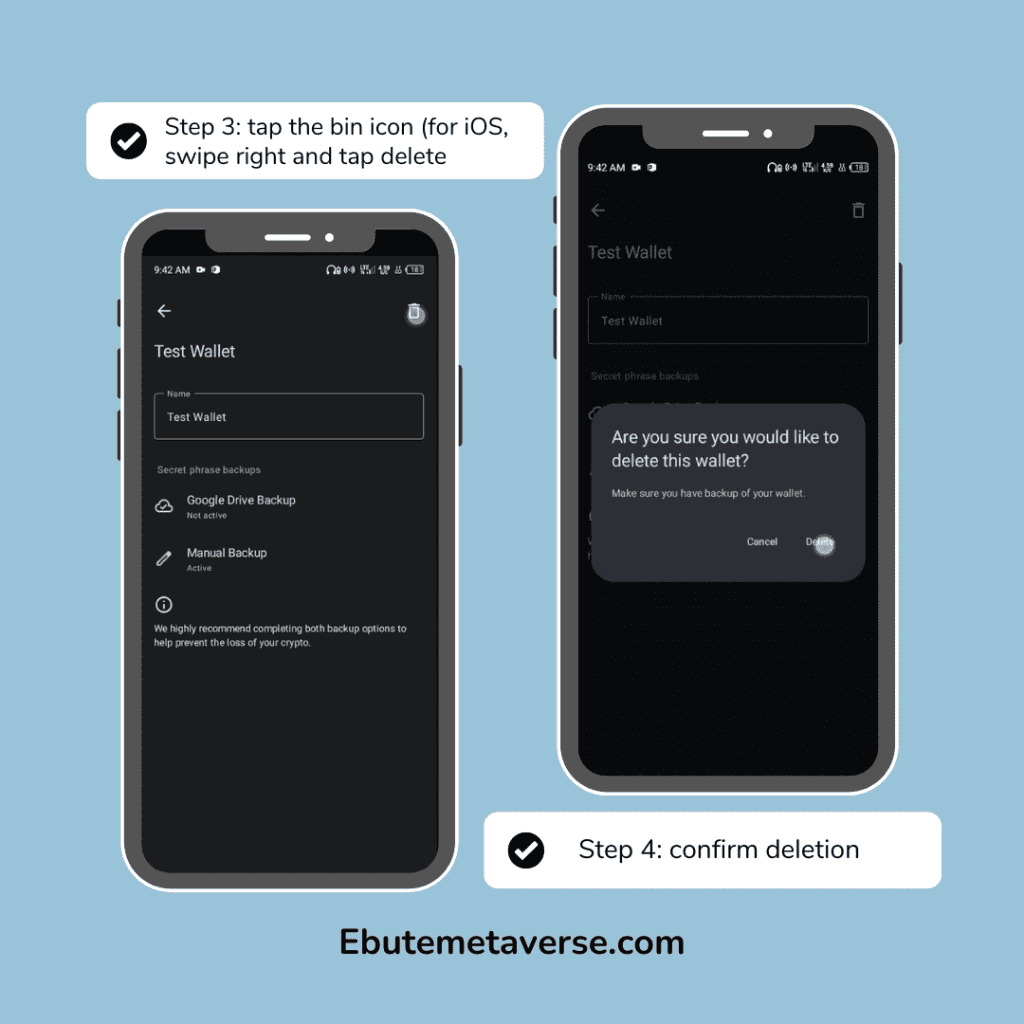 Step 5: The wallet will be deleted from your smartphone, but you can restore it anytime if you have a backup.
How to Delete Trust Wallet Account on PC
The method you would apply to delete your Trust Wallet account on PC would depend on how you're using Trust Wallet on PC. For example, you can remove the Trust Wallet browser extension from your PC or disconnect your wallet account from WalletConnect.
However, to ensure you don't completely lose access to your account, ensure you back up your wallet account and recover phrases.
Will the Wallet Be Deleted Forever?
No. Deleting your wallet account or app does not delete your wallet address or transactions stored on the blockchain. The blockchain records all transactions and keeps a permanent history that is always accessible.
To ensure access to your digital assets, it's crucial to back up your recovery phrase and wallet account.
How to Delete Trust Wallet Permanently
If you want to delete Trust Wallet permanently, you should remove the wallet from the app and uninstall the program from your device. This will restrict access to the wallet but won't delete anything stored on the blockchain.
Remember to export your recovery phrase before deleting the wallet, so you can still access your digital assets in the future. After deleting the wallet, keep your recovery phrase safe and secure to protect your digital assets.
Can I Recover My Deleted Trust Wallet Account?
If you have a backup of your recovery phrase, retrieving your deleted Trust Wallet account is possible. However, it may be impossible to regain access to your digital assets without a backup.
You can check out our guide on restoring your Trust Wallet account.
Should You Delete Your Trust Wallet Account?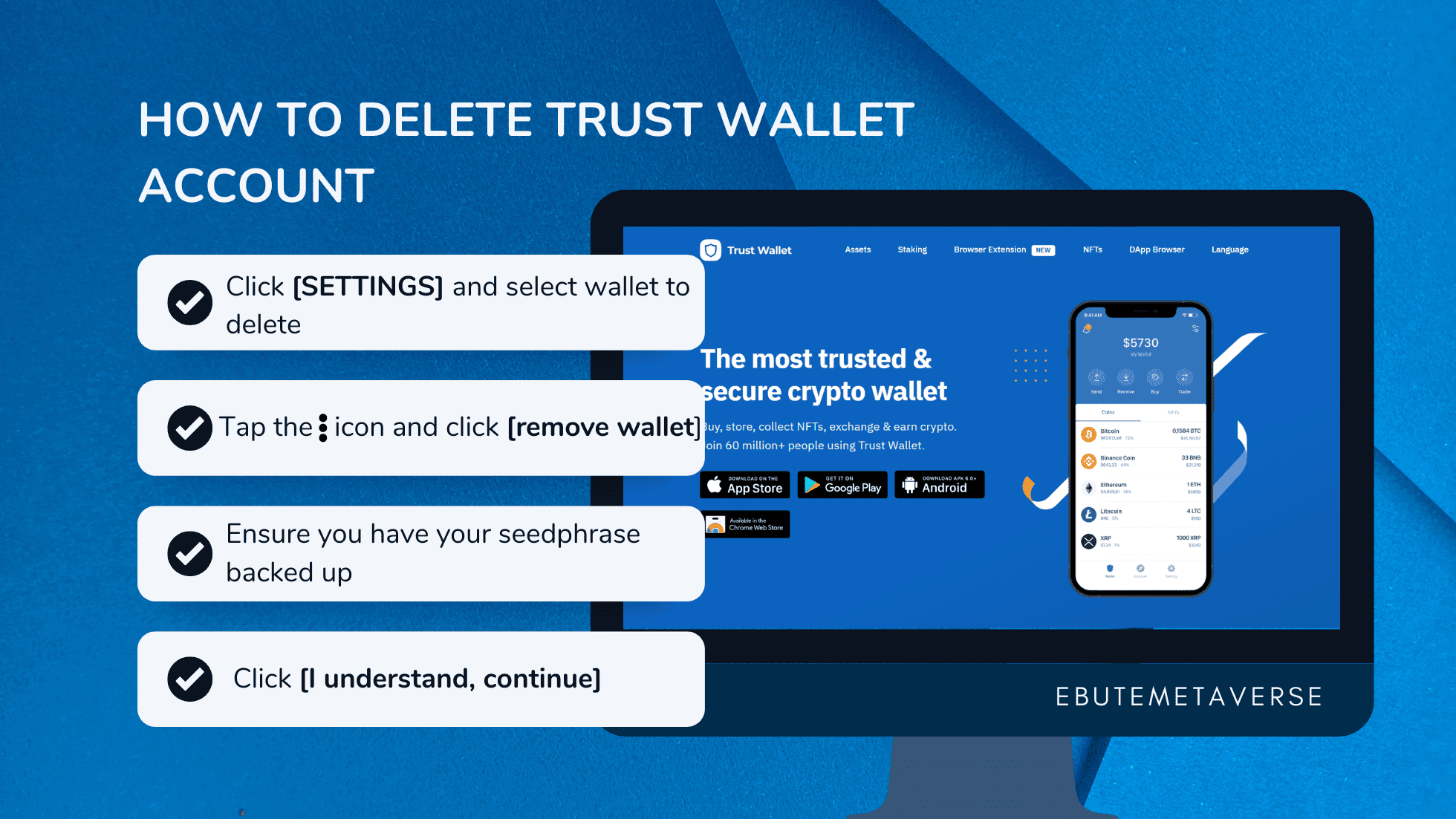 Once you've decided to delete your trust wallet account, you should be aware of the risk involved.
Deleting your Trust Wallet account puts your cryptocurrency holdings and NFTs at risk of being lost if not done cautiously. Before deleting your account, back up your recovery phrase and transfer your digital assets to a secure cold wallet like Ledger or Trezor.