Trezor is a highly respected hardware wallet manufacturer reputed for creating high-security crypto wallet solutions. Its latest release, the Trezor Model T, is said to be on par with Ledger's Nano X and Stax versions.
This Trezor Model T review is aimed at confirming whether it's true or whether the product is just all hype.
In this review, I'll cover everything you need to know about the Trezor Model T hardware wallet, from pricing to pros and cons.
I'll also be shedding light on how secure the device is as well as how to set up and use it.
By the end of this article, you should be able to decide whether or not the Trezor Model T wallet is the right product for you.
Trezor Model T Price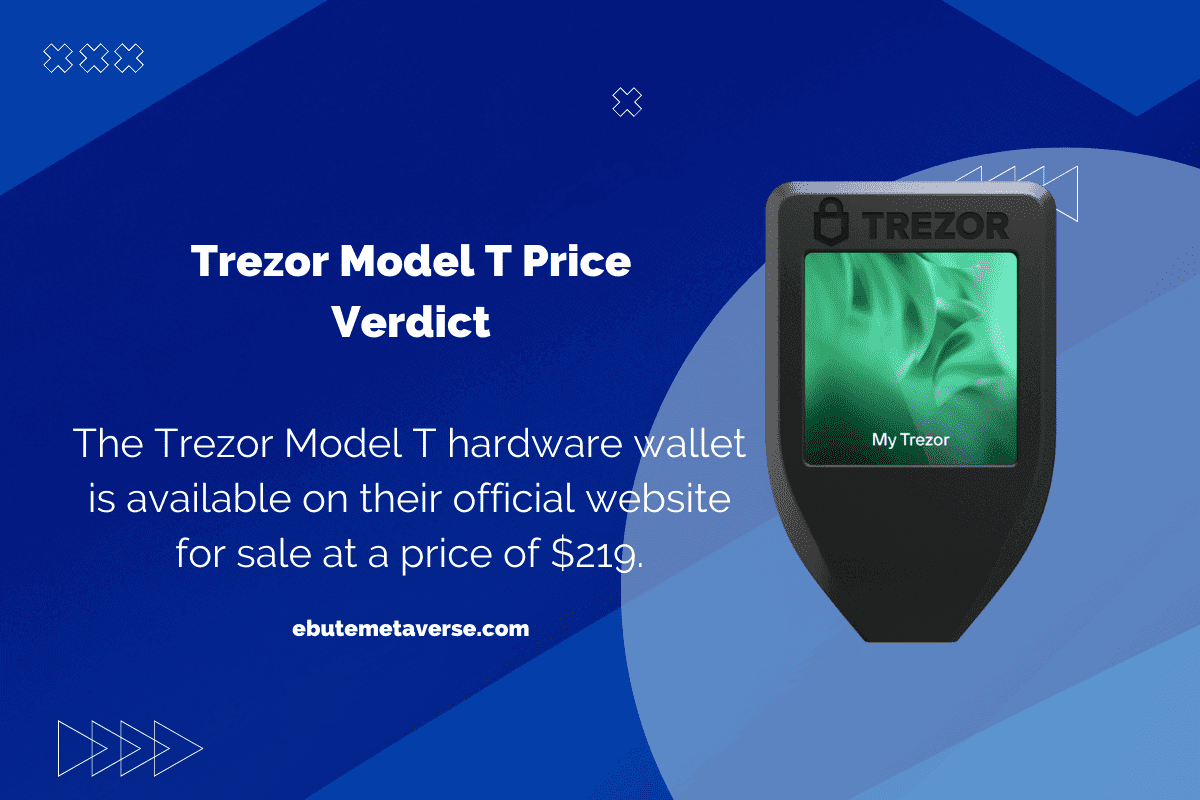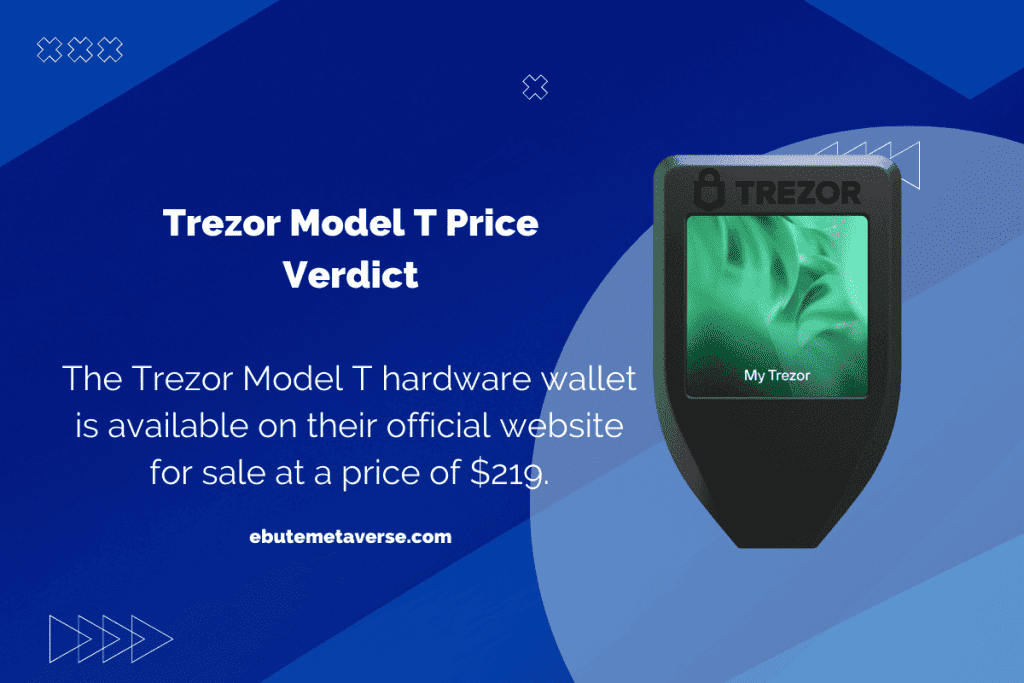 The Trezor Model T hardware wallet is available on their official website for sale at a price of $219. This price tag makes the Model T wallet one of the most expensive hardware wallet options on the market.
Is the Model T's price too high for your budget? Don't worry; there are top-notch alternative options available at a fraction of the cost.
If you want a cheaper product from the same manufacturer, you should consider the Trezor One device, priced at $69. Alternatively, you can check out products from Ledger, its main competitor.
The viable options would be the Ledger Nano X (priced at $149) and the Nano S Plus (priced at $79).
Trezor Model T Features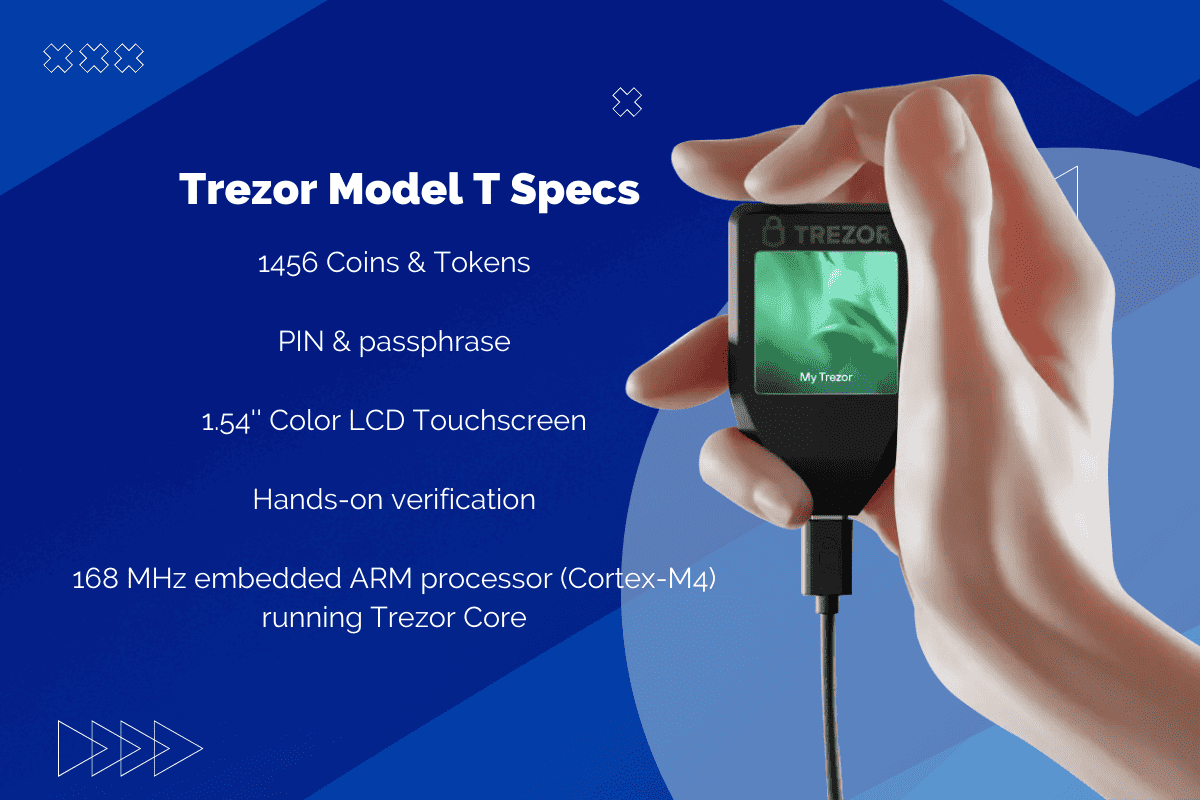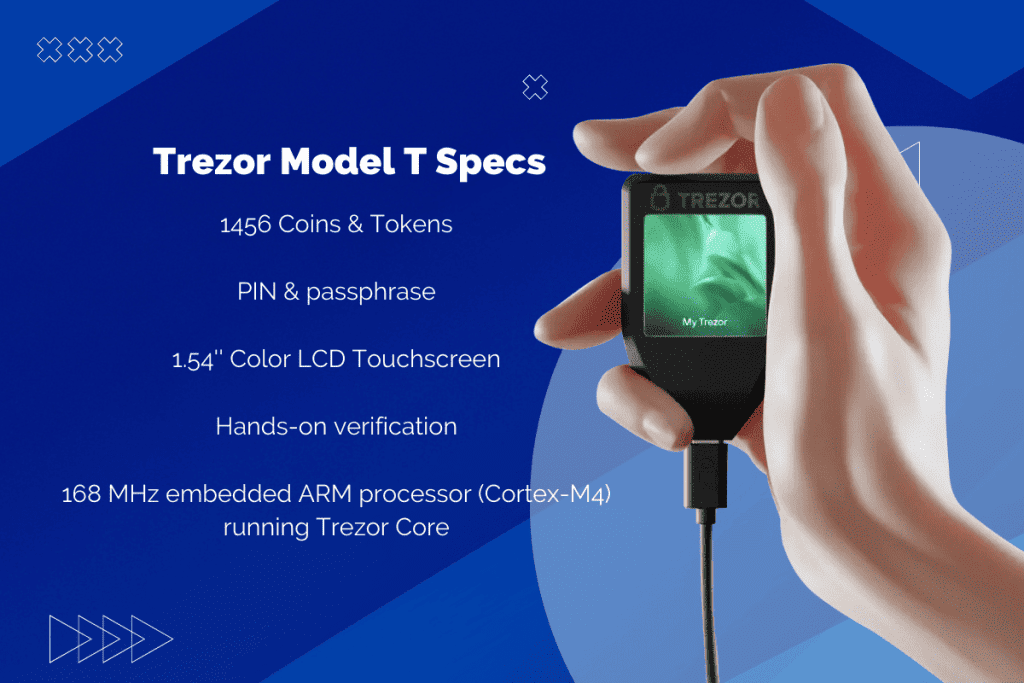 Here are some of the exceptional qualities I found the Trezor Model T wallet to possess:
1. State-of-the-Art Security
Trezor's Model T is packed with advanced security features that ensure the safety of your digital assets. For example, the device adopted safe cold storage and other advanced security measures like Shamir backup for your seed phrase.
2. Enhanced Usability with Touchscreen
One of the major upgrades from the Trezor One that's built into the Model T version is the touchscreen feature. This intuitive interface makes it incredibly easy for users to interact with the device and manage their digital assets effectively.
3. Mobile Device Connectivity
The Model T device has the capability to connect the wallet to your mobile devices using WebUSB. This feature enables seamless and secure mobile payments, providing you with greater flexibility and convenience.
4. Tailored to Power Users
In addition to basic functionalities, the Trezor Model T offers more advanced options for tech-savvy users. You'll be able to maximize the device's potential with features like passwordless login, self-destruct PINs, universal 2nd-factor authentication (U2F), SSH login, and GPG.
Has Trezor Model T Ever Been Hacked?
The short answer is yes; however, these attacks require physical access to the device.
Notably, there haven't been any known remote attacks on Trezor devices, and such attacks are relatively rare, according to Trezor's data. Which means the Trezor Model T hardware wallet is still safe in a practical sense.
As of the time of this Trezor Model T review, only three incidents of successful attacks on Trezor devices have been recorded.
The first was when Trezor Model One was compromised in 2020, affecting around 2 million devices. Also, subsequent attacks were the Read Protection Downgrade Attack by Kraken Security Labs and the Seed Extraction Attacks by the Donjon security team.
All these attacks required specialized hardware tools, deep technical knowledge, and physical access to the target device. Also, some exploits might be possible if the Passphrase feature is disabled on your device, according to the Trezor team.
So, ensure to always use a strong passphrase, as it significantly reduces the likelihood of a successful attack.
On Trezor's end, they've been professional in handling each incident and have made firmware upgrades to protect against known vulnerabilities. Also, they have been relentless in educating their users on the importance of safeguarding devices, passphrases, and private keys from potential hackers.
Is Trezor Model T Safe?
There has been no recent news about a Trezor Model T hardware wallet being hacked. While this has happened in the past, the Trezor team has been quick to handle the situation and beef up the wallet's security.
However, recently, Trezor users have been the target of numerous phishing attacks and crypto scams. To ensure the safety of their customers' assets, Trezor released an article that explains the common security threats and how to avoid them.
Overall, the Trezor Model T wallet has one of the best systems as far as hardware wallet security is concerned. However, you should be careful about connecting your wallet to suspicious websites. You should also avoid leaving your wallet lying around as it may fall into the wrong hands.
Pros and Cons of Trezor Model T
| | |
| --- | --- |
| Pros | Cons |
| Multisignature protection for your digital assets | Expensive |
| Touchscreen user interface | No mobile support for iOS |
| Features the Shamir Backup system to help distribute your recovery phrase across multiple locations | Can't stake assets via native Trezor Suite software |
| Supports Taproot and allows you to engage with Bitcoin (BTC) smart contracts | Can't manage NFTs via Trezor Suite |
| Can be synced with Exodus Wallet for improved usability | |
| Can be synced with third-party Web3 wallets such as MetaMask for DeFi | |
| Can anonymize transactions in Trezor Suite using the Tor interface | |
Trezor Model T Setup
What's in the Box
Here's a list of what you'll find when you unbox the Trezor Model T wallet package: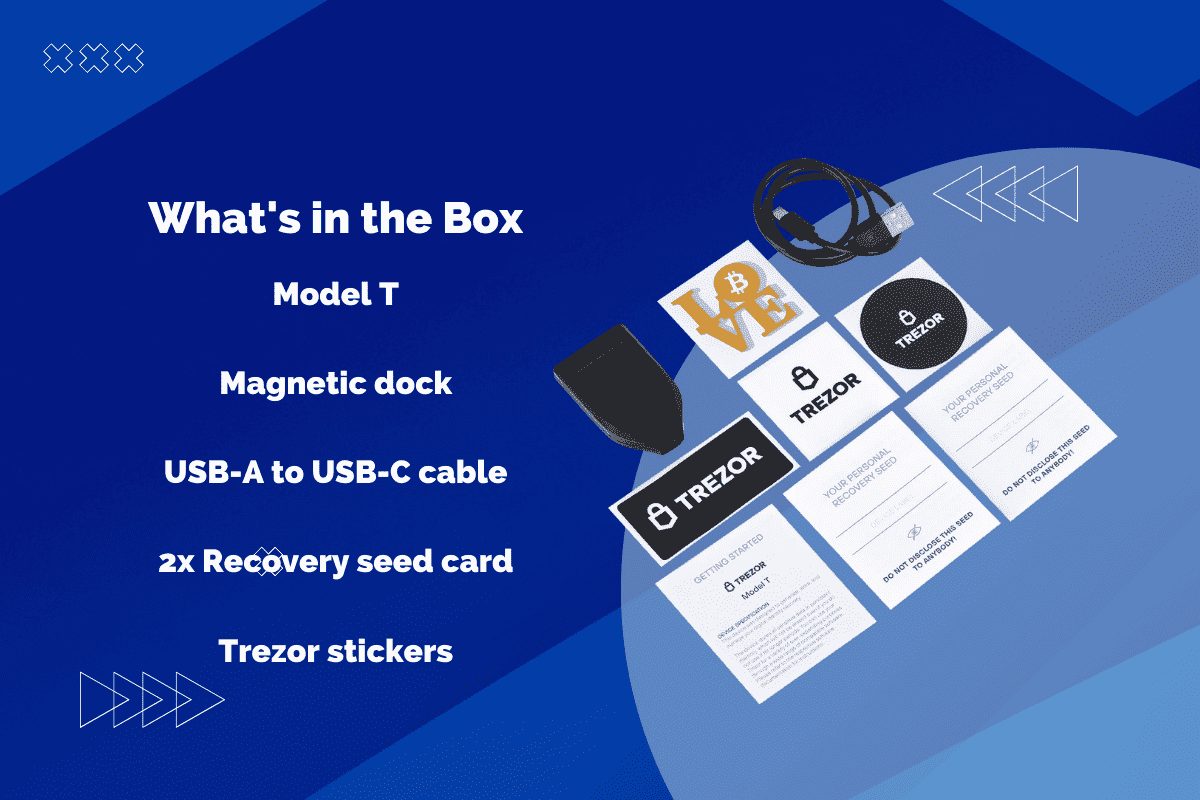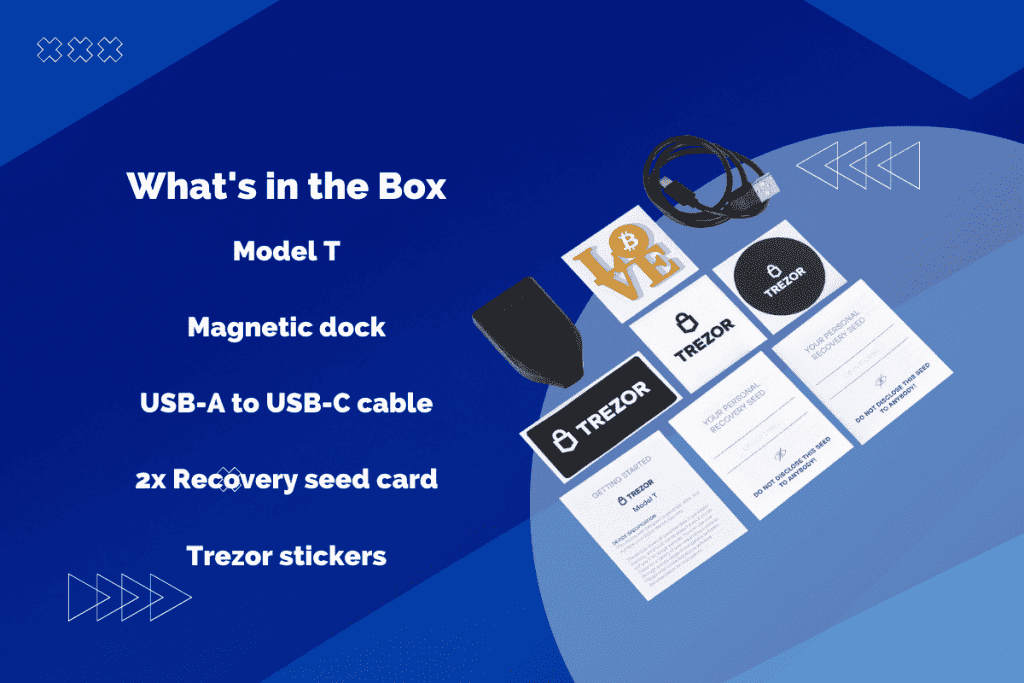 The Trezor Model T device itself, with a holographic seal over the connector.
USB-C cable
Getting Started card (package)
Magnetic dock
2 recovery seed cards
4 Trezor stickers
Setting Up the Wallet
Caution: Before proceeding with the setup of your Trezor Model T wallet, verify that the wallet package or device has not been tampered with. If you suspect any tampering, immediately contact Trezor support for assistance.
To set up your Trezor Model T device, follow these step-by-step instructions:
Step 1: Access and Download Trezor Suite
Access Trezor Suite: Open a web browser on your desktop computer and go to Trezor Suite.
Download Trezor Suite: Locate the "Get Desktop App" button and click it to download the appropriate Trezor Suite for your system.
Step 2: Connect and Setup Trezor Model T
Connect Model T to Desktop: Use the USB-C cable to connect your Trezor Model T.
Select "Setup Trezor": Choose this option from the menu that appears.
Step 3: Install Firmware and Create Wallet
Install Firmware: Select "Install firmware" to update the device's software.
Create New Wallet: Choose "Create new wallet" to begin the setup process.
Step 4: Backup Type Selection and Confirmation
Backup Type Selection: Choose between "Standard seed backup" or "Shamir share backup."
Confirmation: Check the box next to the green-colored message for wallet creation.
Step 5: Recovery Seed Recording and Backup Initiation
Recovery Seed Recording: Record the 12-word recovery seed on the provided cards.
Begin Backup: Click "Begin backup" to demonstrate understanding.
Warning Acknowledgment: Confirm your awareness of the warning against digital copies.
Step 6: Confirmation and Verification of Recovery Seed
Confirmation: Click "Hold to confirm" after noting all 12 words.
Verify Recovery Seed: Type each of the 12 recovery words and click "Continue."
Step 7: Complete Backup, Enable PIN Protection and Device Naming
Backup Complete: Click "Continue to PIN" after successful verification.
Enable PIN Protection: Check the box to enable PIN protection.
Set PIN: Select "Set PIN" and enter your desired PIN code.
Device Naming: Name your Model T for identification purposes.
Congratulations! Your Trezor Model T is now set up and ready to use securely.
How to Use Trezor Model T Wallet
To use your Model T wallet and Trezor Suite effectively, follow these steps:
1. Connecting Model T with Trezor Suite
Open the Trezor Suite on your computer.
Connect your Model T to the computer's desktop using the USB-C connector.
Enter your Model T's PIN when prompted.
If you named your Model T, verify the name.
You will now have access to the Trezor Suite interface.
2. Installing Applications on Model T
Install apps for each blockchain you want to work with on your Model T and Trezor Suite.
Click the "Accounts" link next to "Dashboard" on the app screen.
Select the desired cryptocurrency (e.g., Bitcoin) by clicking the green "+" next to "My accounts."
Your account for the selected asset will be listed under "My accounts" in the Trezor Suite interface.
Click the name of the cryptocurrency under "My accounts" to view details about your holdings.
Repeat these steps for each app you wish to use on your Model T.
3. Buying and Trading Cryptocurrencies with Trezor Suite
Connect your Model T to your computer and access the Accounts view on Trezor Suite.
Open the Exchange tab by clicking the green Trade icon.
Select the assets you want to trade and set the desired charge tier.
Note that only coins and tokens supported by Trezor hardware can be traded.
Click the green Compare offers button to view various trade offers from exchanges.
Trezor Suite acts as an interface for these exchanges; it's not a direct transaction.
Choose an offer, agree to the terms, and complete any required KYC verification.
Confirm the receiving address on your Model T, then proceed with the transaction.
4. Storing Bitcoin (BTC) Private Keys on Model T
Launch the Bitcoin app on Trezor Suite.
Copy the Bitcoin wallet address displayed in the app.
Enter the recipient's address in the appropriate field on the wallet from which you are sending money.
Verify the address on your Model T to ensure it matches.
Wait for the transaction to complete (some transactions may take longer due to network congestion).
After completion, your updated Bitcoin balance will be displayed.
The same process applies to other digital assets you want to manage with your Model T.
5. Using Model T for Staking
Unfortunately, Trezor Suite does not support crypto staking. To stake your assets, you can sync your Model T with Exodus Wallet or a third-party browser extension wallet like MetaMask.
Trezor Model T Key Specs
| | |
| --- | --- |
| Key Specifications | Trezor Model T |
| Dimensions | 64 x 39 x 10mm |
| Display | CE and RoHS certified (consumer safety, health, and environmental health award) |
| Security mechanism | ARM Cortex-M4 embedded-arm processor @ 168 MHz |
| Security certifications | PC (Windows 10+, macOS 10.11+, and Linux), Mobile (Android) |
| Connection | USB-C (for mobile), WebUSB |
| Compatibility | PC (Windows 10+, macOS 10.11+ and Linux), Mobile (Android) |
| Backup | 12-24-word seed phrase |
| Coin support | 1,456+ |
| Staking | Yes, but only when connected to third-party wallets |
Trezor Model T Supported Coins
The Trezor Model T wallet boasts support for over 1,456 digital assets. However, this capacity falls short of the vast array of 5,500+ digital assets that Ledger hardware wallets provide. For a comprehensive view of all the coins supported by Trezor's Model T device, read this list.
Trezor Model T NFT Support
The Trezor Model T hardware wallet can store Ethereum-based NFTs. However, the device doesn't have built-in functionality to view or manage your NFTs directly. It's built to be solely a cold storage facility for your NFTs.
If you want to view and manage your NFTs through the device, there's an alternative. You can sync your Model T with an external software wallet like MetaMask.
Why You Should Get the Trezor Model T
The main reason why I would recommend the Trezor Model T wallet is because it's very secure, especially against remote hacking. Also, its user-friendly touchscreen display makes the device more intuitive compared to other hardware wallets.
Along with its ease of use, the Model T supports NFT storage on the Ethereum blockchain network. It also offers support for most computer operating systems and Android devices.
Finally, it offers decent coin support for over 1,200 cryptocurrencies.
Potential Deal Breakers
Aside from being pricey, one of the biggest drawbacks to using the Trezor Model T hardware is its lack of mobile support for iOS devices. Also, while the screen touch feature made the device easy to navigate, I found the interface not to be beginner-friendly.
If you prioritize top-notch security and are willing to invest more to secure your digital assets, then the Trezor Model T wallet might be an excellent choice.
Trezor Model T Promo Code
Final Verdict Is It Worth It to buy the Trezor Model T?
We covered all the essentials of buying, setting up, and using the hardware wallet in this Trezor Model T review. However, the question of whether it's going to be a good buy for you depends on your specific needs.
In my humble opinion, the Trezor Model T hardware wallet is unrivaled in terms of being the best and most secure cryptocurrency wallet out there. So, if you prioritize top-of-the-line security and features and price isn't a deal-breaker, the Trezor Model T wallet might be a great choice.
Trezor Model T Review FAQs
How Much Crypto Can You Store on Trezor Model T?
The Trezor Model T wallet can store the private keys for up to 14 distinct blockchains and 1,456+ crypto coins and tokens. In addition, Trezor does not have a storage cap for crypto, unlike Ledger.
What Happens If You Lose Your Trezor Model T?
If you lose your Trezor Model T device, you can always use your recovery seed to regain access to your full wallet, passwords, and other connected data. So, ensure to keep your recovery seed safe, as you won't be able to recover your wallet if you lose it.
Which Trezor Model Is Best?
The Trezor Model T hardware wallet is by far the best Trezor hardware wallet in terms of security. It's the only version that provides you with the Shamir Backup option when generating your seed phrase.
How Long Does Trezor Model T Last?
With proper handling and care, your Trezor Model T should endure many years of frequent use, according to Trezor.
Does Trezor Have a Limit?
There's no limit to the number of accounts you can open on your Trezor Model T device. Users of Trezor Suite are permitted to create 10 accounts (of each type offered) for each cryptocurrency.
How Much Can a Trezor Hold?
Trezor does not have a storage cap, so any amount of the supported coins and NFTs can be stored on the device.
Can You Store Multiple Cryptos on Trezor?
Yes. The Trezor Model T wallet can support more than 1,800 cryptocurrencies.