The Ledger Nano X hardware wallet is a well-liked option among Ledger customers, and experienced traders also highly recommend it for beginners.
But ever since the recent backup tool announcement, you've probably asked the following questions:
Is the Ledger Nano X safe?
Can the Ledger Nano X be hacked?
So in this Ledger Nano X review, I'll thoroughly examine the NFT wallet, focusing on its ability to store digital assets safely.
Additionally, I'll be sharing my honest opinion and answering some common questions you might have before you buy the Ledger Nano X.
Ledger Nano X Price
The price of the Ledger Nano X is $149, excluding VAT and duty charges, as published on their official website.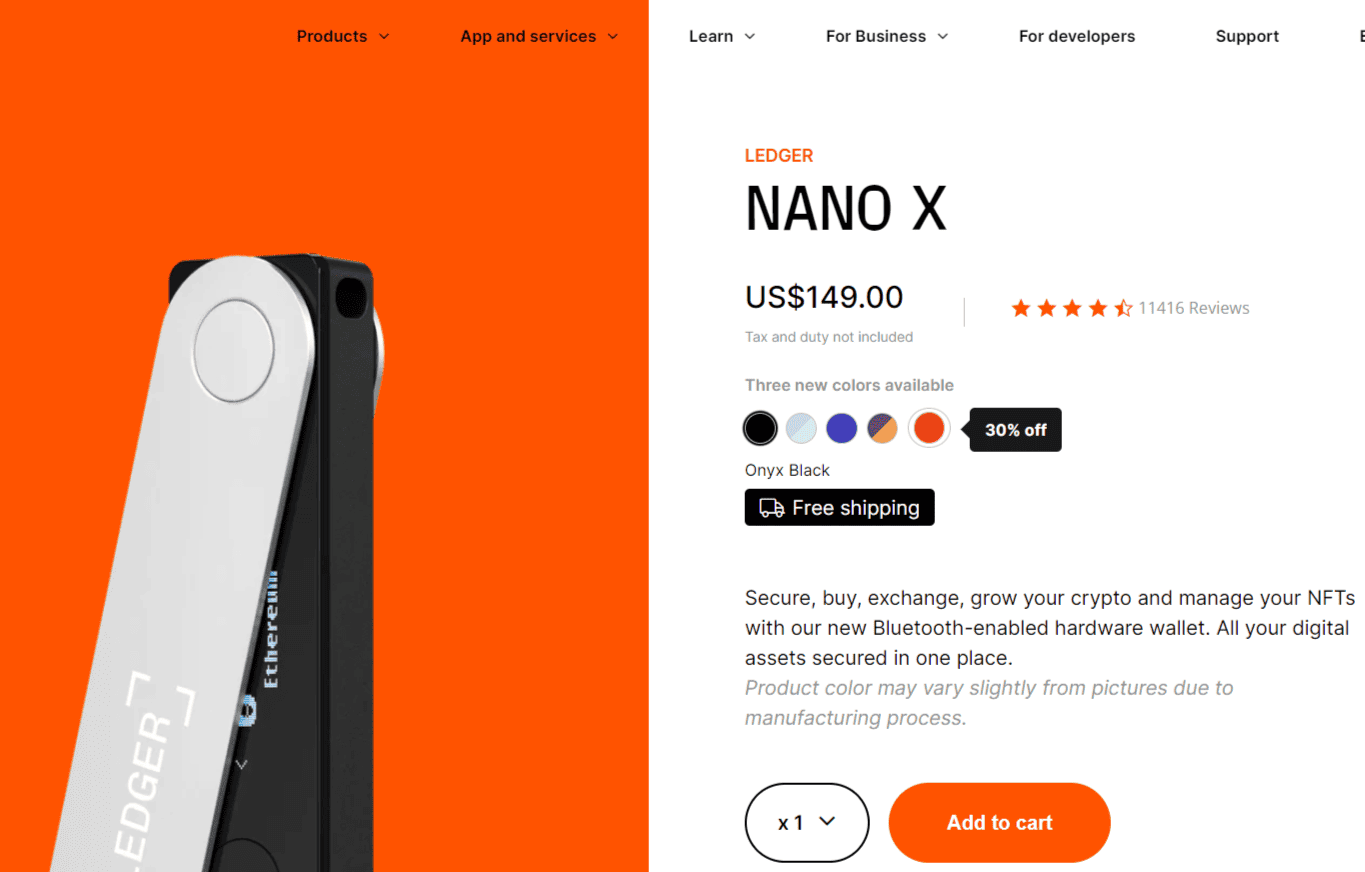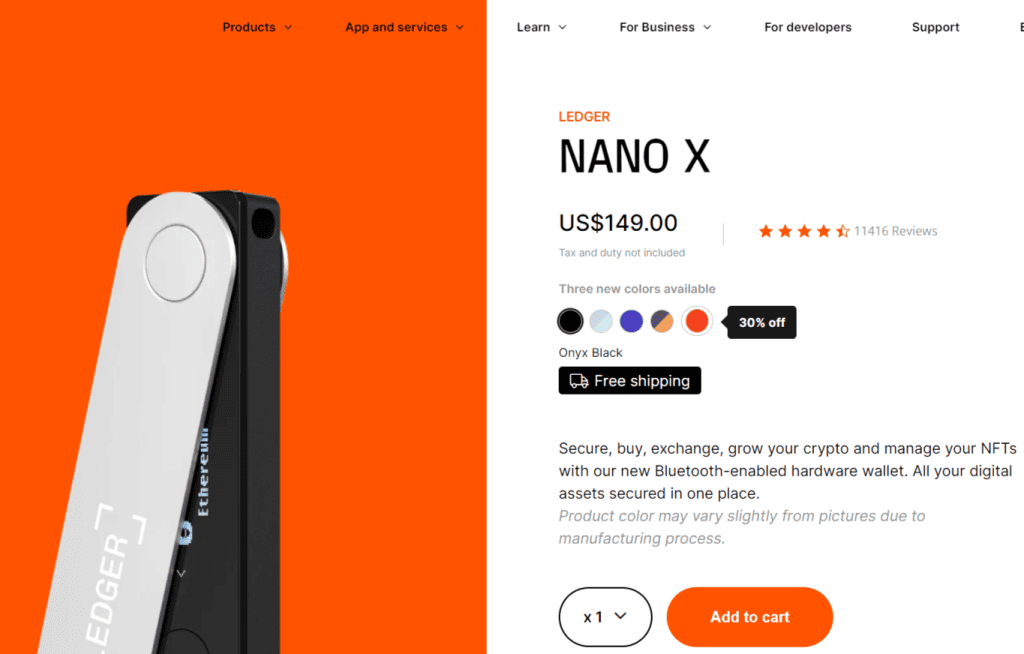 Yes, I know it's a lot, especially if you're not planning to keep lots of valuable NFT or cryptocurrencies in the wallet. However, the added benefits (Bluetooth support, increased coin capacity, etc.) and enhanced security measures justify the high price tag.
Additionally, in comparison with the Trezor Model T (priced at $219), the Ledger Nano X is fairly priced, in my opinion.
If the Ledger Nano X hardware wallet is beyond your budget, you can explore cheaper options like the KeepKey ($49) or the Trezor Model One ($69). You can compare both Trezor and Ledger to determine which one would fit your requirements better. It will help you evaluate if you should get a Nano X or not.
Alternatively, you can leverage Ledger's discount program for users to reduce the purchase price. If you buy more than one of their products, you get a discount on both purchases. One trick you can use here is to find a friend who needs to buy a Ledger product, then combine the purchases.
Additionally, you can use a promo code to buy ledger products at a discounted price (up to 30%). I've included a promo code you can use later in this review.
Caution: Avoid buying any Ledger hardware wallet from online stores like Amazon and eBay. Only purchase the device directly from the manufacturer. There's a chance the device might have been compromised before being put on sale on the e-commerce platform.
Also, check for a holographic strip on the bottom of the device. Report to your vendor immediately if you notice the seal is missing or shows signs of being tampered with.
Is Ledger Nano X Safe?
Yes. The Ledger Nano X is one of the safest hardware wallets for storing NFTs and cryptocurrency.
Here's a list of reasons why we consider Ledger Nano X to be safe:
First, Ledger owns the operating system (BOLOS) that powers all of its devices, including the Nano X version.
Also, it features one of the most secure chips available on the market, with which the device stores the secret keys to your digital assets.
It requires a PIN for users to gain access to the hardware wallet. Furthermore, all transactions and configuration changes must be verified by pressing one of the hardware wallet's two physical buttons.
Additionally, the device enables the creation of a passphrase. This feature helps you protect your account and digital assets even when your PIN gets stolen.
Finally, the Nano X also employs a 24-word recovery phrase as opposed to the typical 12-word phrase typically used for software wallets. It's more difficult for your device or digital assets to be compromised as a result of this measure.
Ledger Nano X Features
The Ledger Live App
Ledger provides its Nano X users with access to their mobile app, known as Ledger Live. This app allows you to conveniently manage your NFTs from your mobile devices, anywhere, anytime. Also, in partnership with Coinify, the app facilitates seamless transfer, receiving, and trading of NFTs and digital currencies.
The Ledger Live app also offers additional trading features such as lending, swapping and staking your assets. You can download this app either from the Play Store or the Apple Store.
Ledger Extension
The Ledger Extension allows users to connect directly to NFT marketplaces and web3 apps from their browsers. This feature is currently exclusive to Ledger Nano X users; however, with upcoming updates, we expect it to be available for other Ledger devices.
Also, the extension is currently only available in the Safari browser. However, the Ledger team has announced they are working on extending the service to other browsers as well.
8-Hour Battery Life
The Ledger Nano X device features a built-in 100 mAh battery designed to provide up to eight hours of continuous operation on a full charge. Even during periods of standby, this battery can last for several months.
iOS and Android Support
With Ledger's latest devices, you now have the power to manage, view, and trade NFTs using your iOS and Android devices. This exciting capability is exclusive to the newer Ledger models, including the Nano X and Stax versions.
Has Ledger Nano X Ever Been Hacked?
There's been no real-world report from a Ledger user that their device was compromised by an attacker. However, in laboratory settings, security researchers with access to huge resources and expertise have been able to hack the device.
The only known hacking case related to Ledger was when their e-commerce customer database was breached in July 2020. You'll have to give it to Ledger's security to quickly resolve the data breach issue. However, it was confirmed in a report that the email addresses and transaction histories of customers were leaked due to the attack.
Important notice: No customer funds or digital assets were lost during the Ledger data breach incident.
Pros and Cons of Ledger Nano X
| | |
| --- | --- |
| Pros | Cons |
| Supports 5,500+ tokens | Some obscure coins aren't supported |
| Bluetooth enabled | Bluetooth is only compatible with mobile apps, not desktop |
| Desktop and mobile OS supported | Fairly expensive |
| Runs up to 100 apps simultaneously | Cannot run more than 100 applications |
| Highly secure; CC EAL 5+ rating | No touch screen |
| Native support for NFTs | Buttons can be slow to use |
| Private keys stored inside the hardware wallet's chip | Inputting PIN repeatedly can be tedious |
| Can buy and sell crypto directly from your wallet | No assets or tokens can be purchased using the Nano X |
| Native staking and NFT management | Can't stake many cryptos via Ledger Live |
Ledger Nano X Setup
What's in the Box
Inside the box for your Ledger Nano X hardware wallet, you'll discover the following essential items:
The Ledger Nano X device itself
A USB-C cable that's designed to connect the device to your computer
A convenient cardboard envelope labeled "Getting Started," which contains detailed setup instructions
A useful document providing important information on usage, care, and regulatory guidelines
Three recovery phrase sheets for enhanced security and account recovery
And finally, a cool Ledger sticker to showcase your ownership
Important Notice: Before unboxing your Ledger Nano X, examine the shrink wrap and packaging thoroughly for any signs of tampering. If someone has gained prior access to your device, it puts your digital assets at risk of hacking and theft. In case you doubt the reliability of your device, please report it to Ledger's support team.
Setting Up the Wallet
Once you've unboxed your wallet, the first step is to establish a secure connection using either the provided Bluetooth or USB cable. This will link your wallet to your computer or smartphone.
After establishing the connection, you'll be prompted to set up a pin code. This pin code is essential to ensure that only you have access to your device, providing an additional layer of security in case your Nano X falls into the wrong hands.
Next, you'll receive the words that make up your seed phrase. It is of utmost importance that you record this phrase and store it in a safe location. Losing the seed phrase could result in permanent loss of access to your wallet.
Once you've passed through these security measures, you can pair the Nano X with your phone or computer.
If you have already configured Ledger Live, you can begin transferring your coins or NFTs. If not, we will guide you through the steps in the following section to connect your device to Ledger Live.
How to Use Ledger Nano X Wallet
To start utilizing your Nano X, it is essential to install the Ledger Live software on your phone or PC. Here's a step-by-step guide to connecting your device with Ledger Live:
Install the Ledger Live software on your phone or PC.
Launch the Ledger Live desktop application.
If you have a Ledger Live password, enter it. If you're a new user, you'll be prompted to create a password here.
Connect your Nano X device to the computer.
Enter the PIN code for your Nano X on the computer.
Once you have completed these procedures, you will gain access to Ledger Live and be able to view your digital asset balances.
Ledger Nano X Key Specs
| | |
| --- | --- |
| Key Specs | Ledger Nano X |
| Dimensions | 72 x 18.6 x 11.75mm |
| Weight | 34g |
| Screen size | 128 x 64px |
| Coin support | 5,500+ |
| Apps that can run simultaneously | Up to 100 |
| Storage capacity | 2MB |
| Bluetooth | Available |
| Battery life | 8 hours |
| Connection type | USB-A to USB-C |
| Native NFT support | Available |
| Security rating | CC EAL5+ |
| Mobile phone compatibility | Android, iOS |
| Supported desktop OS | Windows 8+, macOS 10.8+, and Linux |
Ledger Nano X Supported Coins
In terms of the variety of coins supported, Ledger devices are the top pick. The Ledger Nano X device supports over 5,500 popular digital assets. You can view the full list of coin-supported Ledger devices here.
However, it only supports popular coins; less popular coins and ERC-20 tokens are not supported. The only way to trade them on the device is by connecting third-party software like MyCryptoWallet or MyEtherWallet to your Ledger account.
Additionally, the Nano X supports more asset storage than any other Ledger device. The device has 2MB of storage capacity, compared to the Nano S Plus's 1.5 MB and the Nano S's 320KB.
You'll be able to run multiple crypto apps and store the keys to more crypto assets simultaneously.
Ledger Nano X NFT Support
Recently, the Ledger team announced in an update that the device would now support NFTs on some blockchains, as it was created for crypto coins. This news update leveled the playing field for NFT enthusiasts as it allowed them to extend the same security the device offers to their NFTs.
You can now save, view, manage, and enjoy full, secure ownership of your NFTs from your Ledger device. If you're wondering how you can put your NFTs on Ledger, read our step-by-step guide on how to add your NFTs to your Ledger account.
Why You Should Get the Ledger Nano X
The Ledger Nano X is an excellent choice for active traders with diverse portfolios. With a larger screen and user-friendly buttons, the device simplifies the trading experience. Moreover, the Nano X offers ample storage space, eliminating the need for frequent software removal when adding different currencies.
For holders who are always on the move, the Bluetooth-enabled Nano X is a game-changer. It allows customers to efficiently manage their accounts using their iOS or Android smartphones, providing a convenient and rapid trading experience.
One of the standout advantages of hardware wallets like the Ledger Nano X is the enhanced security they offer. Ledger also goes the extra mile in ensuring security by providing auxiliary software tools such as Ledger Live, which enables simple mobile access to your accounts.
Potential Deal breakers
From my personal experience reviewing the Ledger Nano X, here are some reservations I have about using the device:
It's fairly expensive. If you're just going to hold a small amount of cryptocurrency or NFTs on the device, I recommend you go for a cheaper alternative.
While this is subject to personal preference, I would much prefer the bigger touchscreens of devices like the Trezor Model T to Ledger Nano Xs.
Despite all these downsides, the Ledger Nano X remains one of the best choices for users that prioritize security.
Ledger Nano X Alternatives
If you don't like the Nano X, here are other options you can buy to keep your digital assets safe.
Keystone Pro: Keystone Pro is an air-gapped hardware wallet that uses QR codes to transmit data, providing a high level of security. It supports a wide range of cryptocurrencies and NFTs. One of its unique features is its biometric authentication, which adds an extra layer of security.
Trezor Model T: This is a hardware wallet that supports a wide range of cryptocurrencies. It has a touchscreen and is completely open-source, which means its software and hardware designs are publicly accessible for review.
KeepKey: KeepKey is another hardware wallet that supports over 40 cryptocurrencies. It has a digital screen and metal body for durability.
SafePal: SafePal is a mobile-first hardware wallet that supports multiple blockchains and allows for the secure storage of NFTs and cryptocurrencies.
Ellipal Titan: This is a mobile-oriented, air-gapped hardware wallet that supports a wide range of cryptocurrencies and NFTs. It's completely isolated from online connections, providing a high level of security.
CoolWallet S: This wallet is a credit-card-sized hardware wallet that you can carry around in your pocket. It connects to your phone via Bluetooth and supports a variety of cryptocurrencies and NFTs.
Final Verdict – Is It Worth It to Buy Ledger Nano X?
The Ledger Nano X hardware wallet would be a good buy for aggressive traders seeking to manage a diverse portfolio.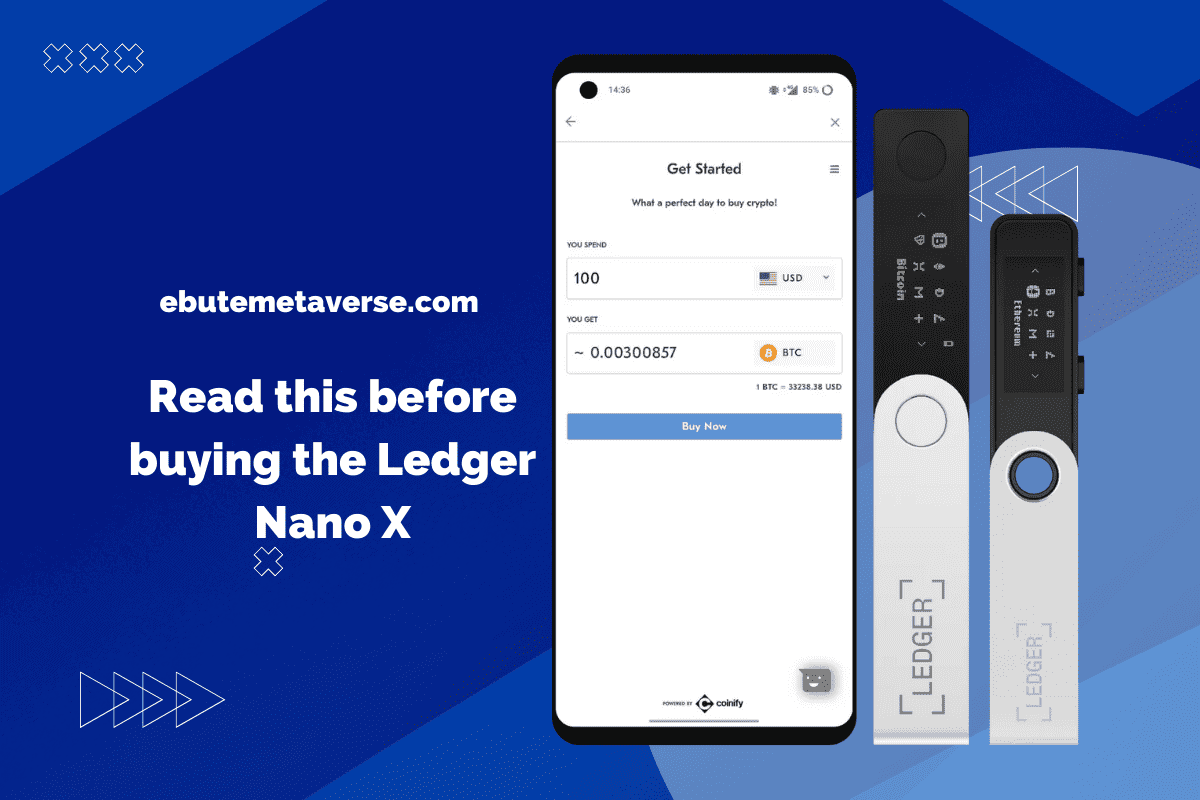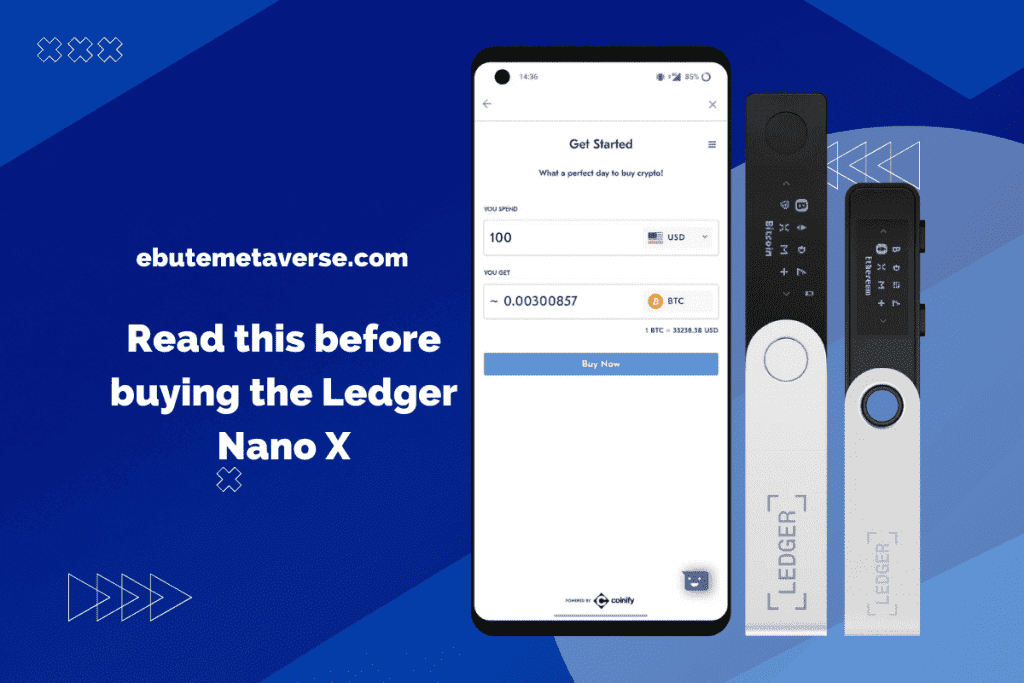 Here's a summary of why you might want to buy this device from our Ledger Nano X review:
For one, the device features tons of notable features, including a larger screen and buttons, contributing to a user-friendly experience.
Furthermore, the increased storage capacity ensures that you can seamlessly add new currency types without the need to uninstall existing software.
Finally, the Bluetooth-enabled Nano X also provides the added convenience of effortlessly managing your accounts on the go through your mobile devices.
Ledger Nano X Review FAQs
Is Ledger Nano X Good?
Yes, it it. The Ledger Nano X is a very secure device for protecting your crypto and NFTs. Ledger made their own system, called BOLOS, for this device to work on, and they're the only ones who offer this. It stores your private keys (which are like passwords) on a very safe chip inside the device.
Is the Ledger Nano X Hard to Use?
The Ledger Nano X is made to be easy to use, so even beginners can set it up without trouble. This device is like a USB stick, with two buttons and a screen to help you find your way around its menu. However, since it doesn't have a touchscreen, you might need to click the buttons more to move around in the menu.
Is Ledger Nano X Hackable?
To be clear, there's no device that exists today that's 100% unhackable. It can only be challenging for hackers to compromise some systems or devices. But for now, there have never been any reports of a Ledger Nano X being hacked, which is good news.
What Happens to My Crypto If I Lose My Nano X?
If you lose or damage your Ledger Nano X, you don't have to worry about losing your funds yet. Simply acquire a new device, and with the correct implementation of your previously saved recovery seed, you can restore your access to the funds.
Can I Use Ledger Nano X without a Computer?
Yes, you can. Ledger Nano X requires either a desktop computer running at least 64-bit Windows 8.1, macOS 10.10, or 64-bit Linux, or a smartphone running at least iOS 9 or Android 7 to ensure secure transactions, account management, and app installation.