Most of its users claim the Trezor Model One hardware wallet is a budget-friendly, secure hardware wallet choice.
But is that true?
This Trezor Model One review would answer all the questions you have about the device, like:
Is Trezor Model One outdated?
What are the cons of trezor?
Is Trezor still hackable?
What coins can Trezor Model One hold?
I'll be exploring the Trezor Model One wallet's features, pros and cons, security history, and more in this review.
Trezor Model One Price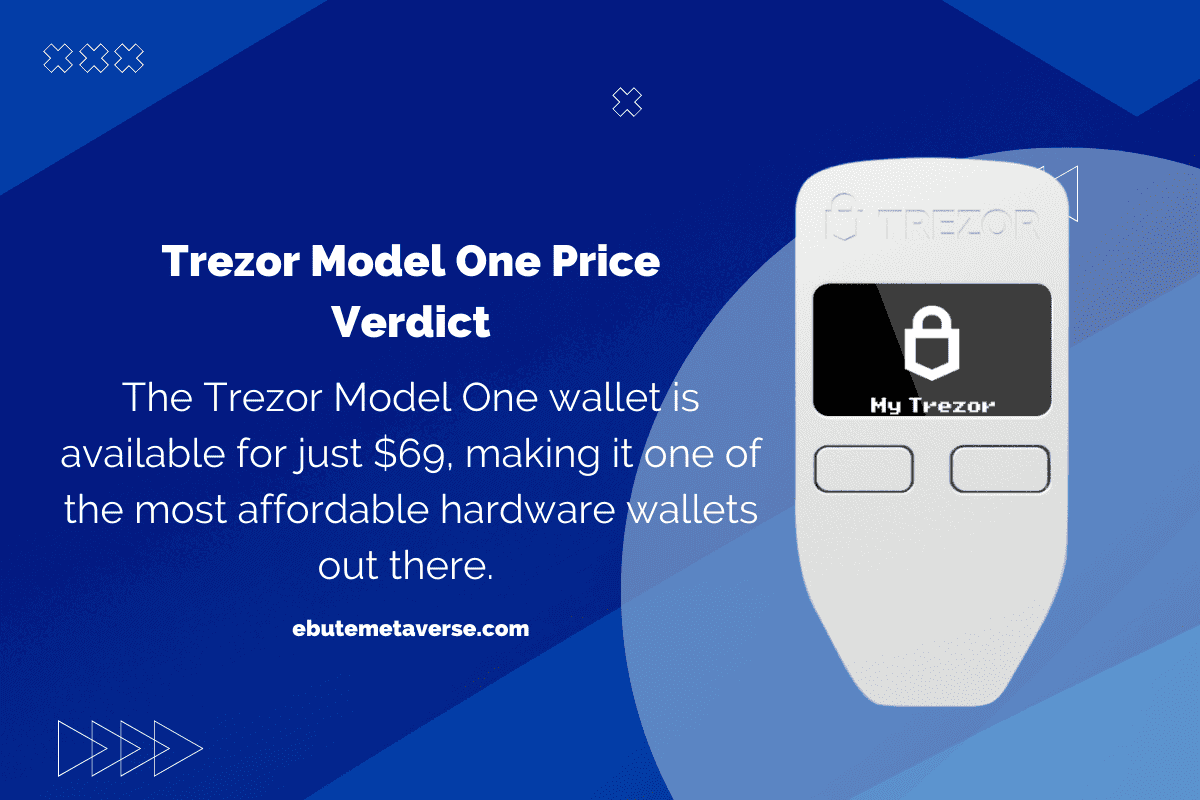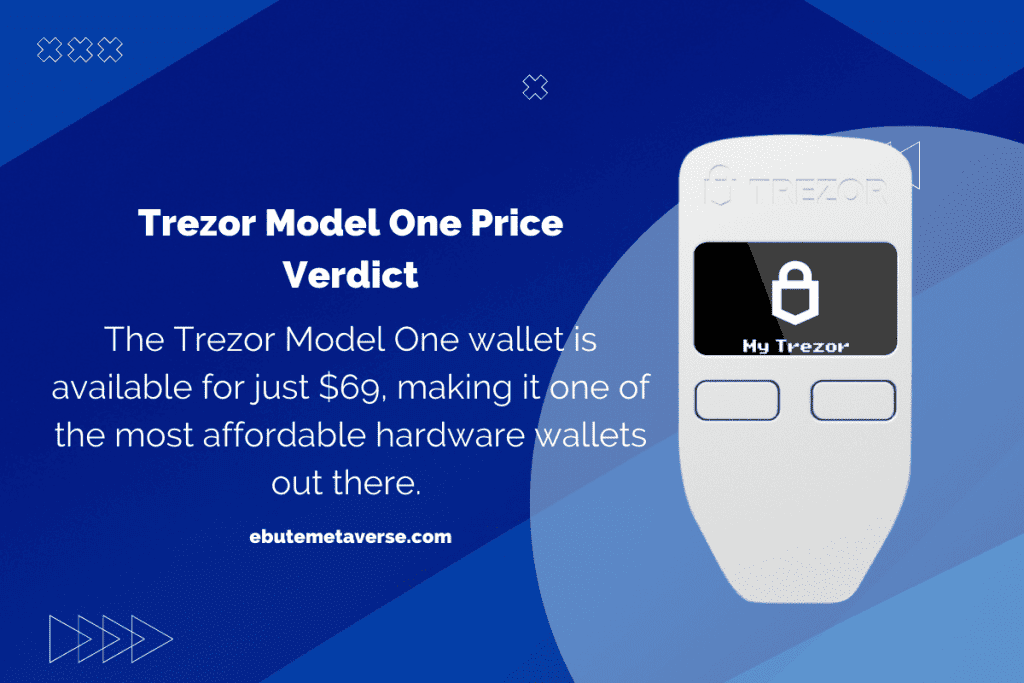 The Trezor Model One wallet is available for just $69, making it one of the most affordable hardware wallets out there. However, this price could rise to $80 if you're buying additional accessories like the Trezor One wallet lanyard.
An added advantage to using a Trezor wallet is that there are no additional fees for using the device. However, you might still be required to pay a transaction fee for crypto and NFT transfers or swaps using blockchain networks.
You can purchase one or find additional price information about the product on their official website.
Trezor Model One Features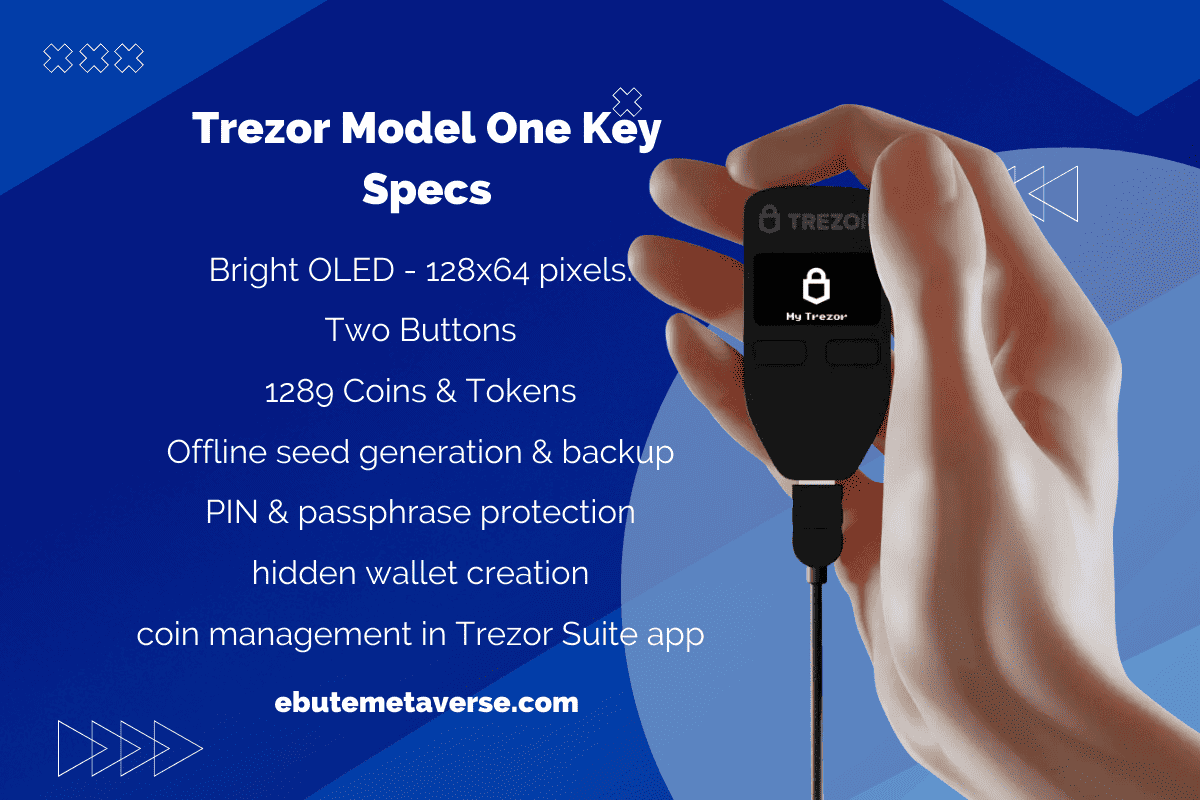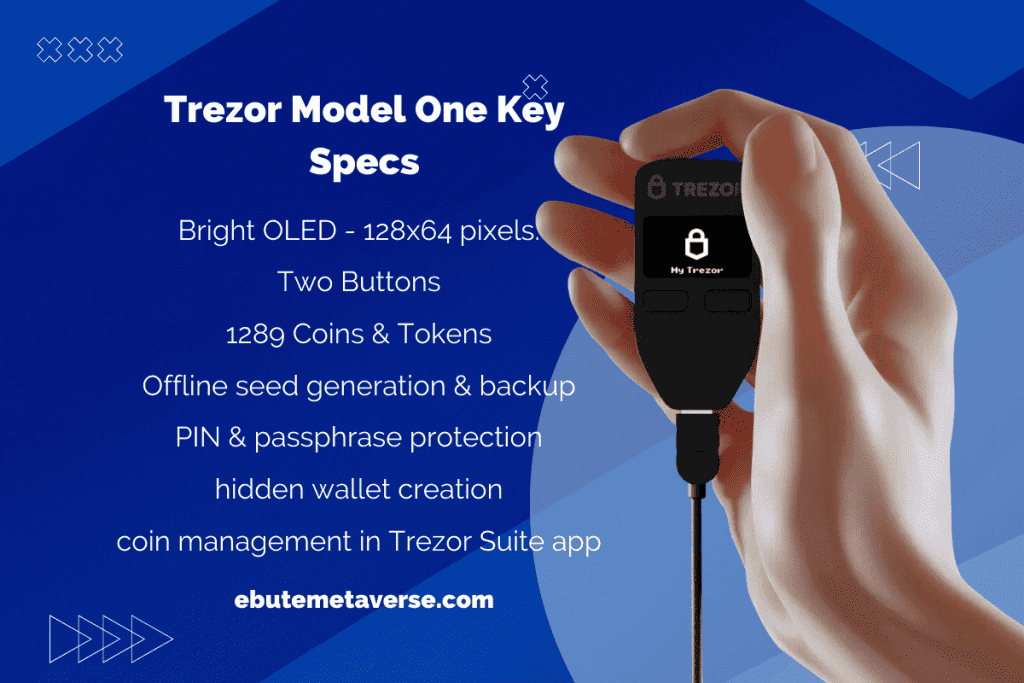 The Trezor Model One wallet boasts several remarkable features that set it apart from its competitors:
1. Affordability without Compromising Security
Trezor's Model One version offers the same level of security as Ledger's Nano X and Nano S devices for a lesser price. In addition, it's a better choice than the Trezor Model T in terms of financial savings while maintaining top-notch security.
2. The Trezor Suite App
With the Trezor Suite App, you can easily buy, trade, and store crypto when connected with your Trezor Model One device. The app also supports fiat currencies, which makes it a comprehensive solution for acquiring and managing your crypto and NFTs.
3. Sturdy and Secure Design
The Trezor One device comes encased in an impact-resistant ABS plastic with a sleek and minimalistic appearance. This casing can protect the wallet from minor physical damages, guaranteeing the security of your digital assets.
4. Powerful Hardware Components
Inside the Trezor Model One casing is an STM32 F2 microcontroller equipped with an exceptional 120 MHz ARM Cortex-M3 processor. This hardware configuration is usually used by reputable manufacturers due to its reliable and secure access to consumers' crypto assets.
5. Wired Connection for Optimal Security
Trezor products, including the Model One, rely on a connected USB connection to a PC or Android phone for functioning. This design eliminates the need for batteries and reduces the possibility of wireless communication vulnerabilities, thereby enhancing the overall security of the wallet.
Has Trezor Model One Ever Been Hacked?
Yes, but wait for the full story.
So, there have been three significant attacks on Trezor devices in the past. All these attacks required direct access to the wallet's physical hardware, and no successful remote hacking has been recorded. This means that unless someone gets their hands on your Trezor device, your wallet is still as secure as can be.
Additionally, Trezor's security team has been swift to address the vulnerabilities as soon as they were discovered. They frequently roll out firmware updates targeted at preventing further exploits of their devices.
So, ensure to stay up-to-date with the latest firmware upgrades to stay safe.
Is Trezor Model One Safe?
Despite previous exploits discovered, the Trezor Model One wallet remains one of the most secure methods available for storing crypto and NFTs. However, rather than taking my word for it, let's delve into the reasons behind this strong security stance:
Offline Private Key Storage:
The Trezor Model One hardware wallet ensures enhanced security by keeping your private keys offline. These keys are segregated and securely stored within the device, minimizing the risk of exposure to potential threats.
Offline Private Key Storage:
The Trezor Model One hardware wallet ensures enhanced security by keeping your private keys offline. These keys are segregated and securely stored within the device, minimizing the risk of exposure to potential threats.
The device requires a PIN code to access the wallet and perform any transactions. This additional layer of protection ensures that only authorized users can access the wallet's contents and conduct any crypto-related activities.
Physical Button Validation:
Each transaction carried out on the Trezor Model One requires validation through physical buttons on the wallet. This process helps prevent unauthorized transactions by requiring physical confirmation.
Additional Account with Passcode:
Users have the option to set up a separate account with an additional passcode, further bolstering the wallet's security. This feature makes it more challenging for potential attackers to access your holdings, even if they manage to acquire your PIN.
To facilitate recovery in case of any unforeseen circumstances, the Trezor Model One employs a 24-word recovery seed phrase. Users also have the option to use a 12-word recovery phrase if they prefer. This ensures that you can regain access to your crypto or NFTs even if you lose or replace your device.
Universal 2nd Factor (U2F) Support:
Trezor supports the Universal 2nd Factor (U2F), enhancing security when accessing online accounts and services. This feature adds an extra layer of protection against phishing attempts and unauthorized access to compatible platforms.
Pros and Cons of Trezor Model One
What we like
Affordable yet secure option
Lightweight, small and discreet device
Strong reputation from users
Supports over 1,000 coins and ERC-20 tokens
Fiat support
Supports NFTs
Buying and selling of crypto directly from the wallet
Recovery seed for lost wallets
What we don't like
Not fully air-gapped
Not compatible with iOS and Windows phones
Only a small number of blockchains supported
No support for some major coins (eg: ADA, XRP, EOS, XTZ, XMR)
Only select cryptocurrencies can be purchased with fiat
No native staking or NFT support in Trezor Suite
What's in the Box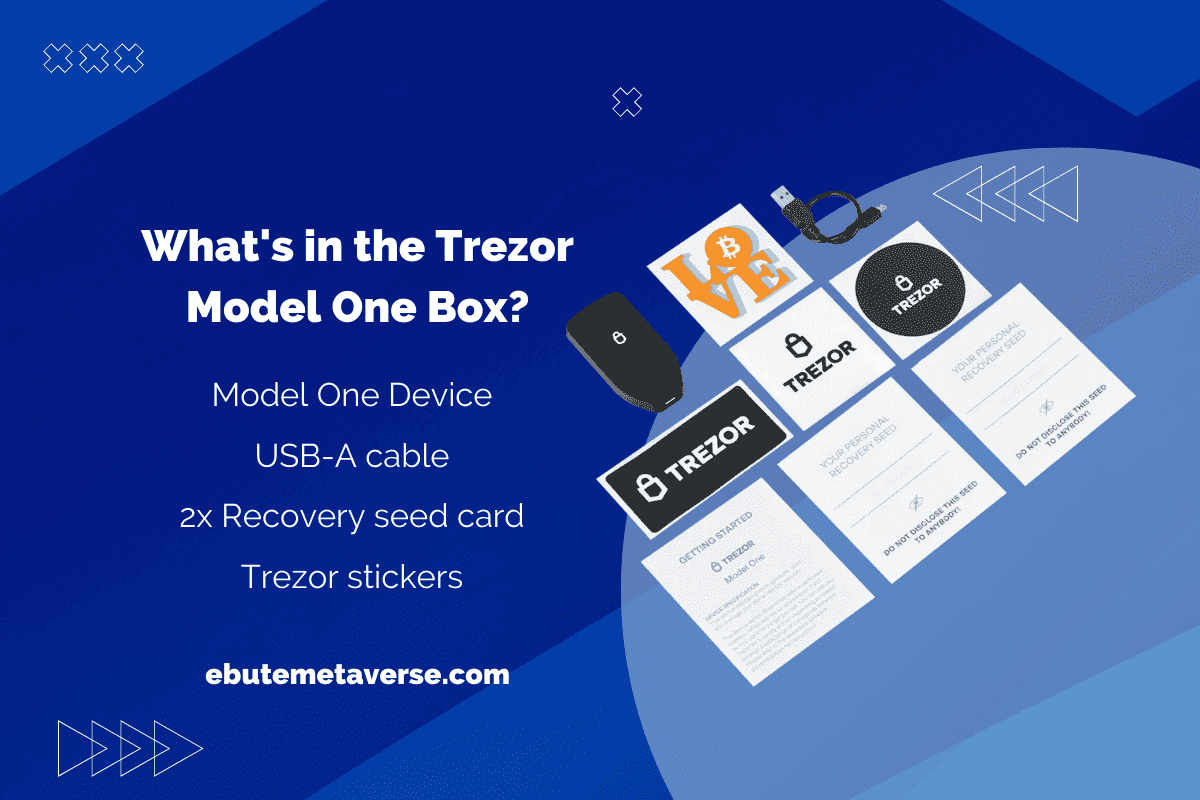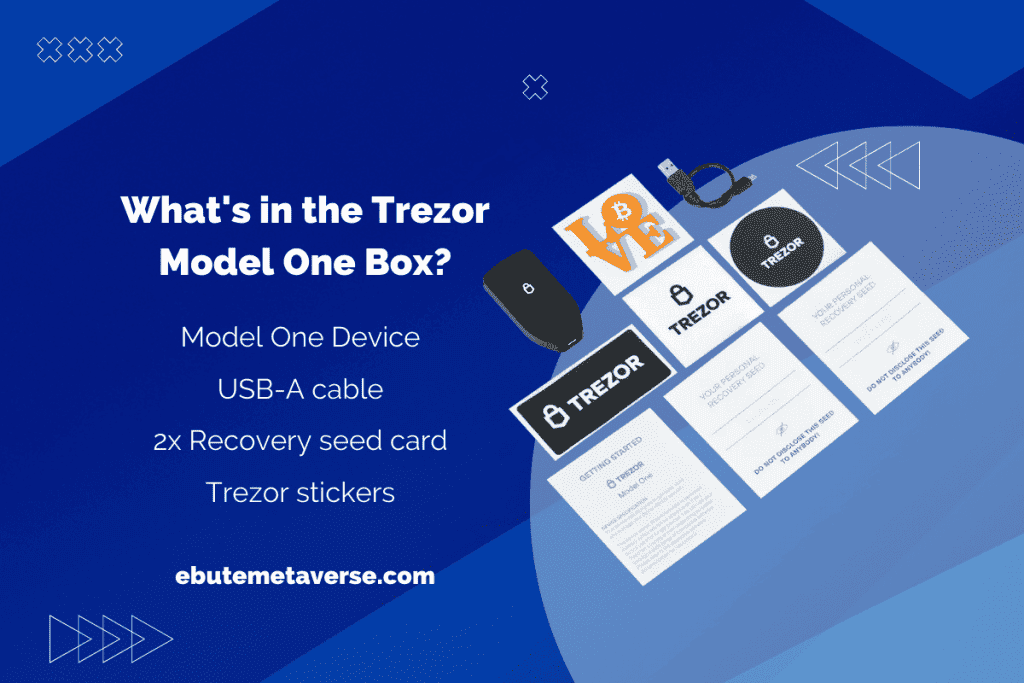 As you eagerly open your Trezor One box for the first time, here are some of the items you should expect to find:
The Trezor Model One wallet itself
A USB cable
2x Recovery seed card
Trezor stickers
Getting started guide
Note: If you notice that the device has been opened before or tempered with, report it to Trezor's customer service immediately. Avoid using a potentially compromised device; it's better to be safe than sorry.
Trezor Model One Setup
After unboxing the device, you'll need to configure your Trezor Model One hardware wallet before you can use it. Here are the items you'll need to set up your wallet:
The Trezor Model One device, along with the Micro USB cord that comes with the package
Seed recovery card
Trezor Suite (desktop or online) app
Let's get started with the setup process:
Step 1: Initial Setup and Connection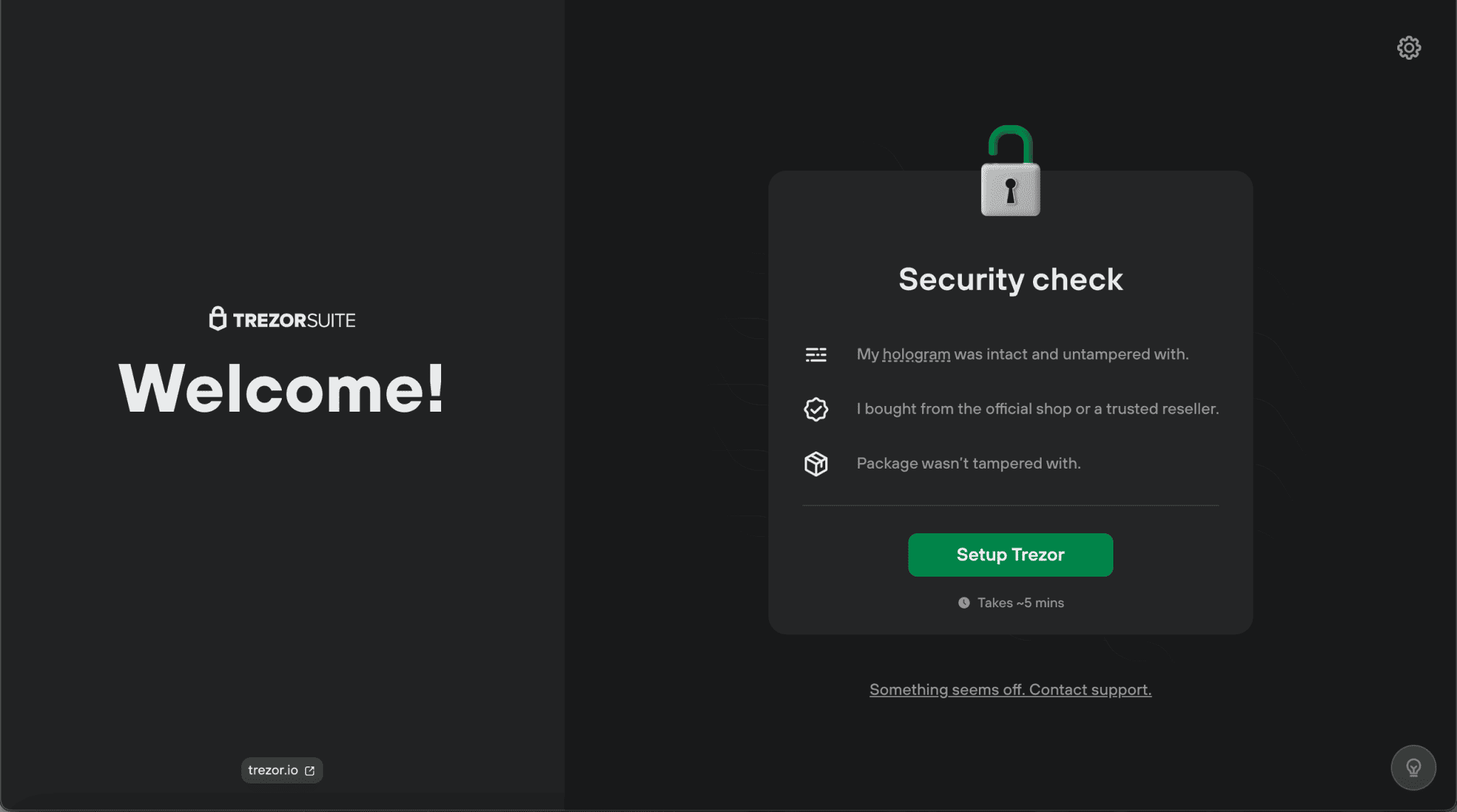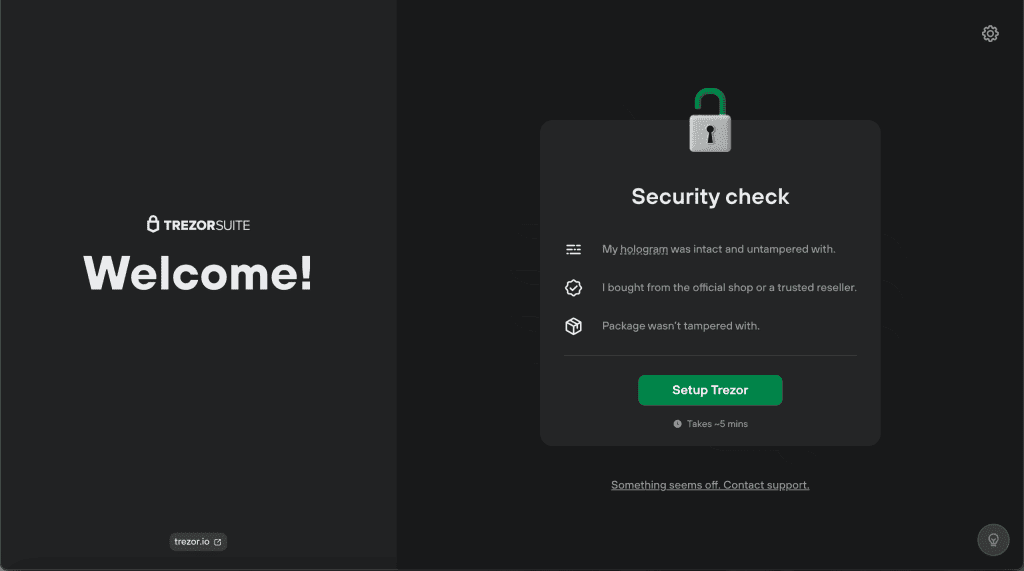 Launch the Trezor Suite app and connect your Trezor Model One device when prompted.
Next, you'll be asked to allow or reject the acquisition of anonymous data.
Ensure that your Trezor Model One is connected properly before proceeding with the security check.
Step 2: Security Verification
Verify that the holographic seal on the device's packaging is intact and has not been tampered with. If you find any tampering, immediately contact Trezor support for assistance. They'll do their best to provide you with a new device.
Once the security check is complete and everything is in order, click on "Setup Trezor" to proceed.
Step 3: Firmware Installation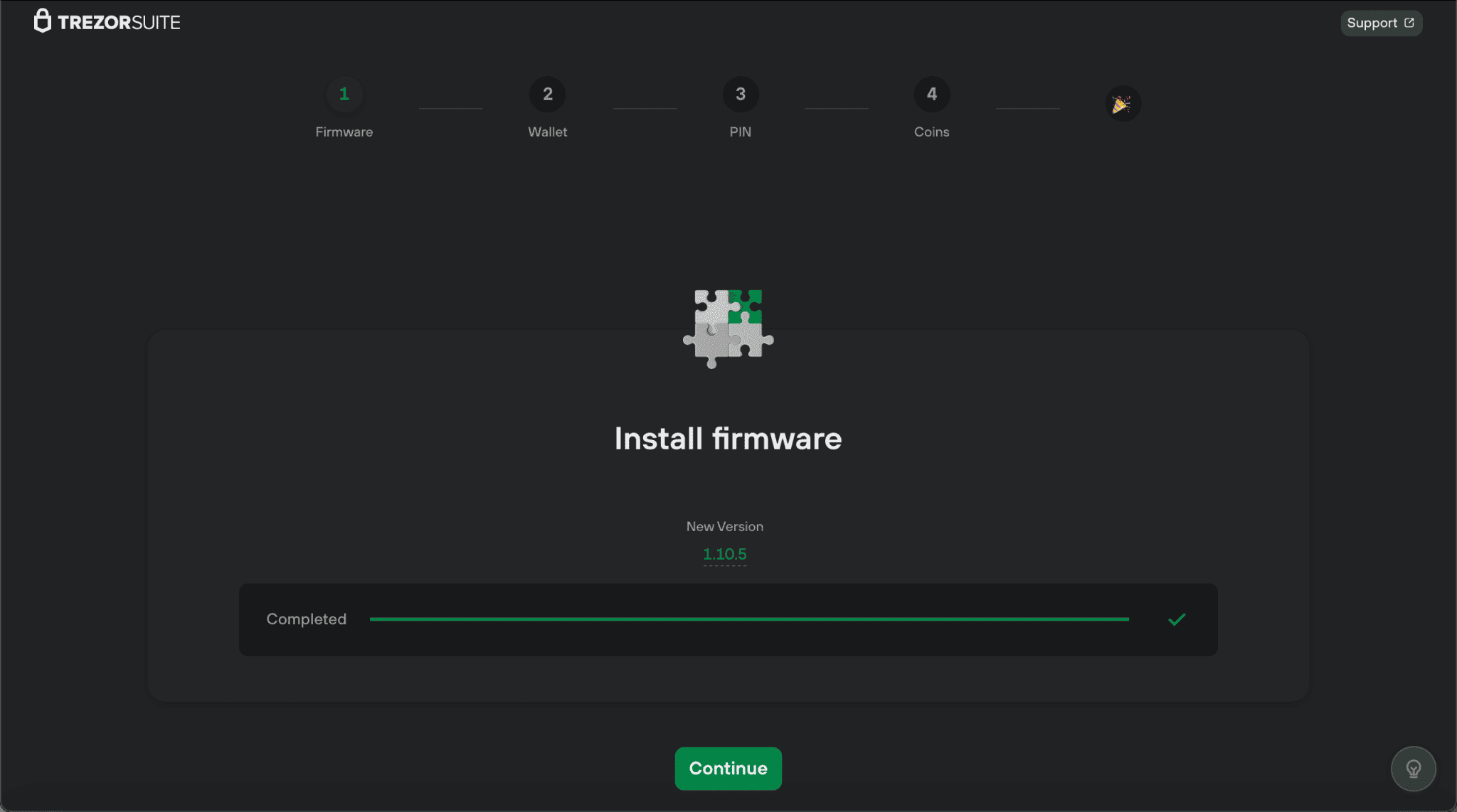 Now, you need to install the latest firmware by selecting the "Install Firmware" button since Trezor wallets do not come with pre-installed firmware. After successful installation, press "Continue."
Step 4: Wallet Creation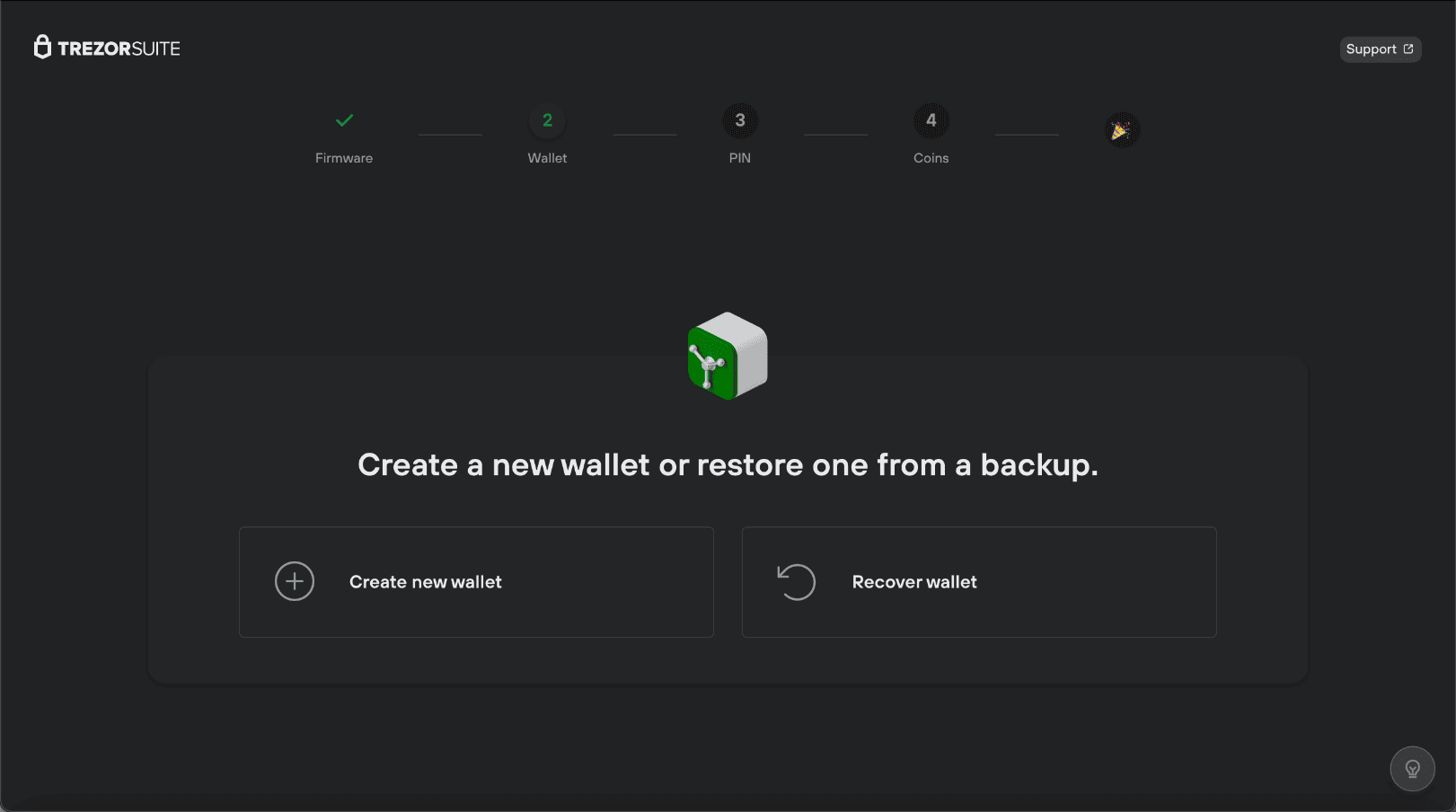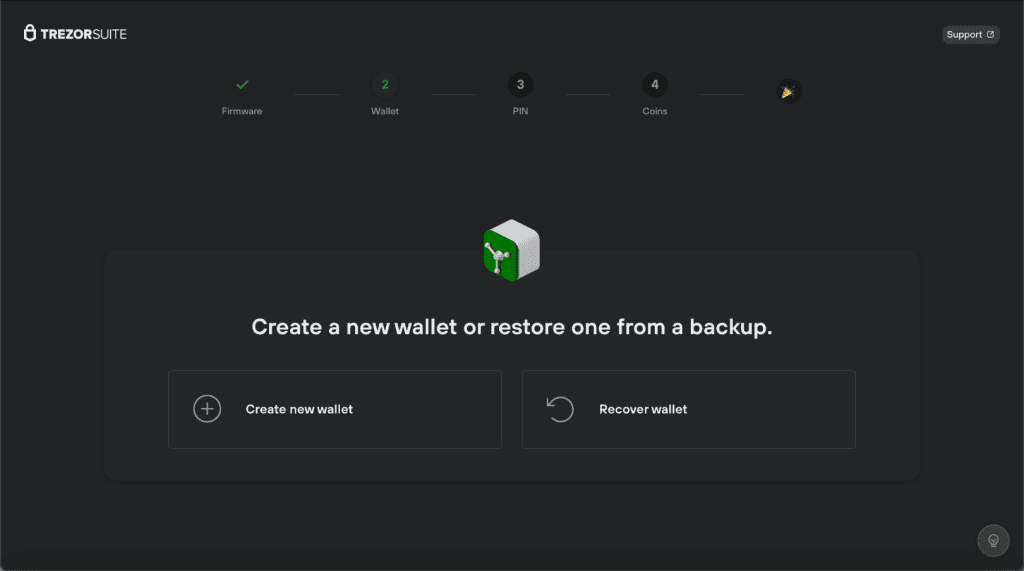 If you are setting up your Trezor One hardware wallet for the first time, choose "Create new wallet" next.
Select the "Standard seed backup" recovery option when prompted to do so.
Confirm your choice by pressing the Trezor device's Confirm button.
Step 5: Backup and Recovery Seed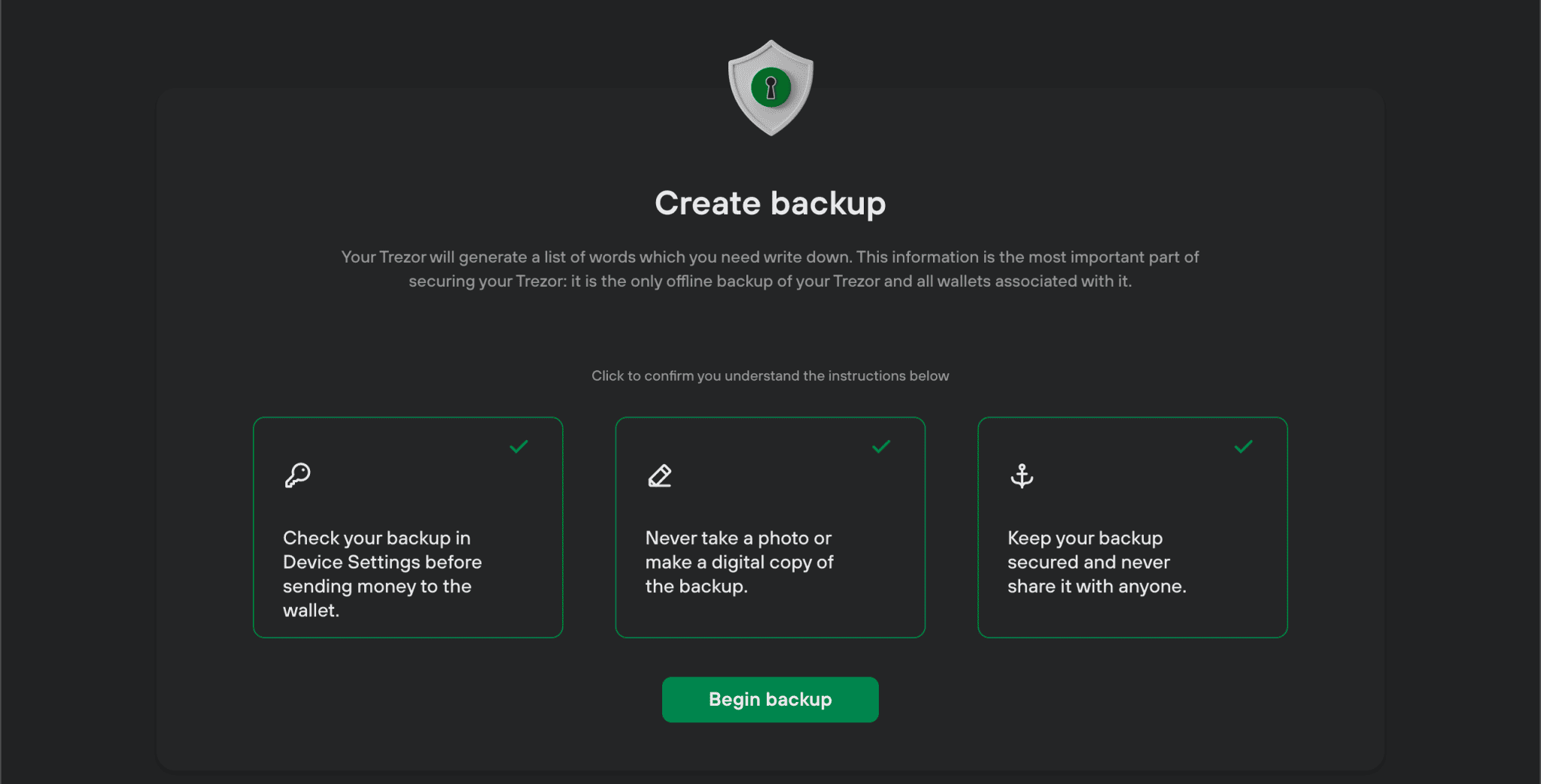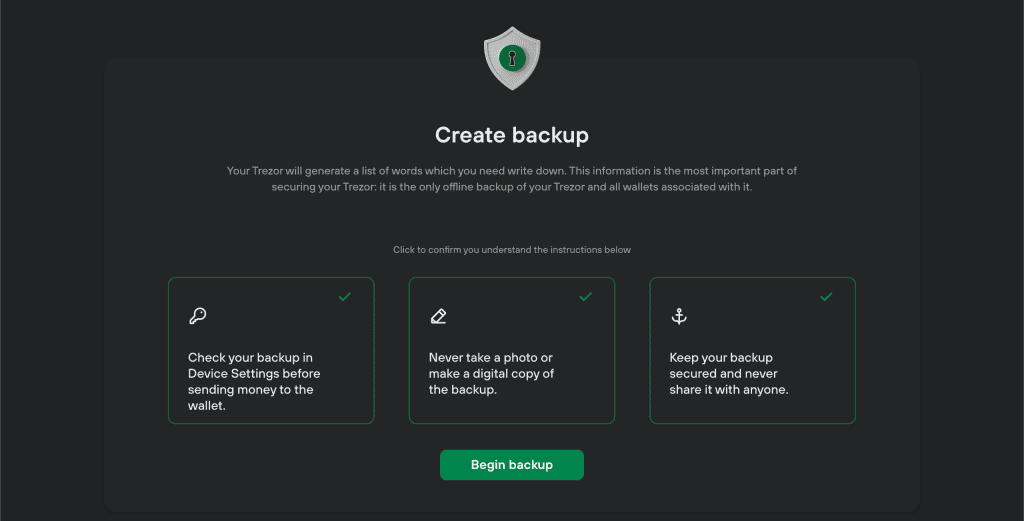 The next step is to create a backup of your recovery seed phrase. Write down the 24-word seed phrase on the provided recovery seed cards. Click on "Create Backup" to initiate the procedure.
The Trezor Model One will generate a list of words that you need to write down in the correct order, as shown on the recovery seed card provided.
Once all the words are recorded correctly, the cryptocurrency wallet backup is complete. The 24 words will be displayed on the Trezor Model One hardware wallet.
Step 6: PIN Setup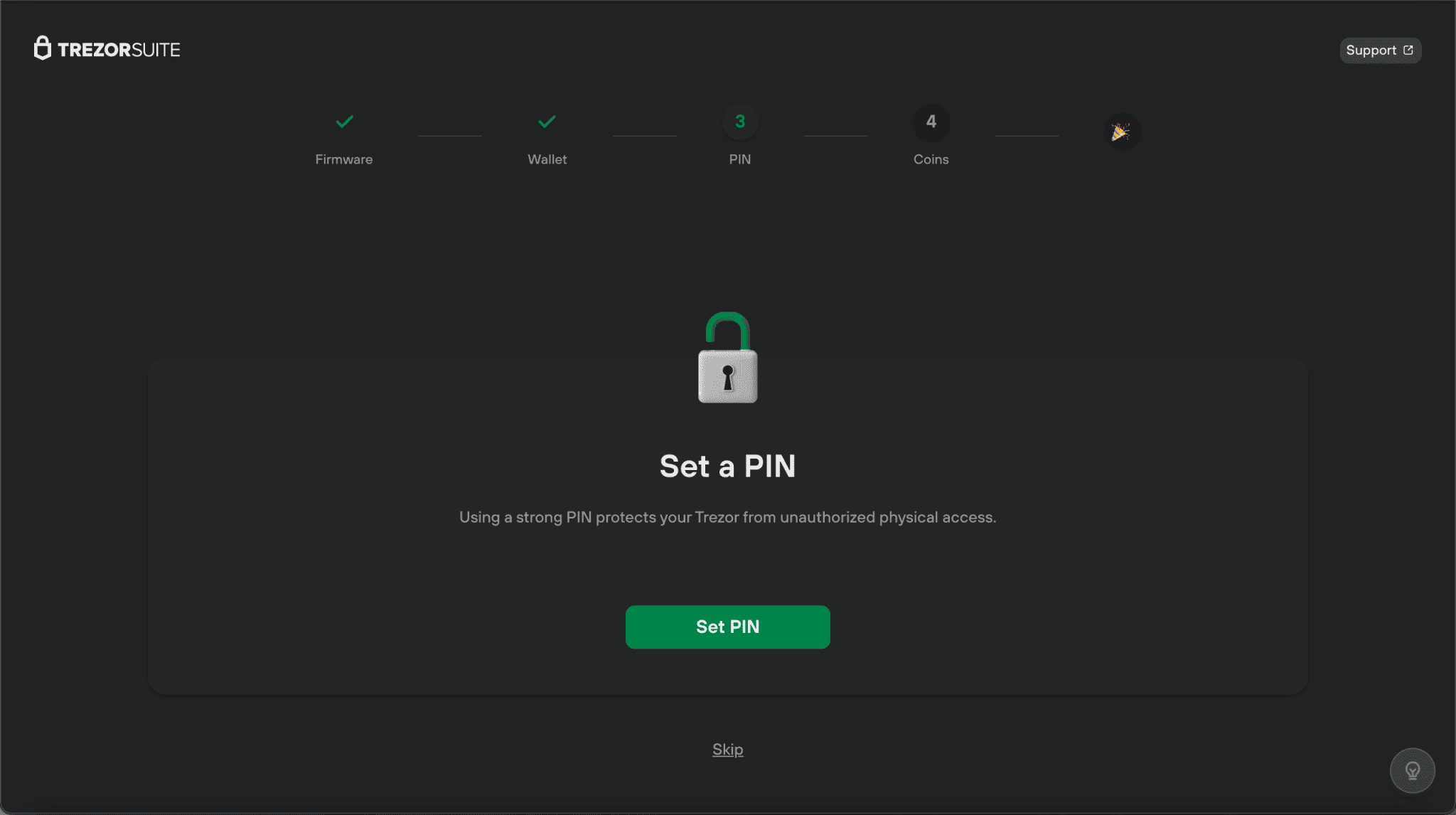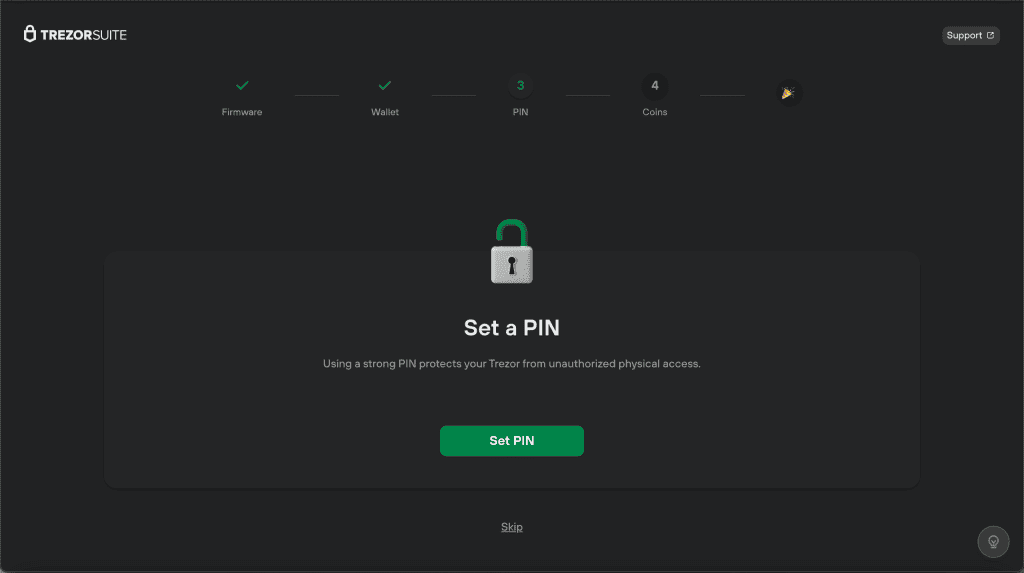 Now, set up a PIN to protect your Trezor Model One from unauthorized physical access. On the 'Set a PIN' page, click "Continue to PIN."
On your Trezor One device, click the Confirm button after selecting "Set PIN" to begin the process.
Use the matrix keypad on the right side of the 'Set New PIN' panel to select your new PIN digits. Repeat the new PIN to confirm it.
After you've successfully set up your PIN, click "Continue" to access the 'Activate Coins' window.
Step 7: Coin Activation and Final Steps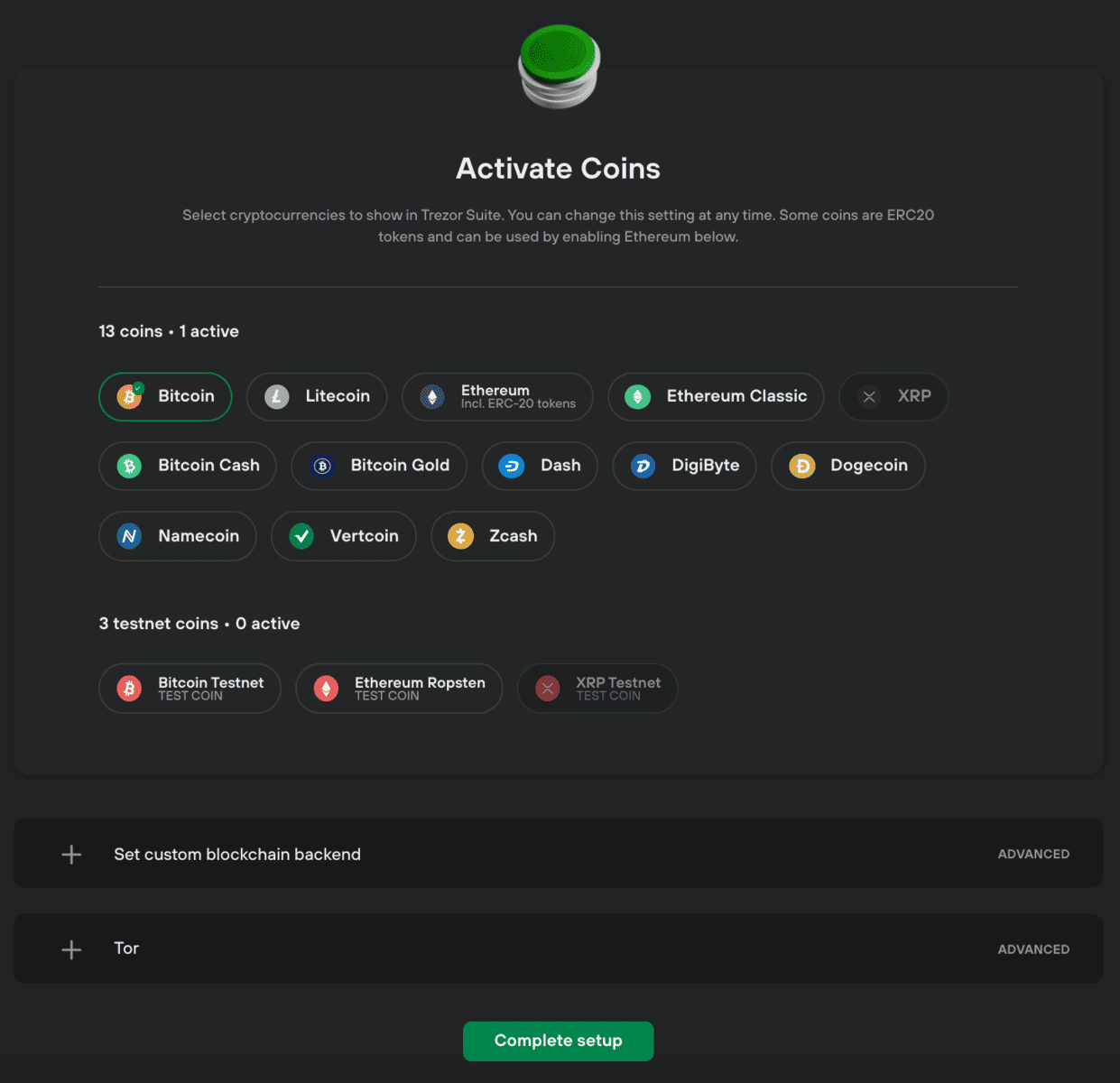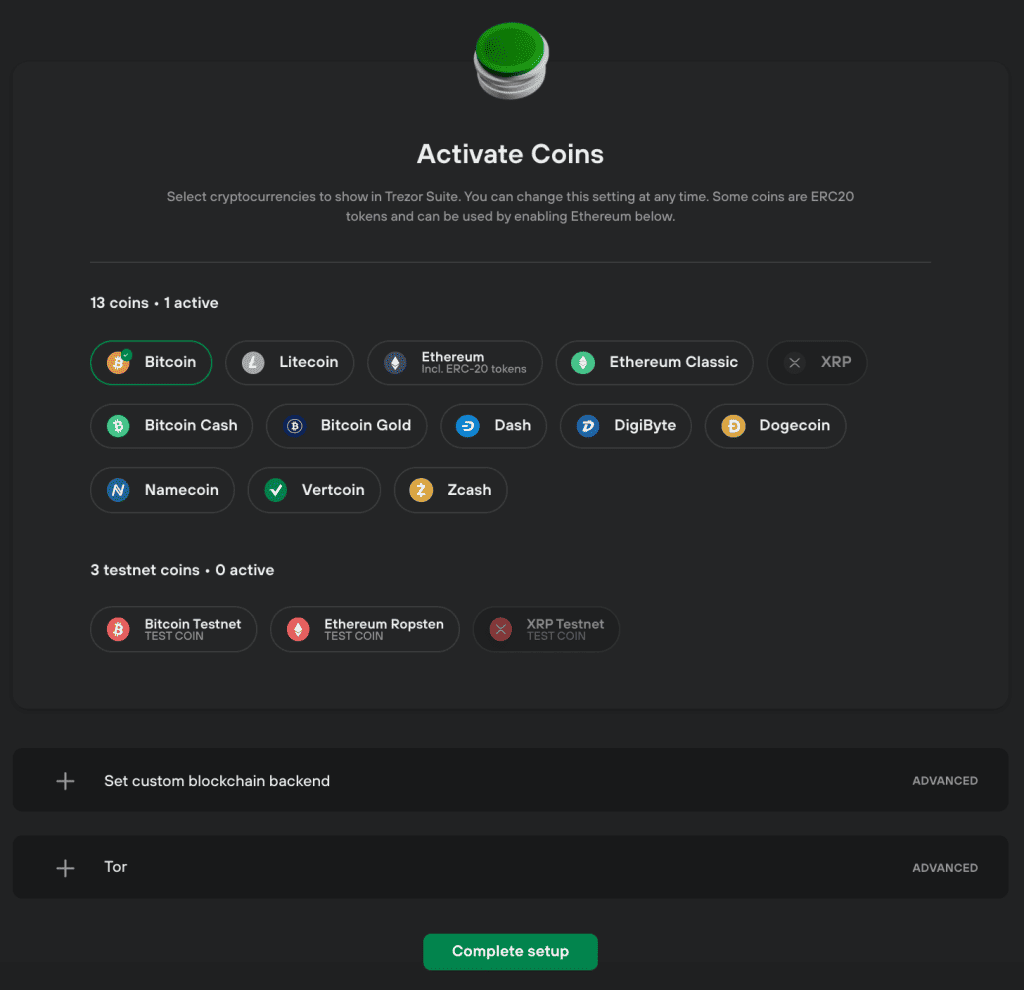 Select the supported coins you'll be using from the list provided in the Trezor Suite. Remember that this list may change over time.
Once you've decided on the coins, click "Complete Setup," and you're done!
To access your wallet in the future, simply select the 'standard wallet' option after clicking the 'Access Suite' and 'Select Wallet Type' options.
That's it! You've now successfully set up your Trezor Model One hardware wallet.
How to Use Trezor Model One Wallet
Once you've successfully set up the Trezor Model One hardware wallet, the device should be ready for use.
Here's a video guide on how to use your Trezor Model One hardware wallet.
Trezor Model One Key Specs
| | |
| --- | --- |
| Key Specifications | Trezor Model One Wallet |
| Dimensions | 60mm x 30mm x 6mm (2.4in x 1.2in x 0.2in) |
| Weight | 12g (0.42 oz) |
| Display | Bright OLED: 128×64 pixels |
| Device compatibility | Windows (v10+), MacOS (v10.11+), Linux, and Android |
| Wallet compatibility | Exodus, MetaMask, Electrum, Mycelium, MyEtherWallet and more |
| Security Features | Tamper-proof box, PIN, password, Offline seed |
| Connectivity | USB 3.0 (Type A) cable (included) |
Trezor Model One Supported Coins
The Trezor Model One wallet supports over 1,000 different cryptocurrencies, including Bitcoin, Ethereum, Tether, and many others. However, some essential coins are missing from its offering. For example, if you want to store cryptocurrencies like Ripple, Cardano, or Monero, you'll need to consider investing in another hardware wallet.
Thankfully, Trezor has an improved version, the Model T, which offers more features than the ones supported by its predecessor. Nevertheless, if you're seeking the widest range of supported cryptocurrencies, the Keystone Pro hardware wallet is your best choice.
For a complete list of the digital assets supported by Trezor, visit their official website at https://trezor.io/coins/.
Trezor Model One NFT Support
The Trezor One wallet provides support for NFTs. However, it requires linking to third-party software wallets such as MetaMask to enable users to store and manage NFTs. Currently, the Trezor Suite does not offer native NFT management capabilities.
Also, you should note that Trezor's NFT functionality is specifically designed for NFTs developed following the Ethereum standard EIP-721. This standard allows seamless receiving, storing, and sending of NFT tokens across the Ethereum network.
Why You Should Get the Trezor Model One
After concluding this Trezor Model One review, my opinion about the device is that it is a cost-effective solution for storing your digital assets. While the Trezor Model One wallet lacks advanced features found in pricier devices, it offers some of the best security in the industry.
Potential Deal Breakers
On the downside, the Trezor Model One wallet doesn't have a touchscreen like the Model T version. This feature limits navigation to two buttons, which makes the user experience less pleasant, in my opinion.
Also, the number of cryptocurrencies supported is only decent when compared to its other higher-end model. Finally, the lack of iOS compatibility and the use of USB connections can be a major turnoff for some users.
Trezor Model One Promo Code
Trezor Model One Review Final Verdict: Is It Worth It?
Based on what we've covered in this Trezor Model One review, buying this device is worth it if you want a budget-friendly option to keep your crypto and NFTs safe. Although it doesn't come with a touchscreen like the Trezor Model T, you'll still find its buttons pretty handy and get used to them in no time.