The challenge about NFTs is that they are digital items. So you might get stuck answering the question, "how do I display NFT in my home?" Thankfully, there are trendier ways to display your NFT art at home without putting it directly on people's faces.
There are several methods to display your NFT art at home. The analog method of wall hangings and printing images are good options. But there are newer ways, like building an exhibition, using the screensaver option on your smart TV, and an online gallery. Others include physical printouts with QR codes, utilizing your old laptops, and much more.
Are you at a loss for ways to display your NFT digital collection? Why would you buy an NFT if you cannot display it? These questions and more could be what plagues you as an NFT collector. It could also be a minor hindrance in your way towards owning NFTs.
How To Display Your NFT Art At Home
Like paintings, artworks, and pictures, NFTs should also be displayed. It comes in handy either for aesthetic purposes or simply as a status symbol.
To display your NFT art at home, you can use what you have around you. There is no need to break the bank or bother so much on means to display your art.
#1. Add as a Screensaver to Your Smart TV
Another simple yet sleek method to display your NFT art at home is to use it as your smart TV screensaver. If you have a smart TV, when it is not in use, it can be utilized for this purpose. An example is the Samsung Smart TV using the Samsung Frame TV.
#2. Display Your NFT Art on Your Smart Fridge
Just like a smart TV, a smart fridge can also be used to display your NFT art at home. The Samsung Family Hub makes it possible to add pictures to the screen and display them on your fridge. It works like a digital album for pictures.
#3. Print Out a QR Code
There are methods of displaying your NFT art in your house using a QR code. You can print the picture and frame it with the QR code attached. The QR code can also be printed alone. Anyone who desires to see the art can scan it and view it. It is a simple method and is not directly under the glare of people.
#4. Use a Digital Frame to Display Your NFT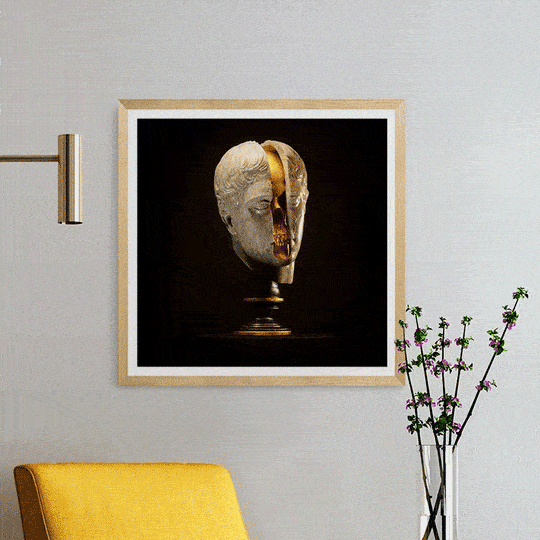 What better way to display digital art in your home than with a digital frame? This is not exactly affordable. There are several platforms that allow you to display your digital art. Some of them include:
Tokenframes work beautifully with the blockchain.
Blackdove allows subscribers to upload their art on their digital canvas.
Meural canvas, which is controlled by the Meural app. There is also a subscription service for artists.
Other digital frames are
#5. Doing an Online Exhibition
Just like physical galleries, art exhibitions can be done in online galleries. You can display a wide array of NFTs on this platform. Platforms like Minecraft and Second Life give opportunities for online art exhibitions.
#6. Use Your Old Laptops and Tablets
If you have an old laptop or tab, you can use it to display your NFT art at home. Use a photo presentation App to display the NFT on the screen.
A tab usually works better for balance and proper positioning. A floating table can be used to mount it. A tablet works better than a laptop when considering aesthetics.
#7. Using 3D Holograms
Holograms give a spooky feel, especially in a dark room. It can be utilized to display digital art. The positioning of the hologram and image can be manipulated to emit warmth.
You can get holograms on Amazon.
#8. Printing on Wooden or Metal Platforms
This is old-fashioned yet simple. It is a handy method to display NFT art at home. The image can be printed on canvas, wood, or metal and used as a wall hanging. It gives a warm traditional feel and aesthetic delight to the eyes.
#9. Your Phone Screensaver
You can display your NFTs on your phone lock screen or on your screensaver. This is especially true if you are a private person.
#10. Create an Online Art gallery
What better way would you use to display your NFT, if not by creating an online art gallery? There are websites and domains that can help you display your NFT. You can use Artdex, Google Slides, or Google Data Studio to create the gallery.
Conclusion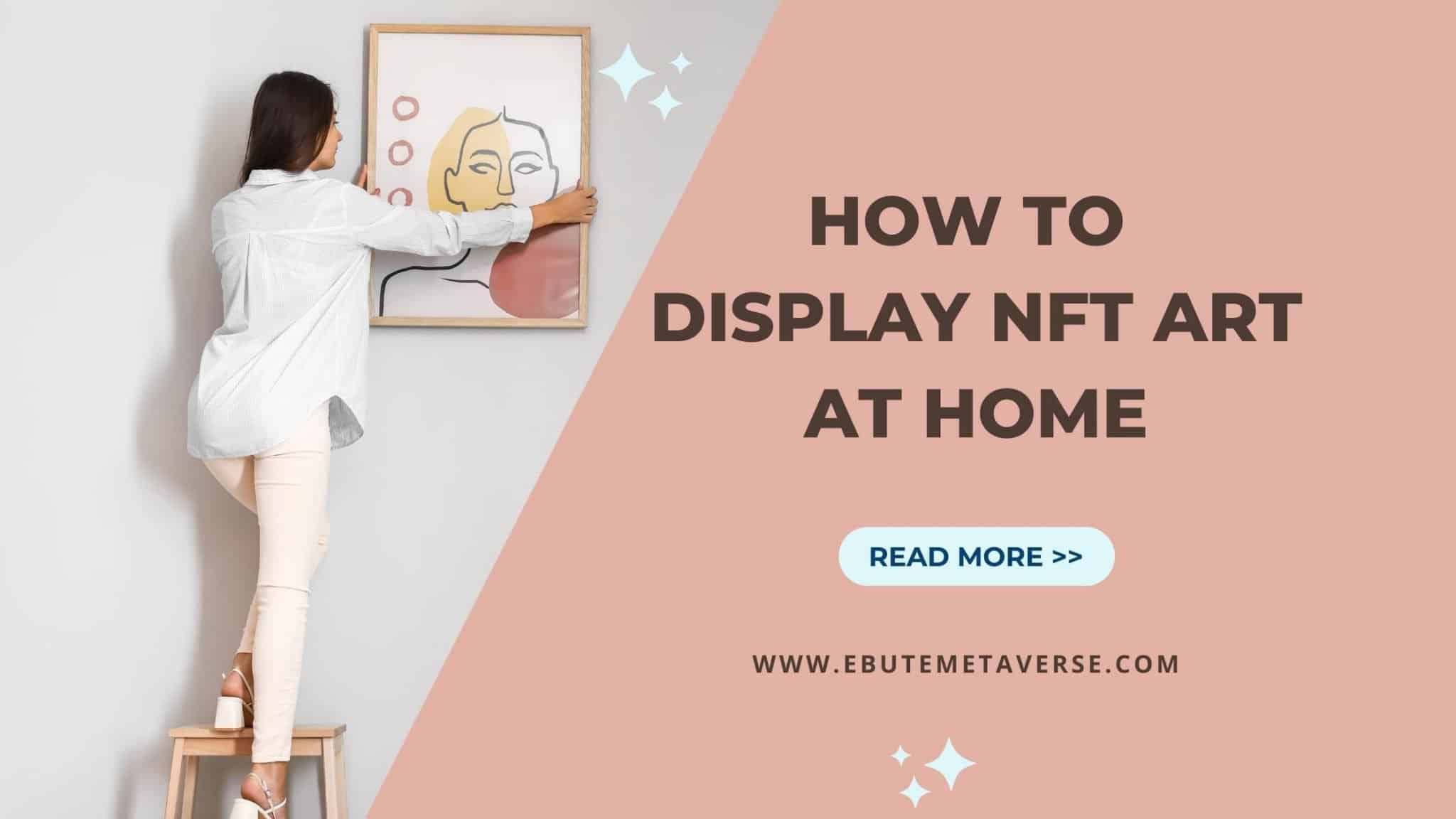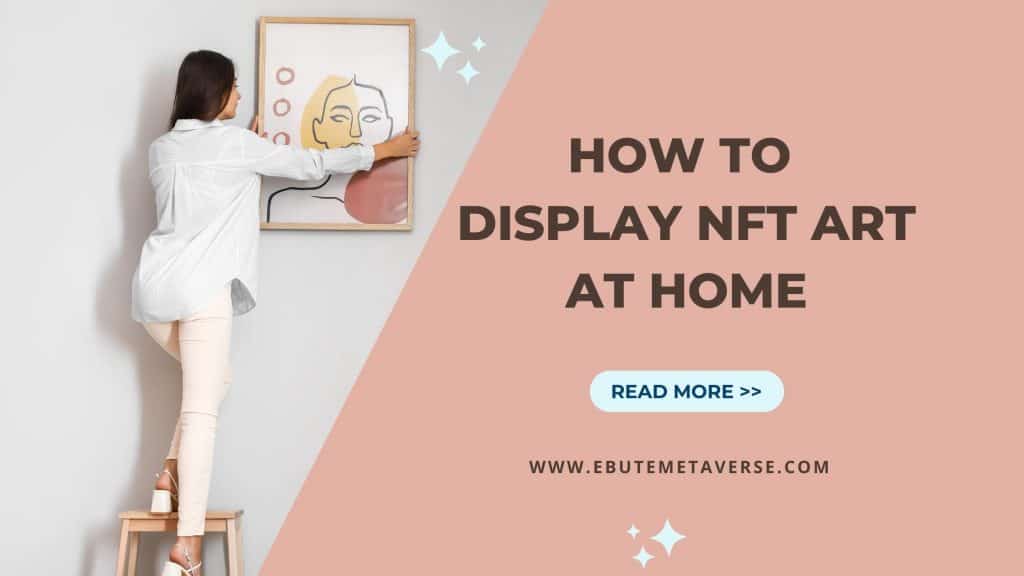 To display NFT art in your home, you should consider the size of the room, color, and furnishings. This is to ensure the NFT images are not in sharp contrast with the rest of the room. It is best to consider what exactly you want first and work towards it.
Frequently Asked Questions
Where Do You Display NFT Art?
How Do You Display NFT Art on TV?
You can utilize your smart TV screens to display your NFTs. The screensaver option is available for it. An example is the Samsung Frame TV.
What Do You Do With NFT Art?
There are several things that you can do with NFT art. You can display it in your home, sell it in an NFT marketplace, or gift it to someone.
Can You Hang an NFT on the Wall?
You can hang NFT art on the wall. The art can be printed on canvas, or the QR code can be scanned and hung on the wall.
How Do You Display Digital Art NFT?
You can do this either physically or digitally. The physical display includes wall hangings, using an old laptop, TV screens, and Holograms. Digital displays include Social Media platforms and Digital marketplaces.