Most highly successful NFT projects have good NFT roadmap ideas that light the way for their development. But having a roadmap doesn't guarantee your NFT project's success. However, it does make moving forward easier, well-guided, and seamless.
As a new NFT creator, drafting a roadmap might seem daunting. That's why drawing inspiration from other NFT projects' roadmaps can make the job a lot easier. But which NFT roadmap example is worth checking out?
We've reviewed 35+ popular NFT project roadmaps to create a list of the best NFT roadmap examples. This list is a product of thorough research of projects across various NFT secondary marketplaces. But that's not all this article is about.
This article will also explain the following;
What an NFT roadmap is
Whether you might need one (or not)
What your roadmap should include
Benefits of having one
The best NFT roadmap ideas to draw inspiration from.
But before we get that to the list, our article on getting started on NFT would be a good read for newbie NFT creators.
Let's get started.
What Is an NFT Roadmap
Simply put, an NFT Roadmap is an aesthetic version of an NFT project's strategic plan. It usually displays the goals the project founder promises to attain by a certain timeline to investors. This strategic tool not only helps the team meet concrete points of accountability but also helps manage investors' expectations.
Gary Vaynerchuk, the creator of the VeeFriends NFT project, in a tweet, summed up NFT roadmaps as merely "pitch decks."
From an investor's point of view, his analogy makes sense.
Naturally, NFT roadmaps outline your project's short and long-term goals. It also helps you (or your team) define the deliverables for which you want to be held responsible. There is, however, no assurance that the roadmap will ever be executed.
The NFT roadmap is mainly useful in enticing people to a project's potential and setting expectations of what investors should expect further down the line.
In the end, even the best NFT roadmap ideas will fail if you can't put them into action.
The obsession NFT creators have with the NFT roadmap stems from the popular belief that a successful NFT project is only as good as its roadmap. However, recent achievements in the NFT sector have proven that not all NFT projects require one to be successful.
Ultimate guide on how to become a successful NFT artist
Next, let's discuss whether you need an NFT roadmap for your project or not.
Do NFT Projects Need a Roadmap
The answer is both yes and no. You can launch an NFT collection without a roadmap. However, it would depend on the type of business model driving the initiative.
For example, NFT projects that involve developing a tool, game, or service and need to generate seed money would need a roadmap. On the other hand, if you're creating music NFTs or 1-of-1 art, you don't need a roadmap.
NFT Projects That Need a Roadmap
Typically, long-term NFT projects with delayed benefits would need a roadmap to launch. Since the project will take time to kick off fully, there might be a need for a roadmap that provides clarity to potential buyers or investors.
Here are some examples of NFT projects that would require having a roadmap in place before launching:
Play2Earn games
Web3 Development
Software or SaaS solution
NFT projects that would require investment money to build and grow, and
Any other project that promises rewards or utility after the launch.
NFT Projects That Don't Need a Roadmap
The type of NFT projects that fall into this category is best described as immediate-type concepts. These types of projects won't take weeks or months to go through the development phase. Also, the buyers get the rewards for purchasing the NFT instantly.
Here are some examples of NFT project types that have been demonstrated to not require a roadmap before a successful launch:
Art
Free Mint Projects
Launched concepts where benefits and utility are immediately recognized
Music
The vibe and chill-type projects
Why Is Roadmap Important in NFT
Below are some of the reasons why an NFT roadmap is essential to a project:
An NFT roadmap contains a developer's vision and aims for the project, how long it will take to achieve that, and the actions it will take to get there. Having a roadmap is crucial if your project requires seed money from investors or would take a long time to launch.
Enables accountability: There is also no accountability without a plan. Without a plan, it is impossible to evaluate or track a startup's development.
Attracts investors: Without a properly defined business case, strategy, and timetable, a venture capitalist will not invest in a firm.
What Makes a Good NFT Roadmap
In general, a solid NFT roadmap would feature the developer's well-defined, realistic goals for the project on a long-term basis. It should also highlight the project's potential rewards or value to holders. Other factors that good NFT roadmap examples have include conciseness, clarity, and unique design.
After reviewing 35+ NFT roadmap ideas and ranking them based on their quality, we discovered that the top options have some common features that make them outstanding. The qualities of a good NFT roadmap are: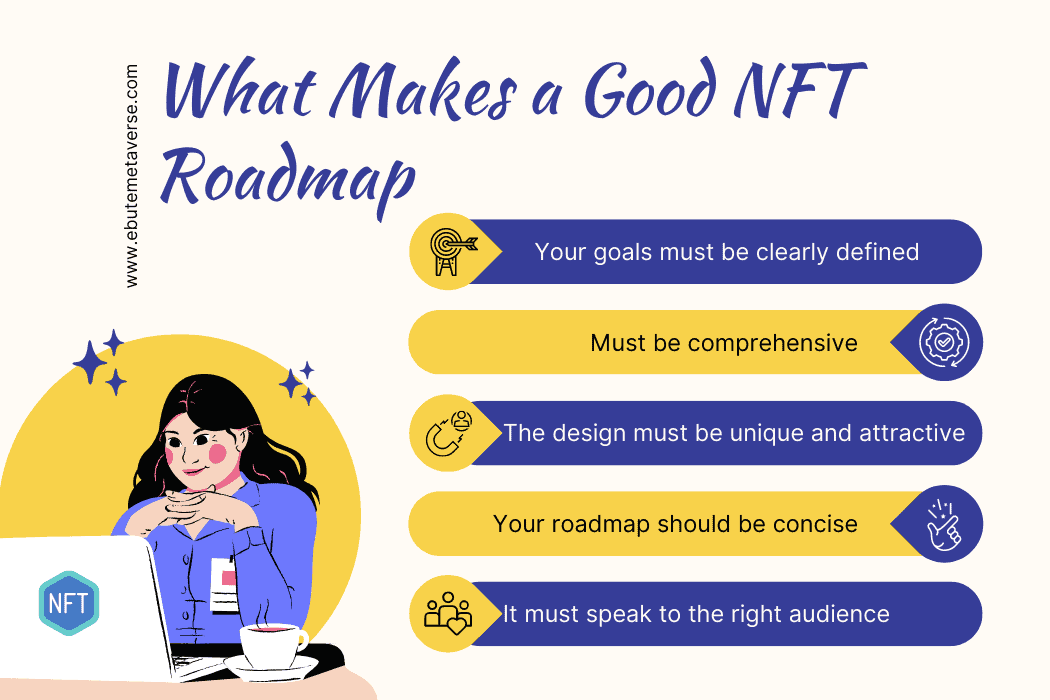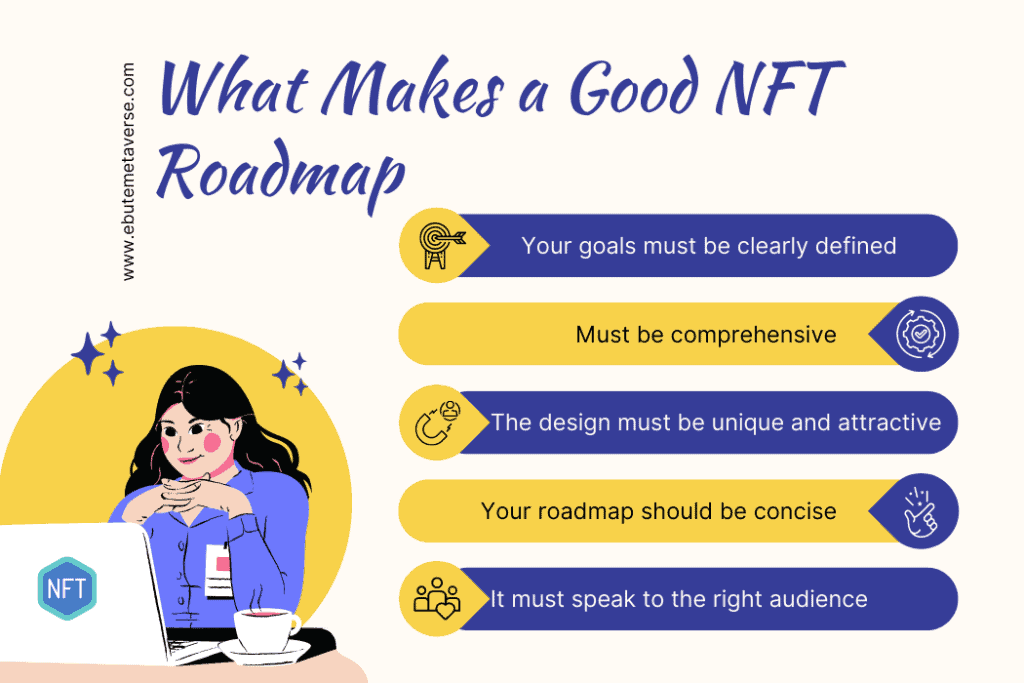 Clarity
This feature is the most vital part of a good NFT roadmap. A prospective buyer or investor should know from a glance what your goals for the project are and when you intend to execute them.
Both the copy and design of the roadmap are equally important when determining clarity. The NFT roadmap's copy shouldn't include difficult technical words or contain protracted paragraphs. Also, you'll want to implement a minimalistic and straightforward design for maximum effect.
When assessing your roadmap's clarity, it's good practice to have multiple persons from outside the NFT community analyze the roadmap's contents to ensure that it makes sense to them. After a first reading, anything that is still unclear should be corrected.
Comprehensiveness
In an attempt to make your roadmap easy to understand, you also don't want to exclude essential information that your audience needs to know about your NFT project. People will then be able to make informed decisions about whether or not they wish to take part in the project.
The bare minimum you should include in your roadmap is the project's key promotion efforts, plans, and mint date. Omitting crucial details about the project can cause an investor to unavoidably reject your proposal.
To ensure you're not leaving any bit of information out, create a checklist of all the crucial components that must be on the roadmap while developing an NFT project.
Unique design
As we've stressed earlier, the design of your NFT roadmap is as important as the content. A well-designed NFT roadmap should, at its core, allow someone to quickly skim through it and extract the key details. It would be preferable if you spent money on hiring a professional to handle the job for you if you don't have any experience with graphic design.
If there is anything difficult to understand at first glance, that's an indicator that the NFT roadmap design needs to be modified.
Concise
Another important feature of an excellent NFT roadmap is conciseness. Following Gary Vee's narrative of roadmaps as being an "investor's pitch," your roadmap should strike a balance between comprehensiveness, clarity, and conciseness.
In most cases, investors usually review hundreds of NFT roadmaps before deciding which one to invest in. That is more reason for your NFT roadmap to be able to draw the reader in with the attractive design and keep their interest with clear language.
We recommend keeping the content of your NFT roadmap between 500 and 1,500 words.
Targets the Right Market
You should have a thorough understanding of the market and target audience before drafting an NFT roadmap.
For instance, an NFT project aimed at art lovers should have a stylish, uncomplicated design that places more focus on the pictures than the copy. The NFT roadmap for the corporate community, on the other hand, should have a more official appearance and put more focus on the copy than the graphics.
Checking NFT roadmaps from projects aiming for the same market as you is one of the best ways to make sure your NFT roadmap is speaking to the proper market.
Top 11 Best NFT Roadmap Ideas
Below are the top 11 best NFT roadmap examples you can model after.
1. Bored Ape Yacht Club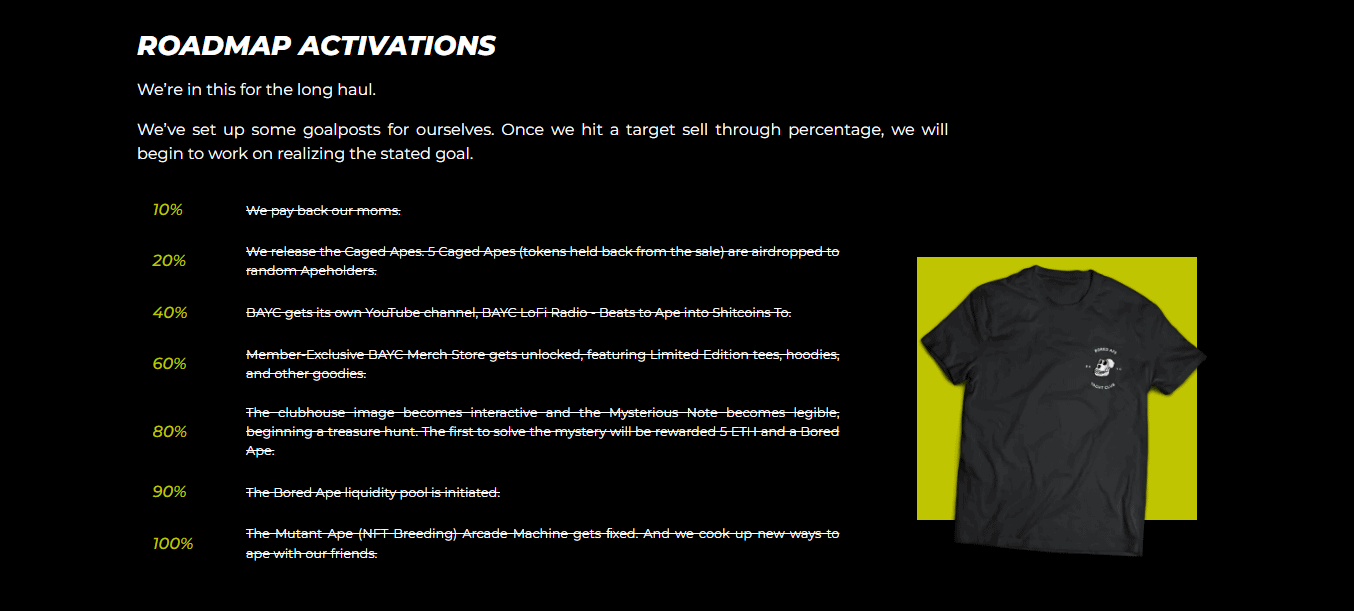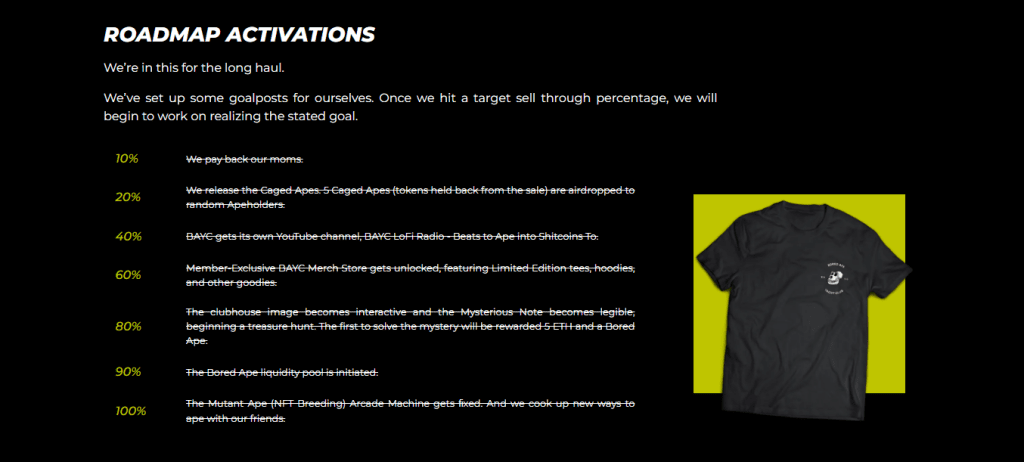 First on our list is the Bored Ape Yacht Club NFT roadmap. Looking at the design, you'll notice it's modeled after a video game roadmap (with the "percent to completion" feature). The language of the content is simple and fun to read.
Since the initiative is art-based, there's less emphasis on the copy, and the developers gave more effort to the visual aspect. In addition to having a superb graphic style, the roadmap is also rather extensive.
Another major highlight of BAYC's roadmap is how effectively it illustrated its longer-term goals to tell investors that the project's value can endure over time.
2. Azuki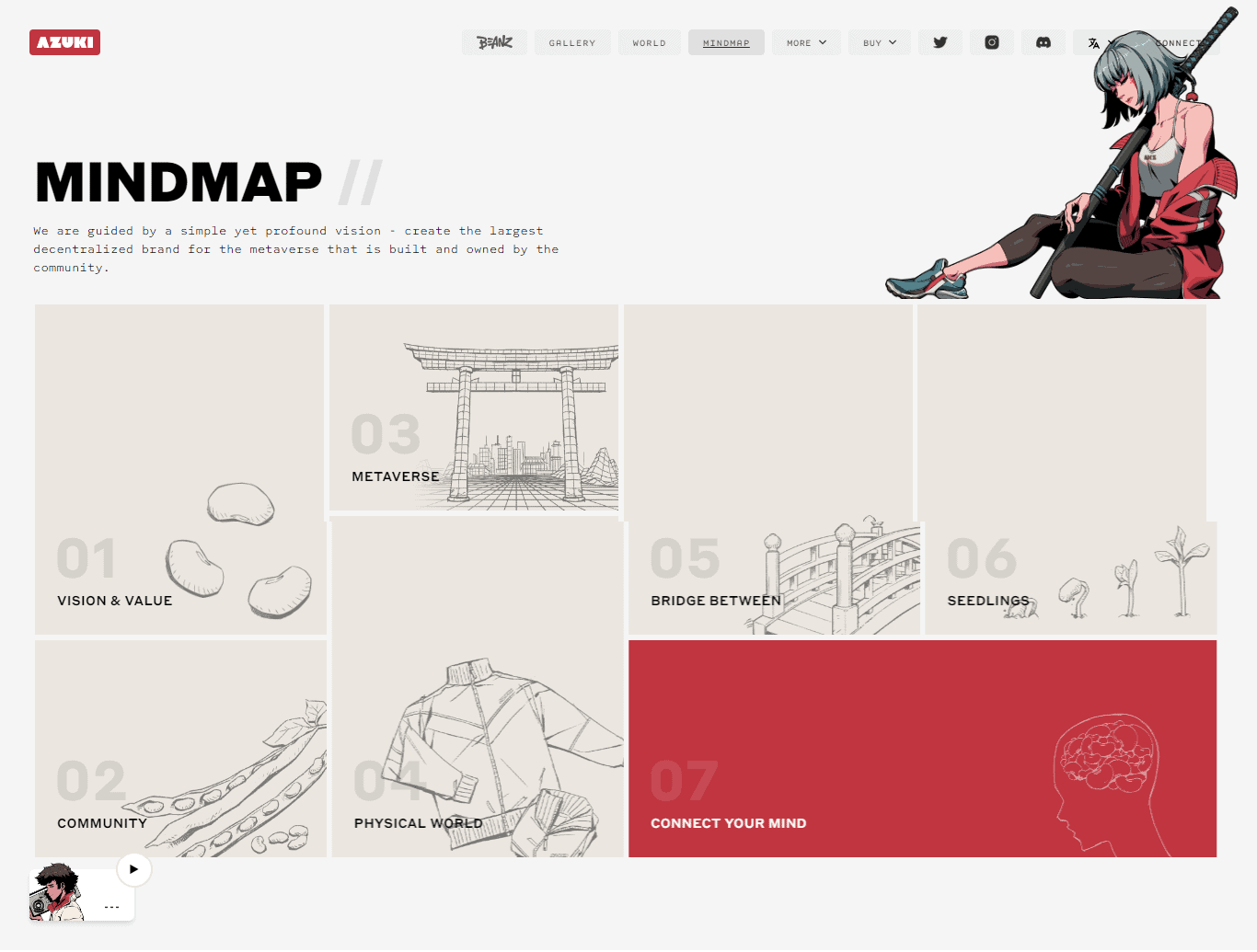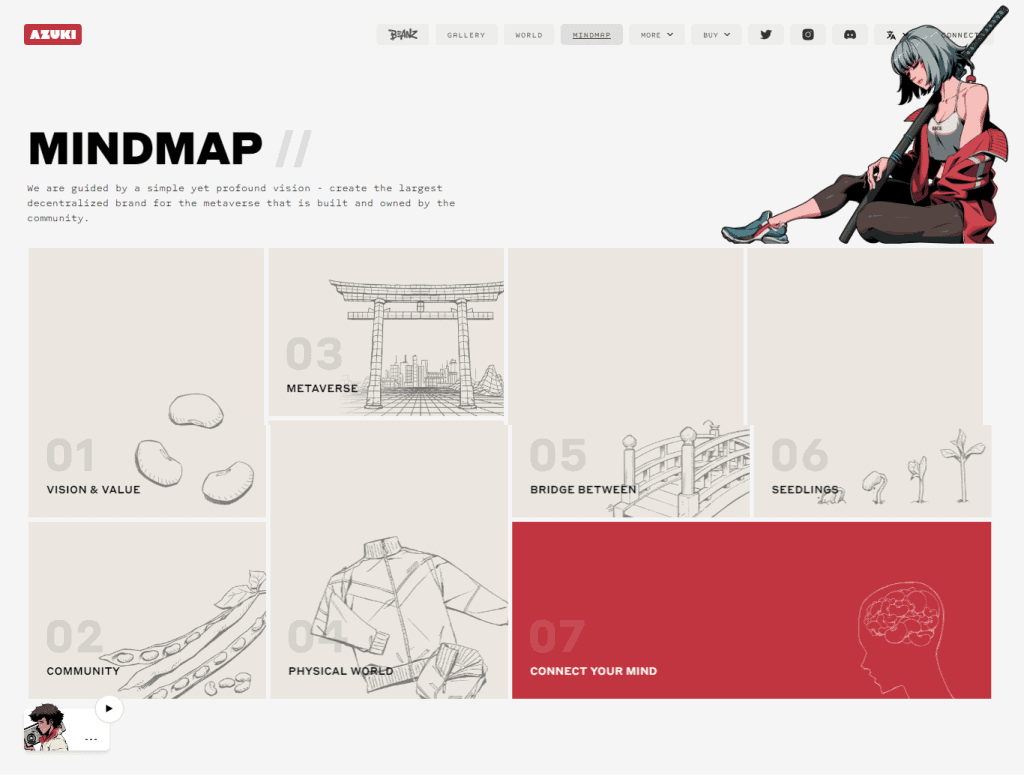 Azuki is an anime-centric NFT project, so it's no surprise that the developer featured the anime style in its roadmap. Calling the roadmap a "mindmap" also adds some uniqueness to the Azuki project.
The Azuki NFT roadmap is organized into seven categories, which makes it easy for the reader to navigate between sections and understand the project's goals. Additionally, note how the artwork doesn't feel overpowering.
How to Promote Your NFT on Twitter and Sell Out Faster
What Azuki did with its "mindmap" shows that it's important to exercise some moderation while designing visual components for an art-based NFT roadmap.
3. Rebel Rabbits


Unlike the previous NFT roadmap examples we've reviewed, Rebel Rabbits is a timeline-based roadmap. This project uses a monthly roadmap that's divided into eight chapters. It also uses a subdivision of "Early" and "Late" which tells you a bit about when to expect to see the releases.
Rebel Rabbits' approach is effective in keeping collectors engaged and looking toward the future. At the end of the roadmap, the project also hinted that the developers are planning to create another roadmap after the completion of the current one.
Additionally, a great NFT roadmap idea would be to include usage rights in your roadmap or closely near it on your website because collectors want to understand what they can do with an NFT after buying or purchasing.
How to Promote NFTs on Reddit and Sell Out Faster
4. Degen Toonz Collection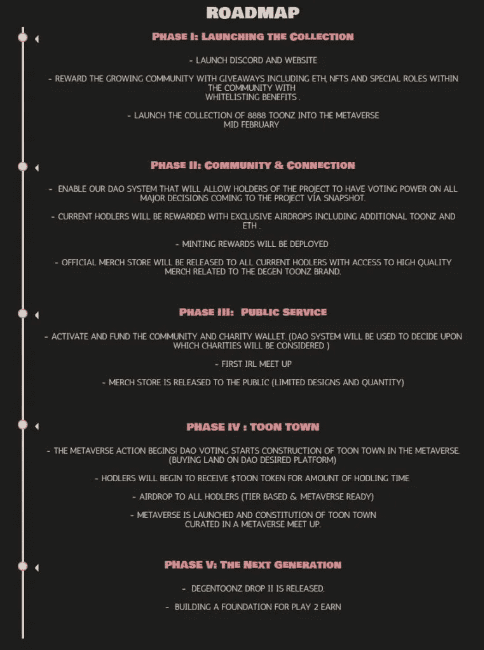 Degen Toonz's roadmap is super concise and focuses more on highlighting the utilities of the project. The roadmap is categorized into five sections:
Launching the Collection
Community and Connection
Public Service
ToonTown
The Next Generation
While Degen Toonz's concise approach is okay, it would be better if you take time to explain what each phase will accomplish in your roadmap, which helps collectors connect with the NFT project even more.
5. Cool Cats


The Cool Cats NFT roadmap is another excellent illustration of a timeline-based NFT roadmap. The roadmap is organized into distinct portions according to calendar quarters.
This roadmap tells you at a glance that the project's goal lifespan is two years. In addition, anyone with interest in the project can immediately see what is scheduled for each quarter.
If you are modeling after Cool Cats, ensure not to include too much information or run the risk of clutter. It would help to consider the most crucial details first.
6. World of Women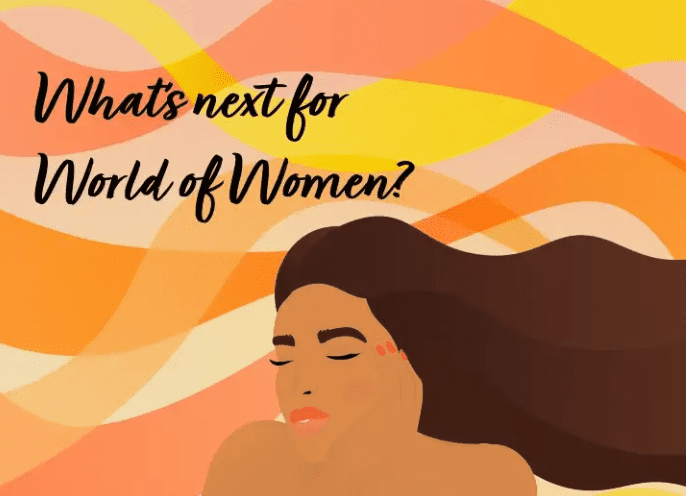 World of Women launched a new phase (phase 2) showcasing a new roadmap. We love this project for always trying to add new values for its collectors and artists.
WoW is the best illustration of growing your project while actively engaging the community without losing sight of its initial vision and aims. You'll gain some useful insights reading their phase 2 roadmap release.
7. Axie Infinity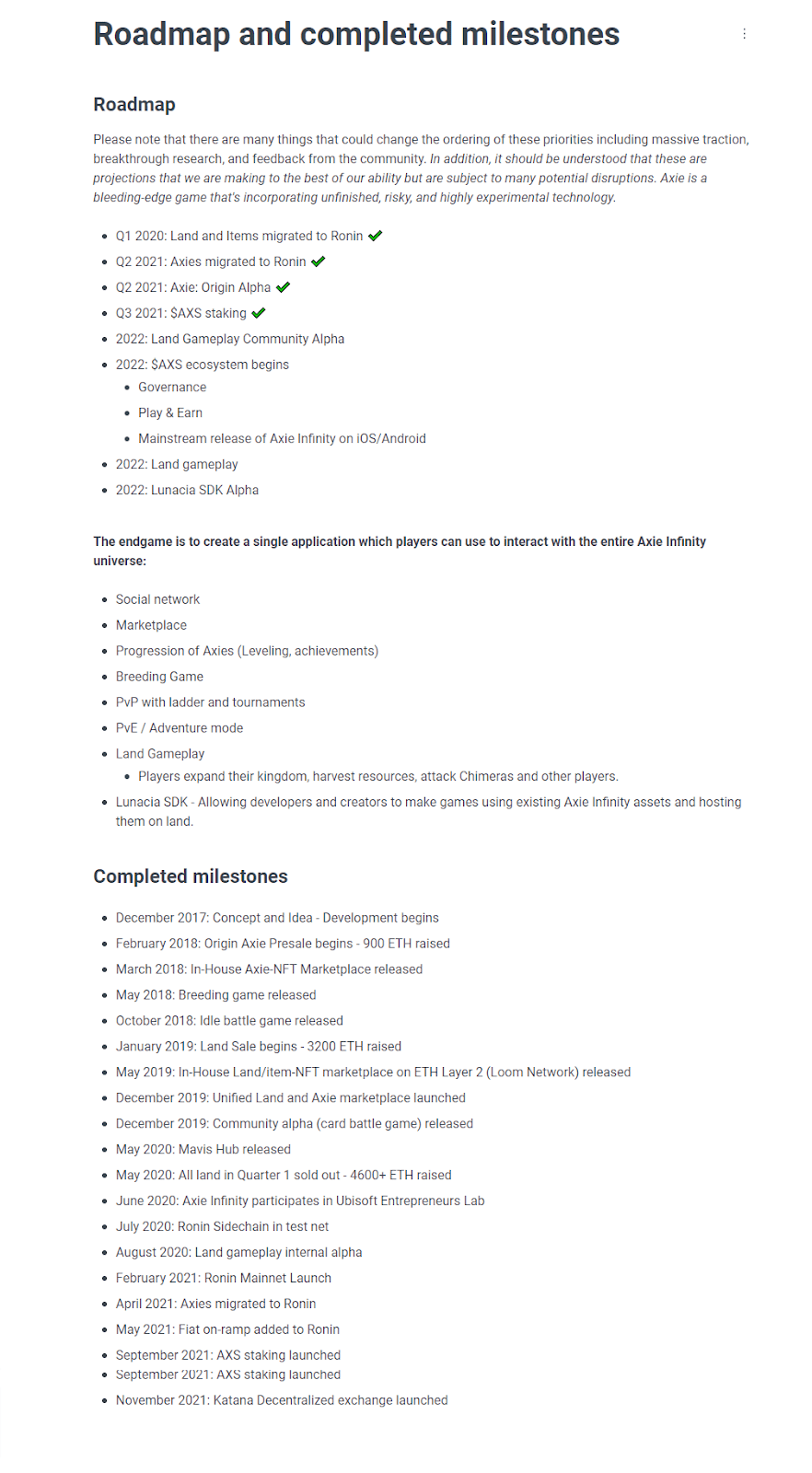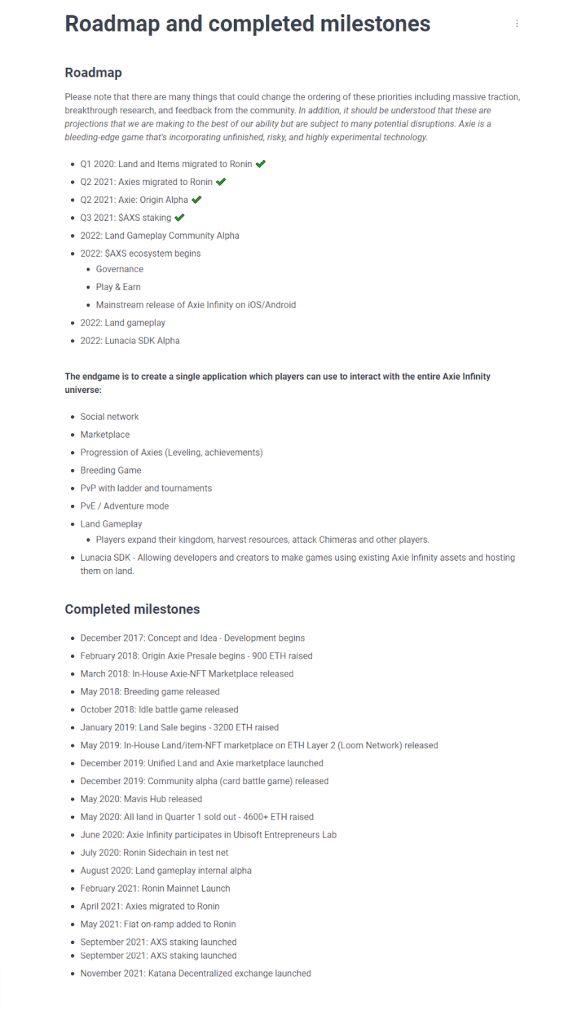 Axie Infinity did a great job telling its potential investors what the project is about and what they should expect in the future, most simply and concisely possible. While the roadmap doesn't include any visual representation, the use of bullet points makes it easy to navigate and understand.
How to Promote NFTs on Instagram and Sell Out Faster.
With NFT roadmaps, the possibility is endless to attain uniqueness. Which is something Axie Infinity has proven to be true.
8. NFT Worlds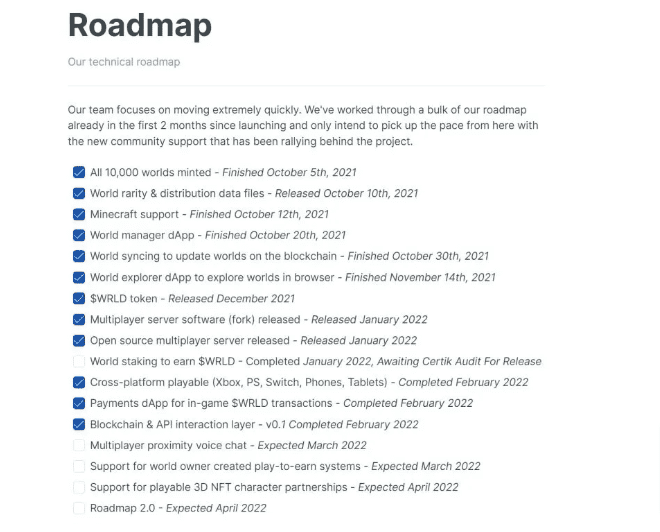 Similar to that of Axie Infinity, NFT World adopts a checklist approach to delivering its roadmap.
One unique feature of NFT World's roadmap that we like is how detailed the timeline is. Depending on the sort of feature, each item had a set date when it would be finished or released.
And at the end, the project is hinting prospective investors about the release of a new version after the current roadmap has been completed.
Here's a link to NFT World's roadmap.
9. Bao Society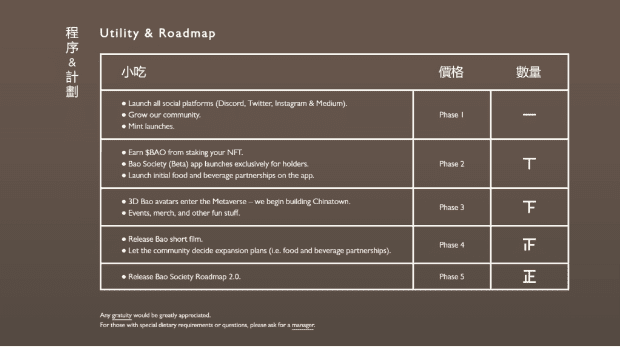 What's fascinating about the Bao Society NFT roadmap example is how the team managed to create a straightforward roadmap that matches the bao-inspired design style.
It wasn't a surprise when the project's second phase sold out within minutes — the power of a straightforward roadmap. Bao Society's NFT roadmap is worth checking out if you're looking for NFT roadmap ideas for your NFT project's roadmap.
10. Lazy Lions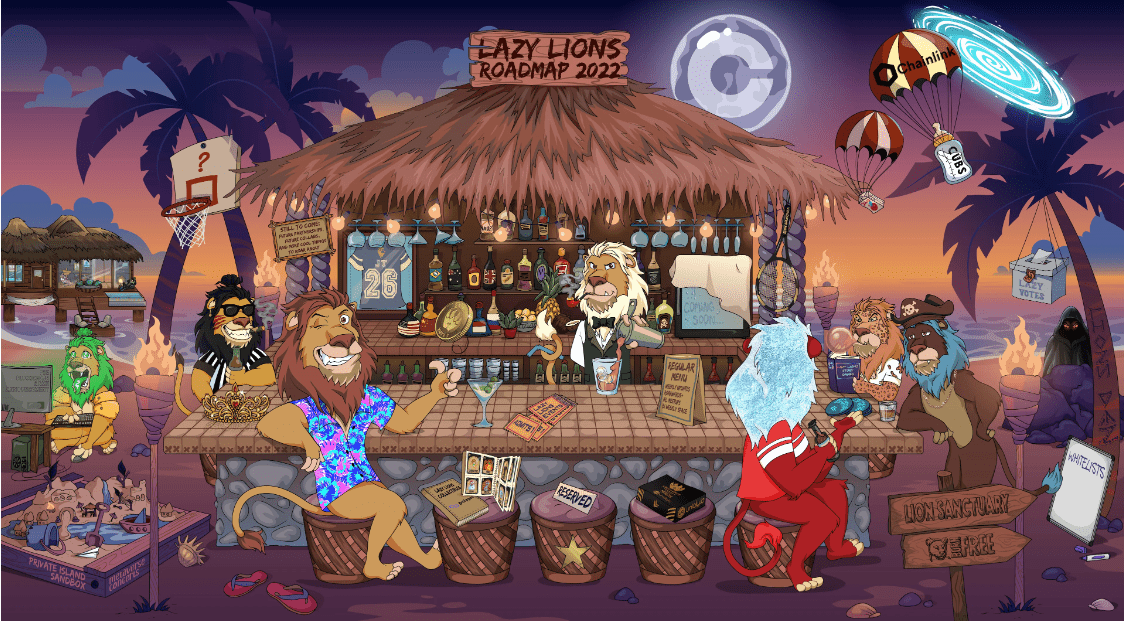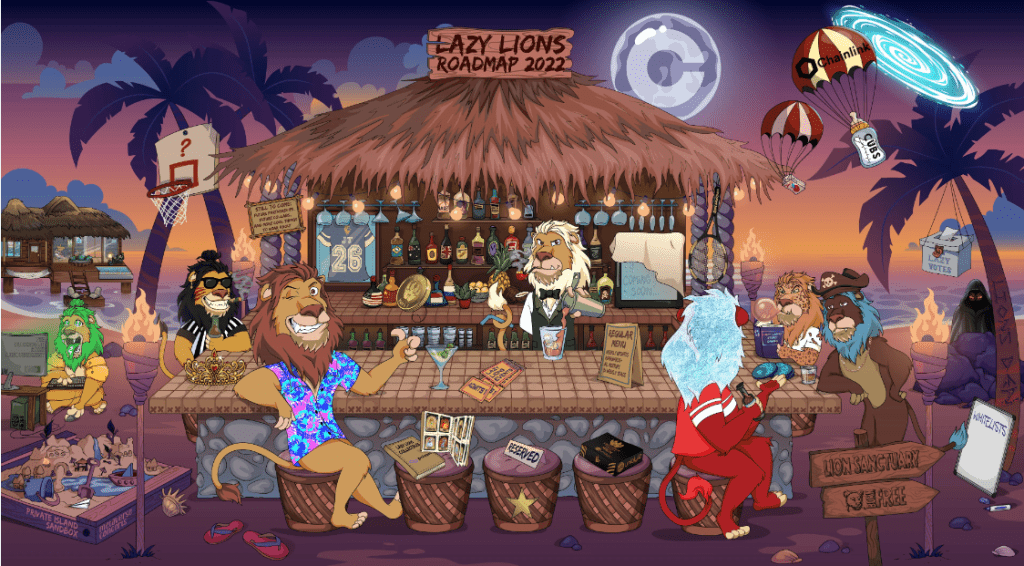 Riding on the theme of Bored Ape Yacht Club, Lazy Lions is another excellent NFT project with a decent roadmap. On the surface, the project provides a simple illustration of its roadmap in different sections. Readers can then navigate between these sections.
Lazy Lions does a good job of guiding the readers through its roadmap information for a visually focused NFT project.
11. Fishy Fam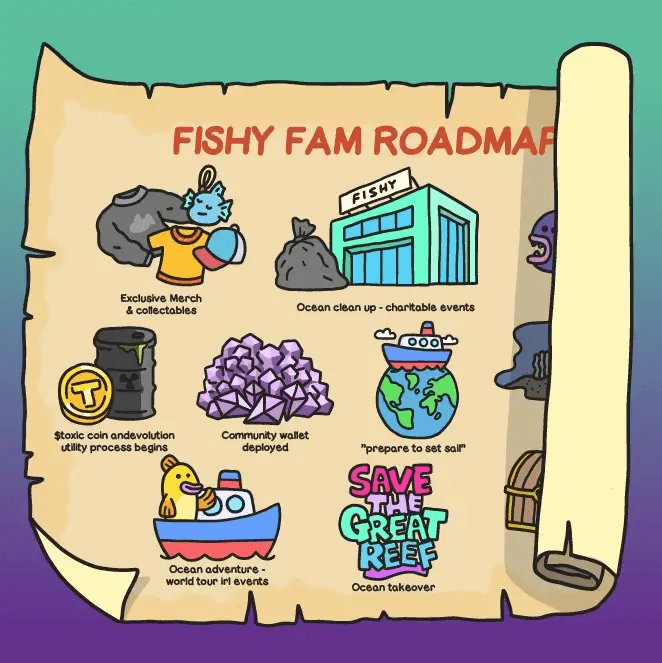 Another visually focused NFT project roadmap that's worth drawing inspiration from is Fishy Fam's roadmap. This project uses a straightforward map guide to organize its information. In addition, the easy navigation feature that allows you to quickly skip to the section where you need the information is something you would want to incorporate into your roadmap design.
Benefits of Having an NFT Roadmap
Below are some of the benefits of having an NFT roadmap.
1. Adds More Value to Your Project
A well-designed NFT roadmap can increase the overall value of your project as much as the utility does. The main purpose of a roadmap is to tell your audience that there is much more to your project than just your artwork.
If your roadmap shows that you've put a lot of thought into the short- and long-term goals of your project, investors might be more likely to invest. It breeds investors' trust in your ability as a developer, the project's mission, and the community you have built.
2. Fosters Trust Within the Community
Transparency is a major issue in the NFT world. Many investors are understandably wary and apprehensive about new projects, given the increasing number of rug tugs in the NFT space.
Releasing a roadmap that highlights your long-term vision for the NFT project would demonstrate to potential investors that you're committed to the project's success and that you're in it for the long run.
3. Helps to Organize Your Plan And Record Your Actions
As a developer, the amount of work that you're expected to deliver can grow enormous depending on the type of project you're working on. Your roadmap can serve as a checklist or guide that outlines your accomplishments and tells you what's next.
Where Can I Promote My NFT for Free?
Don't see your roadmap as a fixed plan but rather as a reference. There might be occasions where some things you planned will take longer than expected. You can also choose to postpone some goals for whatever reasons. Just make sure you inform your community if you stray from your roadmap.
4. Sustains Your Project's Value Over Time
When you sell out, the value of your NFT project remains. A roadmap guarantees that you will have events to engage your audience and keep them excited for your future initiatives, such as a second phase or project minting. Long-term value also encourages participation from the larger NFT community. Your NFTs may eventually appreciate as a result of this.
5. Make Your Project Easier to Sell
Your project marketing has more chance of success if you have a well-planned roadmap. While you might be selling a one-of-a-kind artwork piece, the competition in the NFT field is fierce. To attract buyers or investors to your project, it's good practice to add a thriving community, exclusive events, and so forth to your offerings.
Conclusion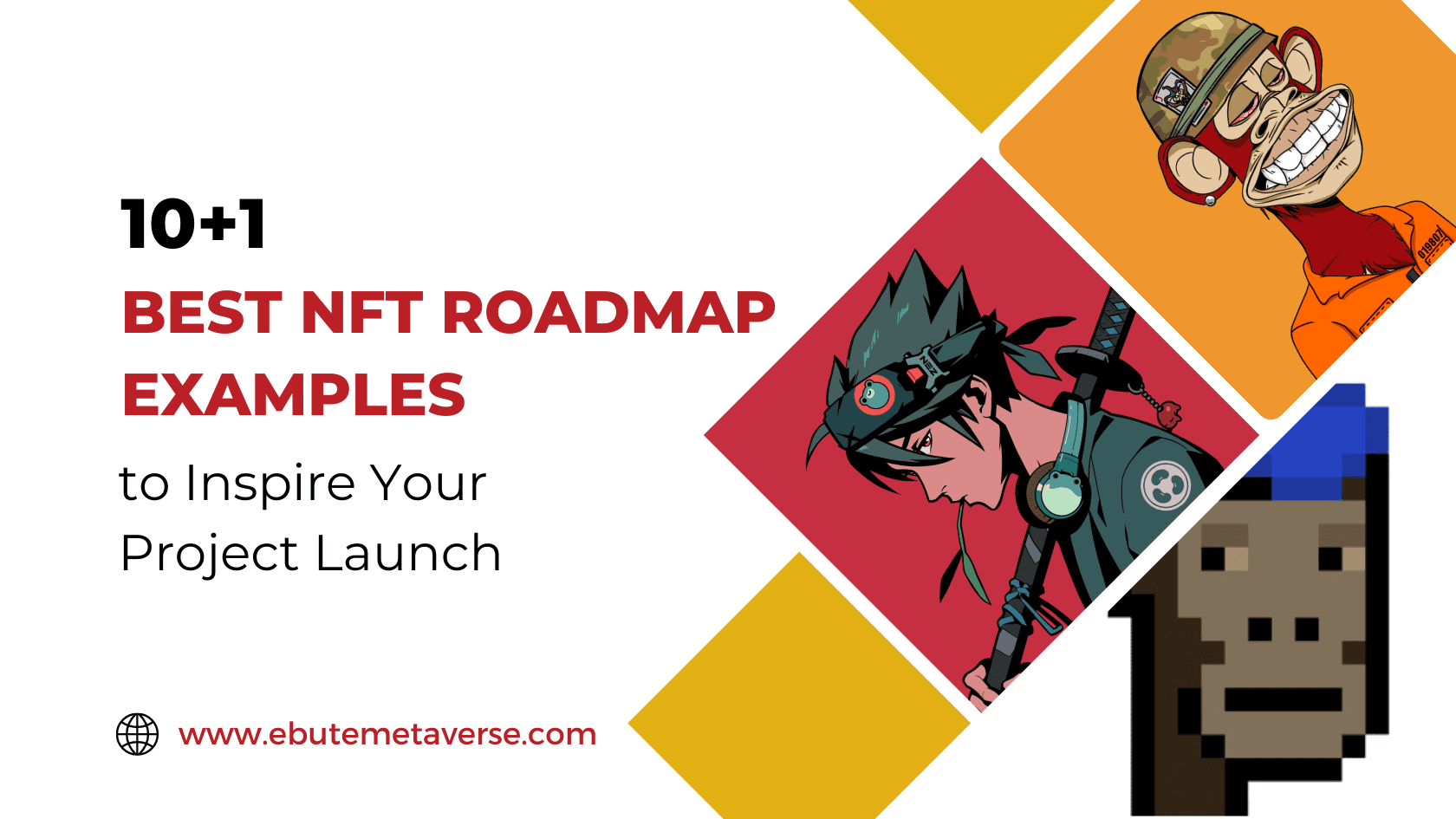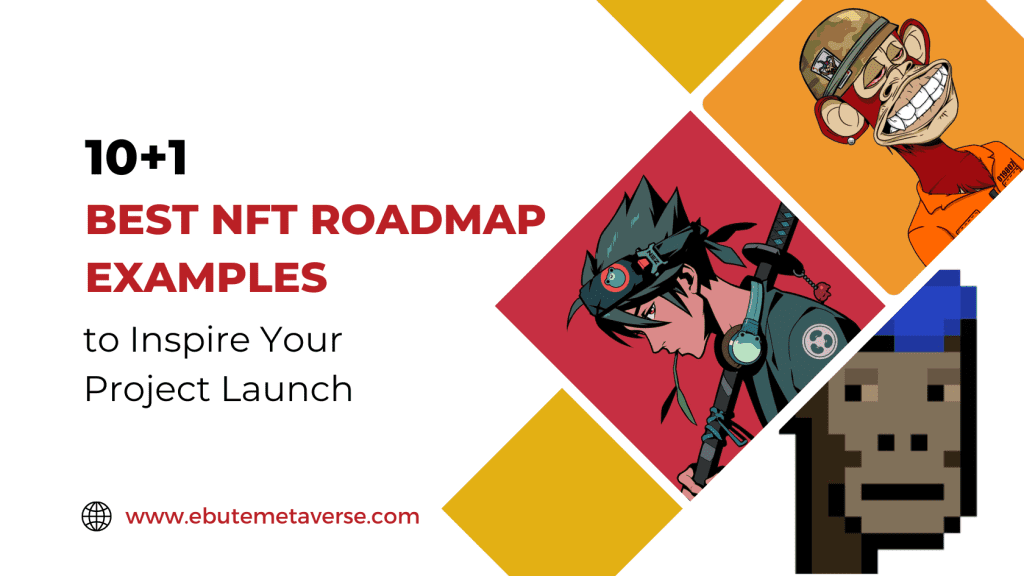 Thanks for reading through till the end. We've explained everything you need to know about NFT roadmaps. Also, you should already have a definite answer as to whether you need a roadmap for your NFT project (or not).
Note that the NFT roadmap examples in this article shouldn't be the end of your research. Check out several other popular NFT projects with roadmaps and review them. The knowledge of "What Makes a Good NFT Roadmap" that you've gotten from this post should help guide your research.
Was this article helpful? What else do you want to know about NFT roadmaps? Share your thoughts with us in the comment section below.