Don't try buying NFTs if you're not going to buy blue chip NFTs. This statement is a famous advice experts give to newbie NFT collectors, and for a good reason. They are the most sought-after type of digital asset in the NFT world. But many NFT enthusiasts don't know what a blue chip NFT means.
Blue chip NFT is a generic term used to refer to "investment-grade NFTs." That is, NFTs that have a strong chance of increasing or retaining their value over time. Also, NFT projects with a thriving community, strong social presence, and—most importantly—unique and recognizable NFT artwork would count as a blue chip NFT.
This article will go deeper into the meaning of blue chip NFT. We'll also list some great examples of blue chip NFTs and how you can find them. Finally, we'll share some tips on investing in blue-chip NFTs.
But before we get down to the article, our article on getting started with NFT would be a good read for NFT beginners.
Let's get started.
Why is It Called Blue Chip?
The term "blue chip" originates from the poker game and is the most valuable chip in the three-color poker sets (red, green, and blue). A blue chip is often used in the traditional business scene to refer to companies or stocks that that has been in business for years and have gained enormous reputations.
A blue chip is also used in NFT, but in the real sense, no NFT qualifies as a blue chip. That's because most of these NFT projects have not existed for more than three years. So, what does a blue chip NFT mean? And what are the blue-chip NFT projects?
What Is a Blue Chip NFT
NFT projects that have retained their worth over time get the status of a blue chip NFT. These NFTs have some things in common, such as a highly dedicated team, practical brand utility, deliberate brand partnerships, strong brand recognition, and a very high floor price.
The major attraction of blue chip NFT is that the value isn't going to diminish and is more likely to grow over time. You can sell these NFTs for a healthy profit if you invest in them. NFT projects that have reached the blue-chip NFT status include Crypto Punks, Bored Ape Yacht Club, Cool Cats, and VeeFriends.
Why Are Blue Chip NFTs Important?
The main reason why blue chip NFTs have enormous significance among NFT buyers is that they offer a way to invest in something worthwhile with a guaranteed profit. Also, this type of NFT would continue to provide quality products or services and value with sustained backing.
Another reason many people pay a lot to gain ownership of blue chip NFTs is utility. Most high-profile NFT projects offer exclusive benefits to holders, such as admission to events, one-on-one consultations, regular products from their projects, etc.
Note that not all NFTs would ever reach the blue-chip status. However, the ones that become blue chip brands would remain so for a long time. That's because they have a solid reputation, provide value to their customers, and have the ability to execute.
What Makes an NFT Blue Chip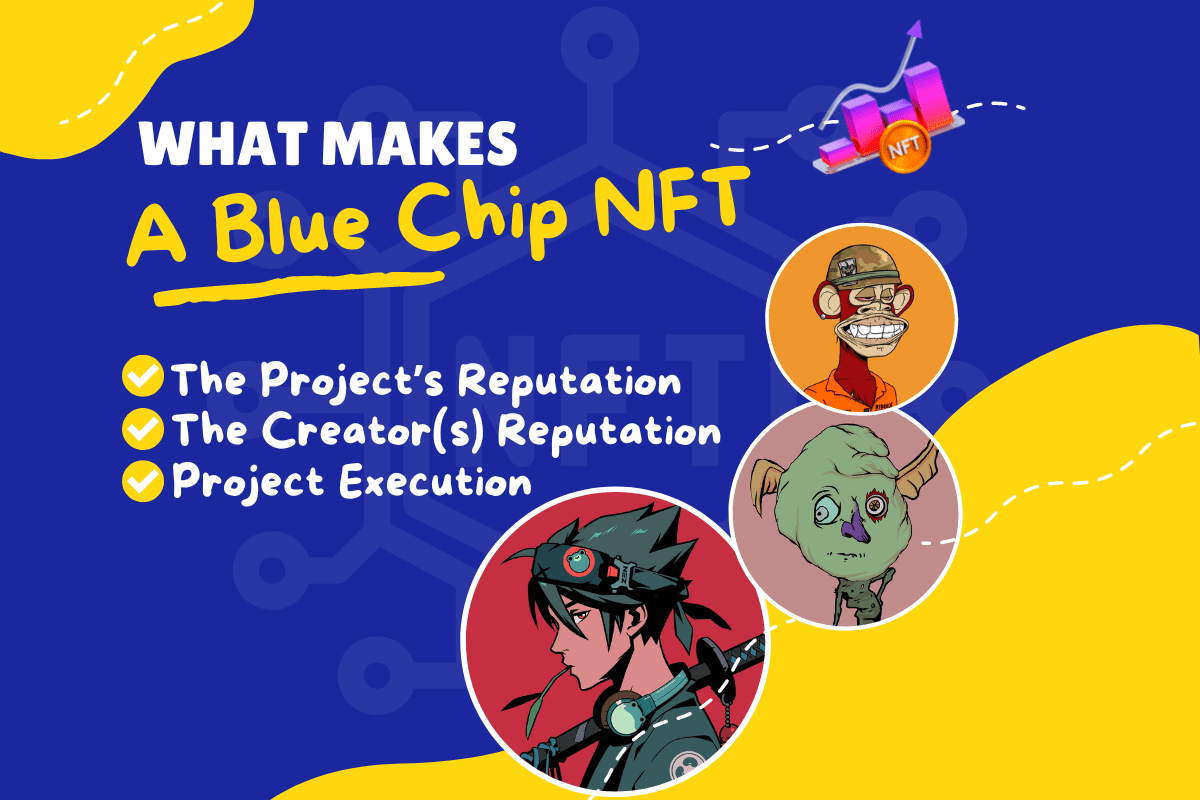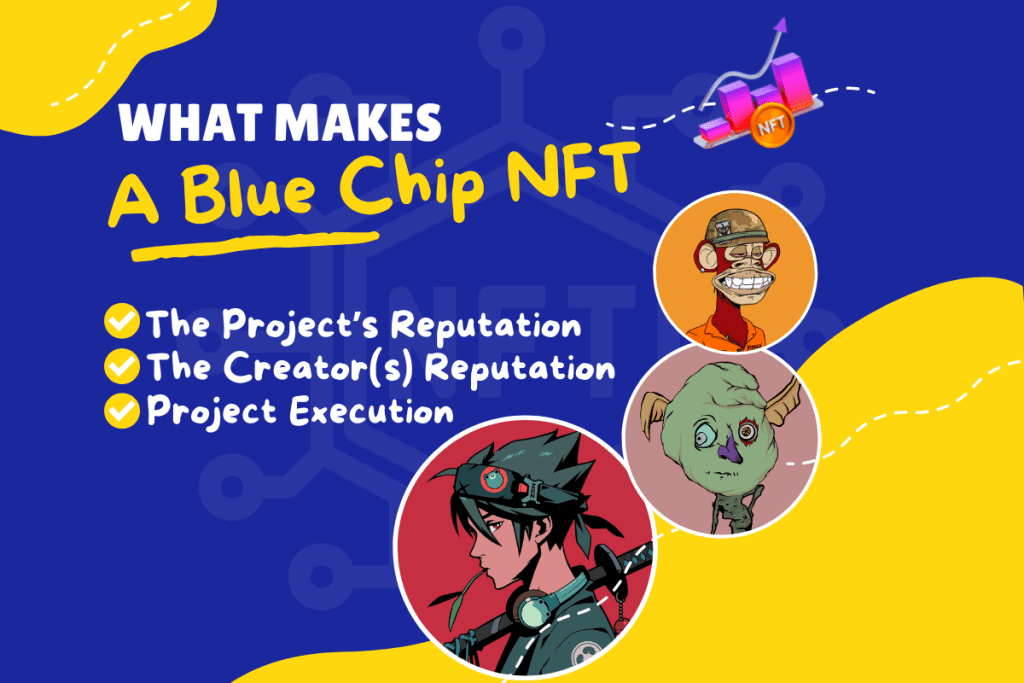 As we've stressed earlier, not all NFTs can be considered a blue chip. However, there are specific characteristics that are peculiar to blue-chip NFTs.
Here are some of the characteristics that are typical of Blue Chip NFT projects:
1. The Project's Reputation
A solid brand reputation takes years to build. That's why early entries such as CryptoPunks achieved their blue chip status. The CryptoPunks NFT project is also regarded as the pioneering 10k profile photo NFT project, which adds historical and cultural importance to the project.
2. The Creator(s) Reputation
Behind every successful NFT is a strong leader and team backing it. That's why the reputation of the person(s) behind the project matters a lot. An NFT project has a better chance at success if the creator or team members already have a solid reputation.
Let's take Gary Vaynerchuck and his VeeFriends NFT project as an example.
Before launching the VeeFriends NFT project, Gary was already known as the "wine guy" and had built a decent following on social media. He also founded his own media company, VaynerMedia, which now has over 1,500 employees. Many people like him for the accessible, high-quality business and personal advice he consistently shares on his social accounts.
When Gary finally launched the VeeFriends project in May 2021, it didn't come as a surprise when he sold over $20 million worth of NFTs in weeks. And currently, the project is worth over $130 million in trading volume. That's the power of a good reputation.
Investing in a well-known creator has proven to be one of the best ways of picking a potential blue-chip NFT. But that's not always the case. Some creators (such as Cool Cats, Doodles, etc.) just became popular in the NFT space and are now regarded as blue-chip NFTs.
3. Project Execution
While most NFT projects market a good roadmap alongside their product offerings, not all implement them effectively (or at all). The execution of an NFT project's plan is also an essential determinant of a blue chip NFT project.
NFT projects that aim to attain blue chip status always strive to deliver on what it promises or exceeds expectations. Please pay close attention to how the entire team behind a project behaves and how they carry out their promises. You can find clues that would help you make educated guesses about the prospect of an NFT project.
Note: Some NFT projects fit the description of a blue chip NFT but are nothing more than a rug pull scam. NFT scams are a big issue that plagues the NFT world, so our article on NFT Scams and How to Avoid Them would be a must-read.
We'll also discuss keeping your blue chip NFTs safe later in this article.
How to Find Blue Chip NFTs
Here are some useful tips for identifying a potential blue chip NFT:
NFT projects that are most likely to reach the blue chip status usually offer a long-term value proposition to holders;
These types of NFT projects usually have a high-profile artist or reputable company in the industry backing them;
The collection would have a clear utility that goes beyond speculation;
And finally, they have a vibrant community built around them.
The above tips would help guide you in your hunt for your next blue chip NFT.
What Are Examples of Blue Chip NFT Projects?
Below are some blue-chip NFT projects that serve as a good illustration of what a successful project entails.
1. CryptoPunks
It's a no-brainer that we'll mention the CryptoPunks project as the most famous blue chip NFT project. The reason is that CryptoPunks was one of the first NFT projects to explode and kick-started the broad adoption of NFTs. We've also seen celebrities like Jay-Z use these NFTs as their profile pictures on social media.
CryptoPunks owes its success to the hard work of its team in acquiring numerous strategic partnerships. Also, its vibrant community and engaging events contributed as much, making the project one of the most stable players in the field.
2. Bored Ape Yacht Club (BAYC)
The BAYC NFT project is another excellent blue chip NFT example comparable with CryptoPunks. It's not a surprise since the same company owns both brands.
BAYC cemented its blue-chip status when it announced its partnership with some popular companies, including Rolling Stone and Adidas. The project is also continuously gaining attention from crypto and NFT enthusiasts.
3. VeeFriends
We've already used the VeeFriends project to illustrate how an NFT creator's reputation can increase the chances of an NFT attaining blue-chip NFT status.
Gary Vaynerchuck, the creator of the VeeFriends project, created something spectacular because he focused on giving value to VeeFriends NFT holders, acquiring strategic collaborations, organizing events, and so on.
Blue Chip NFT Investing Guide
Blue chip NFTs are the holy grail of NFT investing. That's why a lot of buyers are constantly on the lookout for one to invest in. But, to newbie collectors, investing in blue chip NFT is more of a guessing game which has left many with worthless JPEGs.
Before investing in blue chip NFTs, you must determine what type of investor you are.
There are two main investing strategies most NFT collectors utilize based on risk tolerance: scaling and long-term investing.
Scalping
Scalping in NFT works the same way as scalping sports tickets. You look for undervalued NFTs and buy a couple (usually a few hundred dollars per NFT). Then, you resell them when the project succeeds.
Note that this method isn't a fool-proof strategy, as most NFT projects are likely to fail. But, with lots of research and a bit of luck, you can strike gold scalping NFTs.
If you have a lot of free time and little money, scalping might be a good option.
Long-term Investing
Another alternative strategy for NFTs investing is to purchase and hold high-quality projects over the long term. This strategy is less risky than scalping, which bets on future blue-chip NFTs. Here, you'll be investing in NFT projects that have already attained blue-chip status.
We recommend this strategy because it produces the most consistent results. However, they are usually costly, and it takes time to make huge profits.
Where to Buy Blue Chip NFTs?
Popular NFT marketplace like OpenSea would be a great place to shop for your first blue chip NFT. However, if you're looking for a cheaper transaction fee than OpenSea's (2.5% per transaction), check out Magic Eden (2% transaction fee) and Solana (average cost per transaction is $0.00025) as best alternatives.
Alternatively, you can check if the NFT project you intend to buy has its marketplace—some blue-chip NFT projects do. For example, CryptoPunks has a built-in market where collectors can buy their NFTs without trading fees. To own a Punk, you only need to pay the gas fees in ETH and the NFT price.
How Much Should You Invest in Blue Chip NFTs?
Like other types of investment, it's safer to diversify your crypto portfolio such that cryptocurrency would only account for 5–10% of your investment portfolio. When investing in blue chip NFTs, use the same 5–10% rule to determine how much of your cryptocurrency portfolio to allocate to NFTs.
For example, if your entire cryptocurrency holdings are worth $25,000, you should invest between $2,500 to $5,000 in blue chip NFTs. The same would apply to a cryptocurrency holding of $100,000; about $5,000 to $10,000 should go into NFT investments, and so on.
However, keep in mind that blue chip NFT investing is pricey. So, a cryptocurrency portfolio of $3,000 will only leave room for a $300 investment in NFT, which gives you limited options. In this case, an ideal investment strategy would be scalping or placing bets on future blue chips.
Alternatively, you can find free NFTs and hope they grow to blue chip status.
Why Invest in a Blue Chip NFT Project?
The primary reason why NFT enthusiasts favor investments in blue chip NFTs is because of the long-term financial stability such digital assets offer. Unlike many initiatives that depreciate within a few months of launch, blue chip NFTs can retain their value over time. For example, the average price of BAYC is about 100 ETH, even in the current crypto bear market.
Another reason people invest in blue chip NFTs is because it's considered a symbol of achievement among social elites and wealthy NFT investors. So, owning one would qualify you as a "gang member."
Most blue chip NFT projects also offer holders intellectual property rights to their NFTs; however, this feature is open to blue chip NFTs.
Additionally, there are occasions where blue chip NFT projects offer their holders cashback options. For example, the BAYC NFT project airdropped their native token, ApeCoin, to collectors. Holders of the tokens could either sell them immediately or hold them with the expectation that the token would rise significantly in the future.
Now that you know why investment in blue chip NFTs is highly profitable. You might be interested in the best blue chip NFT to invest in.
You can uncover high-quality NFT projects and make suitable investments with hours of diligent research. However, we've helped you save time by reviewing numerous successful NFT projects and coming up with a list of top blue chip NFTs worth every penny.
10 Best Blue Chip NFT List
Methodology: For this list, we only reviewed PFP non-fungible tokens because they are less risky and have a low chance of a significant sell-off. We ranked their performance based on the following metrics; current price floor, floor cap, and total holders. Also, we examined their roadmap to gain insights into the prospects of the different projects.
After reviewing 20+ popular NFT projects, we came up with this list of 10 best blue chip NFTs to invest in.
1. Azuki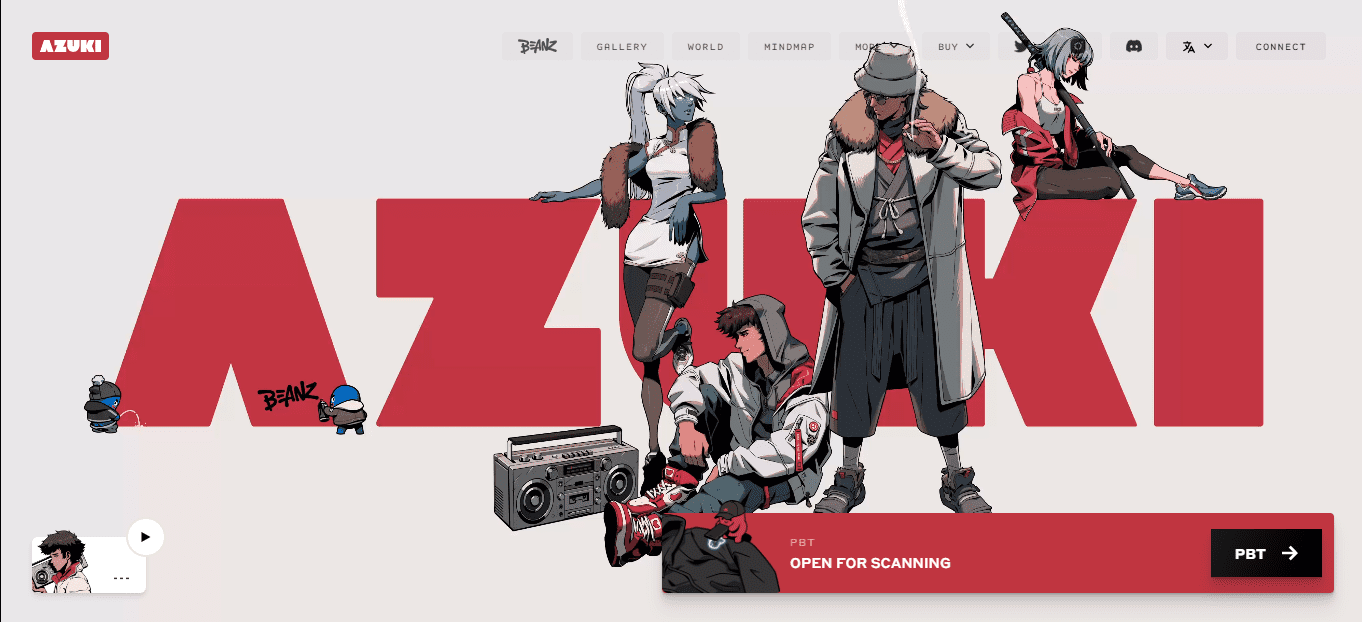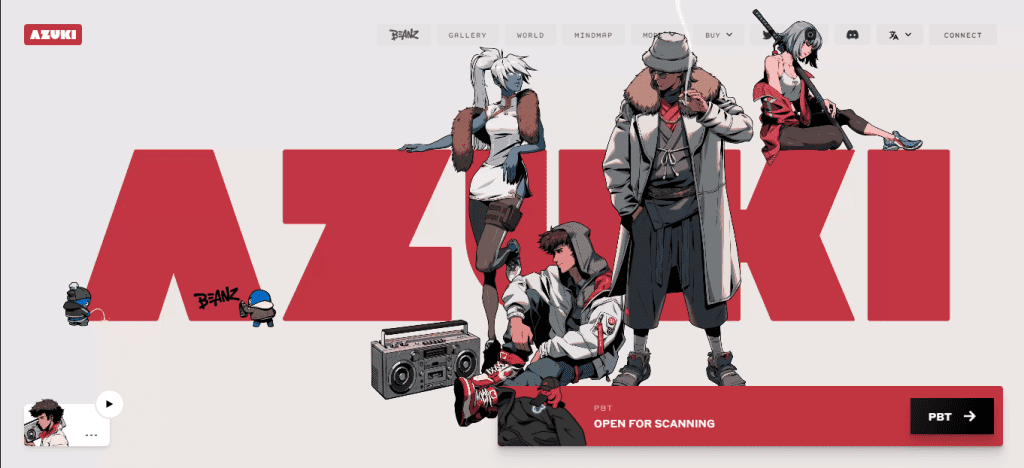 Azuki tops our list of best blue chip NFTs for a good reason. Asian crypto collectors loved the anime-themed NFT project, which is one of the reasons for its massive success. Also, the project offers holders numerous utilities, including live events, streetwear collaborations, access to exclusive NFT releases, membership in "The Garden" community, and more.
2. Doodles

The Doodles NFT project features a collection of 10,000 unique hand-drawn characters in an ascetic manner. Apart from the art appeal, Doodle is notorious for expanding its collection by providing a subcollection.
Recently, the project announced the coming of "space doodles," which build upon the originals. This upcoming release is an opportunity to get your hands on a potential blue chip NFT from a team that has created one before.
3. BAYC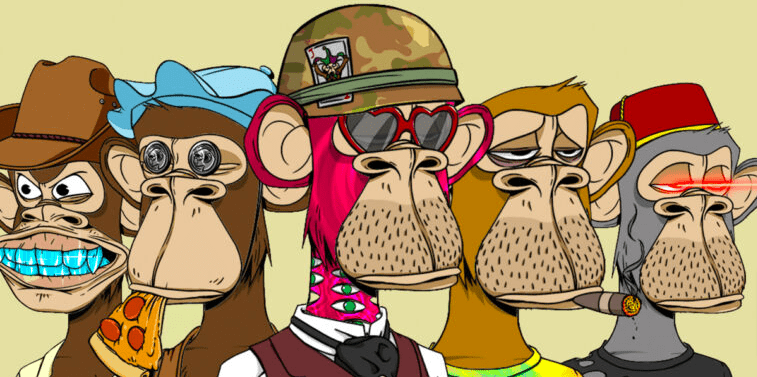 This list isn't complete without mentioning BAYC blue chip project. The project has broken market records and earned a fixed position as a blue chip NFT project. BAYC is taking the use of NFTs to a whole new level by providing its members exclusive access to yacht parties and gatherings in New York City, where holders can view physical prints.
BAYC NFTs are expensive, so it's not topping this list. However, the project is one of the best blue chip NFTs you'll want to own if you have the funds.
4. CryptoPunks


As mentioned earlier in this article, CryptoPunk is one of the first NFT projects to reach blue chip status. And it's still one to this day. Larva Labs created this project, which leveraged the company's close ties with blue chip businesses like Google and Microsoft.
5. World of Women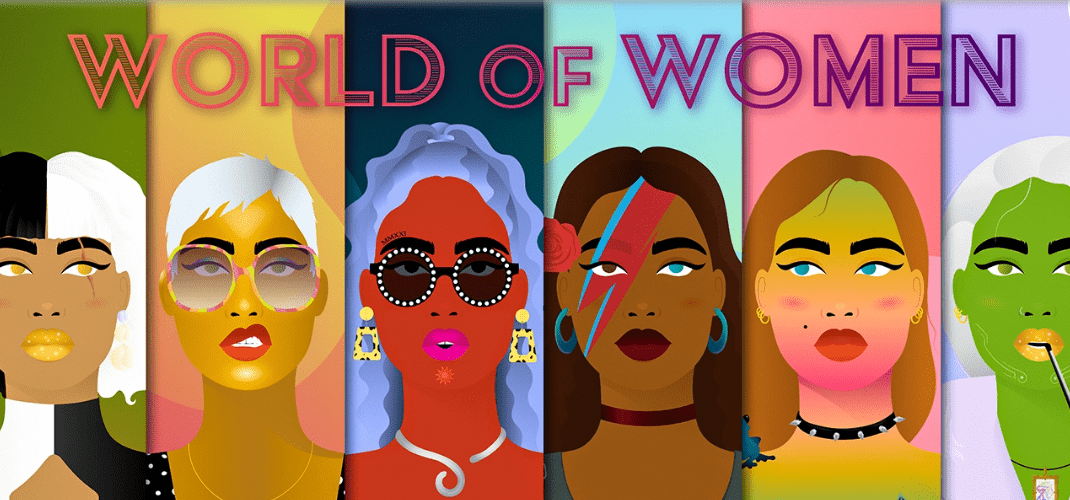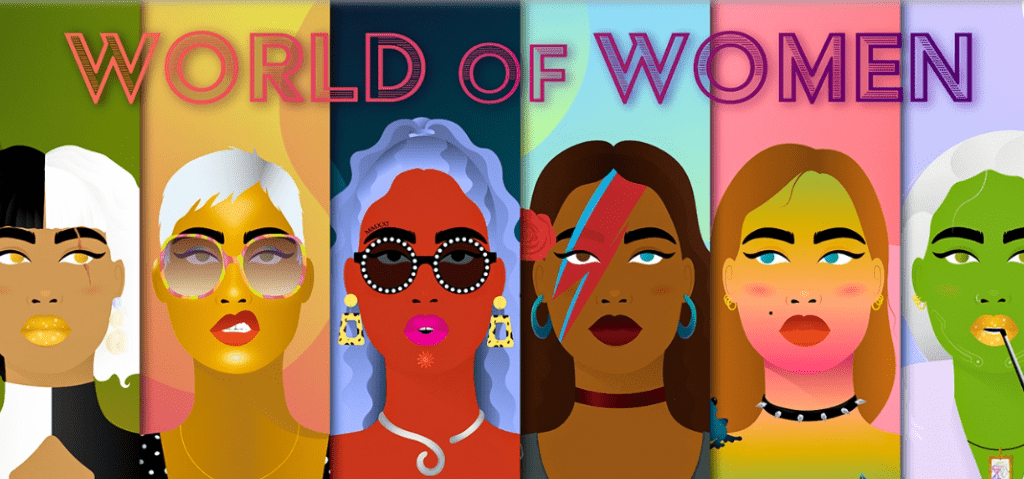 World of Women's NFT project leveraged the women empowerment movement to reach its blue chip status. With a growing team of nine people and the goal of building a stunning, engaging, and empowering collection, the project focuses on putting women in the spotlight.
6. Cool Cats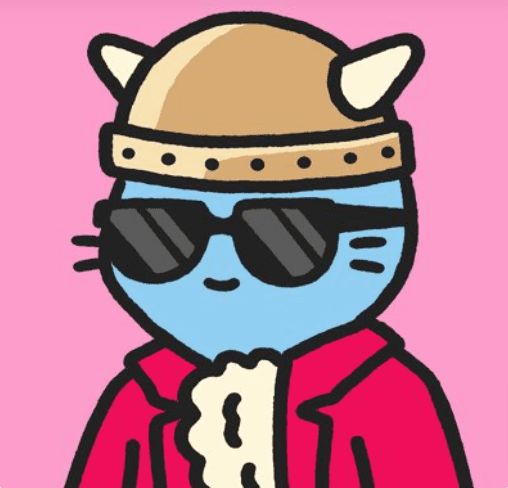 Like CryptoPunks, Cool Cats was among the first NFT projects to gain public interest. The value of the project exploded when popular celebrities like Reese Witherspoon, Steve Aoki, and Mike Tyson bought into the project. However, the major driving force of the project's success is the NFT ecosystem's potential for the greater utility of individual cats and their rarity.
Owning one of the 9,999 digital cats in the collection would give you exclusive access to their community events. Cool Cats is one of the top blue chip NFTs you'll want to own.
7. VeeFriends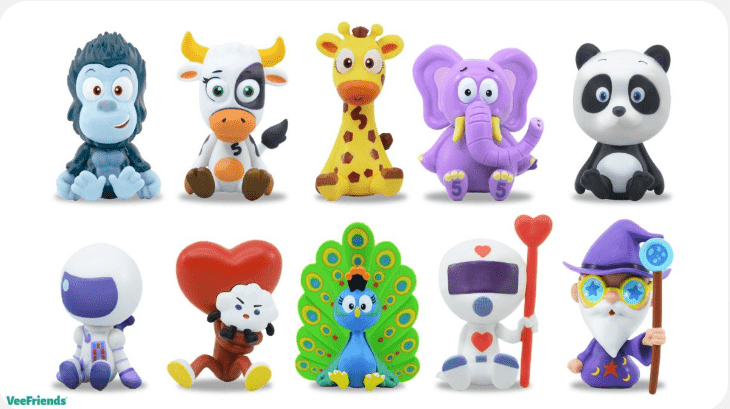 Gary Vaynerchuk's VeeFriends is a sensation in the NFT world. Given the good reputation the inventor has as a businessperson who genuinely cares about seeing others succeed, the collection's success is not unexpected.
VeeFriends goes beyond art collectibles; the project offers holders access to a community of web3 industry leaders where they can share their passion for NFTs and business. The project is, beyond doubt, not a fad and can be a great addition to your NFT portfolio.
8. Art Blocks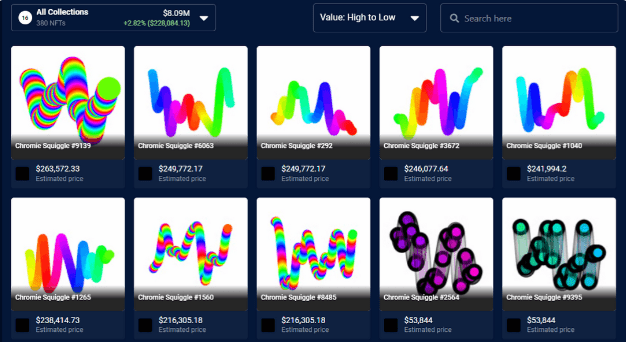 People fell in love with Art Blocks NFTs' distinctive appearance and innovative design, especially the Chromie Squiggle collection. That's one of the reasons the project was able to attain its blue-chip reputation.
Art Blocks NFT sales reached their initial high in August 2021, peaking at millions of dollars. The project provides holders stability in addition to being eye candy for many art enthusiasts that favor this kind of NFT.
9. Moonbirds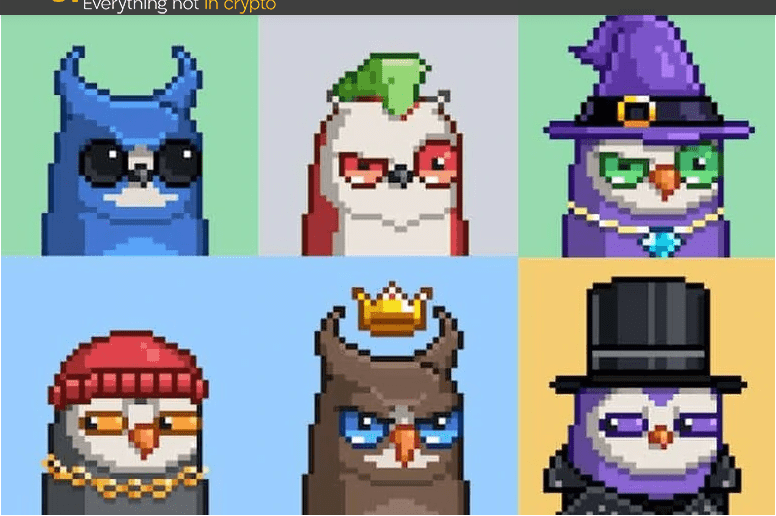 Moonbirds NFT collection is an excellent illustration of how the reputation of the creator can guide the project to success and create an active community to back it up. This generative art collection of 10,000 unique Moonbirds sold for over 100,000 ETH soon after its launch in April 2022.
Additionally, the project offers numerous advantages to holders, including the option to stake an NFT, which increases its value. Moonbirds NFT is one of the best blue chip NFT with amazing prospects for the future.
10. CloneX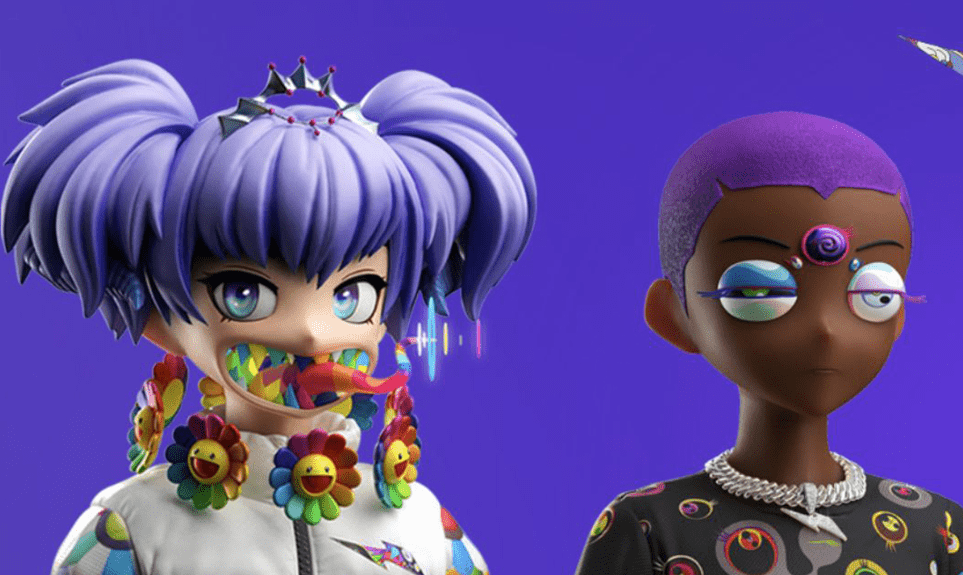 Even before NFT became popular with the mainstream media, RTFKT Studios' CloneX NFT collection held out a great deal of potential. The 20,000 next-generation avatars were designed by Takashi Murakami, a Japanese artist, who ensured each NFT's fine quality and attention to detail — a feature most collectors came to like about the collection.
In addition to the art appeal, the collection has an intriguing backstory that embraces a potential Metaverse connection. The project also boasts of a strategic collaboration with Nike. This project has the markings of a blue chip NFT written all over it.
That's the end of our list of best blue chip NFTs.
Are Blue Chip NFTs Worth It?
The short answer is yes. But that's if you can afford them. Blue chip NFTs are typically predictable, low-risk digital assets produced by well-established NFT brands. Because they offer high rates of ROI, these NFTs are in demand.
However, there are several drawbacks to owning various kinds of NFTs. For one, the average blue chip project costs more than 5 ETH and is thus highly expensive. Additionally, growth is slow, which is an understandable cost of stability. You need to invest for the long term to see significant profits.
How to Keep Your Blue Chip NFTs Safe
The best way to ensure the safety of your blue chip NFT is by investing in a hardware wallet or cold storage. Unlike a software wallet, which stores private information online, this sort of wallet stores all of its information locally on the device. Hackers will have difficulty accessing your NFT if you keep your assets in a hardware wallet.
To learn more about how to protect your blue chip NFT, our article on how to spot NFT scams and avoid them would be an informative read.
Conclusion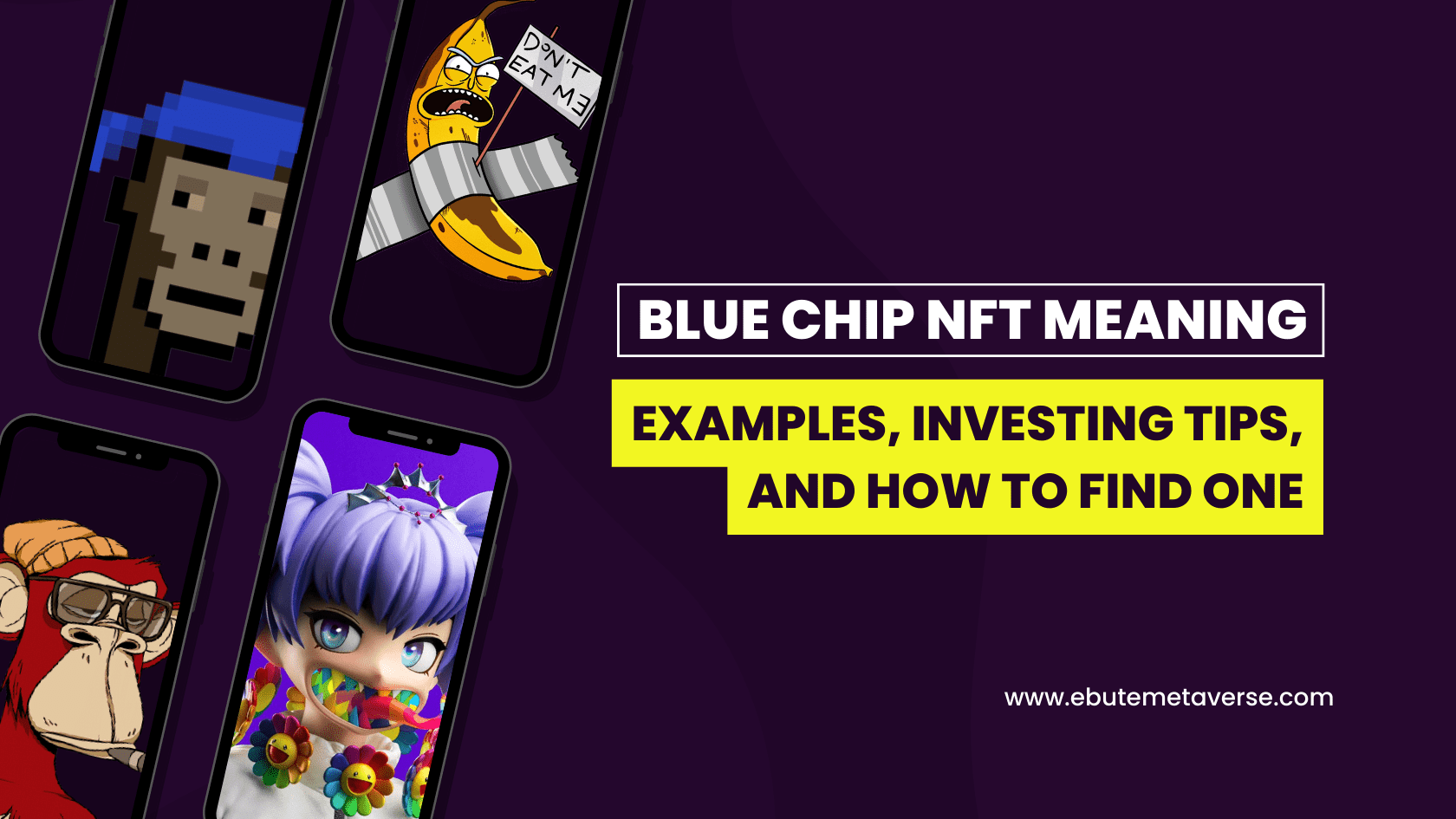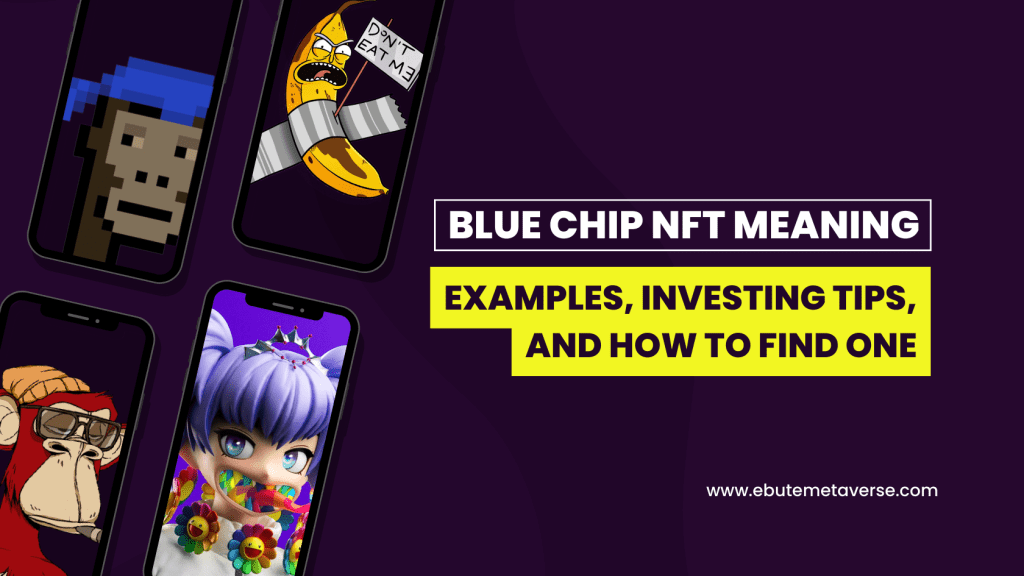 Thanks for reading through till the end. This article explains the concepts surrounding blue chip NFTs, why they are essential, and how you can spot them. We've also listed some examples of blue chip NFT projects and shared our research on the best blue chip NFTs in this article.
Are you going to invest in a blue chip NFT? Which blue chip NFT project do you want to invest in and why? Let's know your plans in the comment section below.
FAQs
How to Create Blue Chip NFT?
There's nothing special about the creation of blue chip NFTs. However, they share traits that make them unique, such as brand power, team commitment, practical utility, celebrity endorsements, etc.
To know more about creating a successful NFT, read our article on how to create a successful NFT art.
Are Doodles a Blue Chip NFT?
Yes. Doodles qualify as a blue chip NFT. Other NFT projects with blue chip status include Bored Ape Yacht Club (BAYC), CryptoPunks, and Azuki.
Is Blue-Chip Art an NFT?
Any NFT artwork anticipated to appreciate in the future, irrespective of general economic condition, is considered a blue chip NFT.
Why Are NFT Blue Chip Projects Good?
They provide the highest passive revenue for the project owners and keep holders satisfied with attractive benefits that are particular to their project.
Who Should Buy Blue Chip NFTs and Who Shouldn't?
People with diamond hands, that is, who want to hold the NFT for an extended period. Blue chip NFT projects are not for people who constantly urge to sell their NFT.