According to an industry report, the world's web3 market will be worth over $81 billion by 2030. This prediction is positive news for people looking to start a career in web3 or want to switch from Web2. A fast-growing market means there would be an increased need for more workers. But you'll want to know how much web3 developers make and whether it's worth your time before making the jump.
It's important to know that several factors affect a web3 developer's salary, such as experience level, location, and job position. However, based on our research, we found that the average web3 developer earns $125k yearly.
In this article, we'll be exploring the top web3 developer jobs and their average salary. We'll also offer insights into how much you can expect to make as a web3 developer in specific regions or countries.
Let's get started.
How Much Do Web3 Developers Make?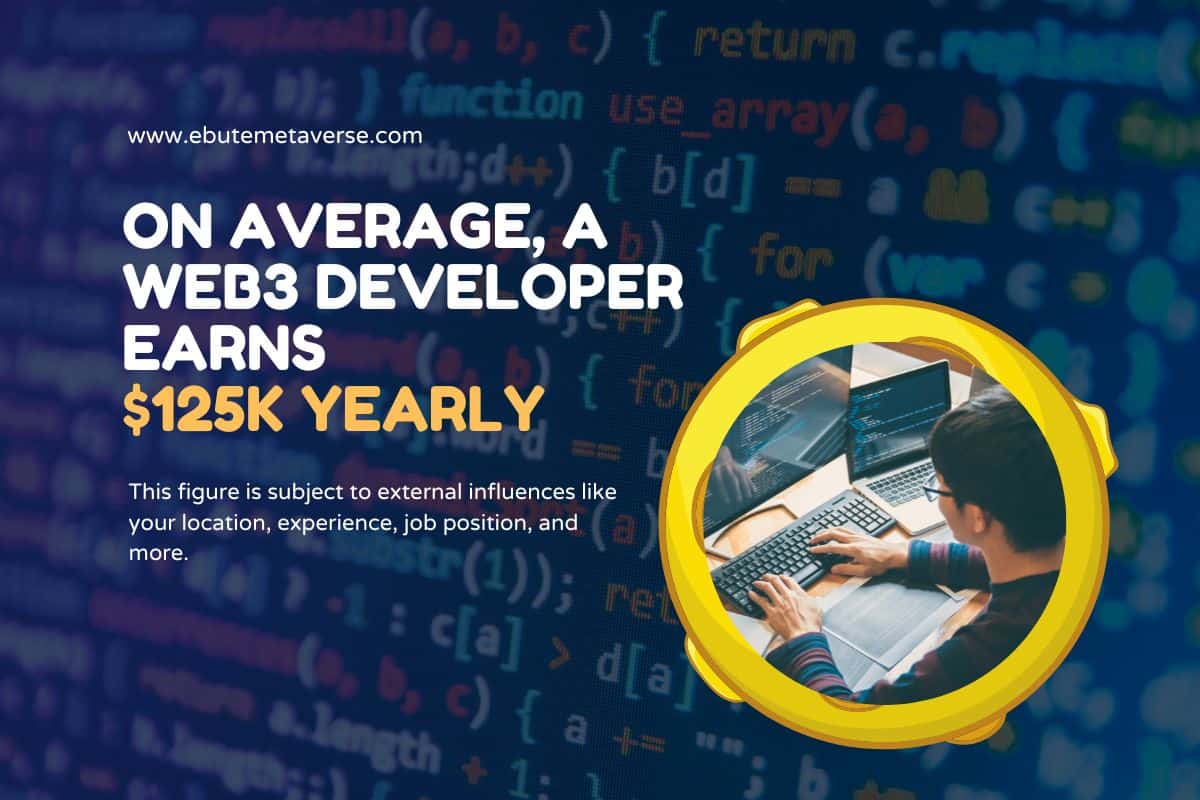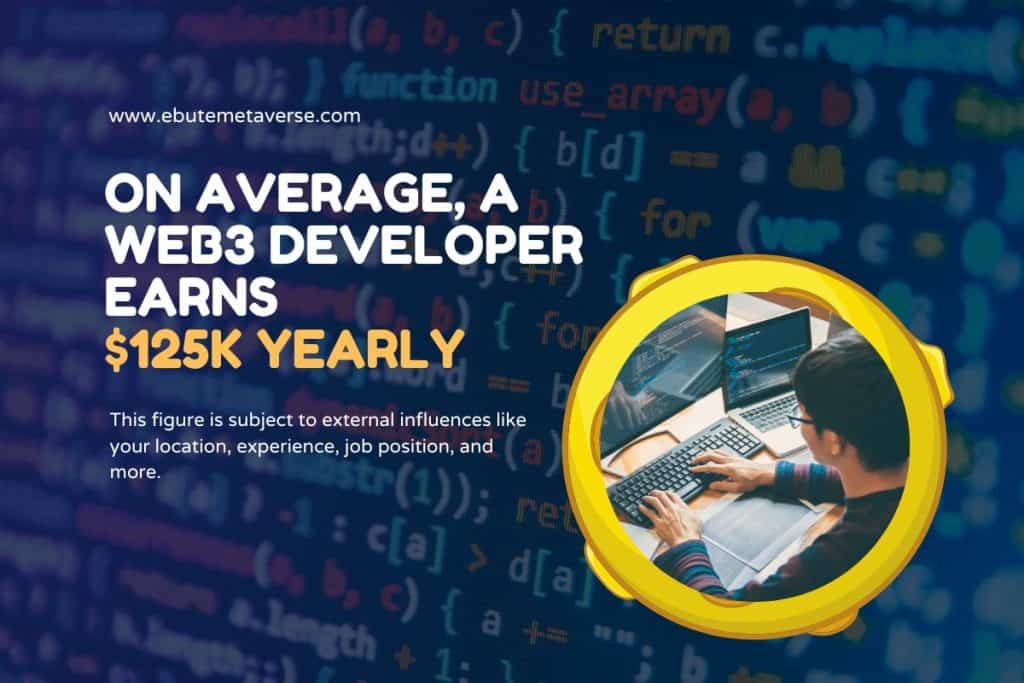 As we've stressed earlier, several factors, including experience level, job position, and location, can affect a web3 developer's salary. However, you can make between $100k and $150k yearly as a web3 engineer or developer with 1-2 years of experience.
According to Web3.Career, the average yearly salary for a blockchain developer is $100k. Highly experienced blockchain developers earn up to $230k yearly. On the other hand, new entry blockchain developers would make at least $40k annually.
The above figures are for blockchain developers; however, there are many more web3 job positions you can explore. We'll talk more about how much you can earn in other areas of the web3 industry later in this article. But before we get into that, let's answer a question that might have been bugging your mind.
Are Web3 Developers in Demand?
Due to the industry's explosive market growth, there's a massive demand for web3 developers and engineers. Many web3 companies are looking for highly-skilled web3 developers or engineers that would help them create dApps and blockchains. While experience is essential, the basic requirement for most companies is a solid theoretical grasp of how web3 technology works.
If you're considering a career as a web3 developer, the best place to start is by learning relevant programming languages. Proficiency in Python, Rust, Solidity (for creating smart contracts), and JavaScript (+ React framework) is crucial to becoming a web3 developer. In addition, knowledge about the zero-knowledge proof theory, metaverse, and blockchain technology would be an advantage.
Top 7 Web3 Developer Job Salaries
Below is a list of the seven most lucrative jobs a career in the web3 space can get you.
Blockchain Infrastructure Engineer
Blockchain infrastructure engineers are responsible for building the blockchain protocol. However, depending on the organization or specific project, the role of a blockchain infrastructure engineer can widen. For example, they might create the chain's consensus mechanism by writing smart contracts.
Required knowledge: Proficiency in multiple programming languages such as C++, Rust, Python, Go, or Solidity would be a huge advantage. It would allow flexibility with the type of blockchain you can work with. For example, if you want to work on the Ethereum blockchain or an L2 like Arbitrum, you'll need to know Solidity.
Additionally, common knowledge of computer science would help you understand the high-level design protocols, security, and architecture involved in creating a blockchain better.
Average Salary: The average salary of a blockchain infrastructure developer is $185,000, with a high of $200,000 and a low of $150,000.
Web3 Developer or Blockchain Software Developer
A web3 developer or blockchain software developer is in charge of creating applications that use the blockchain and its back-end technologies. While there might be some similarities between this position and a Blockchain Infrastructure Engineer, they are different responsibilities.
Required Knowledge: You should learn web development technologies and smart contract languages to work as a Web3 Developer. The language you'll learn will depend on the blockchain you will work with. For example, a web3 developer that wants to work on Stacks would need knowledge of JavaScript and Clarity to create Stacks-based applications.
Average Salary: The salary of web3 developers ranges from $70k to $350k annually, depending on their position, level of experience, location, etc.
Smart Contract Developer
Smart contract developers are tasked with writing immutable, openly accessible, and blockchain-based smart contracts.
Required Knowledge: The programming language a smart contract developer would need to learn would depend on the blockchain ecosystem they choose. Generally, Solidity, Rust, and Clarity are the most popular languages for blockchain development.
Average Salary: An average smart contract developer makes $120,000 per year. But your location and experience level could see this amount going as high as $147k or as low as $112k.
Front-End Developers
Elegance designs and functionality remain significant determinants of a good application in the metaverse. And since it's not going to change anytime soon, there is a constant need for front-end Developers in the web3 world.
Front-end developers are responsible for creating the entire user interface (illustrated parts) of dApps which allows users to communicate with smart contracts or blockchains.
Required Knowledge: You'll need knowledge of HTML, CSS, and JavaScript to get started as a front-end developer. Also, learning about the fundamentals of blockchain technology would be helpful as you'll be interacting with it frequently.
Average Salary: The base yearly salary for front-end developers ranges from $106,922 to $130,083, with an annual average wage of $119,224.
Cybersecurity Specialists
The potential of blockchain technology is ridiculed, with security issues threatening the web3 ecosystem. Web3 companies rely on cybersecurity experts who can recognize and address blockchain security vulnerabilities.
A cybersecurity specialist is responsible for evaluating and revising smart contract code in search of potential security flaws and fixing them. Penetration testers, which imitate real-world attacks, are also used by web3 and blockchain companies to pinpoint an organization's vulnerabilities.
Required Knowledge: Cybersecurity specialists are usually well-versed in smart contracts and blockchain development complexities to identify potential vulnerabilities and build fixes. Most of the time, cybersecurity specialists have intermediate to expert-level experience as smart contract developers.
Average Salary: The average yearly salary of a web3 cybersecurity specialist is $130,700, although the normal range is between $116,200 and $145,300.
VR/AR Game Developer
Web3, metaverse, and blockchain technologies are gaining ground in the gaming industry. This development opens job opportunities for game developers to develop games using VR/AR technologies. A VR/AR game developer would be responsible for building the 3D virtual environments where the games occur.
Required Knowledge: You don't necessarily need to have experience developing smart contracts for blockchains if you're a game developer interested in Web3. Your knowledge of game development would earn you a job in the web3 industry.
Average Salary: On average, VR/AR game developers in the web3 industry earn between $70k – $130k yearly.
Developer Advocate
Aside from the coding and design aspect, there are other web3 job opportunities related to developer relations, outreach, and education. A developer advocate's responsibilities are to watch for developers' happiness and success as they build on Stacks. This can mean holding workshops, creating tutorials, or speaking with developers directly to resolve specific problems.
Required Knowledge: A portfolio of your written tutorials, blogs, or even videos would give you an edge in a web3 developer advocate interview. An easy way to build a strong developer advocate portfolio is to take the initiative to learn new topics about web3 and then produce content based on what you know.
Average Salary: The yearly salary of a web3 developer advocate globally is between $60k – $180k, with an average annual salary of $104,585.
Factors That Affect a Web3 Engineer's Salary
Several factors can influence a web3 developer's salary. These include:
Experience: Similar to other jobs, experience is king in the web3 industry. Your chances of making money are better if you have first-hand expertise using this technology and have previously worked on various projects.
Job Location: Web3 developers' salaries are higher in tech-savvy cities. You will have more opportunities to highlight your credentials if you are adaptable enough to relocate to a new, more technologically advanced job location.
Expertise: Knowing a platform's functions, model, components, and everything related to it inside and out signifies having expertise. If you can prove your professional expertise, Web3 companies will be more inclined to increase your pay.
Certifications and Specialization: Another factor attracting high-package jobs is certifications from reputable web3 or blockchain organizations. These programs enable you to demonstrate your genuine abilities, stand out from the competition, and gain industry recognition.
Web3 Developer Salary in the US
The average yearly salary for blockchain developers in the United States is $137,000.
Web3 Developer Salary UK
The average yearly salary for web3 engineers in the United Kingdom is $155,000.
Web3 Developer Salary in India
In India, the average annual income for a Web3 developer with 0 to 2 years of experience is ₹801,938 ($11,000), and it rises to $40,000 for workers with six or more years of experience.
Web3 Developer Salary in Canada
For developers with 3-5 years of experience, the base salary ranges from $55,000 to $91,000 annually in Canada. The average yearly salary for web3 developers in Canada is $73,300.
Conclusion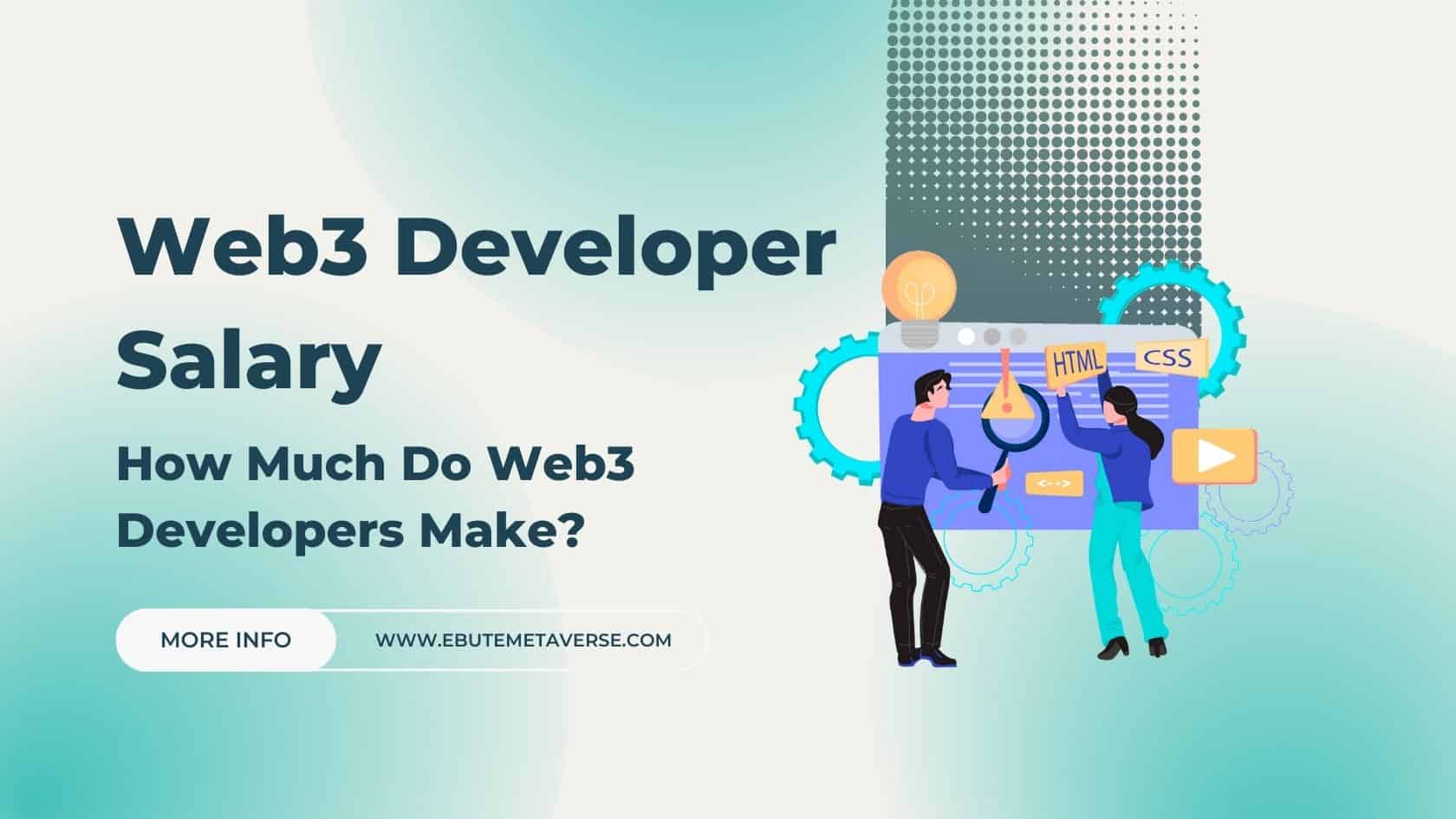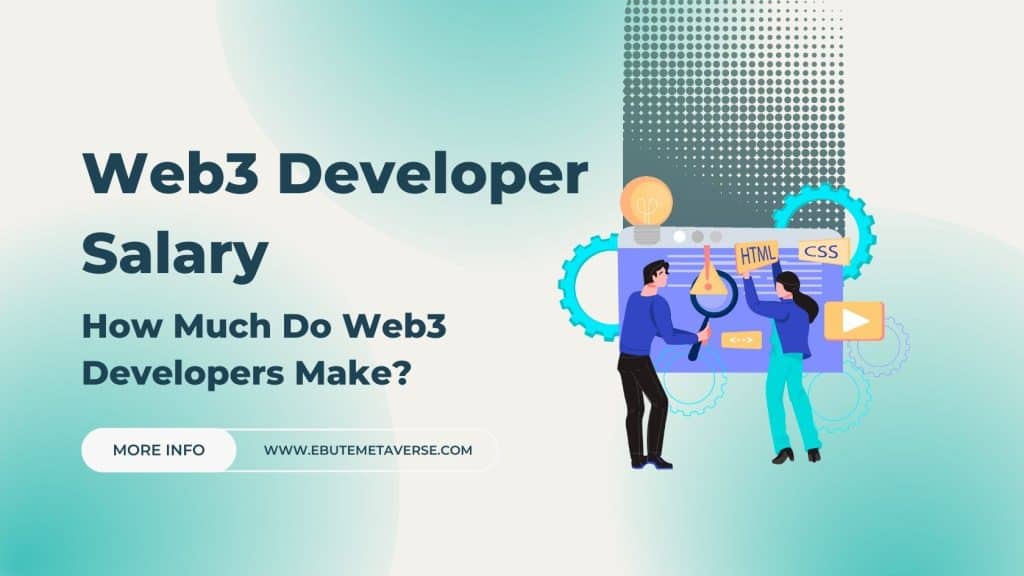 Becoming a web3 developer now is like investing in Bitcoin while it was worth $10. The career prospects for web3 jobs are enormous, and they will be highly lucrative with the increasing adoption of web3 technologies and solutions.
There is always time to get started if you're considering a developer career path in the web3 industry. Learning about web3, blockchain, metaverse, and relevant programming languages would be a great start. You can find some fantastic courses and resources online that would help you become a web3 developer.