Staying up-to-date on the latest advancements, trends, and news in the ever-evolving Web3 industry can be challenging. We've witnessed the release of thousands of decentralized apps and blockchain-based currencies — and many more are to come. One of the best ways to "catch up" is to join a web3 newsletter.
But the main question is, "which web3 newsletter should you join?"
The best web3 newsletter should offer relevant updates and information on web3 topics. The contents should be high quality, well-researched, and well-written — preferably by experts or featuring contributions from reputable sources. Finally, it should be easy to read and understand, visually pleasing, and engaging.
This article will list the 24 best web3 newsletters you should join to stay ahead of the curve. We reviewed 100+ web3 newsletters to select the top options that offer diverse perspectives and insights about web3-related topics. Our list is ideal for developers, investors, and anyone curious about the future of web3.
Let's get started!
The list is long so its best you use the table-of-content to scroll easily.
Best Web3 Newsletter Ranked
Below is a list of some of the best Web3 newsletters worth subscribing to.
Note that we didn't rank these newsletters in any particular order.
1. Rekt Budz by Ebutemetaverse
Rekt Budz by Ebutemetaverse is the perfect way to stay informed and navigate the fast-paced world of NFTs and Web3. Our carefully curated newsletter tells you what's minting, the latest meta in the space, and the latest tools for trading NFTs. We also cover everything from the latest updates to groundbreaking projects and trends – even the memes making waves.
By signing up for our newsletter, you'll access expert insights and in-depth analysis that keeps you updated and avoid getting "rekt." Plus, you'll join a community of like-minded individuals who share your passion for NFTs and Web3.
2. DezentralizedFinance.com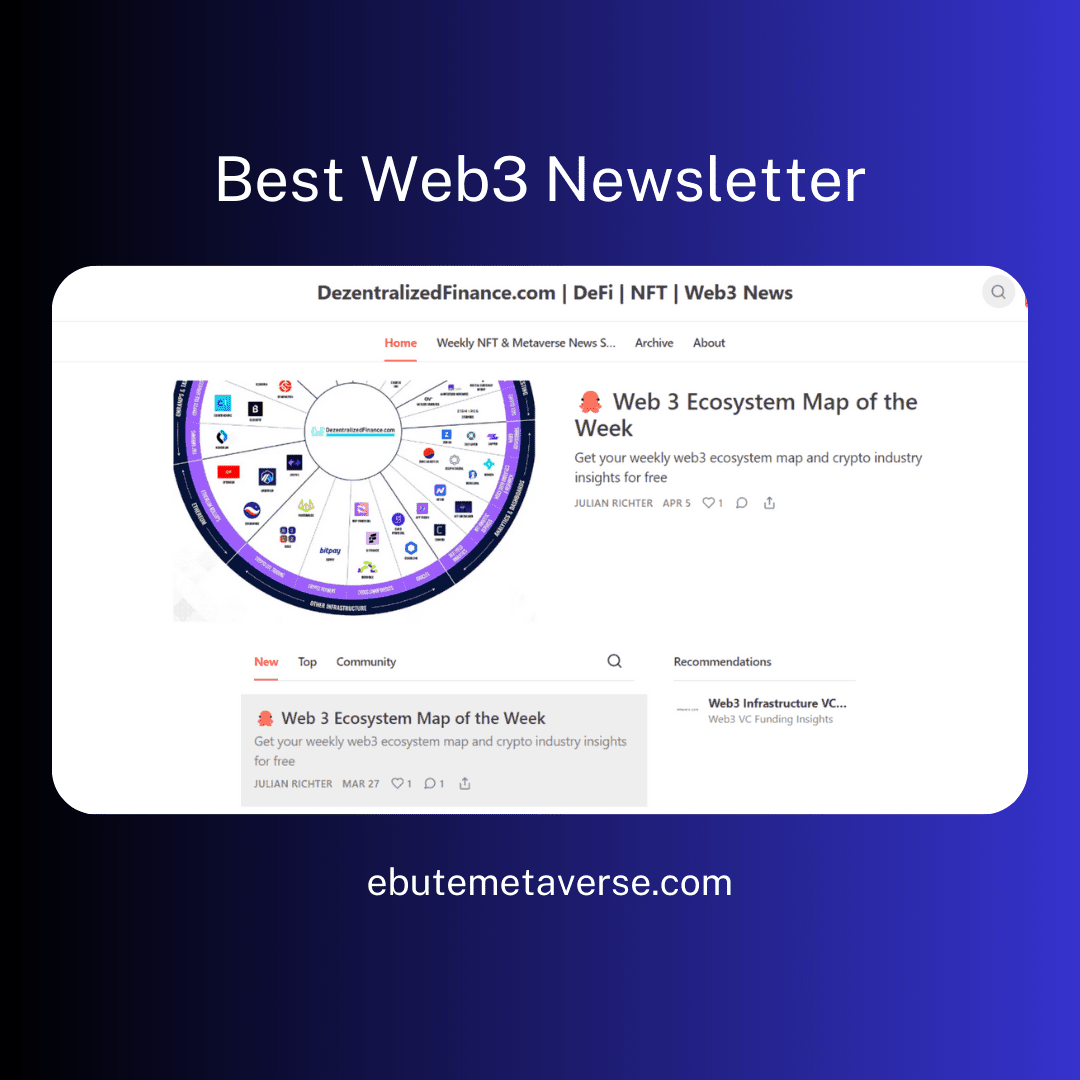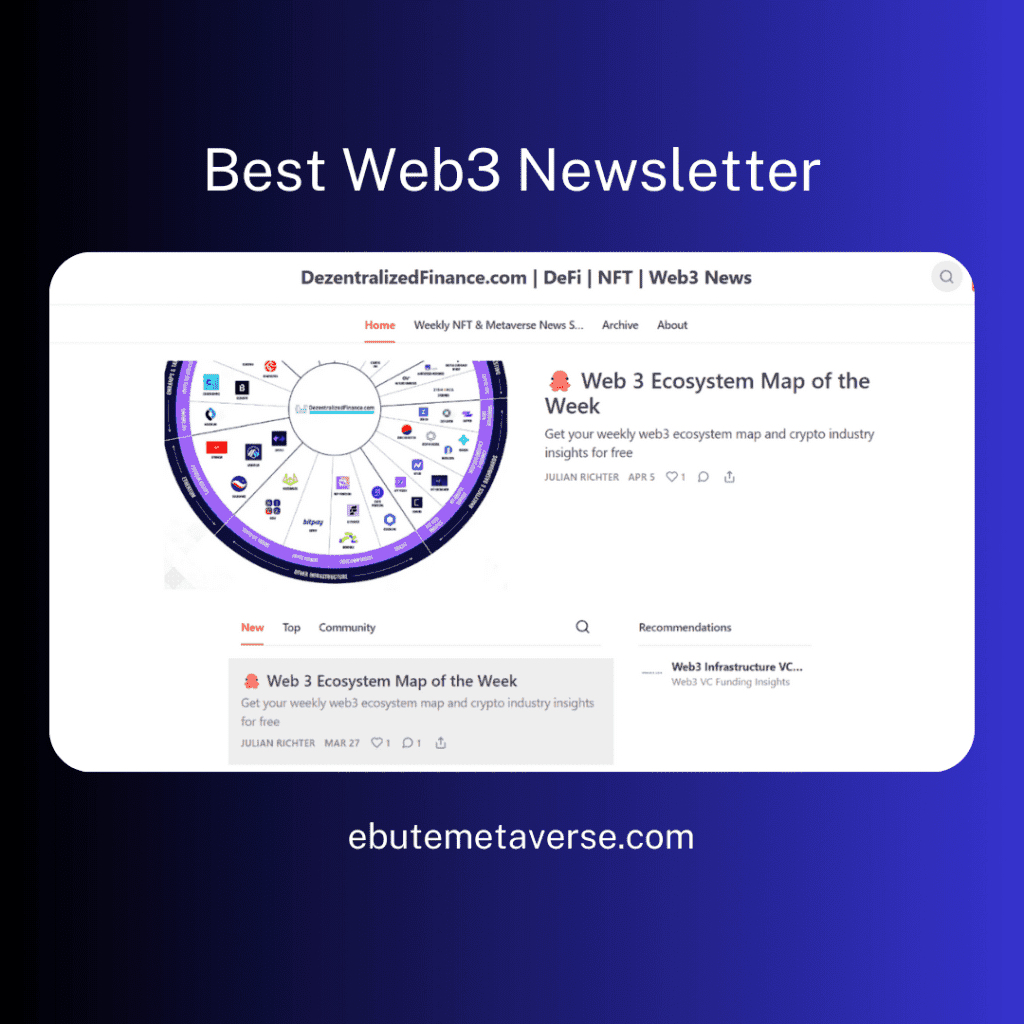 DezentralizedFinance.com's newsletter is a must-join for anyone interested in the Defi space. It provides valuable insights, analysis, and updates on DeFi protocols, projects, trends, and market analysis.
This newsletter releases helpful content weekly, which helps to keep track of the latest developments in the Defi space. It is a must-subscribe for any investor or trader interested in the Defi space.
3. The Defiant Web3
The Defiant's newsletter is an excellent resource for anyone interested in the Web3 space. It offers daily valuable information on web3 technologies, decentralized apps, blockchain protocols and the web3 ecosystem. This newsletter content is beneficial for web3 enthusiasts, developers, and investors.
Subscribing to this newsletter will keep you informed and up-to-date on the latest developments in the Web3 space. You'll will never miss out on important news and insights with their daily updates.
4. A16Z Web3 Newsletter
The A16Z crypto newsletter gives in-depth analysis and insights on the latest trends and developments in cryptocurrency and blockchain. From decentralized finance to the web3 ecosystem, this weekly newsletter is useful for crypto fans, investors, and developers. It gives them the information they can use.
Stay up-to-date on the most important news and trends in the crypto world by subscribing to the A16Z crypto newsletter!
5. Nomad Pirate Web3
The Nomad Pirate newsletter offers a distinct perspective on decentralized finance and Web3 technology. With weekly updates, subscribers stay informed of current trends and advancements in the crypto industry.
6. Web3 Friends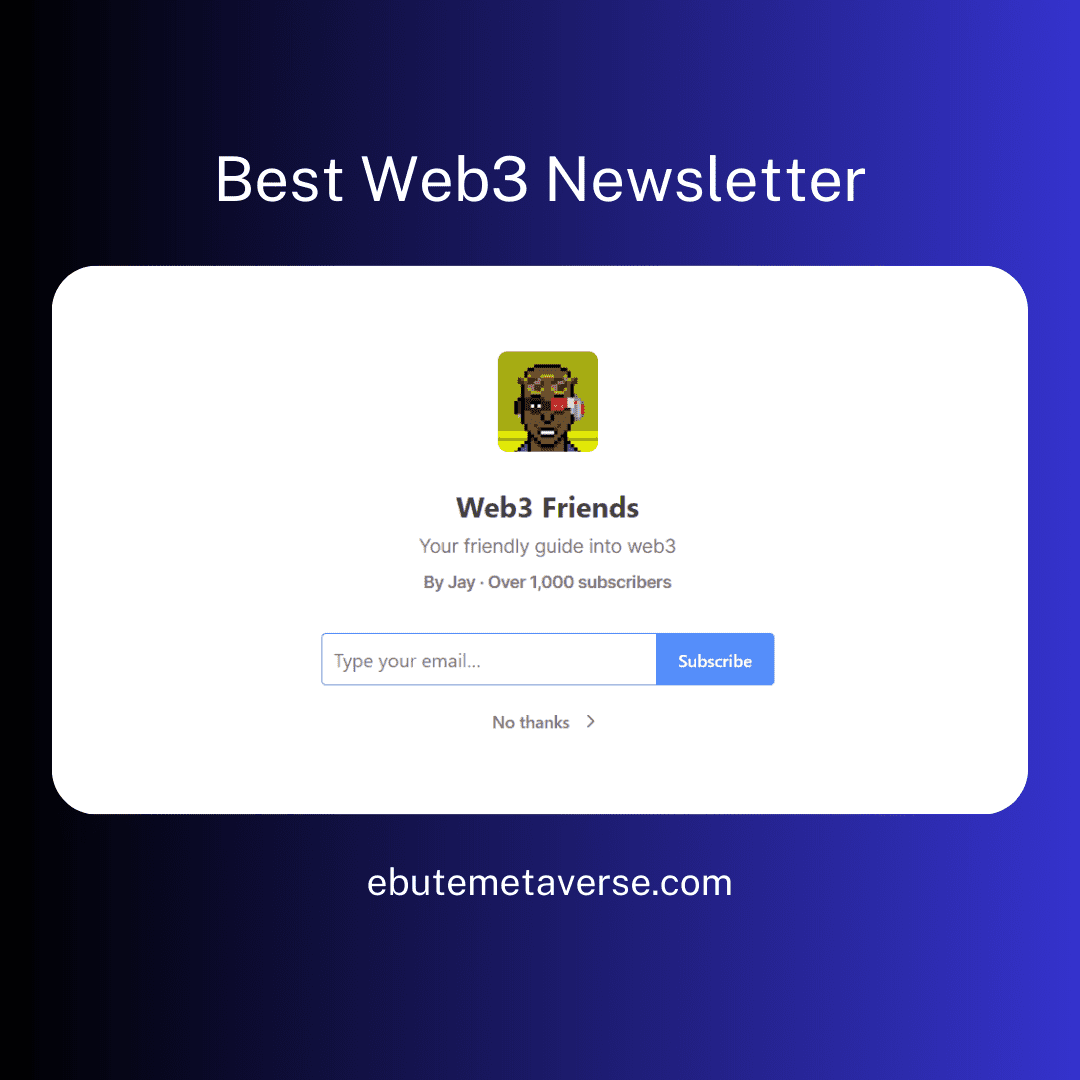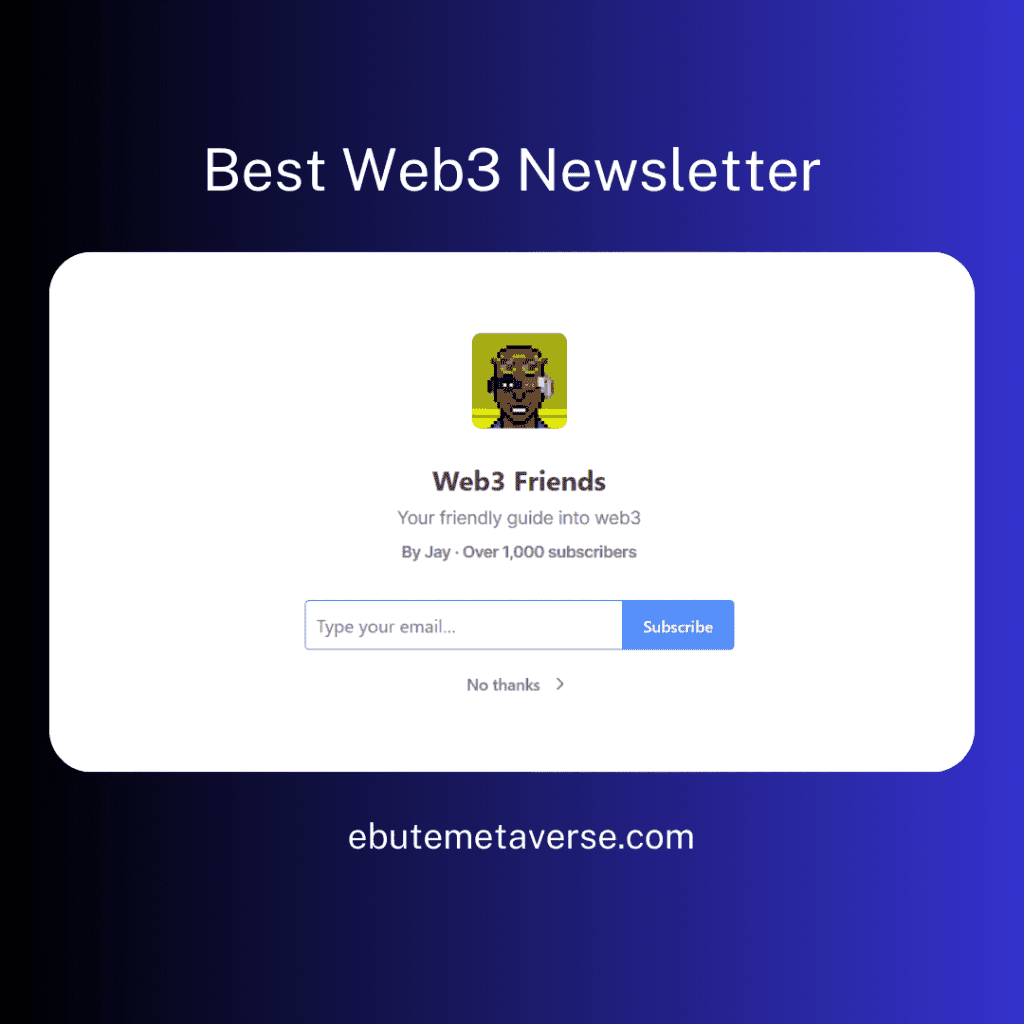 The Web3Friends newsletter thoroughly examines the decentralized technology realm, including blockchain-based currencies, decentralized apps, and the web3 ecosystem. By subscribing, readers can stay updated with the field's latest trends and advancements weekly.
7. Web3 Insider
The Timo Springer newsletter delves into the web3, blockchain, and decentralized finance realm, thoroughly examining the latest trends and advancements. Their weekly content lets readers stay informed of the industry's most critical news and developments.
8. Web3 Roundup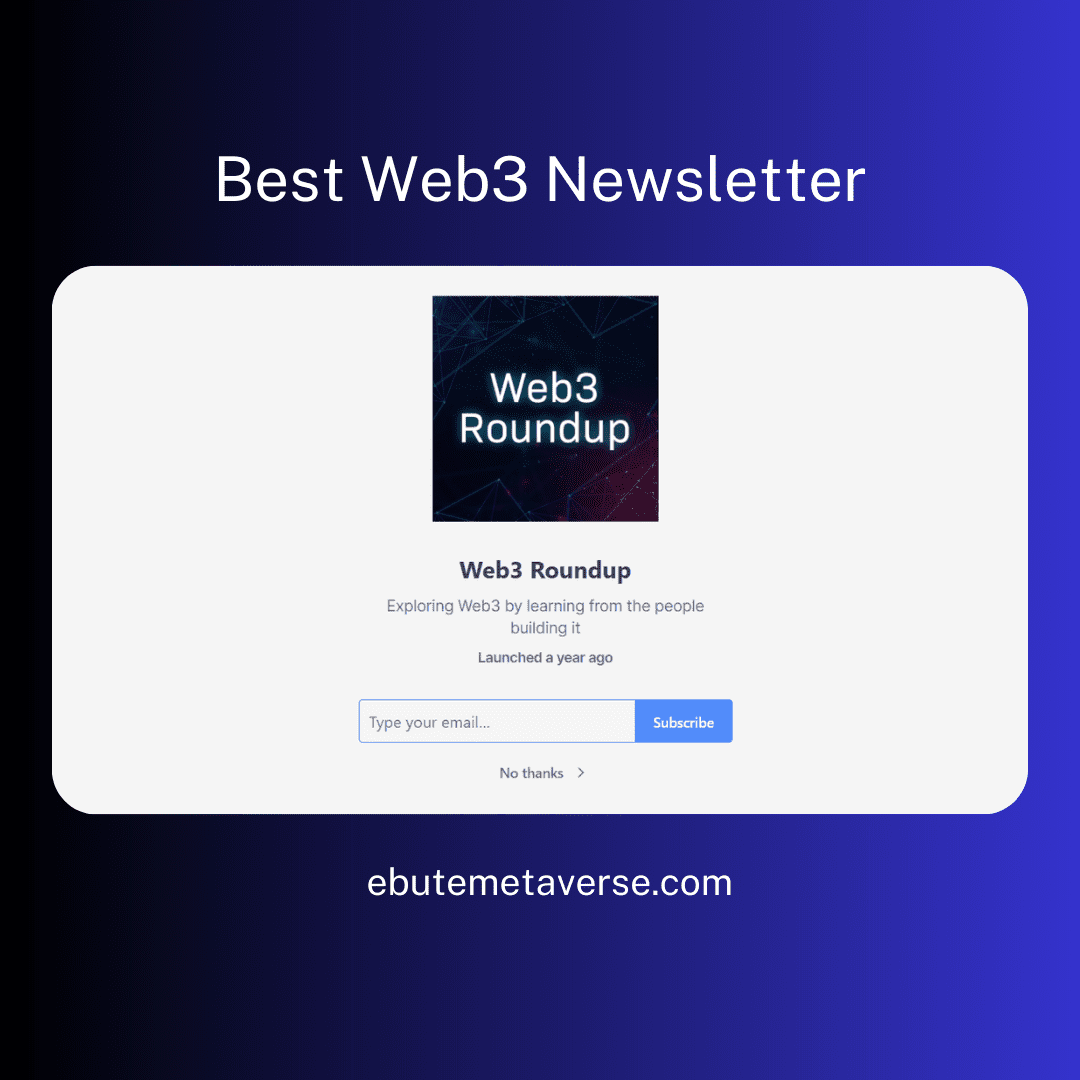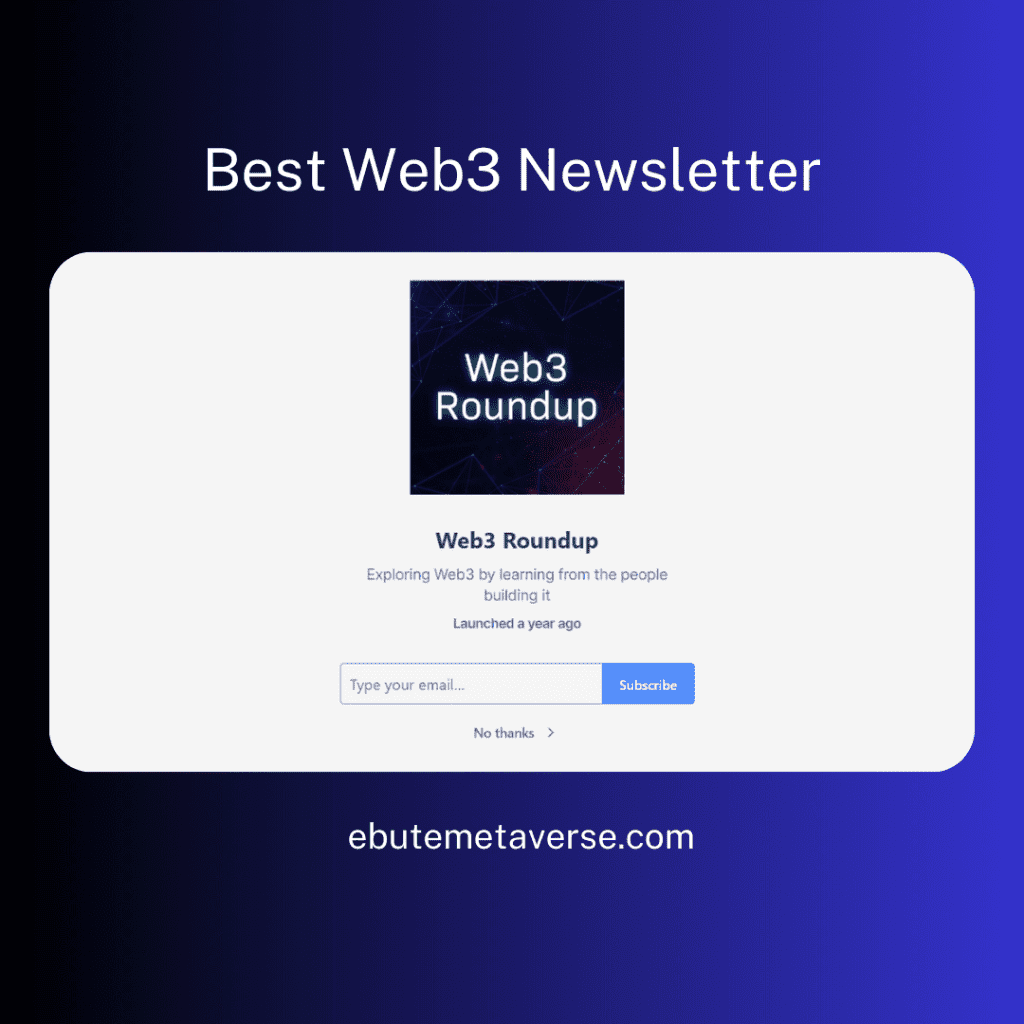 Stay informed and up-to-date on the latest trends and developments in the web3 ecosystem with the Web3 Roundup newsletter. This newsletter offers in-depth analysis and regular updates on the most important news and insights in the decentralized technology field.
9. This Week in Web3
The "This Week in Web3" newsletter provides a weekly overview of the latest news and developments in the web3 world. With its regular updates, subscribers can stay current on essential information in the field.
10. Web3 Tokenomics DAO
The TokenomicsDAO newsletter delves deep into the intricacies of the token economy and DAOs in the web3 ecosystem. This newsletter offers regular updates to keep subscribers abreast of the latest trends and developments in the field.
11. Web3 Lunch
The "Web3 Lunch" newsletter offers daily updates on the latest developments and trends in the web3 and decentralized finance space. It caters to web3 enthusiasts and investors, providing essential information to stay up-to-date with the latest happenings in the ecosystem.
12. Milk Road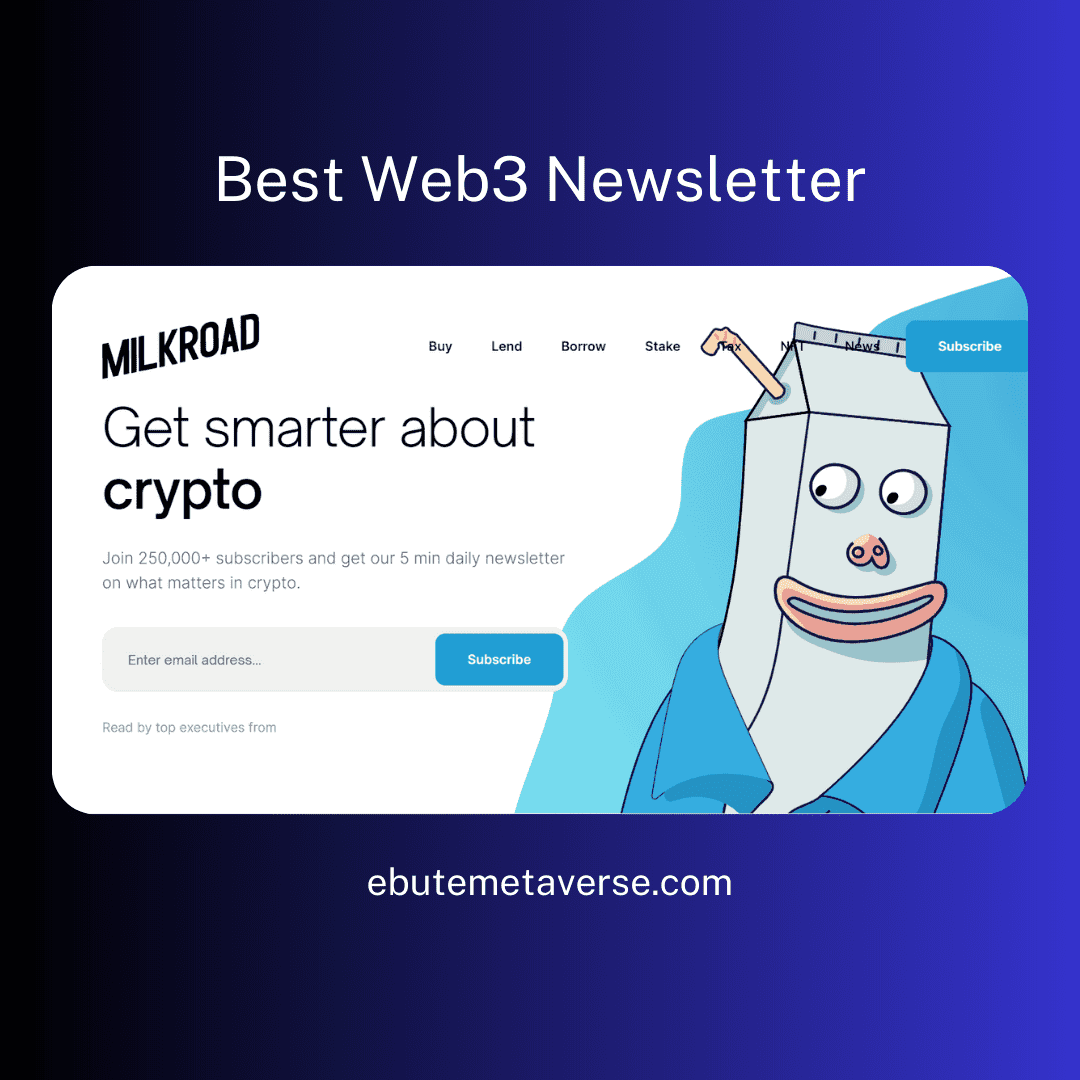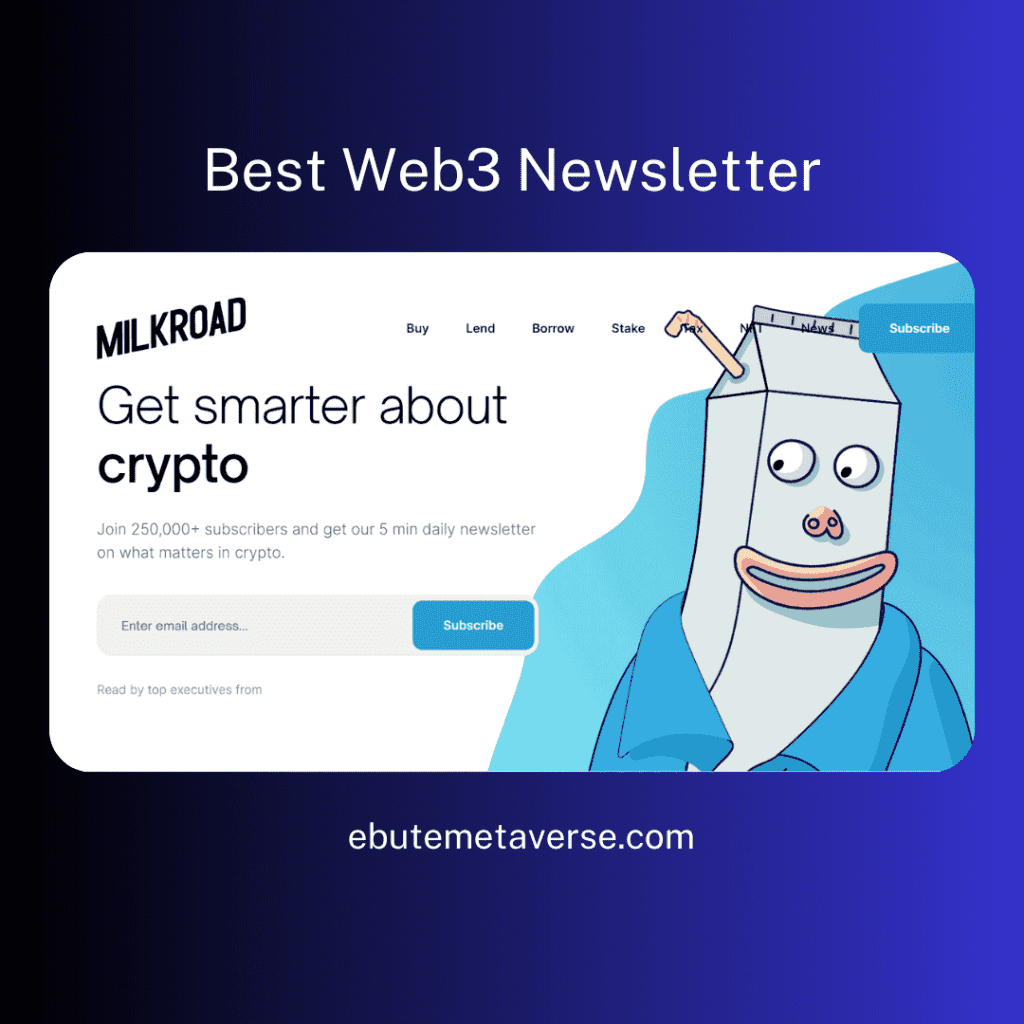 Stay up-to-date with the crypto world through The Milk Road Daily newsletter. Quick and entertaining, it delivers a summarized view of the latest memes and news updates in under five minutes. The newsletter is expertly written, offers a touch of humor, and is available for free.
Get access to critical information all in one place without missing a beat. The newsletter reads more like a chat with a friend than a traditional news update.
13. Tascha Labs
Tascha Labs presents the most daring viewpoints on crypto and Web3. While these challenging insights might not be for everyone, they hold the potential for significant rewards. Signing up for the platform is straightforward and requires nothing more than providing an email address.
Thanks to its extensive subscriber community, the platform exudes a sense of trust and connectedness.
14. The Crypto Grimoire
The Crypto Grimoire offers a well-curated combination of information and commentary on the crypto and blockchain industries. It employs a data-focused strategy, tracking the movement of smart money and summarizing significant weekly events. Written primarily by Theo Delarosa, the newsletter covers many topics within the cryptocurrency field.
The newsletter's shining point is its extensive coverage, a testament to Delarosa's commitment to providing top-notch content.
15. Bankless DAO
The Bankless DAO newsletter is ideal for Web3 professionals. It covers the big new narratives in Web3 and delves into niche areas like DAOs.
Starting as a newsletter, it has grown into a full media company, becoming the go-to guide for everything crypto-related. Its large subscriber base of over 200,000 adds to its credibility. The platform drives the adoption and awareness of bankless financial systems through media and cultural initiatives.
16. Vera Verdict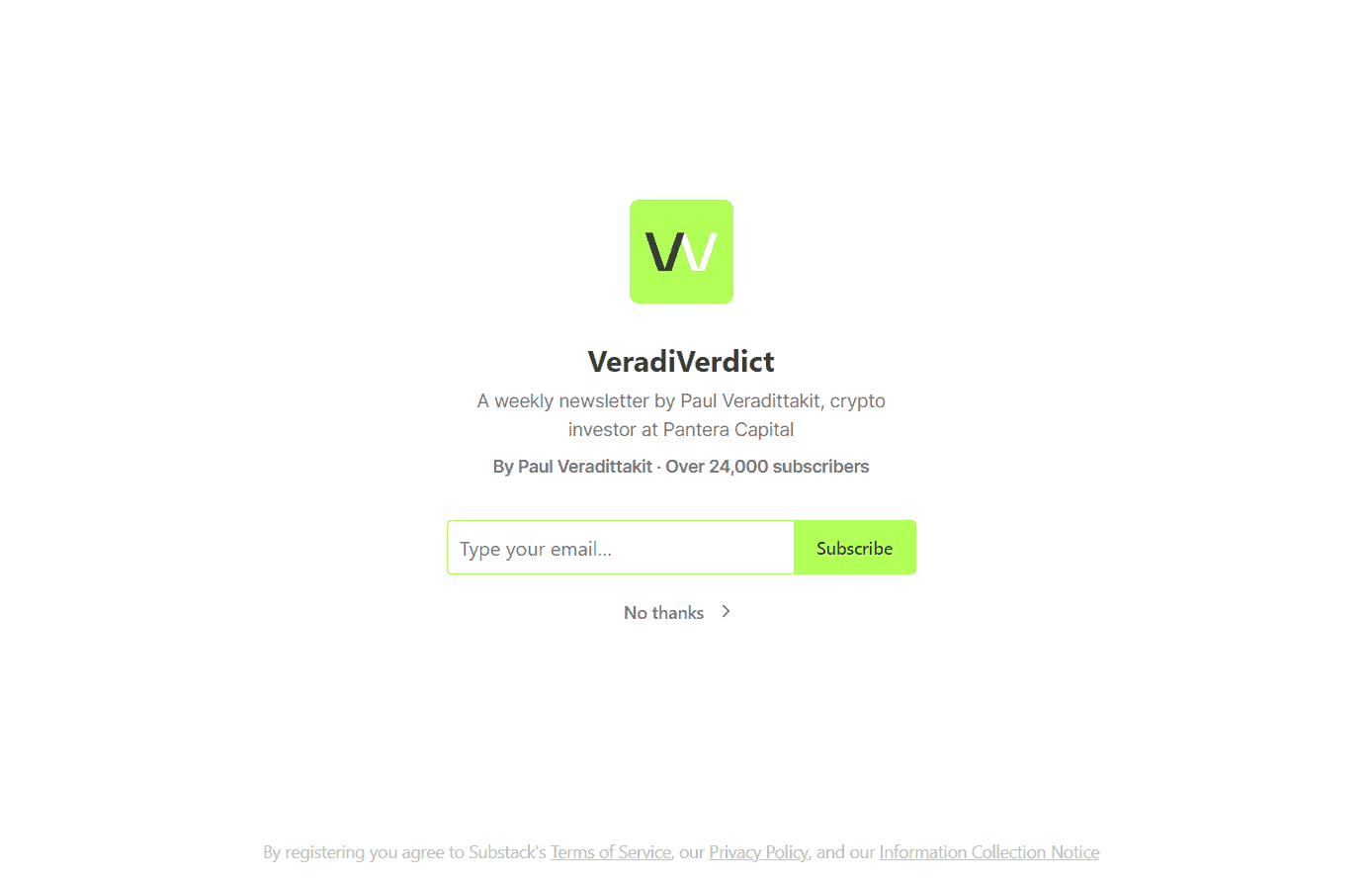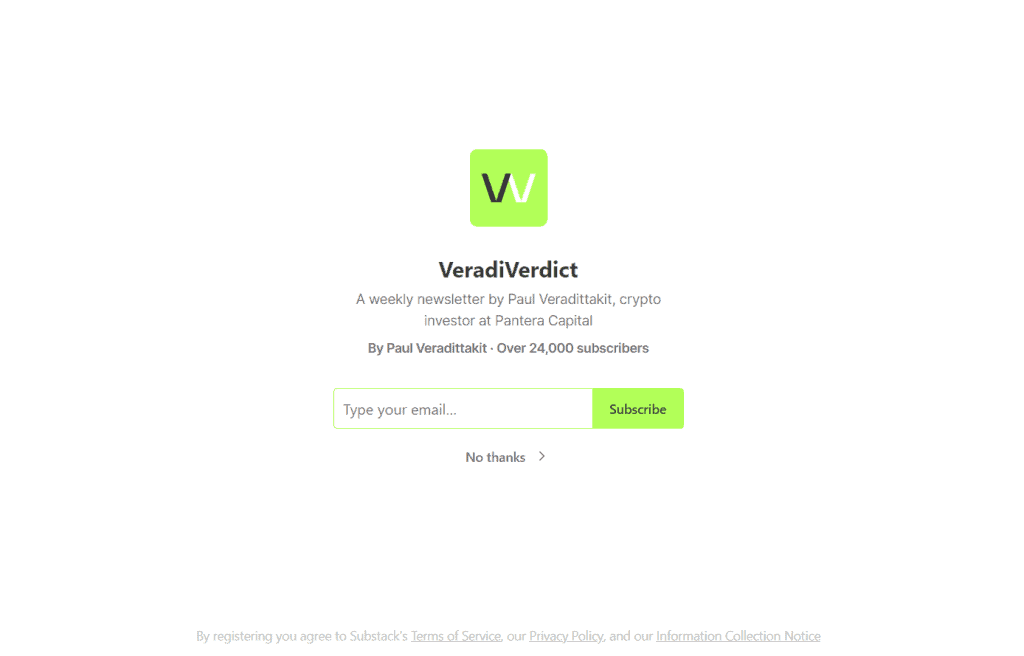 Paul Veradittakit, a Partner at Pantera Capital, is the primary author of the newsletter. He regularly shares his investment thesis in the publication.
This newsletter is essential for anyone interested in becoming a Web3 investor and staying informed about the latest trends. Paul provides weekly perspectives on various developments in the industry. Subscribing is straightforward; enter your email address. The updates are timely and cover the current topics in the Web3 space.
17. Tr3butor
Tr3butor's newsletter is a must-have for those in the web3 development industry, including contributors, DAOs, and organizations.
It offers in-depth insights into the web3 job market, from finding and securing professional opportunities to hiring talent. It also provides a glimpse into Tr3butor's research on web3 job trends and the talent landscape.
Trusted by many customers for its reliability, subscribing is easy with just an email address. The newsletter is updated daily.
18. Our Network
Our Network is managed by Spencer Noon, co-founder of Variant Fund, a seasoned web3 fund manager. It is designed for seasoned crypto and web3 professionals and offers rich data from sources like Dune.
As a Substack publication, it has a substantial subscriber base. The editors keep their subscribers up-to-date on market activity and share regular updates about web3 trends and events.
19. Web3 Weekly
Peter A. McKay expresses his views in his newsletter, focusing on the decentralization movement. Originally a personal project started in 2017, it was later rebranded and launched as a weekly Web3 newsletter in 2019. Peter's content encompasses blockchain, AI, and other cutting-edge technologies in the Web3 landscape.
20. The Forefront Newsletter
Stay informed with The Forefront Newsletter, a valuable source of ideas and current news in the Web3 space. Subscribe and gain access to all their resources and exclusive content by owning a Forefront NFT.
The Forefront team is committed to empowering people to build member-owned, token-powered digital networks and promote exceptional Web3 projects.
21. Coinsnacks
CoinSnacks is a newsletter for investors that provides weekly updates on cryptocurrency, Web3, and NFTs. It appeals to new and experienced investors/traders in the industry by presenting digestible crypto news.
Launched in 2017, CoinSnacks strives to simplify the complex world of Web3. The newsletter provides its subscriber a clear and concise weekly summary to keep up with the pace of the web3 industry.
22. The CRYPTO CLUB Newsletter
The newsletter from Crypto Club provides an accessible guide to the world of cryptocurrency. Subscribers receive regular updates and news stories catering to both early adopters and those new to blockchain decentralization. The content covers a broad range of crypto and blockchain projects and trends.
23. WebThree.FYI
WebThree.FYI is dedicated to profiling startups and cutting-edge crypto projects. Each edition showcases a unique crypto project in DeFi, NFTs, DAOs, cryptocurrencies, and other fields. This newsletter is aimed at crypto investors and anyone looking to stay ahead of the latest advancements in the Web3 world.
24. Cryptechie
Explore unique perspectives and insights on crypto, NFTs, fintech, and blockchain products through Cryptechie by Nakul Gupta. This newsletter offers a balance of in-depth articles and top-notch short-form content.
Nakul covers exciting crypto projects, offers reviews of venture capitalists in the crypto world, and other crypto-related content.
Conclusion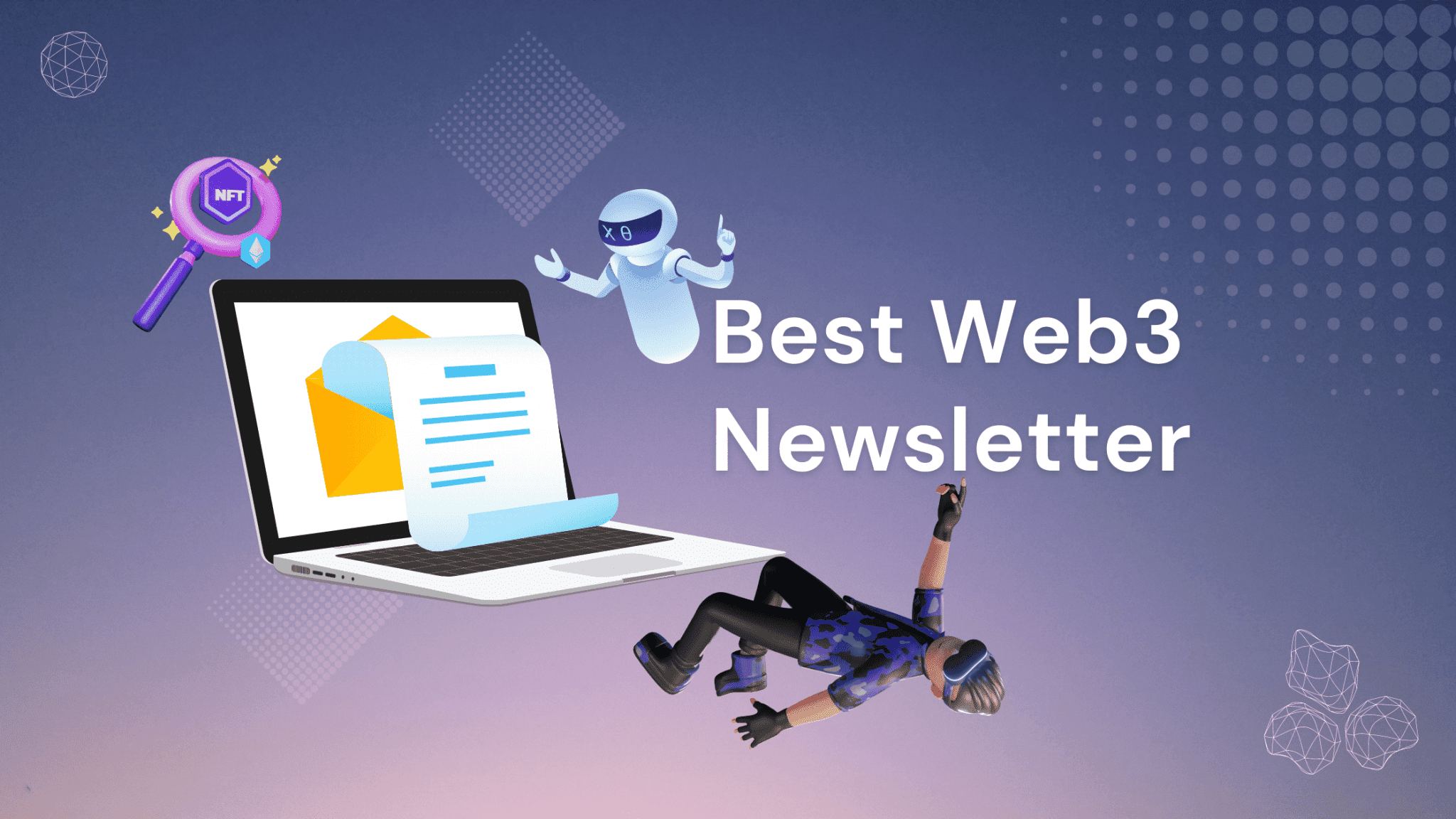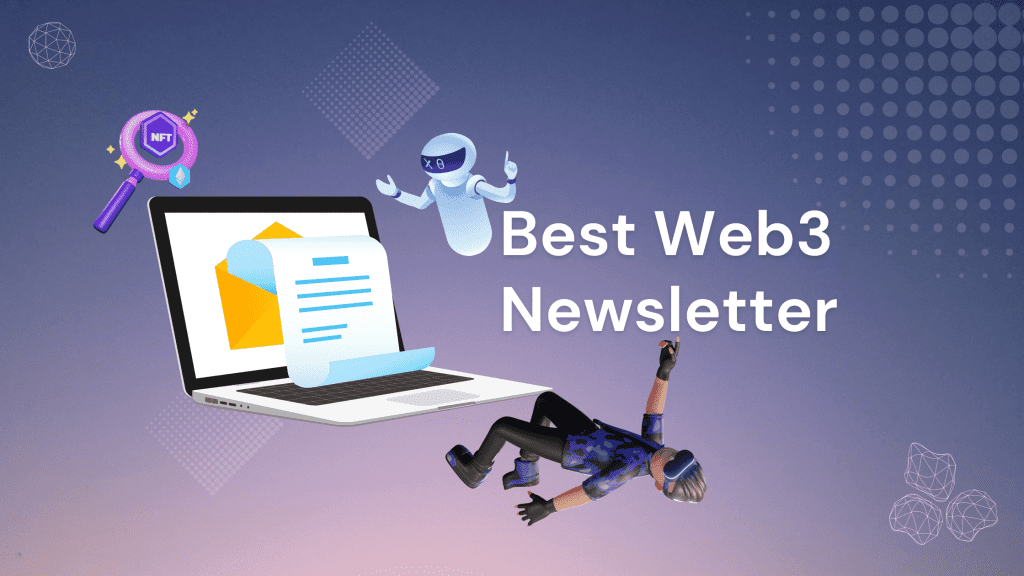 Subscribing to the best web3 newsletter is an excellent way to stay up-to-date on the latest trends and news.
We have compiled a list of the best newsletters worth subscribing to. These Web3 newsletters offer a variety of insights, catering to developers, investors, and anyone curious about the future of the internet. These newsletters provide well-researched, well-written, high-quality articles offering insights and analysis on the latest web3 trends and developments.
Are you interested in learning about the latest news and updates about the Web3, Crypto, and NFT space? Join the waitlist for our exciting new newsletter now!