22 Powerful NFT Rarity Tools to Pull NFT Rarity Score
Rarity is a crucial factor that affects the cost and value of NFTs. However, determining an NFT's rarity can be challenging, especially with the constant influx of new NFTs in the market. Fortunately, NFT rarity tools can help solve this problem.
As the NFT market grows rapidly, these tools are becoming increasingly important. In this roundup, we will explore 22 effective NFT rarity checkers that can help you determine the rarity score of your favorite NFTs.
Let's get started.
What Are Rarity Tools in NFT?
Rarity tools are software programs or websites that help you find valuable NFTs based on their rarity and assign them a corresponding rarity score. Think of them as a database for NFT rarity, allowing you to look up specific NFTs and determine their value compared to other items in the collection. These tools also provide a comprehensive overview of factors contributing to an NFT's rarity.
It's worth noting that various rarity tools are available, each with its unique formula for assigning rarity scores. So, while the actual rarity rankings may be consistent across platforms, the rarity score itself can vary.
Why Use a Rarity Tool?
Determining the value and rarity of NFTs was relatively simple due to the limited number of NFT collections available. However, with the rapid growth of the NFT market and thousands of projects available, it has become increasingly overwhelming.
NFT rarity ranking tools help you estimate the cost of NFTs based on their value, making it easier to make informed buying or selling decisions. These tools streamline the process of determining the worth of NFTs and remove the uncertainty that comes with doing so.
How to Use Rarity Tools for Trait Analysis
Here's how you can use NFT rarity checker for trait analysis:
Step 1: Choose a Rarity Tool
The first step in using rarity tools for trait analysis is to select a rarity tool that meets your needs. Some tools require a subscription, while others can be used without one. Some popular rarity tools include Rarity Sniper, Rarity Guru, Rarity Tools, and Rarity Scanners.
Step 2: Input the NFT Information
After selecting a tool, enter the NFT's details for analysis. These details may include the collection name, token ID, and NFT contract address.
Step 3: Select the Rarity Model
After entering the necessary information, select the rarity model you want to use for the analysis. Most rarity tools work with the several models discussed in the previous section, including the trait rarity model, the average/mean trait rarity model, the statistical rarity model, and the rarity score model.
Step 4: Analyze the Data
Once you have selected the rarity model, run the analysis. The tool will display the NFT's rarity score based on the model you selected. This score will help you understand the NFT's rarity compared to other items in the collection.
Step 5: Examine the Results
Finally, interpret the results of the analysis. The rarity score provided by the tool can be used to determine the market value and rarity of an NFT. The rarer an NFT is, the more valuable it may be in the market.
Note: NFT rarity ranking tools for trait analysis can provide a more accurate evaluation of an NFT's rarity instead of calculating it manually. These tools are useful for traders and collectors looking to make informed decisions about buying and selling NFTs.
We have a complete guide on determining NFT rarity you should read.
What Is the Best Tool to Check the Rarity of NFT?
My personal opinion:
When it comes to determining the rarity of NFTs, Rarity.tools and Moby.gg are valuable tools that stand out among the available options. These platforms provide users different calculation methods, including trait rarity, mean trait rarity, statistical rarity, and rarity score models. You can also view real-time data of a single collection as well as floor prices.
Best NFT Rarity Tools
Here's a list of some of the top nft rarity checkers that are available on the market:
1. Rarity.tools – Best Tool for Rarity Analysis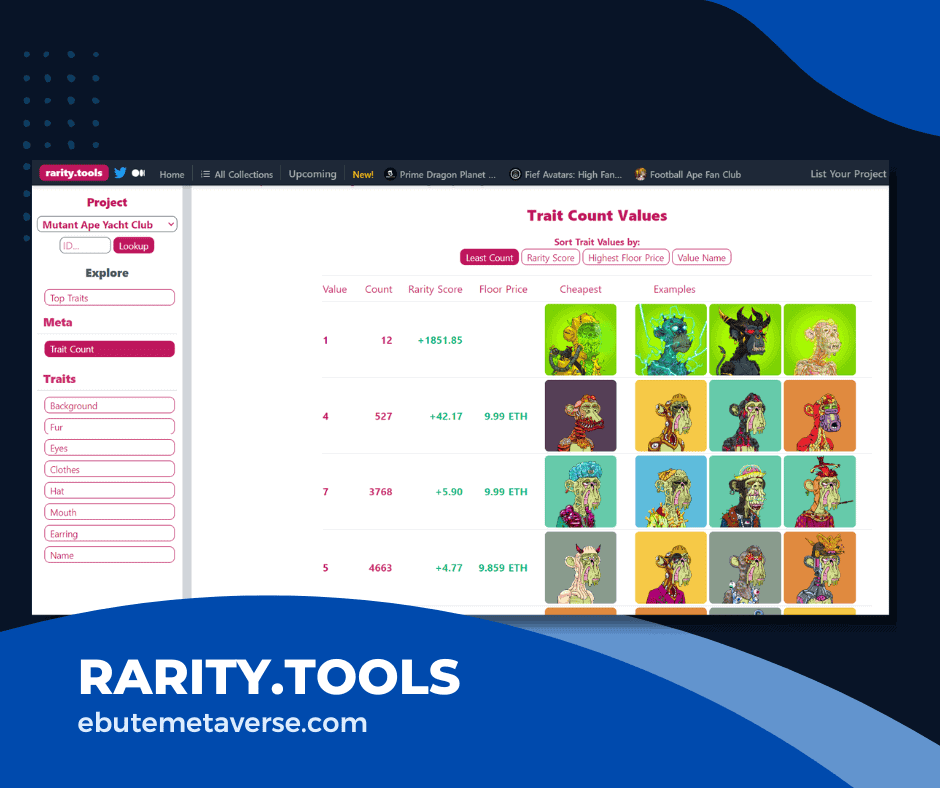 Rarity.tools is a popular NFT scoring platform launched in 2021. With over a thousand collections, it provides unique rarity scores for each NFT's specific features and an overall rarity score.
The user-friendly interface makes finding trait rarities effortless, and you can filter NFTs by rank and cost. You can even search for items using collections, average prices, or ETH volume. It's an excellent resource for anyone who wants to assess the rarity of an NFT before buying or selling it.
2. Rarity Sniper – Check New and Historical Collection Rarity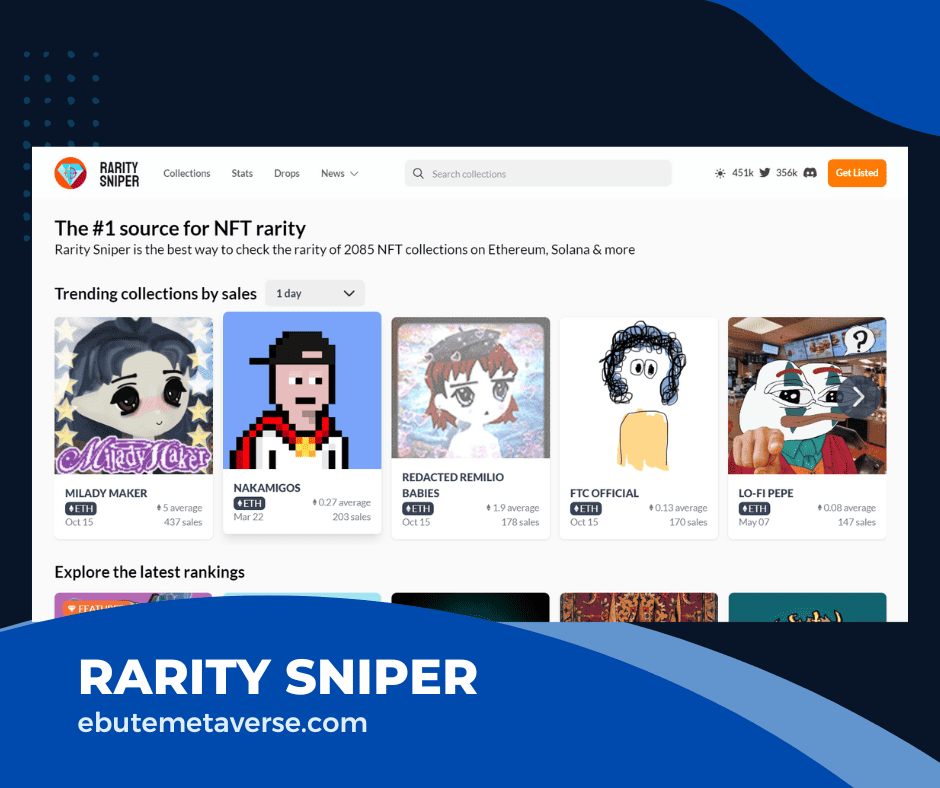 Rarity Sniper is a popular NFT rarity tool that allows users to filter and sort NFTs across 18 blockchains, including Cronos, Polygon, and Ethereum. The platform supports several marketplaces, including OpenSea, Rarible, and Gem.xyz.
Rarity Sniper assigns a rarity value to each NFT based on its unique properties. With a user-friendly interface, the tool is accessible to both novices and specialists. The platform has close to 2,000 collections available. Additionally, collectors can join the Rarity Sniper Discord channel to discuss upcoming projects and share information.
3. Rarity Sniffer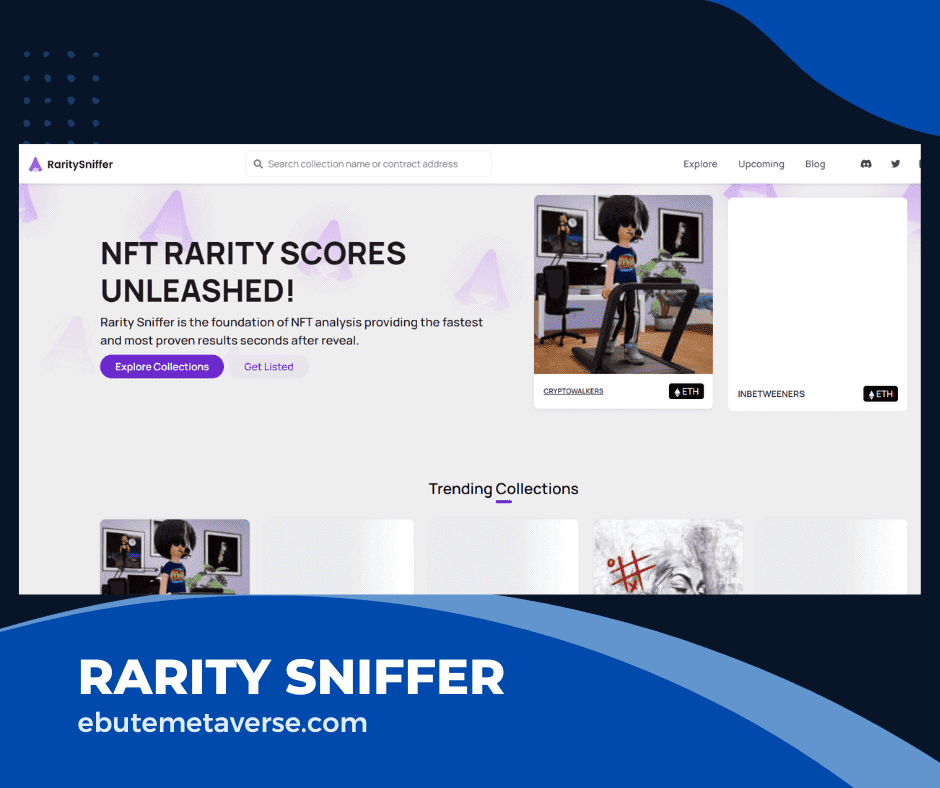 Rarity Sniffer is a popular tool for collectors to determine the rarity of NFT collections. The program provides access to NFT scores as soon as they are available on the blockchain. It currently lists over 10,000 NFT collections, focusing on Ethereum and OpenSea. 
Rarity Sniffer offers the latest NFT rankings for new projects, declines, and potential projects. It also features a Discord channel for further research. This tool can help traders make informed decisions when buying or selling NFTs.
4. MoonRank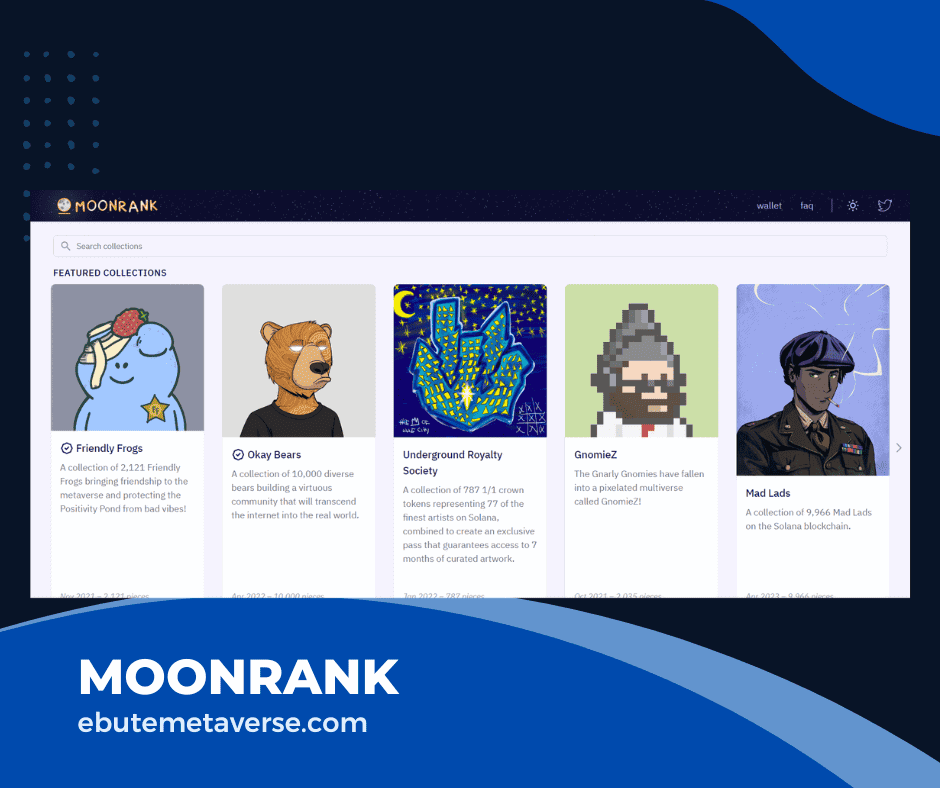 MoonRank is a rarity tool that uses statistical rarity theory to rank Solana-based NFTs. The platform's calculations are transparent and not based on complex or secret formulas. Users can sort NFTs by rarity or date of minting or changes.
Notably, MoonRank doesn't sort by price as it's not linked to any NFT marketplace. It only functions as a rating tool and obtains its NFT data from the Solana blockchain. MoonRank offers an easy-to-use way to determine the rarity of Solana-based NFTs.
5. Icy.tools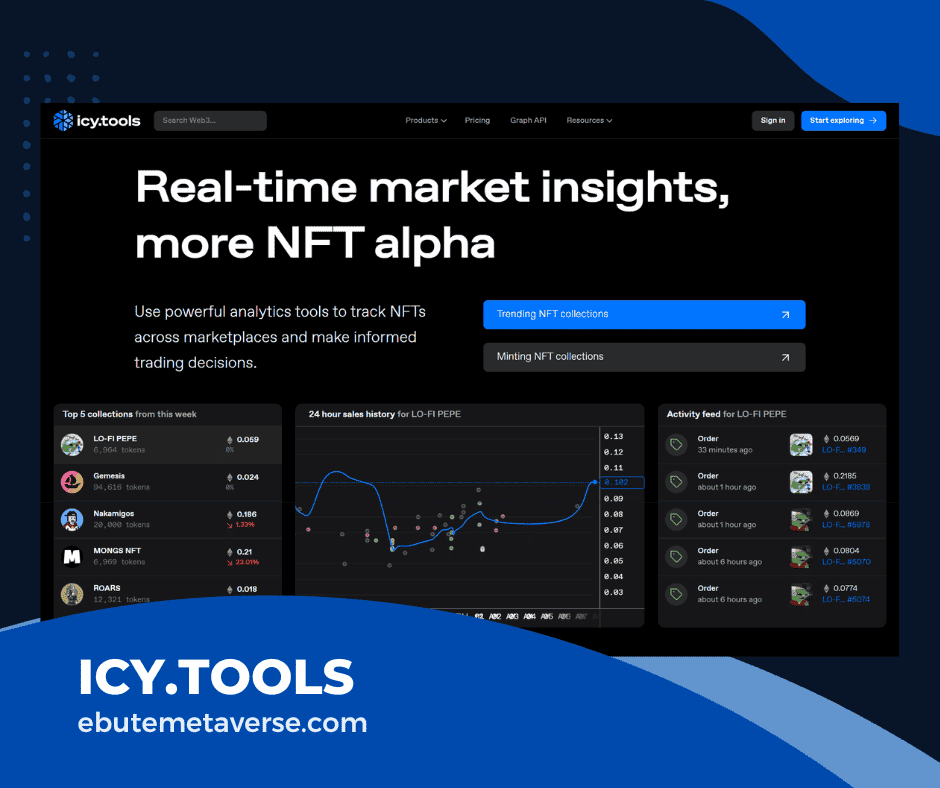 Icy.tools is a popular Ethereum-based NFT rarity score tool that offers a complete NFT analytics environment. It provides detailed information about each listed NFT collection and item, including sales history, volumes, floor prices, market caps, and more.
Although a paid subscription is required to access all services, it's a valuable resource for buyers and collectors looking for comprehensive NFT information and rarity ratings. 
Icy.tools obtains NFT data from the Ethereum blockchain and the OpenSea marketplace, Infinity, LooksRare, Genie, and Gem.xyz.
6. ERC Rarity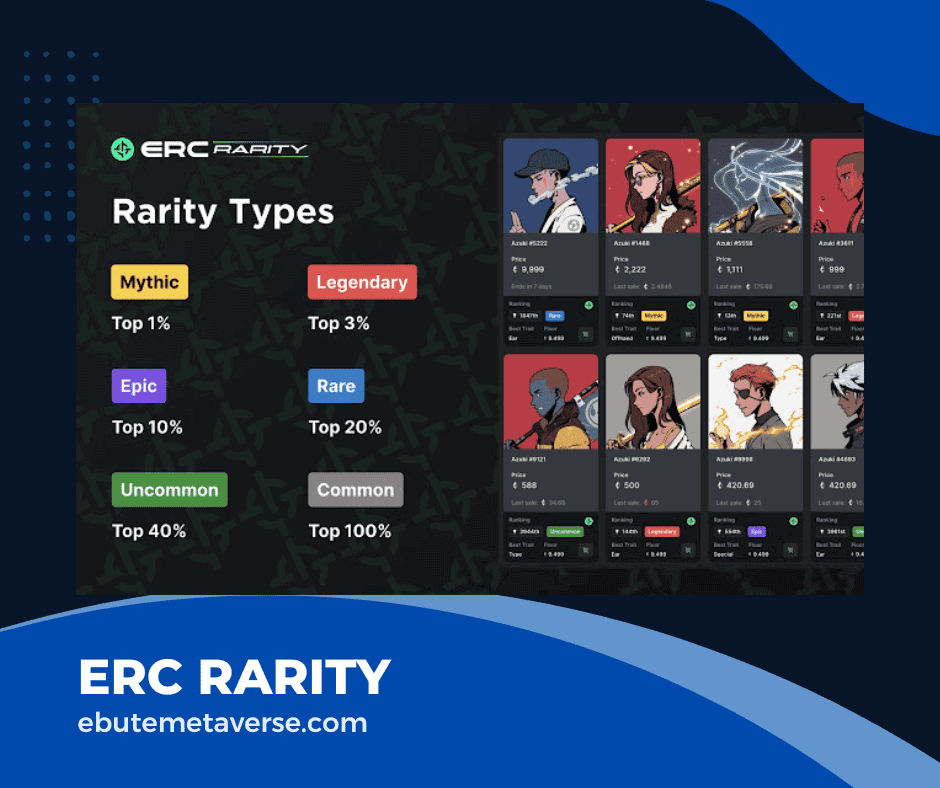 ERC Rarity is an NFT analytics tool that provides a comprehensive framework for tracking and evaluating NFT collections. It offers various criteria to assess the rarity of NFTs and categorizes them into six groups based on their rarity. The tool utilizes information from the OpenSea market to provide its analysis.
The program offers additional features and functions with a paid membership, making it a valuable tool for NFT buyers and collectors.
7. CNFT Tools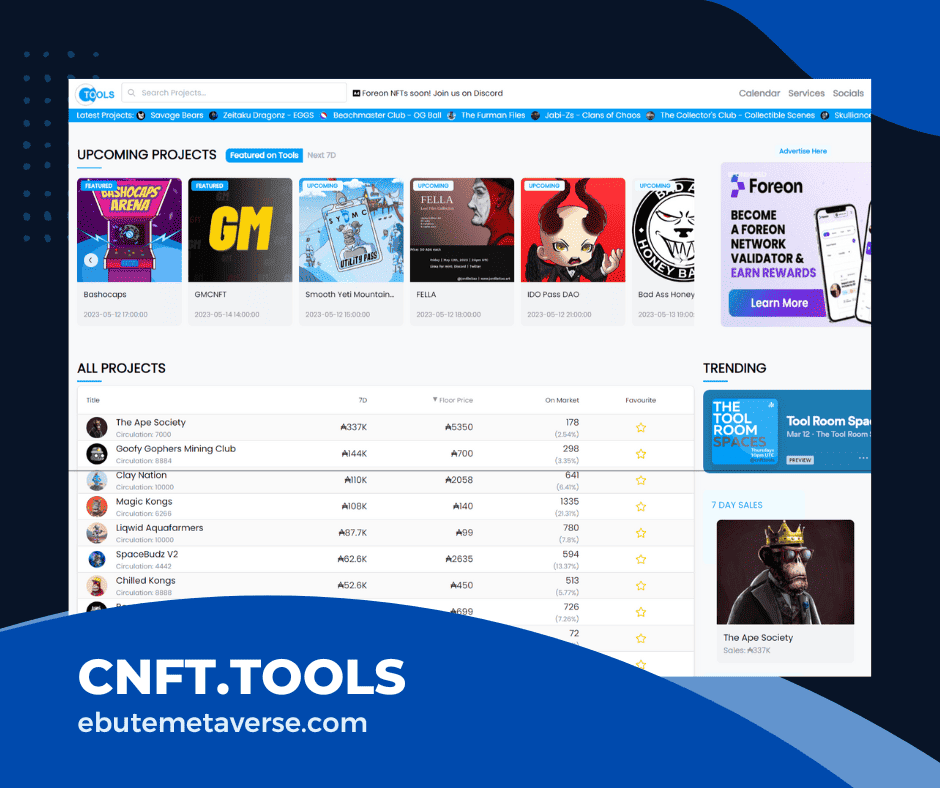 Cardano's CNFT Tools is a unique feature for NFTs on the blockchain. With over 1,000 collections available, the user-friendly tool enables sorting by volume of sales, number of products, and floor price.
The tool also links to various Cardano-based NFT markets for easy purchasing, including JPG Store and NFTJam. It's an excellent resource for collectors and flippers to evaluate the scarcity of their Cardano-based NFT assets. 
Given the platform's young ecosystem, CNFT Tools is an impressive tool that sets it apart from other NFT marketplaces.
8. NFT Sniper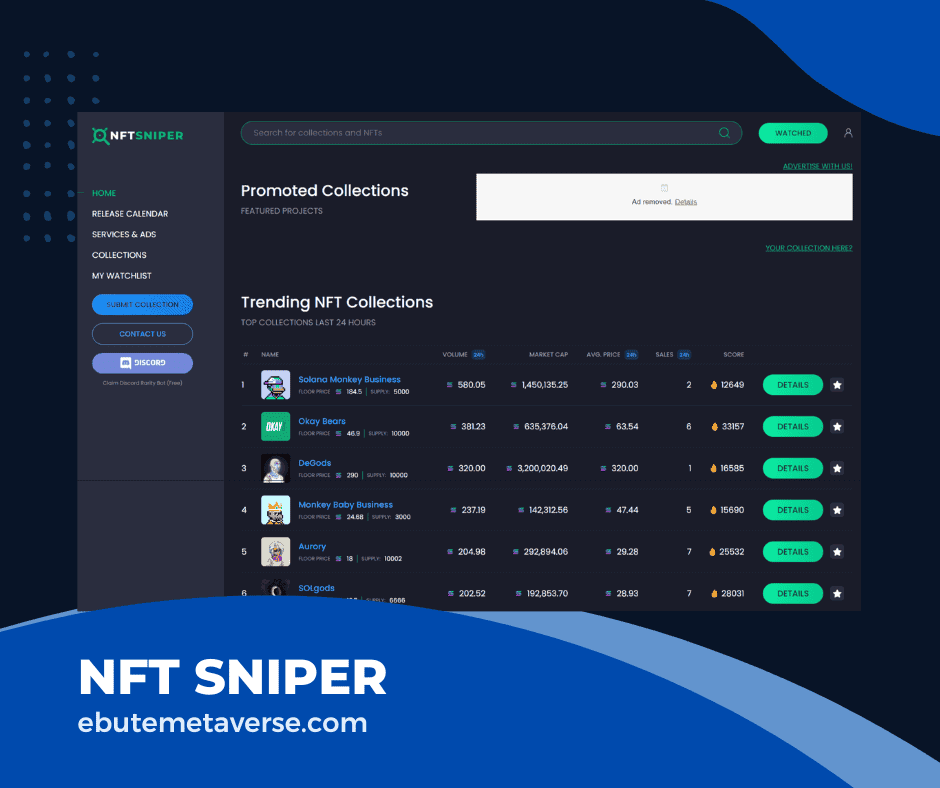 NFT Sniper is an exclusive tool for analyzing Solana blockchain NFTs. With access to over 4,000 collections, it offers one of the most comprehensive selections available. The Rarity Preview Checker and Rarity Checking Bot allow creators to rank items and check NFT rarities with a single command.
The release calendar offered by the platform is also handy for tracking new collections. NFT Sniper is an excellent resource for Solana network designers and collectors seeking to explore and analyze NFTs.
9. DappRadar
DappRadar is a popular cryptocurrency data portal that offers a range of services for NFT buyers and collectors. Its NFT Value Estimator tool allows users to estimate the value of an NFT in a jiffy. Other metrics available on the platform includes ratings based on volume, trader count, and sales. 
DappRadar also has a portfolio tracker to monitor Ethereum-based NFTs in your wallet. Although the NFT Value Estimator currently only supports a few Ethereum-based collections, there're plans to add more chains and marketplaces in the future.
10. RankNFT
RankNFT offers rankings and ratings for NFTs on Ethereum and Polygon networks. This compatibility allows users to easily track the rarity and value of popular collections. It also links to key marketplaces, including OpenSea and LooksRare.
Over 3,000 collections, including renowned ones like BAYC and CryptoPunks, are available on the platform. Thanks to RankNFT's assistance in determining NFT market value and rarity, you can make well-informed purchases.
11. NFTSniff
NFTSniff is a rarity tool that grades and tracks uncommon NFT collections. The portal pulls data from Ethereum and OpenSea, making it a valuable tool for compiling information about new NFTs. The premium version provides advanced features, such as scanning for rarity, receiving reveal notifications, and mint warnings.
NFTSniff's accurate rarity ranking system and real-time data makes it an essential tool for NFT traders or collectors looking to determine the rarity scores of their assets before buying or selling.
12. NFTBank
NFTBank is a useful portfolio management tool for traders and collectors of Ethereum-based NFTs. The platform provides personalized portfolio tracking and ROI analysis, as well as metrics on individual NFTs, including rarity ratings, expected prices, and floor prices. 
With this information, users can make informed buying decisions and manage their NFT portfolio efficiently.
13. HowRare – Provides Near and Aptos NFT Rarity Analysis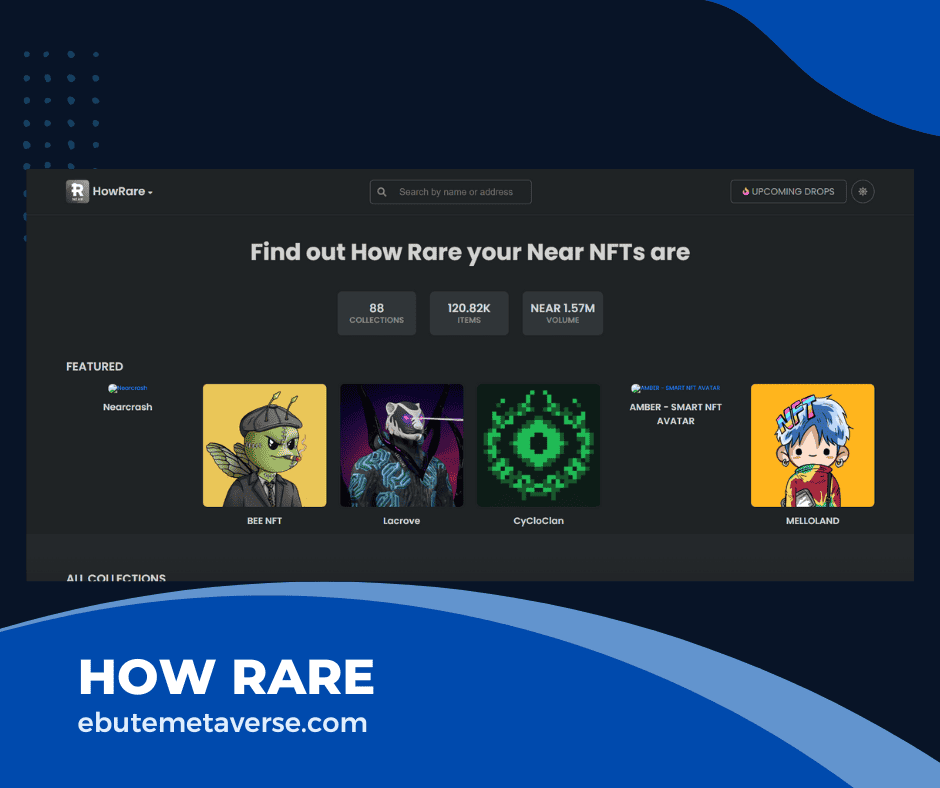 HowRare is a rarity analysis tool for Solana, NEAR Protocol, and Aptos blockchains. HowRare provides three distinct calculation methods to analyze NFT scores: trait normalized, statistical, and a proprietary algorithm.
Overall, HowRare is user-friendly and offers valuable insights into NFT rarity across multiple blockchain networks.
14. CryptoSlam – Best NFT Aggregator to Check Rarity
CryptoSlam is an NFT data aggregator that provides in-depth information on NFT sales and rankings across multiple blockchain platforms. Although it's not a rarity tool, it offers analytics, including collection rankings. It's useful for tracking NFT market trends and conducting market research.
CryptoSlam provides detailed data on NFT sales, transaction volume, floor price, number of owners, and other essential metrics for analyzing NFT collections. Additionally, CryptoSlam has a section for NFT rarity and traits, providing a comprehensive overview of each NFT.
15. Moby – Real-Time NFT Analysis Tracker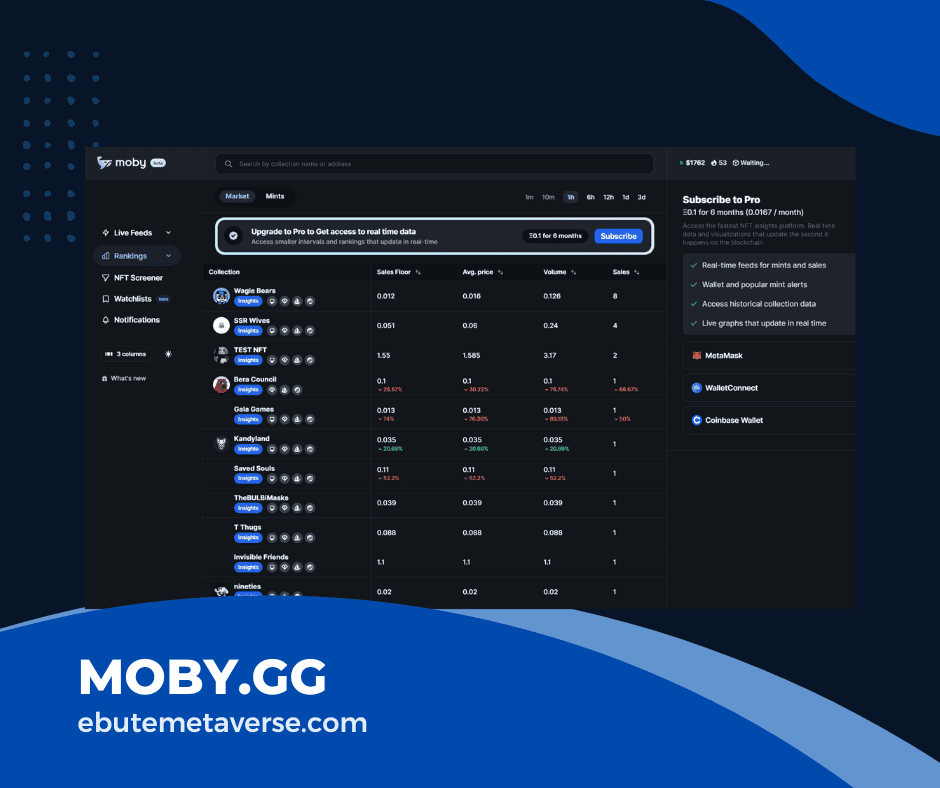 Moby is a comprehensive NFT tracking and analytics application that offers thorough information on Ethereum-based NFTs, including sales volumes, prices, transactions, and whale statistics. The platform collects its data from the Ethereum blockchain and two important markets, OpenSea and LooksRare.
However, this platform requires you to have a premium subscription to access these advanced metrics. Moby Pro subscribers have access to all data charts, NFT analysis tools, real-time feeds, and NFT signals.
Moby is a helpful tool for NFT buyers to monitor assets in real-time and act quickly on opportunities. 
16. RarityMon
RarityMon is a reliable tool for NFT collectors to determine the rarity of their assets. With a website and Discord bot, it ranks NFT attributes in four tiers: common, rare, epic, and legendary. 
RarityMon supports various blockchains, including Cardano, Solana, BNB Chain, Ethereum, and Polygon, allowing users to evaluate their NFT collections across different platforms. Overall, RarityMon assists users in making informed decisions about their NFT assets.
17. Trait Sniffer (Browser Extension)
Trait Sniffer is a rarity tool for Ethereum NFT collections that calculates rarity scores using a single developer's algorithm. The tool provides objective NFT rarity ratings within seconds of metadata upload on the blockchain.
However, a paid subscription is required to view the scores, and there is a cap of 100 subscribers. While Trait Sniffer has a limited range of activities and may not be the best primary NFT rarity tool, it may be a good option for those who prioritize exclusivity.
18. OpenSea
OpenSea.io is a popular NFT marketplace for buying and selling on Ethereum and Polygon. The platform offers real-time ranking based on volume and floor prices, helping users discover trending collections. It also allows users to view NFTs by their traits and rarity, though an overall rarity score isn't available.
Overall, OpenSea.io offers a thorough decision-making process for NFT collectors. It is a reliable platform that provides easy access to the NFT market and simplifies the buying and selling process for users.
19. TraitSniper
TraitSniper.com is a valuable resource for NFT collectors seeking detailed information about ongoing and upcoming NFT activities. The site offers tools to determine the rarity of NFTs and insights into their production. Although the site is less intuitive than some other rarity tools, you can get used to its interface with time. 
With real-time updates on new releases and their subscription ranks, TraitSniper is a useful resource for informed decision-making.
20. HowRare.is
HowRare.is is an NFT rarity tool created specifically for NFTs on the Solana blockchain. It offers filters to reduce over 1335 Solana NFT collections based on floor price, holders, sales status, and the number of pieces.
Similar to Rarity Tools, users can explore NFTs in various collections based on their individual rarities. The platform has a user-friendly design, making it ideal for new users to navigate and assess NFT rarity.
21. NFTinit
NFTinit.com is a comprehensive platform for NFT buyers. It provides an overview of each NFT collection, including its rarity rank and score, analyzed using different metrics. The site has a portfolio feature to track NFT performance and a list of top-ranking collections. 
Additionally, the pricing calculator allows users to input their buy and sell prices and gas fees. These metrics provide you with an estimate of your profit or loss in a trade —a gem in the hand of every NFT flipper.
Overall, NFTinit.com is a helpful tool for anyone looking to analyze and discover various NFT collections in the market.
22. Etherscan Token Tracker
Etherscan.io is a blockchain explorer that allows users to track Ethereum-based tokens, including ERC-721 token contracts used to create NFTs on Ethereum. It provides information on NFT minting, distribution, transfers, and prices, making it useful for tracking NFTs and understanding their value and rarity.
Etherscan APIs are also available for further analysis, providing valuable insights to both developers and non-developers.
What is NFT Rarity?
NFT rarity refers to the uniqueness or scarcity of a particular NFT within a collection. Although each NFT has its own unique identifier, the rarity of tokens within a collection can vary. The rarity of an NFT can significantly affect its value, and prices often rise with rarity.
Several factors influence an NFT's rarity, including the number of tokens in a collection, the assigned attributes, and the artwork or design of the token.
For example, let's consider the popular CryptoPunks collection, which includes 10,000 unique 8-bit pixel art characters, each with its own distinct traits. Some of these traits are rarer than others, and NFTs with a combination of rare features can command a higher price than those with more common traits.
It's important to note that rarity is just one of several factors that can affect an NFT's value. However, it can significantly impact the price that collectors are willing to pay for a particular token. 
Furthermore, NFT creators and collectors can use rarity as a marketing tool to create buzz around a collection and generate interest in specific NFTs.
What is an NFT Rarity Score?
To better understand what an NFT rarity score is, it's important you know how generative art NFTs work. This type of NFT project involves using an algorithm or generator to create an NFT collection. The generator can create multiple NFTs in minutes by randomly assigning traits to each component.
A trait's rarity score is based on its frequency in the collection; the rarer a trait is, the higher its rarity score. However, a specific NFT's rarity score is the sum total of the rarity values of all its unique features.
Rarity scores are crucial metrics that help NFT collectors make informed decisions about which NFT projects to APE in. Collectors also use rarity scores to determine the value of their NFT collections. In both cases, the general rule is that; the rarer a project is, the more valuable it is likely to be. 
Trait Rarity Analysis
Trait rarity analysis is an essential process for collectors to determine the rarity of their NFT holdings. This analysis involves a complex process of property comparisons to determine an NFT's gross rarity score. The score is calculated using the rarest traits or the statistically determined rarity of each trait.
Types of Trait Rarity Analysis
There are several models used in trait rarity analysis, including:
1. Trait Rarity Model
The trait rarity model is one of the simplest ways to determine an NFT's rarity score. It awards the highest scores to the NFTs with the rarest traits. For instance, if only one of 1,000 NFTs with dogs had a purple collar, the collection would have the highest trait rarity score.
The drawback of the trait rarity model is its simplicity. While it is a straightforward approach to determining an NFT's rarity score, it does not consider all of the NFT's features. Instead, it only takes into account the rarest attribute of the NFT and fails to capture the full complexity of an NFT's rarity.
2. Average/Mean Trait Rarity Model
The average trait rarity approach takes a group-based approach to assess an NFT's rarity. This method uses rarity tools that calculate the average rarity score of all the NFT characteristics.
For example, if an NFT has two traits with 20% and 40% rarity scores, the average rarity score would be 30%, which is the total rarity score divided by two.
Despite its flexibility, the typical trait rarity approach has some significant drawbacks. Because this method considers the rarity of all the NFT's traits rather than just one specific attribute, it may overlook the rarest NFT in a collection.
3. Statistical Rarity Model
The statistical rarity model is gaining popularity among various NFT rarity models. This model involves multiplying the values of each unique feature to calculate the rarity score, which can be a bit complex.
For instance, if an NFT has two qualities, each with a rarity score of 20% and 10%, the overall rarity score will be 2% [20% x 10%]. This approach emphasizes the rarity of all qualities together, similar to the average traits model.
4. Rarity Score Model
The rarity score model, developed by Rarity.tools' creator, is the most commonly used methodology. It is claimed to be the most precise of all the procedures.
The rarity score for an NFT is obtained by dividing the trait rarity by the rarity score for each attribute. The scores for each attribute of the NFT are then added to determine the total rarity score.
In this model, the rarity score is calculated using the formula:
1 / ((number of items with that trait value) / (total number of items in the collection)).
Note: These rarity models for carrying out trait analysis are not perfect and have their flaws. Therefore, it is important to use different models and approaches to accurately determine an NFT's rarity.
How to Check an NFT's Rarity?
To check the rarity of an NFT, start by evaluating its scarcity and accessibility within the collection. Additionally, examine the artwork, color, and background of the NFT, as any of these elements could affect its rarity.
Checking the NFT's current price and sales history can also give you an idea of its rarity and worth. Finally, it's helpful to seek advice from experts and community organizations to gain a better understanding of the NFT's rarity.
If you want a full breakdown of how you can check the rarity of your NFT, read our article on the topic.
How Does Rarity Affect NFT Prices?
One of the major drivers of the NFT market is uniqueness. This leads to a high demand for rare NFTs. The high valuations from collectors for rare NFTs can lead to significant price increases. Factors contributing to an NFT's rarity include unique traits, historical relevance, and scarcity. 
Conclusion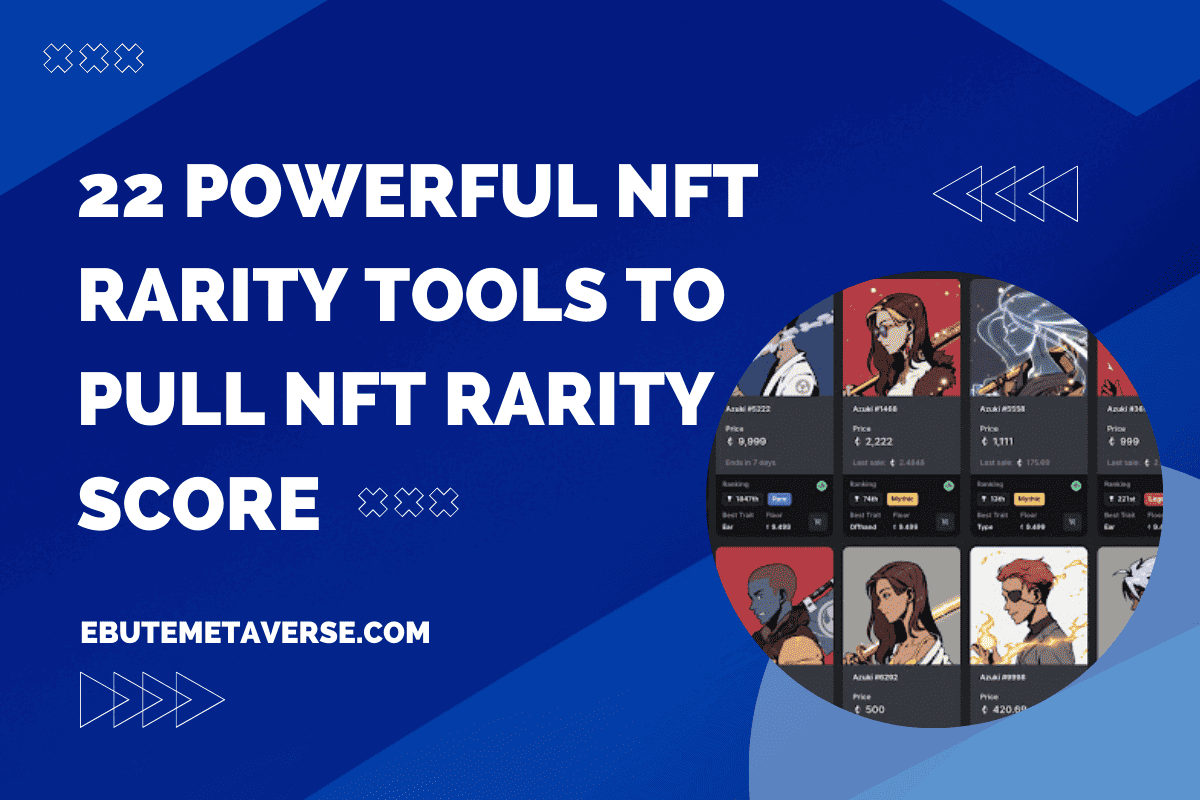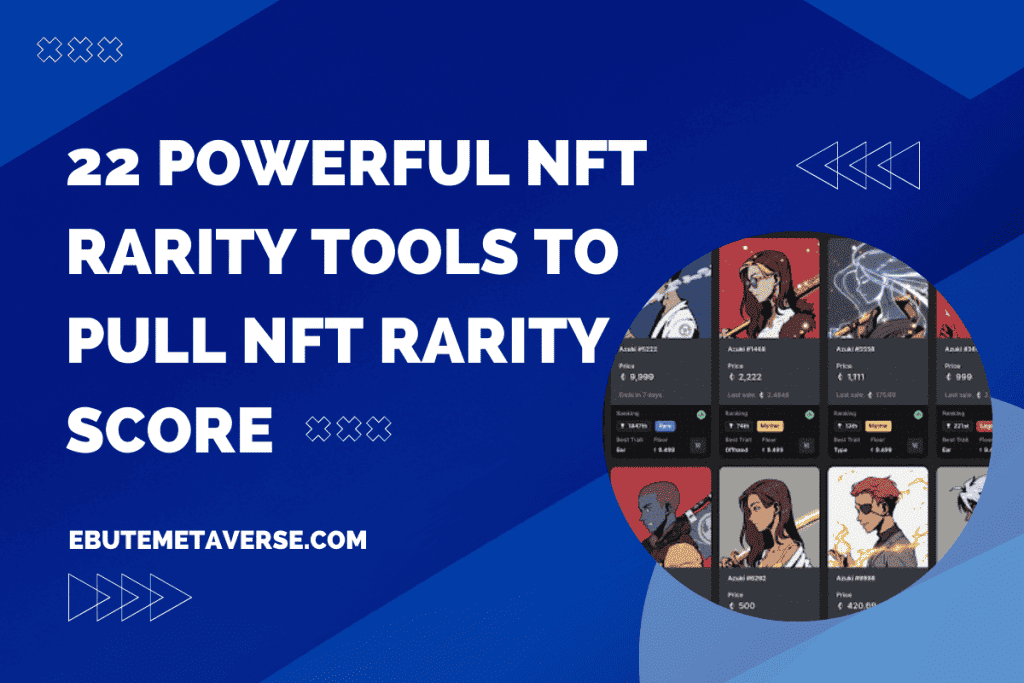 Determining the rarity of an NFT is crucial in evaluating its value. However, with the exponential growth of the NFT industry, manually calculating an NFT's rarity can be a daunting task. This is where NFT rarity tools come in handy.
In this post, we've discussed 22 powerful NFT rarity tools that can assist traders, collectors, and enthusiasts in determining the rarity score of their favorite NFTs. Among these tools, rarity.tools stands out as a reliable and recommended resource to evaluate an NFT's rarity.