NFTs are here to stay and could change our future interactions with technology. And as there's an increasing demand for these assets, more people want to become digital creators. However, there's a popular misconception that creating NFT is for the tech-savvy.
You can create NFT without coding by using certain NFT software or platforms. These platforms make the NFT creation process easy for the non-tech savvy.
This article will guide you step-by-step on how to create NFT art without coding. But before we show you how to make NFT art without prior coding knowledge, let's start with the basics.
Suppose you're just starting with NFTs; this information is most useful. So, what does it mean to code an NFT?
What Does Coding an NFT Mean?
You can create your NFT manually, including the smart contract and metadata, without using an NFT platform. This minting process is done by coding. Each token has a unique uniform resource identifier (URI) that contains all of the art's details, including its name, description, and other crucial characteristics. All this information put together is known as the metadata.
Creators can program the NFT's smart contract to do whatever they want while maintaining cryptographic accuracy. So if you are a developer and have a fundamental understanding, coding an NFT is not tricky.
There's also the option where you hire the service of a programmer to help you develop your NFT decentralized application (dApp).
Before choosing whether to mint using your dApp or whether it is simply preferable to use an NFT marketplace, you should consider the qualities you want your token to have.
Now that you know what coding an NFT means, let's answer a critical question most new digital creators ask, "do you need to code to make an nft?"
Do You Need to Code to Make An NFT?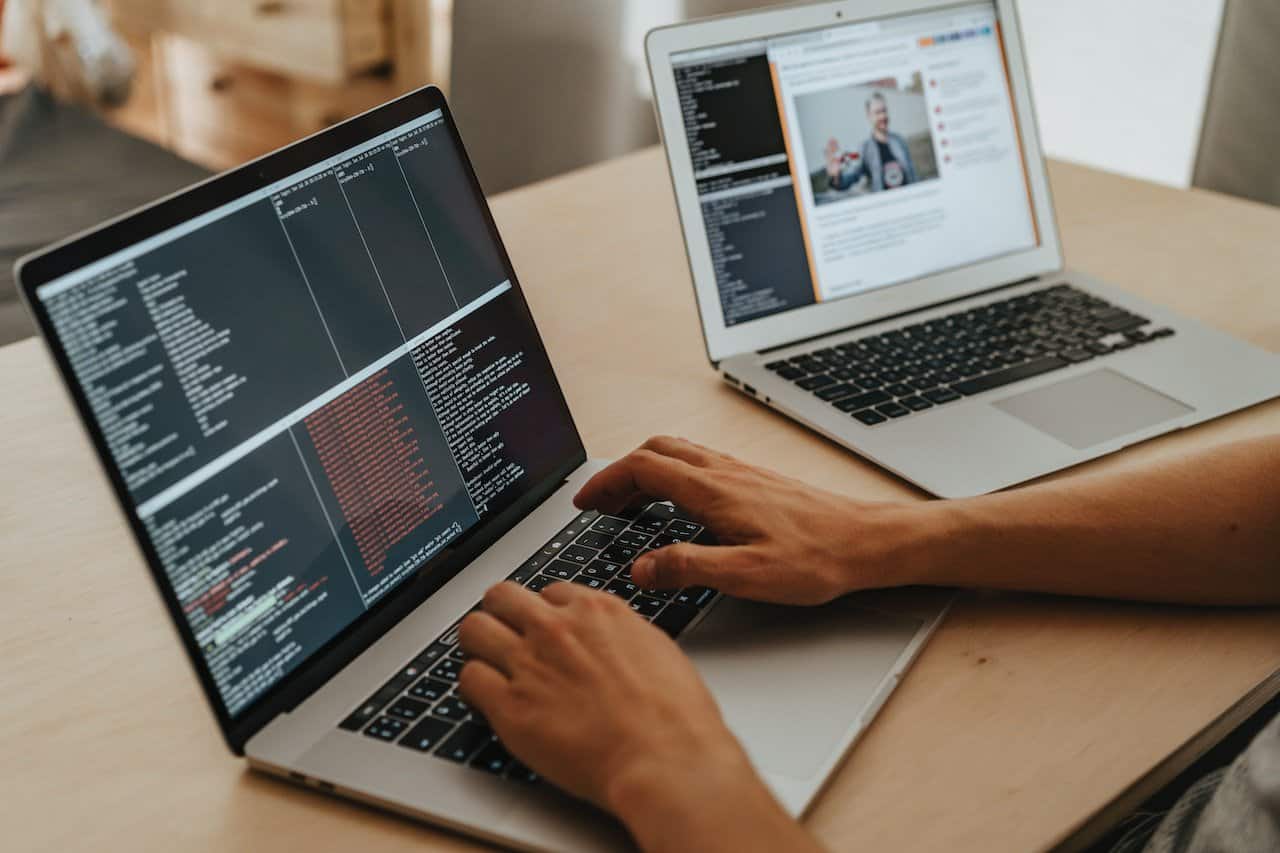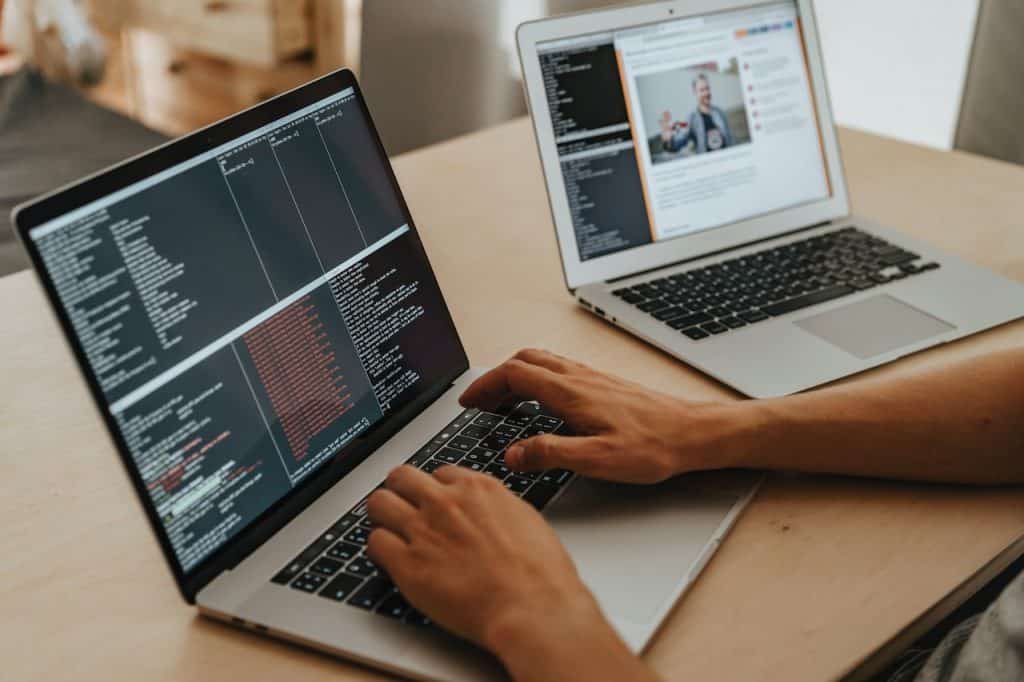 While some essential coding experience is required to create NFTs, it is not a must. For example, everyday people with a bit of cryptography and applications understanding can mint digital art or media files into an NFT without coding.
Making the minting of NFTs simple allows complete beginners access to the market. This intuitive feature ensures the ongoing expansion of cryptocurrency and propels the NFT market to new heights.
Now to answer the main question in this guide.
Can You Get NFTs for Free? Top 10 Ways [Free Mints, Giveaways, and More]
How to Create NFT Art Without Coding
You don't need any prior coding knowledge to create an NFT art. You can create NFT without coding by following these 5 simple steps:
Create a Design Plan for your NFT
Draw the NFT Images
Generate Your NFT Collection
Mint Your NFT on a Marketplace
Promote Your NFT Art Collection
Let's explain each step further.
Step 1: Create a Design Plan for your NFT
Your level of planning can determine your NFT's success. Before you start creating your NFT art, you should have a layout of how your NFTs would look like. Details such as the traits, features, and rarity should be well-defined, especially if it's a collection.
If you want to increase the value of your NFTs, include as many unique features as possible. But don't overdo it; this can cause your NFTs to be too confusing for the buyers. Still talking about features, here are some examples of NFT characteristics:
The main theme: refers to the subject matter of the art. For example, portraits, scenery, animals, etc.
Style: Popular NFT styles include photography, traditional painting, and digital painting.
Size: could either be large, medium, or small.
Quality: refers to the resolution of the art.
Background: Consider using sharing backgrounds like gradient, plain color, and transparent.
Don't limit yourself to this list; give in to your intuition to create. After highlighting your NFT traits, consider how rare each trait would be relative to the other. As a rule of thumb, the value of an NFT increases with its rarity.
The following will help you determine your NFTs' trait rarity:
number of traits or features present in each NFT
the uniqueness of each NFT
the overall appeal of each NFT
Remember that not all of your NFTs need to be rare. A combination of common and rare NFTs is more efficient. This blend will increase the range of possibilities available to consumers and foster a sense of urgency among them to acquire every NFT in your collection.
Step 2: Draw the NFT Images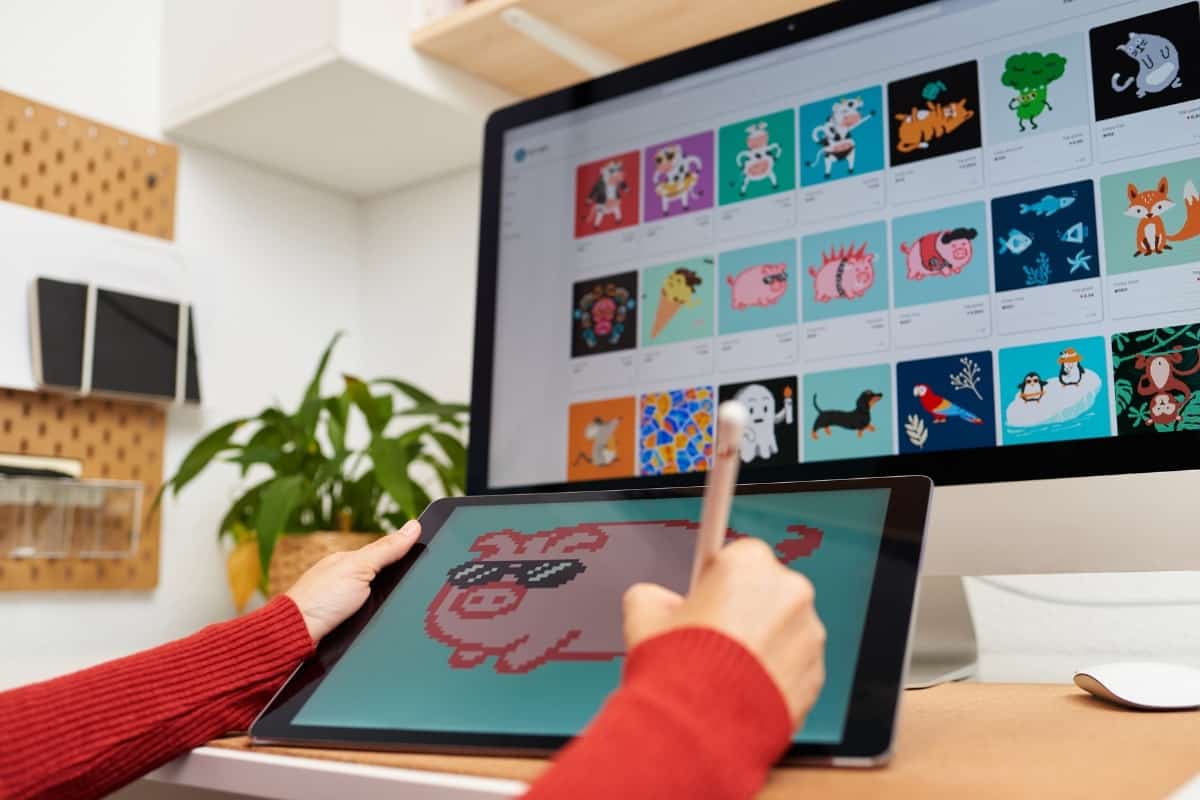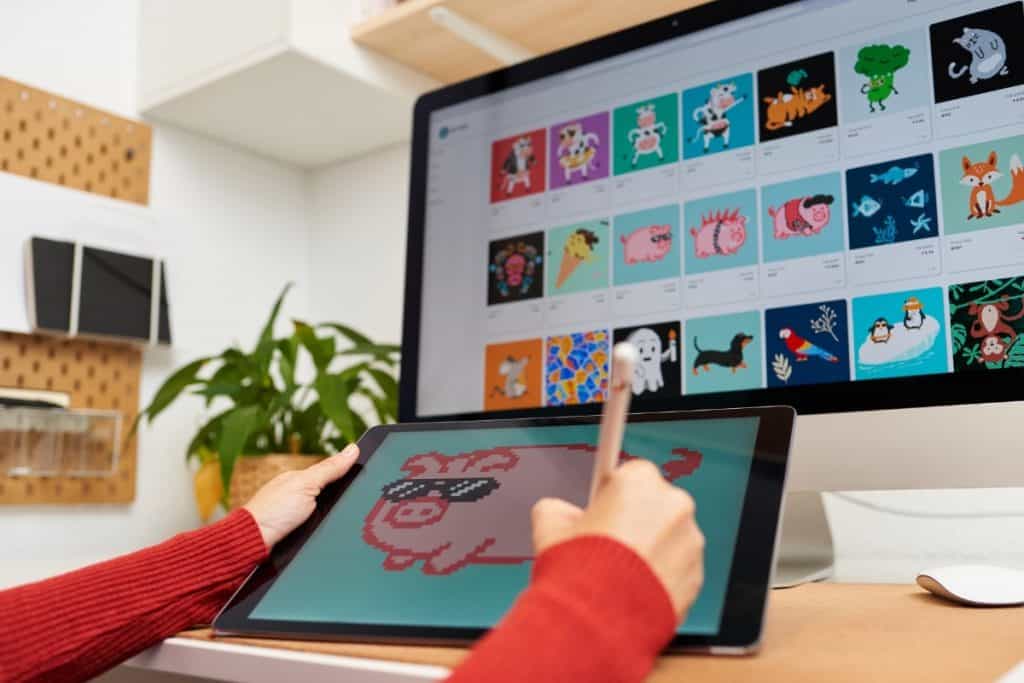 It's time to develop NFT art images now that you've considered the characteristics and rarity of your NFTs. A useful tip would be to create images in a way that the traits overlay. Once the NFT art collection has been developed, your outcome will appear more like a blend of features.
You have the opportunity to express your imagination during the NFT art creation process. Keep in mind that there are no restrictions on what you can produce.
You can make your NFT artwork through three approaches:
Create the art yourself
Use AI art generators or NFT creator apps
Hire a freelance designer on a platform like Fiverr.
Step 3: Generate Your NFT Collection
Now that you have all of your art images, it's time to generate your NFT art collection. If you don't know how to code, your best option is to use a no-code NFT generator to create NFT art.
Note that It's important you have a cryptocurrency wallet that supports NFT, as you will need it. Metamask is a good option to start with.
Here are some good options to try:
Step 4: Mint Your NFT on a Marketplace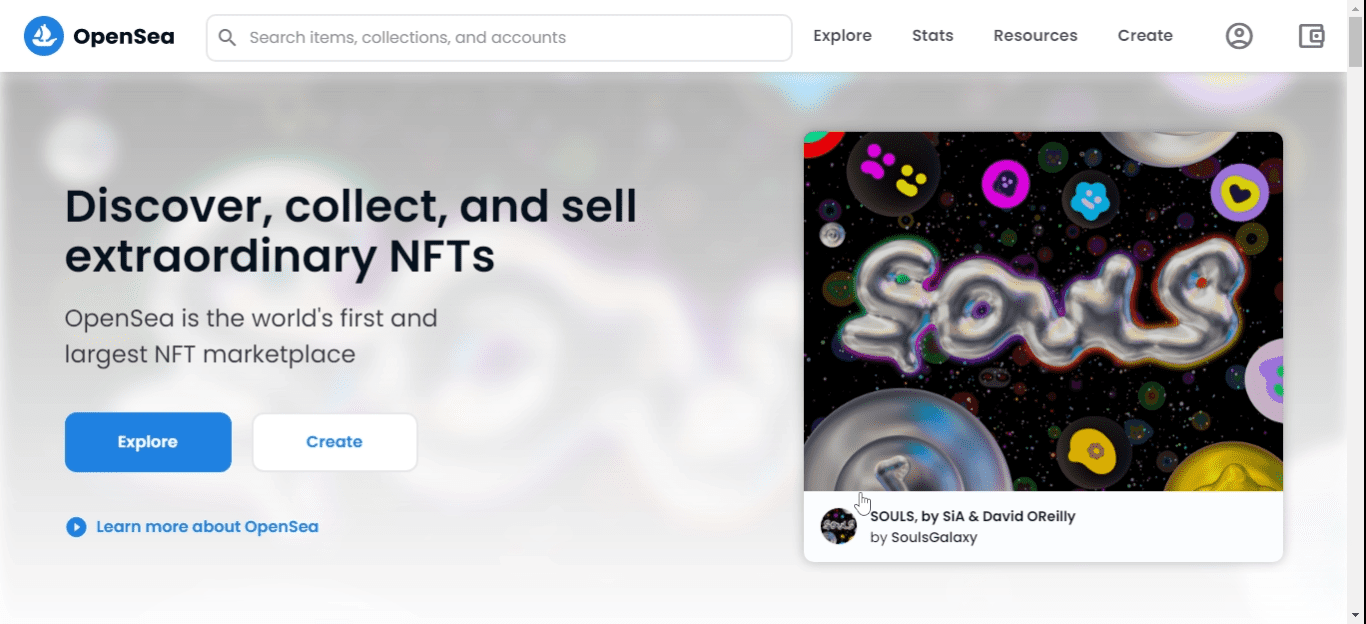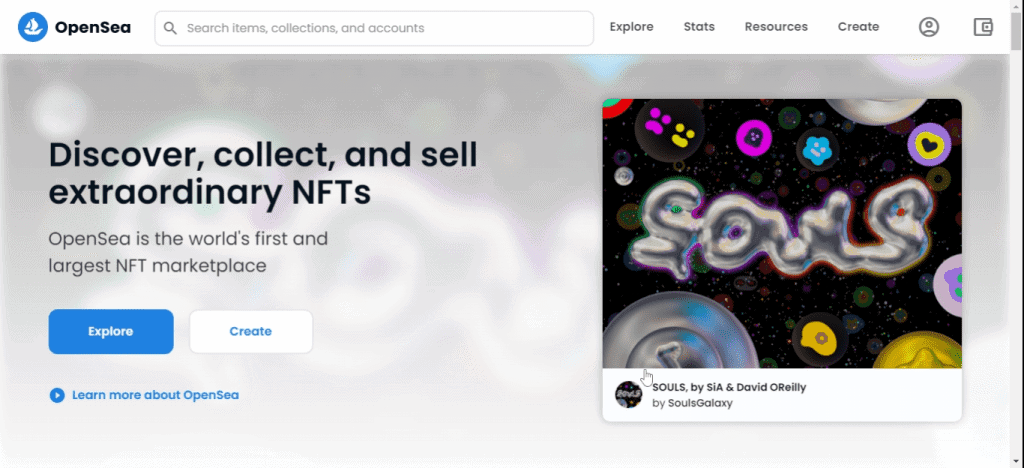 In this stage, your artwork is converted into real NFTs and made available for purchase. Here, you need to determine which blockchain you want to use to mint your NFTs.
You'll also be required to set the price of your NFTs at the end of this stage. An excellent pricing strategy is to price your NFTs according to their rarities — rare NFTs cost more than common ones.
Finding a reliable NFT marketplace that's popular for conducting genuine NFT art sales is crucial. Before you decide on an NFT marketplace to mint your NFT, consider these:
The blockchain the NFT collection will be minted on
The reliability of the marketplace
The popularity of the platform
OpenSea, Rarible, and SuperRare are excellent NFT marketplaces you can explore. The time of minting would vary across the platforms.
After your NFT has been created, you can then proceed to the next stage.
Step 5: Promote Your NFT Art Collection
Promoting your NFT art collection is equally as important as minting your NFT. You can do this by leveraging social media, word-of-mouth, and advertisement.
What you want to achieve is to maximize the exposure of your NFTs to people to increase your chances of generating a sale.
Some promotion strategies you can employ to increase your NFTs' visibility include
You can use multiple NFT promotion methods simultaneously for maximum results.
Bottom Line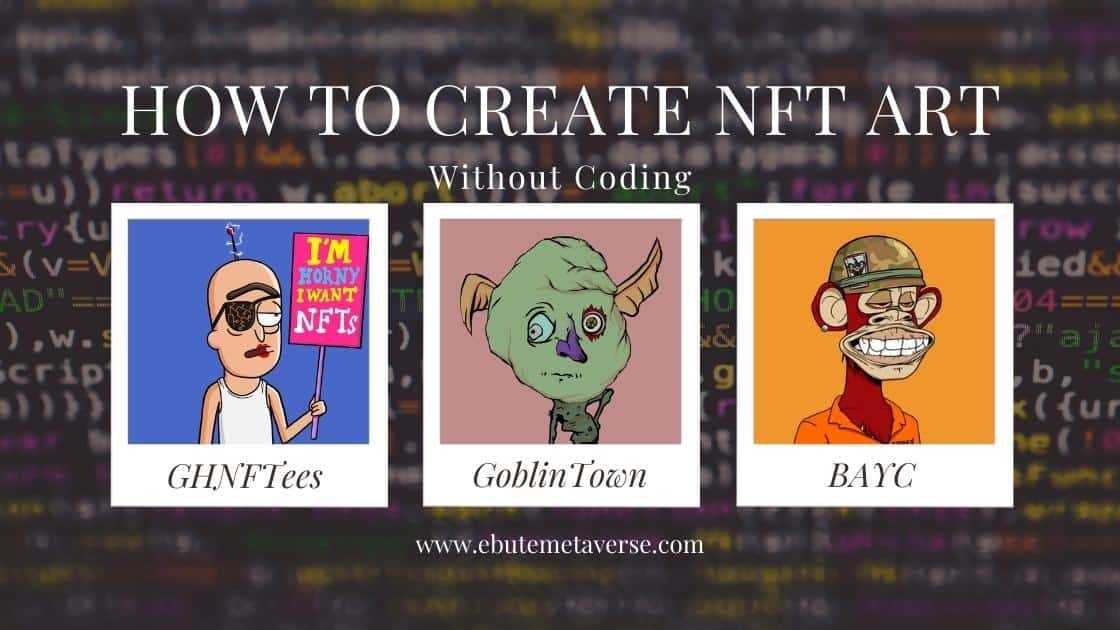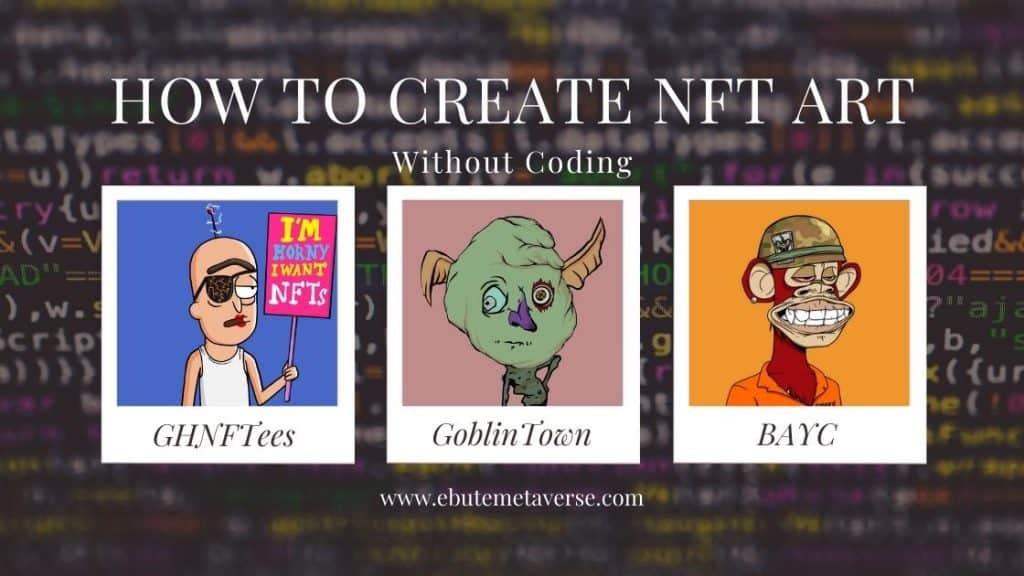 This article has explained how to create NFT art without coding. The process is straightforward. You only need an NFT wallet like Metamask or WalletConnect and the art you want to digitize. Register for an account on a well-known NFT platform, upload the item you wish to mint, and then follow the on-screen instructions.
Frequently Asked Questions
Can Anybody Create an NFT?
Anyone can create an NFT. As NFT gains popularity, more companies are creating new NFT-based products and services, making starting an NFT project even more straightforward. Listing and selling a project on marketplaces like Opensea is made simple by APIs, out-of-the-box smart contracts, and the abundance of artists on Fiverr.
Can I create my NFT for free?
NFT platforms like Rarible and OpenSea offer creators an option called "lazy minting." This feature allows you to create NFTs on Ethereum without paying anything. Lazy minting allows you to put off all costs until later when you create an NFT and offer it for sale. Here, the buyer pays the fees for minting your NFT to the blockchain at the point of purchase. This alternative will allow you to create NFT arts risk-free. You won't lose any money minting an NFT, even if it ends up not selling.
Can I Create NFT by Myself?
You can create NFT on your own. The method of creating an NFT is pretty straightforward. First, you'll need a crypto wallet that supports NFT and the artwork you want to digitalize. Then, you can create and sell your NFT using a legitimate NFT marketplace.
Can I Make an NFT of Anything?
You can convert any form of digital file into an NFT. Most marketplaces only support digital art, although more now offer video, game assets, and music. Even tangible goods, like limited-edition Nike sneakers and other collectibles, are already being digitized as NFTs.
What Program Do You Use to Make NFT Art?
Here are some of the best programs digital creators use to design NFT arts:
NFT Art Generator (Best NFT creator software for exporting)
SketchAR (Best mobile AR NFT creator for beginners)
Adobe Illustrator (The best illustration software for NFT)
Adobe Photoshop (Best NFT creator for advanced users)
Krita (The best free option for sketches)
What Programming Language Is Used for NFT
Before you can start creating NFT, you should be familiar with programming languages like JavaScript or Solidity. While there are other programming languages for NFT, languages like JavaScript and Solidity and file types like JSON are ideal for developing smart contracts and dealing with the blockchain.