Top 18 NFT Subreddits for Buyers and Creators in 2023
Whether you want to flip NFTs or launch your collection, NFT subreddits are an important weapon in your arsenal.
Why?
Internal data from Reddit suggest that 85% of Redditors are more familiar with NFTs than regular web users. But that's not all—44% say Reddit is the hub for NFT news and information.
So, joining NFT communities on Reddit can help you reach potential buyers and keep you updated on trending collections. But what are the best NFT subreddits for buyers and creators, and how do you find them?
What Are the Best Subreddits for NFT?
In our quest for the best, we reviewed 50+ well-known NFT subreddits worth joining in 2023. We picked the top 18 subreddits for NFT using several metrics, including total members, posts, and user engagement.
Note that the metrics' data applied in this review was from reddit.com and www.gummysearch.com.
NFT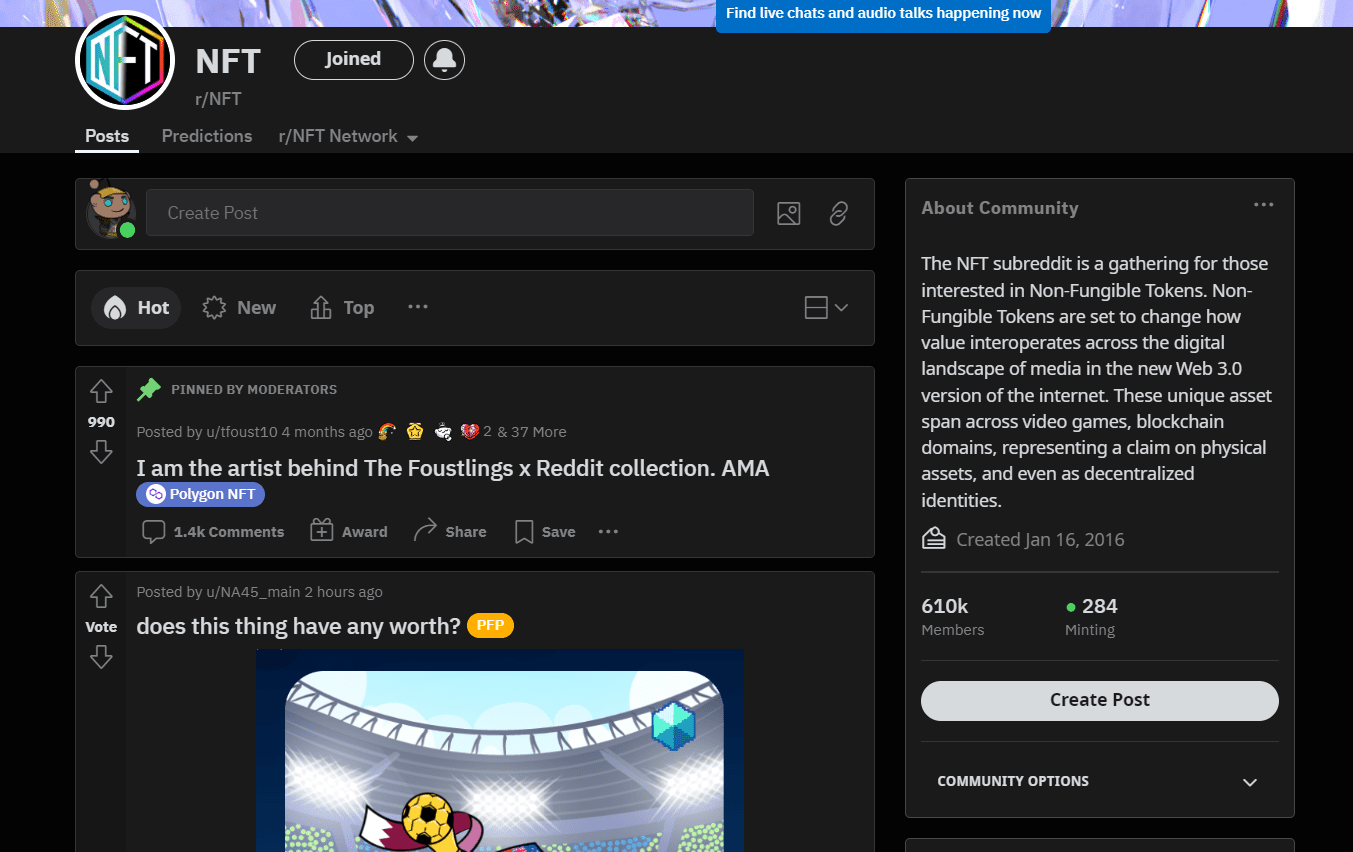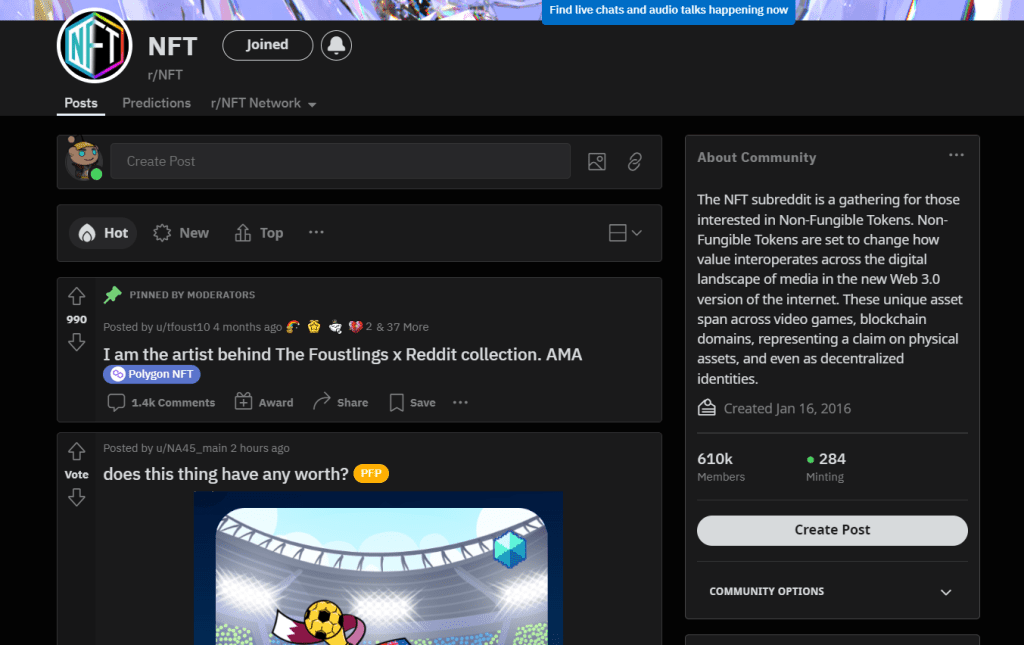 Total members: 604k members
Date established: Jan 16, 2016
Member engagement: High
Top on our list is the NFT subreddit. NFT is the subreddit where enthusiasts can connect and share NFT-related information. With over 600k members, this ever-growing group is the biggest and most vibrant NFT community on Reddit to join. 
This subreddit's discussions cover topics, including NFT projects, games, dApps, blockchain, and many more. The subreddit also has a discord channel where members can get the latest NFT news and announcements, updates about new projects, and memes.
If you're looking for what's hot in the NFT world or want to promote your project on Reddit, the NFT subreddit is for you. It's also good to know that the community is well-moderated, making it a healthy place for NFT creators and buyers to interact. 
NFTsMarketplace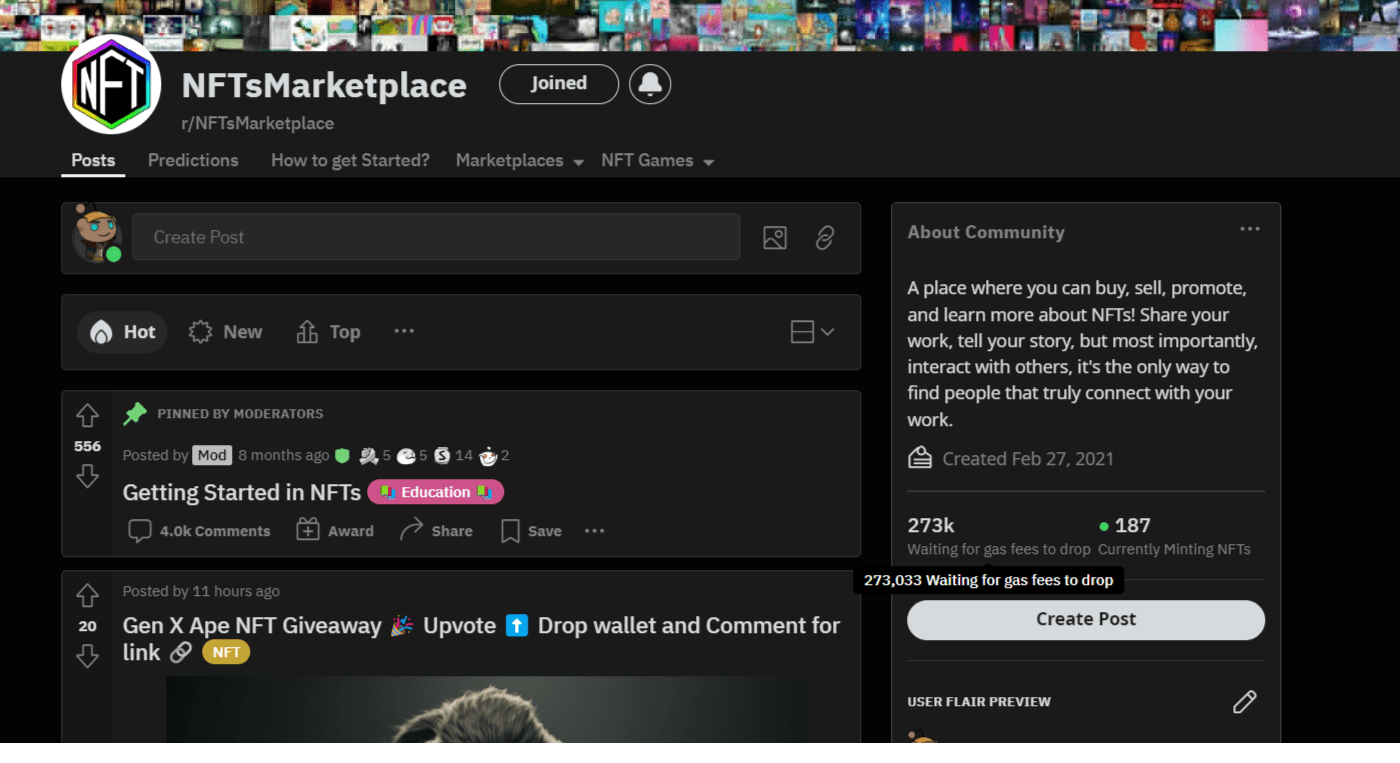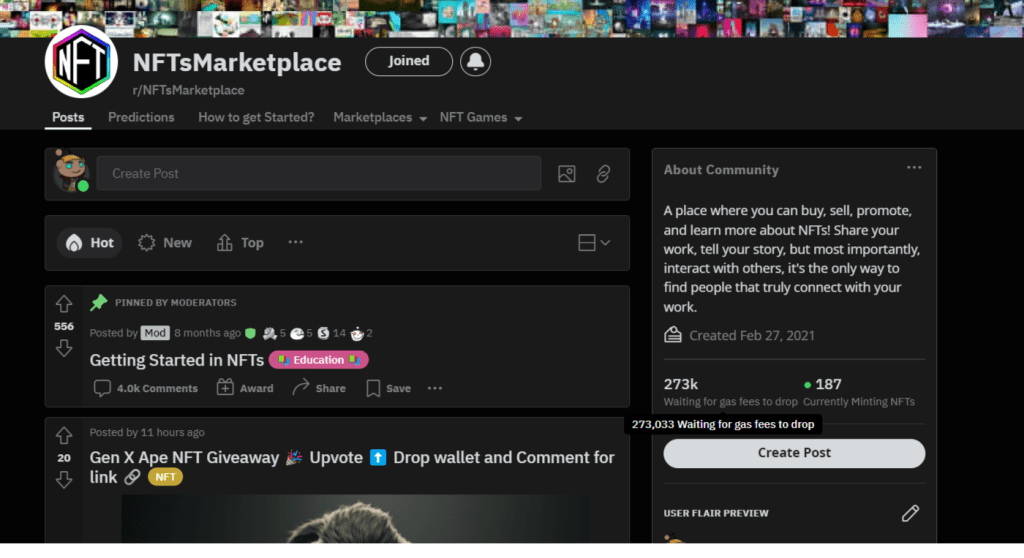 Total members: 273k members
Date established: Feb 27, 2021
Member engagement: High
NFTsMarketplace is the second biggest subreddit after NFT subreddit. Members can discuss various NFT-related topics, share news, and get answers to questions in this subreddit. It's a great community on Reddit to be part of whether you want to buy, sell, promote, or learn about NFTs. 
What we love most about this subreddit, besides its large audience base and super active community, is the educational resources for beginners. NFTsMarketplace is a must-join if you're just getting started with NFT. Also, NFT artists, creators, and collectors alike would find this community productive.
OpenSea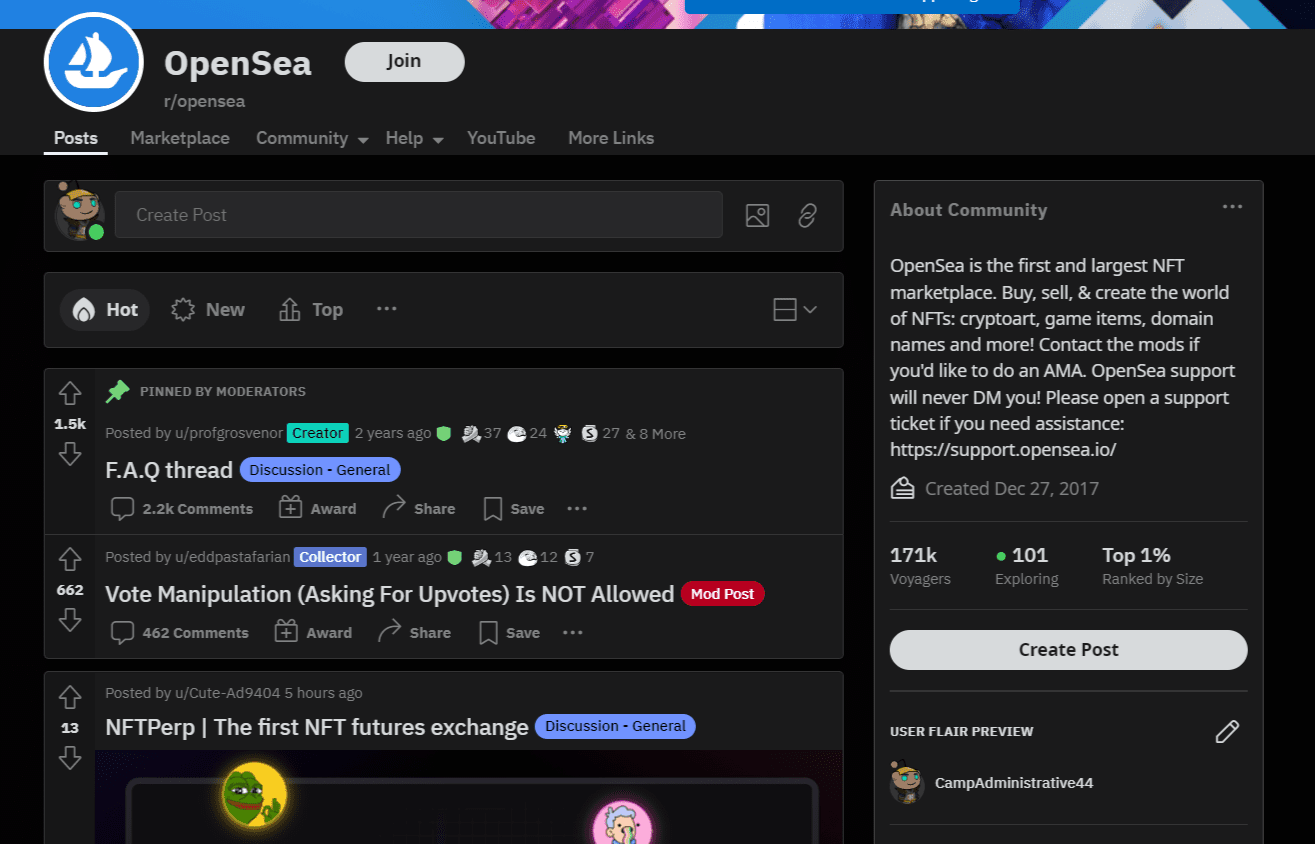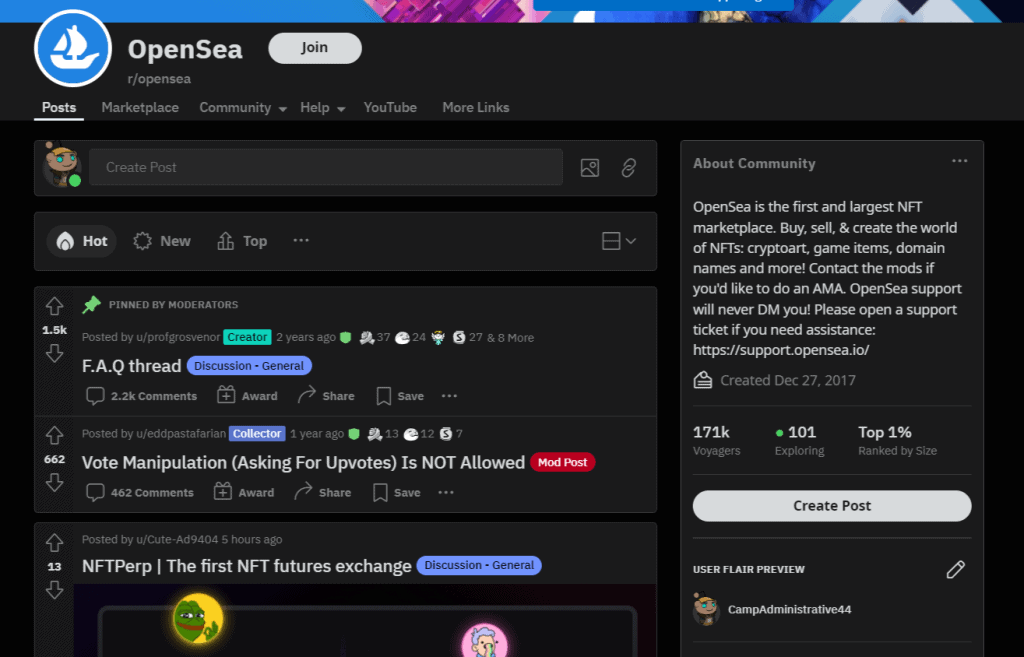 Total members: 171K members
Date established: Dec 27, 2017
Member engagement: High
This list isn't complete without the mention of OpenSea subreddit. That's because OpenSea is the first and one of the biggest NFT marketplaces. What better community would every NFT buyer or creator want to join other than a subreddit created by the "OpenSea"? It's a large audience with amazing engagement that allows creators to share and promote their NFT artwork. 
If your NFT is on OpenSea, joining this subreddit would be a great way to kickstart your marketing campaigns. Also, newbies would find the discussions, treads, and YouTube section of the community informative. 
NFT Exchange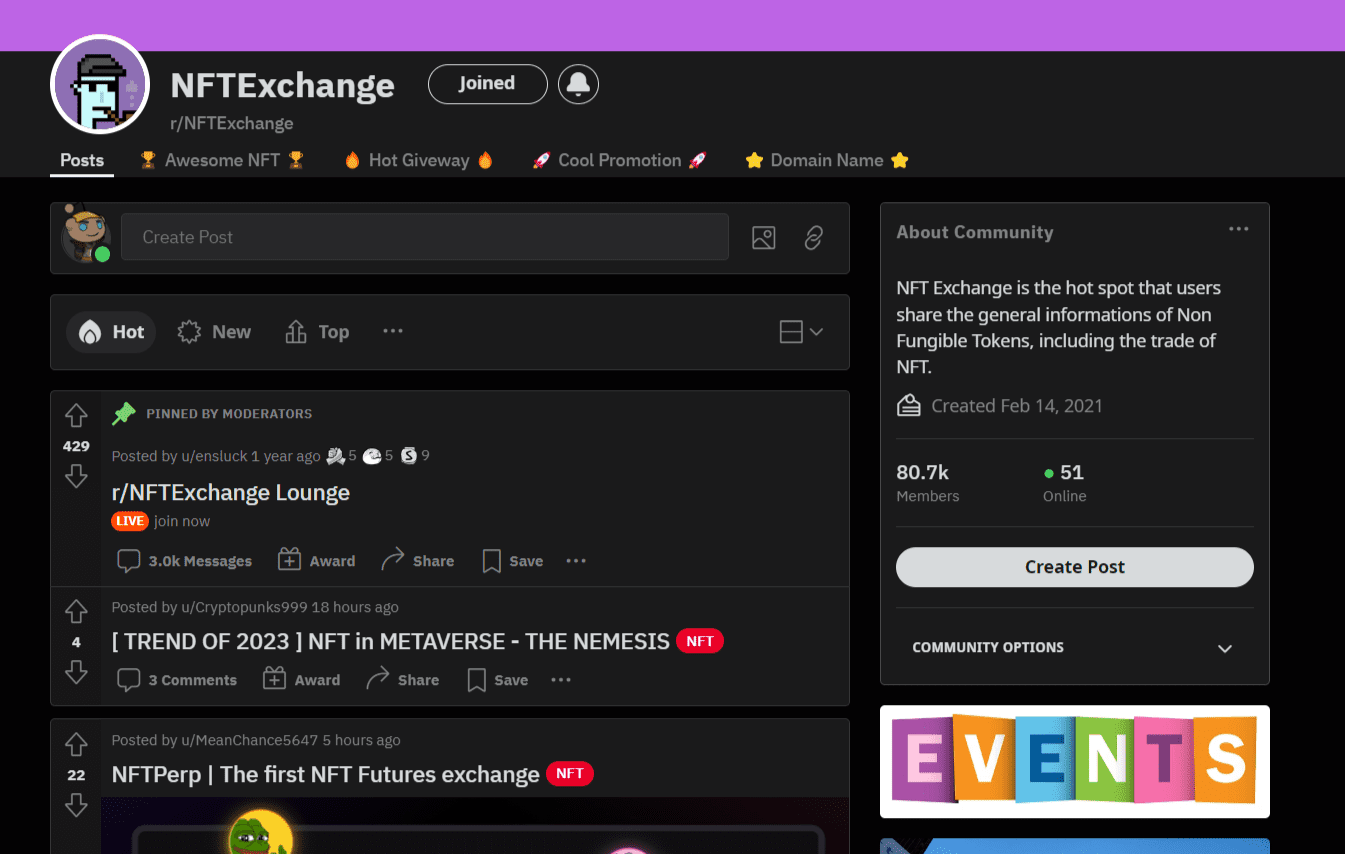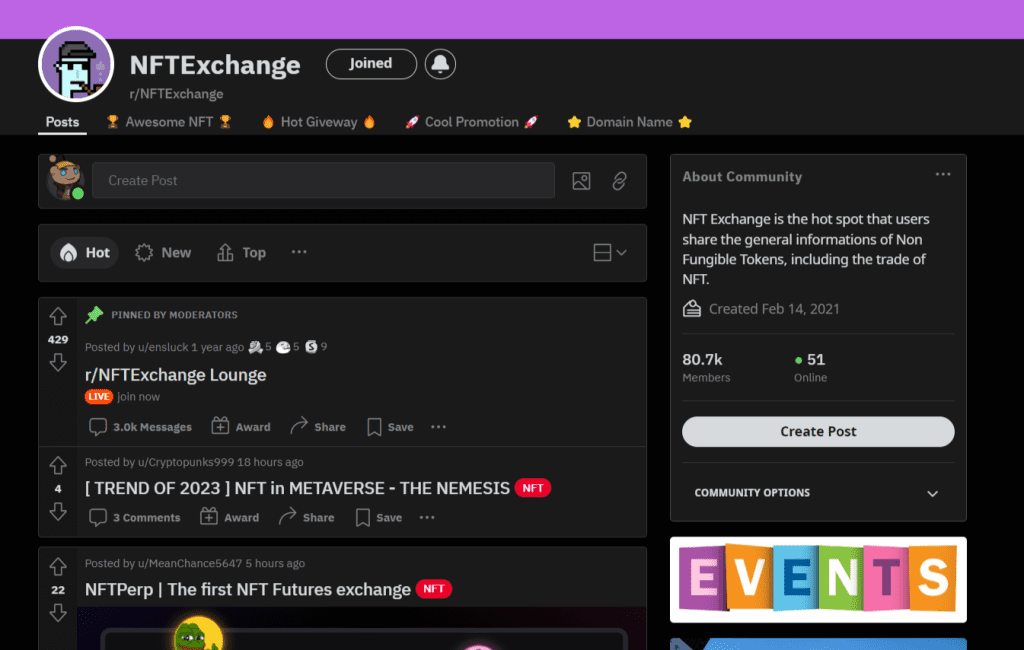 Total members: 81K members
Date established: Feb 14, 2021
Member engagement: Medium
Another excellent NFT subreddit that made our list is NFT Exchange. This subreddit has a large membership with over 80k active members. Users share basic information about NFTs, including NFTs trading on this platform. 
In addition, you can take advantage of frequent offers of giveaways by new NFT projects on the platform. For creators, there's a "Cool Promotion" section that allows you to share your work with the community members.
NFTmarket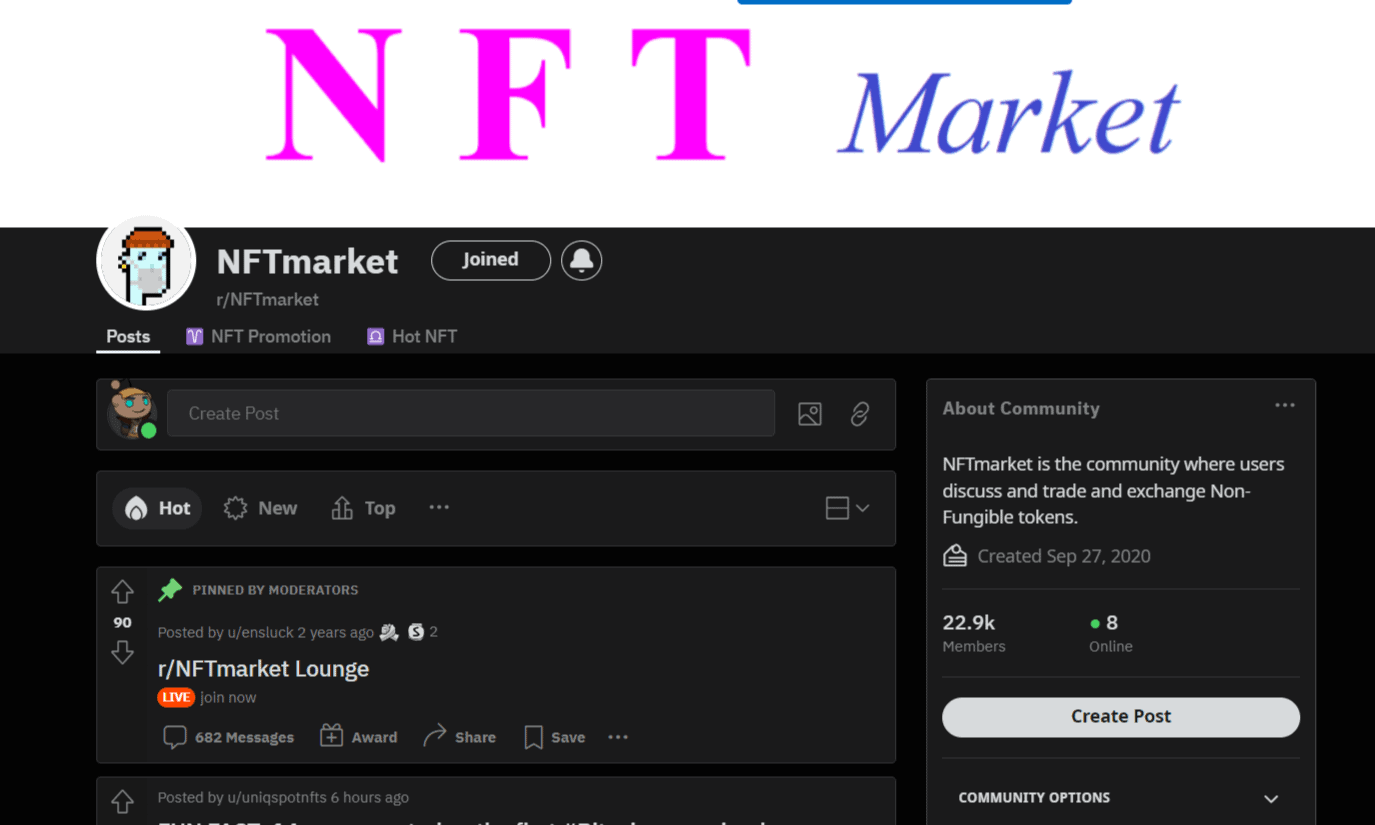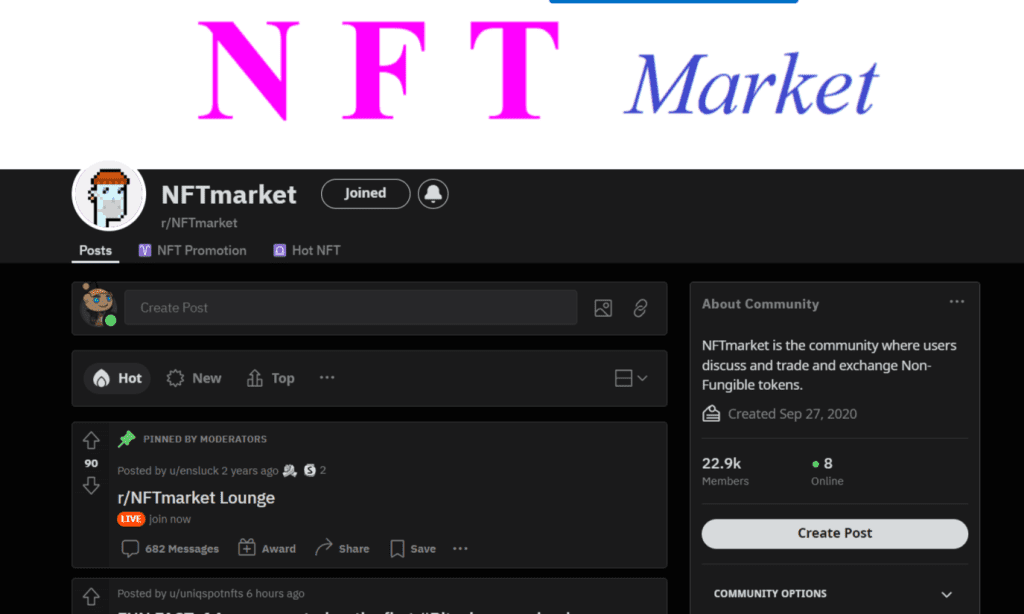 Total members: 23K members
Date established: Sept 27, 2020
Member engagement: Medium
Unlike other subreddits we've reviewed so far, NFTmarket is an NFT community on Reddit that focuses on trading collectibles. The community is best suited for users looking for information about NFT trade or who want to exchange NFTs. 
NFTGiveaway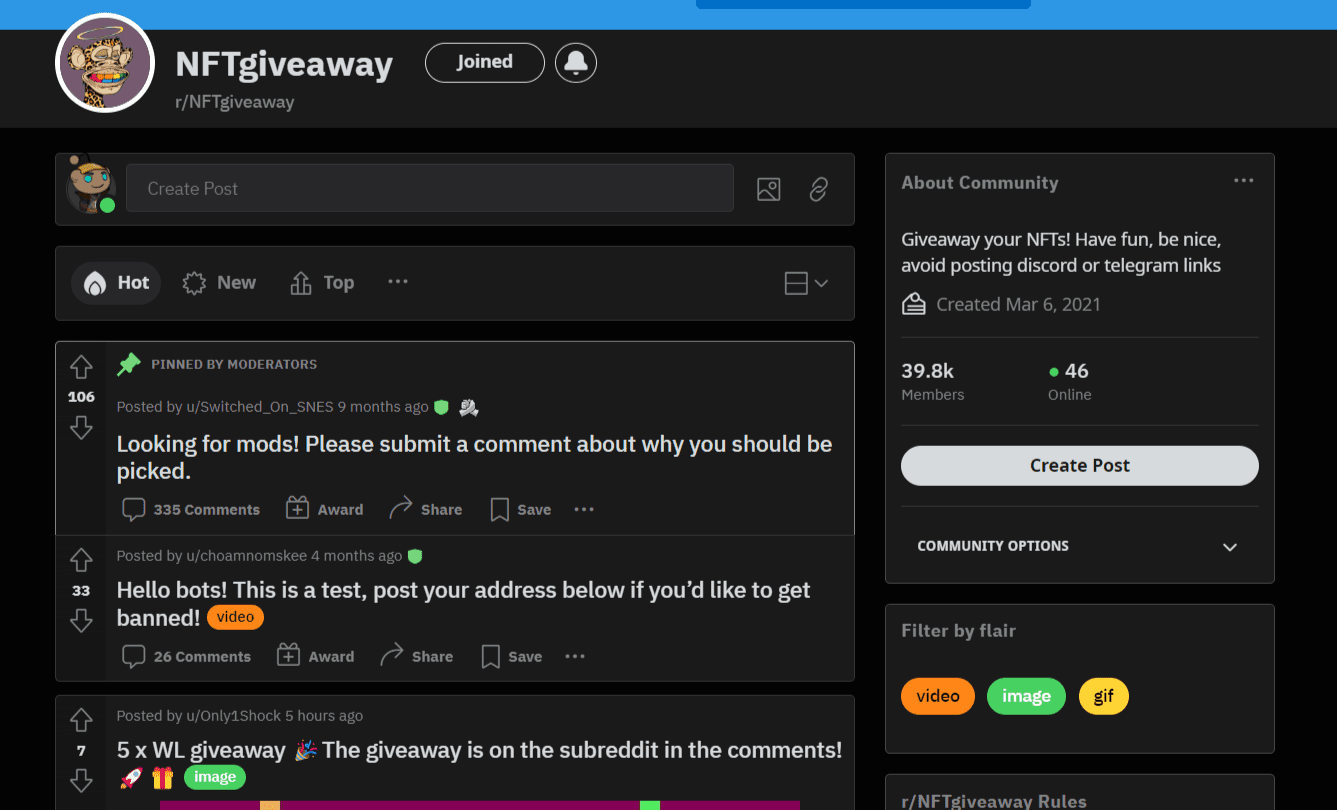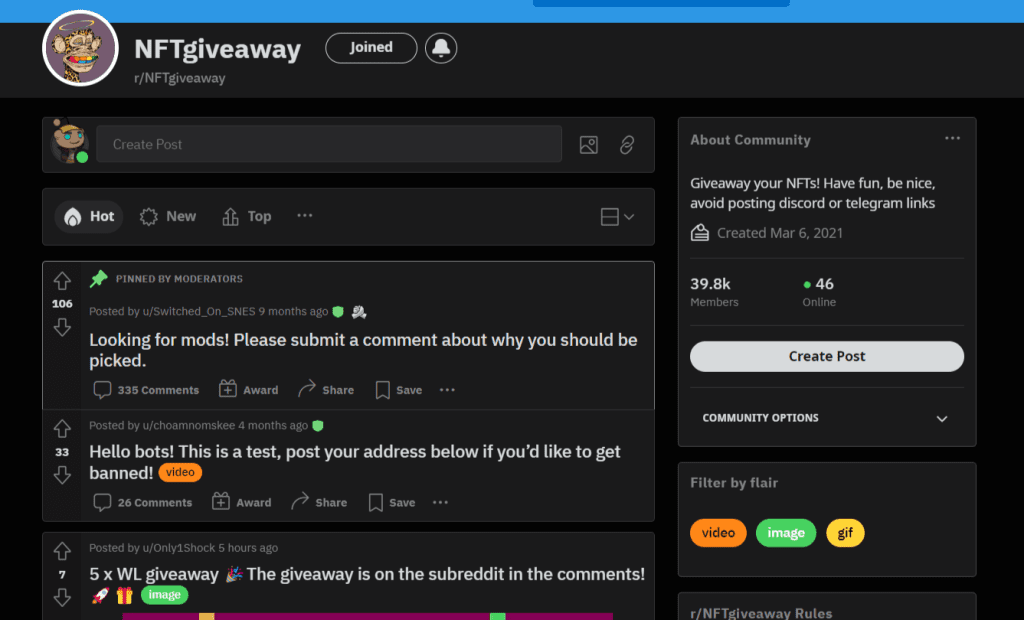 Total members: 39.7k members
Date established: Mar 6, 2021
Member engagement: High
NFTGiveaway is all about creators gifting their NFTs to the community. There are only three rules that govern this subreddit community; refrain from providing links to telegram or discord, act kind, and most importantly, have fun! 
If you're interested in getting amazing NFTs for free or want to give your NFTs away, this subreddit is the platform for that.
NFTheaven
Total members: 15k members
Date established: Nov 18, 2021
Member engagement: Medium
NFTheaven is an upcoming NFT subreddit that's fast gaining popularity among buyers and creators. The subreddit also serves as an NFT drops calendar where members can get drop alerts, NFT giveaways, the latest NFT news, and priceless insights about NFTs. However, the mods warn that you DYOR and not take any advice on the platform as an investment tip. 
Overall, it's one of the Top NFT subreddits to be if you want to stay updated on the happenings in the non-fungbile token trading world.
NFTSupermarket
Total members: 11.2k members
Date established: Feb 10, 2022
Member engagement: High
As the name implies, NFTSupermarket is a 100% community-driven subreddit. Topics range from investment to trading, memes, news, and all other market-related topics.
It has a decent number of members, and the engagement is high. This community on Reddit is a good place if you want to expand your marketing campaign as a creator.
CryptoArt
Total members: 19k members
Date established: Jan 25, 2014
Member engagement: Medium
CrytoArt subreddit is artist-centric and based on the CryptoArt NFT project. This subreddit focuses on discussing and exchanging Crypto Art NFTs. Fans of the CryptoArt collection and artists interact with one another, share their work, and collaborate in this community.
The most outstanding feature of this subreddit is the "featured artist" section. Here, NFT artists can have their work listed on the community dashboard. In addition, the "filter by flair" option makes navigating the community easier.
NFTCollect
Total members: 29.9k members
Date established: Mar 13, 2021
Member engagement: Medium
Another top subreddit that NFT creators and collectors should consider joining is NFTCollect. This subreddit features discussions on getting started with NFTs, creating NFTs on blockchain basics, and more. You'll also find treads specific to investing, trading, and flipping NFTs in this community. 
Rarible
Total members: 14.4k members
Date established: Jun 30, 2020
Member engagement: Medium
Rarible subreddit is another NFT marketplace subreddit that made our list of top NFT subreddits for buyers and creators. Here, the majority of community members talk about their NFT initiatives. 
This is the subreddit you should follow if you're an NFT creator who wants to list your NFT project in Rarible.
Decentraland
Total members: 87.2k members
Date established: Jun 3, 2015
Member engagement: High
Decentraland is a blockchain-based metaverse world with extended utility in the NFT industry. The project has a subreddit where members can discuss anything pertaining to Decentraland and the virtual reality environment. They hold weekly MANA meetings where they discuss recent events in the Decentraland ecosystem.
If you own a Decentraland NFT or are interested in purchasing one, this subreddit is a must-join for you.
AxieInfinity
Total members: 101k member
Date established: Feb 18, 2018
Member engagement: High
AxieInfinity is a Pokemon-inspired blockchain game where players can fictional creatures called Axies. You can trade, breed, buy, and sell Axied with other players in the marketplace of Axie Infinity. The AxieInfinity subreddit community is home to over 100k members, where users discuss their gaming, tales, and strategies.
TheSandboxGaming
Total members: 17.4k members
Date established: Apr 30, 2020
Member engagement: High
TheSandboxGaming is an NFT community for creators that use the Sandbox platform. There are more than 17K members in this community, and they frequently share their stories, projects, experiences, news, and knowledge of the platform.
CardanoNFTs
Total members: 17.1k members
Date established: Feb 16, 2021
Member engagement: Medium
There are over 17K people following the CardanoNFT community on Reddit. Members of this community only talk about NFTs in the Cardano ecosystem. Discussions are on the market, drops, news, developers, collections, and Cardano NFTs. If you hold or want to learn about Cardano NFTs, you should join this subreddit.
Solana NFTs
Total members: 17.6k members
Date established: Aug 16, 2021
Member engagement: Medium
Here's a subreddit that's dedicated to Solana NFT and features topics covering everything that occurs within the network's ecosystem. Members of this subreddit solely talk about Solana NFTs, upcoming drops, news regarding the Solana NFT ecosystem, and general NFT talk. 
Foundation
Total members: 6.7k members
Date established: Oct 12, 2011
Member engagement: Medium
Foundation is a community where people with similar interest in NFT comes together to experiment and explore the ecosystem. There are more than 6.5k people in this subreddit, including artists, creators, and collectors. Creators who are looking for engagement for their projects would find this community useful.
NiftyGateway
Total members: 5.5k members
Date established: Dec 15, 2020
Member engagement: Medium
NiftyGateway collaborates with top brands and artists to produce a line of NFTs that are only sold on their platform and are available in limited quantities. The platform also has a subreddit community where you can stay updated on events in the NFT ecosystem. 
Bonus NFT Subreddits Worth Joining in 2023
Conclusion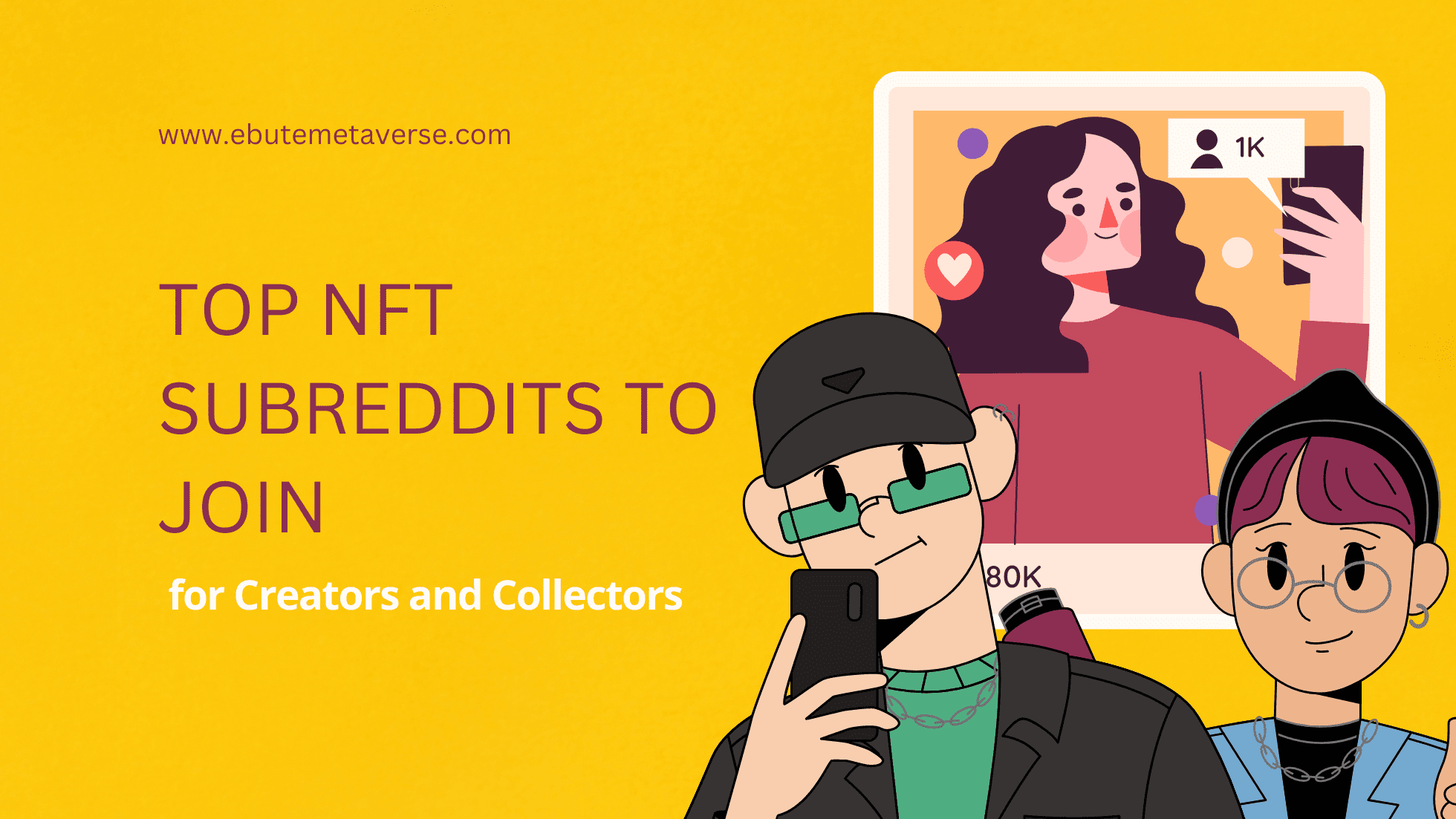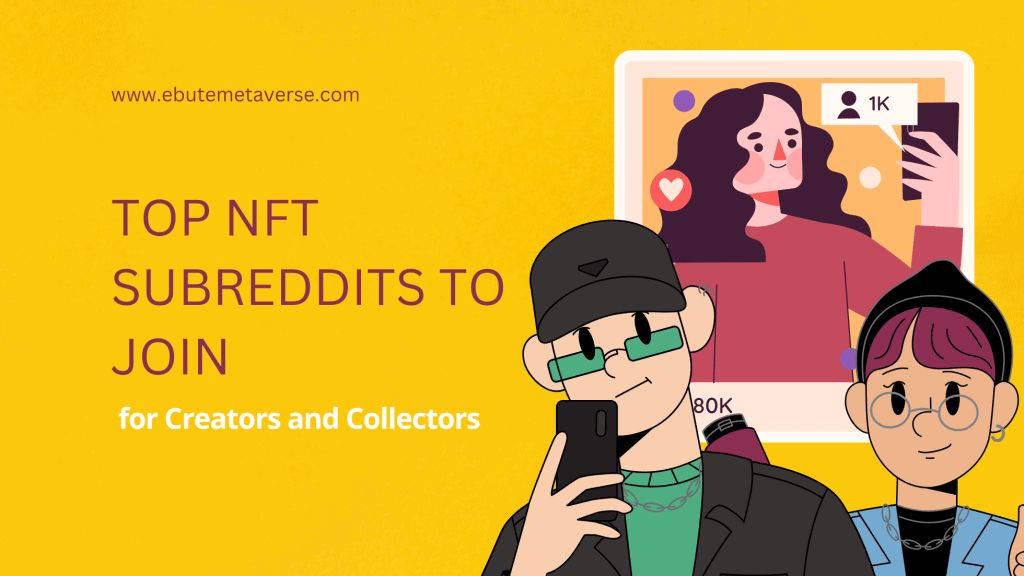 There are many reasons why you should join a subreddit in 2023. The most obvious one is the increasing importance of community as a major market driving force for NFT.
As promised, this article gives examples of the best subreddits for NFT. But that's not all. You should also research other NFT communities on Reddit. With our methodology, you should be able to spot top NFT subreddits worth joining and stay clear of scams.