Do Discord Moderators Get Paid? Here's How Much
On the surface, becoming a moderator on discord seems like fun. Discord server moderators often boast about their privileges and ability to ban users. However, like most people, you're also wondering if they ever receive compensation for their work.
Well, that's not typically the case.
Discord Inc. doesn't pay server mods. In fact, most Discord moderators' roles are unpaid. However, some discord moderation jobs pay between $13-$42 per hour. Others earn between $1,000 and $3,000 monthly. The amount you earn as a Discord mod depends on how much liquidity the project has or the additional benefits the founders offer you.
In this article, we'll answer the question, "Do Discord Moderators Get Paid?" We'll also answer some related questions you might want answers to concerning NFT Discord moderators.
Read till the end of the article whether you're aspiring to become a Discord moderator or just here out of curiosity.
Let's get started!
Do Discord Moderators Get Paid?
Discord moderator positions are usually unpaid and voluntary. But some moderators do get paid between $1,000 and $3,000 per month for their work, or an hourly rate of $13.91, usually from large, long-running NFT projects with large Discord communities. Some NFT projects also give their Discord moderators OG roles or free whitelist spots as a way to say thank you.
What does this mean for beginner discord moderators?
As a newbie discord moderator, getting a paid discord mod role would be challenging because of the stiff competition. However, that doesn't mean that it's impossible to get. A good strategy as a beginner would be to hold off on being exclusive until you find a more stable project or one you truly support over the long term.
Spreading your eggs into various initiatives or communities is key to maximizing your income potential as a Discord moderator. Also, try to build connections and collaboration in your niche to take advantage of new opportunities as they come up.
How Much Do NFT Discord Mods Get Paid?
Good question.
The average salary of an NFT Discord moderator ranges from $1,000 to $3,000 per month. But the price can change based on several conditions.
Let's look at the NFT Discord channels, for instance.
NFT Discord moderators' salaries would depend on the available liquidity within the project. The size of the community also matters because it will determine the amount of work the project will require the moderator to do.
Given the price range, you might wonder what's expected of NFT discord moderators at that price.
How to Promote Your NFT on Discord and Sell Out Faster
What Do NFT Moderators Do?
NFT discord moderators are required to perform the following five vital tasks each day to maintain the project:
Engaging and highly relevant conversations with the community member
Delete offensive and spam messages on the community forum
Expel members who violate the community laid-down rules
Address inquiries about the NFT project
Foster member trust through community events
Your primary duty as an NFT discord moderator would be to act as a bridge between the community and the NFT owners or team members.
Is Discord Moderating a Tough Job?
The moderating process on discord is more manageable than on Reddit. But the work is challenging enough. Imagine spending years removing pointless comments from the internet. Additionally, you are most likely not getting paid.
Because of these issues, most Discord servers have many moderators. Also, moderating work can be stressful, and it's nearly impossible for one person to complete it alone. When one moderator needs a break or loses passion for the job, another one steps in to fill that position.
This way, community members will only realize that one moderator is present if a large group runs a Discord server. Our article on how to moderate an NFT Discord server explains it better.
How To Get Started as an NFT Moderator on Discord?
As a novice NFT Moderator, you must understand NFT, how it works, and the industry as large. There are also some abilities you ought to develop. For instance, good Discord moderators learn to manage audiences' expectations over time.
Building strong abilities and getting to know the essential members of the community are the first steps in becoming a crypto discord moderator, which takes time. Also, make contact with other mods to learn more about the possibilities.
Below are some of the skills that make for a high-performing discord mod:
Critical Thinking and Problem-Solving Skills
When resolving complex member-to-member disputes, you must transform feelings into analytical insight. This role requires you to take the appropriate action, such as muting, kicking, or banning members.
Strong Interpersonal and Communication Skills
You need to know how to positively or amiably encourage people and properly convey complicated ideas in simple ways. As a professional, you are expected to communicate clearly in writing and verbally.
Technical and technology inclined.
It helps if you know how discord operates. Additionally, knowledge of other social media platforms is advantageous because you'll utilize various platforms for your daily operations.
Possess the necessary abilities to handle the servers for NFT projects
You can respond to inquiries more effectively if you are familiar with the blockchain and the minting procedure. For instance, you can offer practical advice on how to prevent paying high gas fees when minting NFTs to cut costs. Knowing how to use all of the platforms, rarity, and analytics tools available in the NFT industry is also advantageous.
Where To Get NFT Discord Mod Jobs
Here are some of the channels where you can find NFT discord moderating jobs:
Use job posting sites or Reddit
Search for NFT Discord Mod job posting on job boards like Indeed, LinkedIn, and even some NFT subreddits.
Look for job offers on freelancing sites.
The good news about this method is that you'll find mostly paid offers. Fiverr is a good place to start.
On Fiverr, you can create a gig detailing your services as an NFT mod. You want to highlight your previous experience, what value you can offer, and how you can help the project move forward. It would improve your chances of getting the job.
Searching for NFT mod jobs on Twitter
Some NFT projects post openings for NFT mods on their social account. Ensure to follow as many NFT projects you're interested in as possible. You can also find NFT projects you like on Twitter and engage with their channel actively.
By building familiarity and trust with the moderators of their social accounts, it would be easier to pitch your offer to them.
How to Promote Your NFT on Twitter and Sell Out Faster
DMing NFT founders in the Discord channel
Sending a direct message to the owner of the discord channel can come off as malicious if you approach it the wrong way. Try to build trust by fostering a relationship with the admin. Including why you're interested in being a mod for the project, why you're the best fit, and your prior experience—if any—can help you get hired.
Conclusion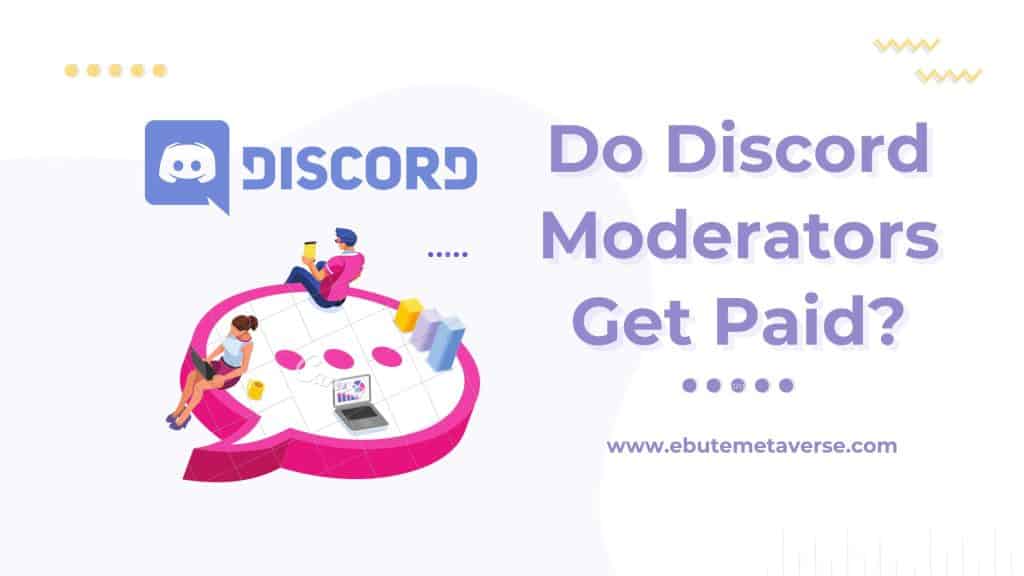 Thanks for reading to the end of the article. If you got to this point, you already have a satisfactory answer to "Do discord moderators get paid?" As a recap, we've explained that most, if not all, discord moderators don't get compensated for their work. But some big Discord channels hire moderators and pay them between $1,000 and $3,000 monthly.
We've also provided some insights into how much NFT discord moderators get paid and what is expected of them. Newbies or aspiring NFT discord moderators would have also understood how to break into the NFT discord moderating industry.
Any lingering questions about Discord, NFT, or anything in between? Feel free to share your thoughts in the comment section below. We're willing to help you as much as we can.