« Back to Glossary Index
WAGBO Meaning in NFTs
WAGBO is an abbreviation in NFT space that stands for 'We're All Gonna Be Okay.' It is a positive term for encouragement within the NFT community. It is synonymous with WAGMI (which means 'we are all gonna make it') as a word of reassurance. WAGBO is usually used to inspire confidence and encourage one or more NFT traders not to lose hope.
WAGBO Sentence Example
"Ensure you DYOR before buying. WAGBO."
"We've had a tough time these past weeks, but WAGBO."
WAGBO NFT Meaning Variations
WAGBO Meaning NFT – Context
The NFT space can be a risky space to trade and is sometimes fraught with reasons for tension and worries amongst investors. Therefore, it is only natural that NFT traders encourage themselves with positive expressions like WAGBO. Furthermore, it is used to show solidarity with a decision or a project even when it looks unlikely to succeed.
It is common for one NFT member to reassure another in doubt using the term WAGBO. The acronym signifies a feeling of comradeship among investors with shared interests and risks. It also connotes the conviction that a risky judgment would eventually bear profits, especially against popular belief.
Members of the NFT society make use of the term WAGBO under a number of circumstances. It can be used to imply togetherness among investors as if to say, 'We're in this together.' Believing that no matter what happens, the choices made will ultimately be proven to be the right ones.
Furthermore, WAGBO is also often used in public messages or announcements bearing words of advice and encouragement. It also expresses faith in an NFT project, even in the face of obvious adversity. For instance, the owner of a depreciating NFT can be encouraged to ignore current losses and focus on future gains.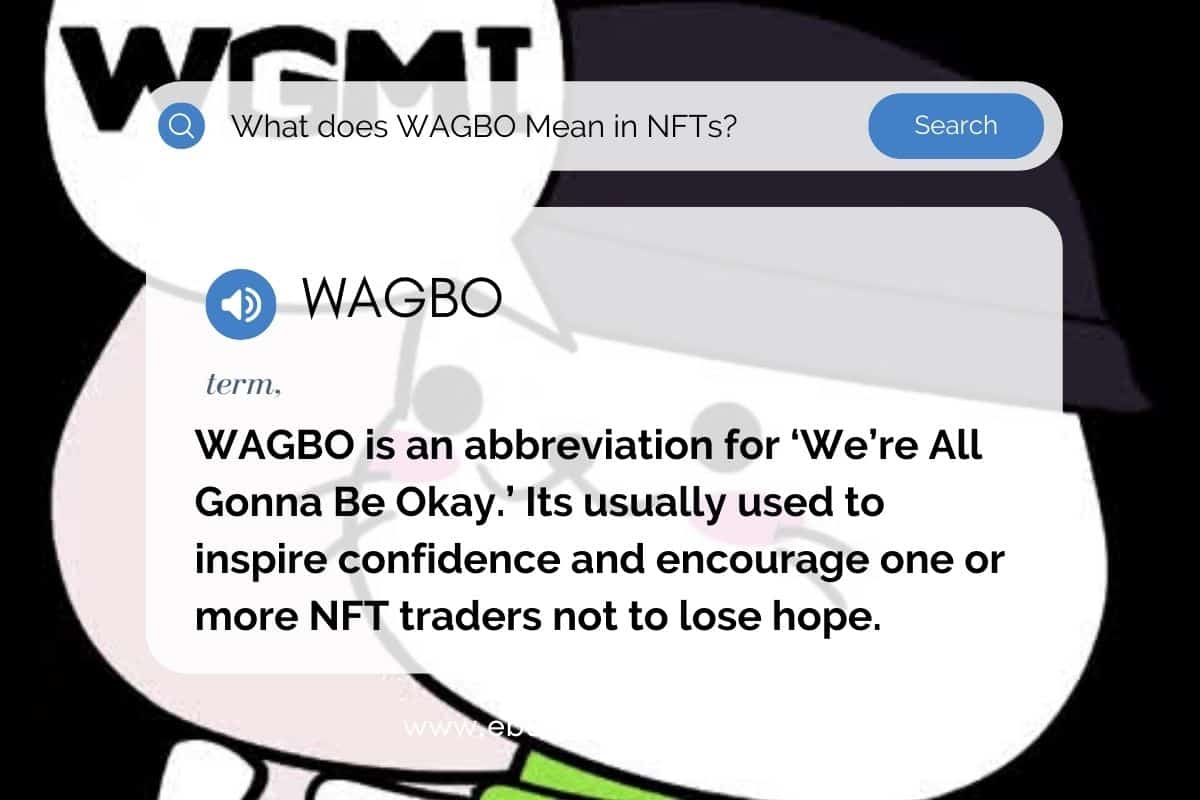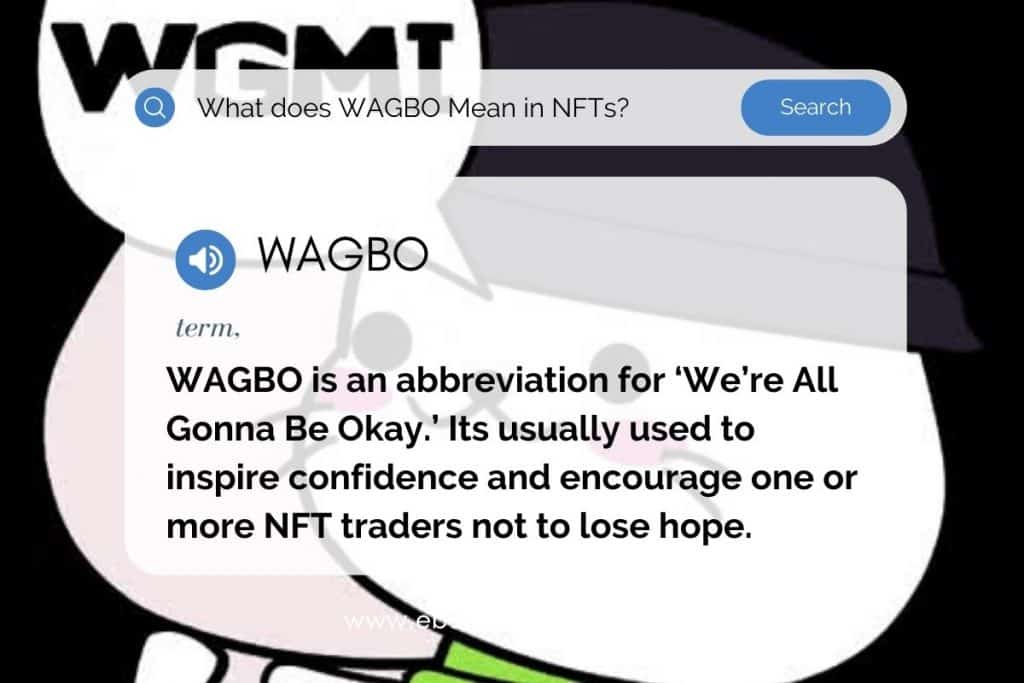 In addition, you can use the acronym in messages created to inspire the courage needed to make risky decisions or investments. It connotes that there is nothing to fear, and eventually, all will be well. Also, it can be used when an NFT you kept faith in finally starts to flourish, repaying your confidence.
WAGBO is basically the same as WAGMI – another morale-boosting expression – in meaning. They can be used interchangeably for similar purposes. Important figures in NFTs can use both to dispel fear and build confidence in others.
Considering the changeable and risky nature of the NFT, WAGBO and its synonyms could mean so much to NFT enthusiasts. And provide them with needed courage, perseverance, and hope for the NFT rollercoaster.
« Back to Glossary Index